Micron Technology's (NASDAQ:MU) stock has had a good run-up on the back of rising average selling prices due to favorable supply-demand dynamics. The upward move started on May 13, 2016, when the stock closed at $9.56, and it has tripled to $27.18 at the close on April 11, 2017.
I noted in a March 31, 2017, Seeking Alpha article entitled "Micron Technology May Have A DRAM Yield Problem - Does It Matter?"
"Micron Technology noted that DRAM revenues in its most recent quarter increased 22%, but 21% was from ASP increases while only 1% was from an increase in bit shipments."
For the quarter reported, from December 2, 2016, through March 3, 2017, MU stock grew from $18.79 to $25.57 - a 36% growth, whereas bit shipments only increased 1%. DRAM revenues comprised 64% of total MU revenues for the quarter.
ASP Forecast for DRAM and NAND
Having established that Micron Technology's stock price increase is correlated with average selling prices (ASPS), let's look at the forecast for ASPs.
Shown in Figure 1 is a four quarter history of DRAM and NAND ASPs QoQ change for Samsung Electronics (OTC:SSNLF) and a four quarter forecast of ASPs. ASPs are projected to start dropping from a high in Q1 2017 and continue through 2017, moving into negative ASP growth in Q2 and Q3 for both DRAM and NAND.
Figure 1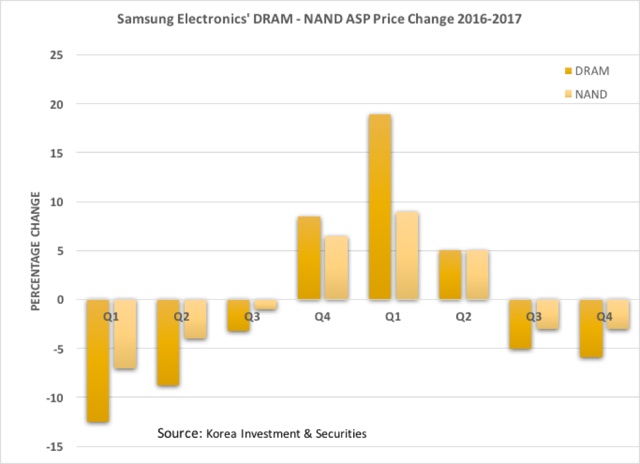 Figure 2 shows a similar chart for SK Hynix. As with SSNLF, ASP QoQ change is projected to drop from a high in Q1 2017. DRAM ASP QoQ change will be negative in Q3 and Q4, while NAND is forecast to drop to zero change in Q4 but not go negative.
Figure 2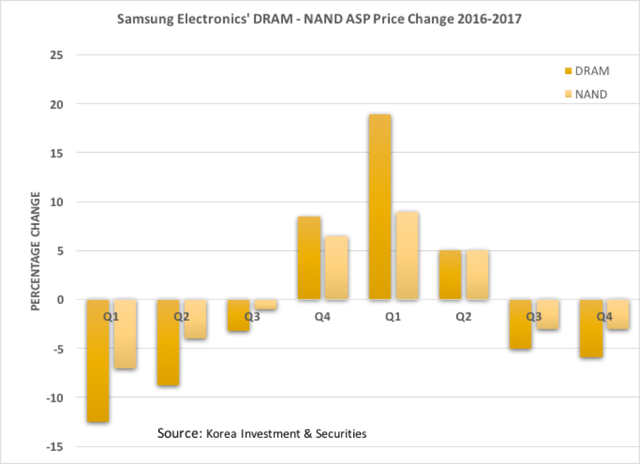 Although I do not have a comparable chart for MU, the similarity of charts for Samsung and SK Hynix strongly suggests that MU's ASPs should follow the same trend.
Based on these charts and the correlation between MU stock price and ASP, I anticipate a drop in MU stock, primarily because of the drop in DRAM ASPs through 2017.
Technology Issues
ASPs are directly related to supply-demand, and are based on supplier output.
Supply increases can come from new fabs. SSNLF will begin operations at its new Pyeongtaek fab and SK Hynix's will ramp 3D NAND production at its M14 fab. Both companies will increase supply, which will likely depress prices.
Compounding the problem for MU are technology advances by Samsung Electronics and SK Hynix. These also increase supply by giving rise to increased bit growth. Smaller device geometries and dimensions enable more memory chips to be made on a single wafer.
Lithography shrinks also make manufacturing more economical as a result of reduced fabrication costs, such as the 25% savings from 25nm to 20nm and an additional 20% to 1Xnm DRAM production. As a reference point, beyond 20nm, the DRAM is expected to scale two or three iterations in the 1xnm regime, which is referred to as 1Xnm, 1Ynm and 1Znm.
On the technology front, Samsung will begin mass producing its 1Ynm product (15nm or 16nm) by 2H2017 and continue ramping up 18nm DRAM production. 10nm class DRAM is expected to make up half of Samsung's DRAM shipments by 2H2017. SK Hynix and Micron Technology aren't expected to begin shipping 18nm DRAM until 2Q2017.
In addition, Samsung is expected to complete migration to the 64-layer 3D NAND process in 1H17, while SK Hynix launched 36-layer 128Gbit 3D NAND chips in April 2016 and has been mass producing 48-layer 256Gbit 3D NAND chips since November 2016. Micron Technology is shipping 32-layer 3D-NAND with a view to going to a 64-layer, 256Gbit memory by the end of 2017.
As a result, DRAM bit growth at Samsung is expected to grow 26%, from 34,185 million Gb in 2016 to 43,196 million Gb in 2017. NAND bit growth is expected to grow 32% in 2017, from 53,719 million Gb to 70,885 million Gb in 2017.
At SK Hynix, DRAM bit growth is expected to grow 22%, from 21,150 million Gb in 2016 to 25,832 million Gb in 2017. NAND bit growth is expected to grow 26% in 2017, from 15,790 million Gb to 19,938 million Gb in 2017.
Investor Takeaway
Micron's earnings will likely remain on an upward trajectory on the back of healthy supply and demand conditions for both DRAM and NAND.
For 2017, earnings growth should be driven by improvements in memory companies' technological competitiveness by reducing cost and increasing DRAM and NAND supply.
However, Micron's stock run-up is disproportionately skewed to memory ASPs as opposed to memory bit output. Unfortunately, much of the memory supply increases are expected from Samsung Electronics' new Pyeongtaek fab and SK Hynix 3D NAND production ramp at its M14 fab. Supply increases will generate increased revenues at these two companies, but the increased supply will have a dampening affect on ASPs. This in turn will impact Micron's stock performance.
Disclosure: I/we have no positions in any stocks mentioned, and no plans to initiate any positions within the next 72 hours.
I wrote this article myself, and it expresses my own opinions. I am not receiving compensation for it (other than from Seeking Alpha). I have no business relationship with any company whose stock is mentioned in this article.
Editor's Note: This article discusses one or more securities that do not trade on a major U.S. exchange. Please be aware of the risks associated with these stocks.