Argument: If Turkey's (NYSEARCA:TUR) constitutional referendum is approved, this is likely to add more volatility to the country's financial markets, given the increased power that will be handed over to the executive branch, at the expense of parliament and the courts.
An approval of the referendum is also likely to delay structural economic reforms to alter the country's tax system and labor market. This may benefit short-term growth, but undermine long-term growth. This could consequently cause a drop in short-term sovereign yields and a rise in longer-dated yields.
If interest rates, inflation, and longer-dated yields are at around their high points after the referendum, this could provide a reasonable entry point for the country's longer-maturity sovereign bonds.
Overview
Turkey's first estimate of Q4 2016 GDP came back higher than anticipated at 3.5% in year-over-year growth versus 1.8%-2.0% consensus. This is a material increase relative to Q3's -1.3% y/y figure, which stemmed from lower business and consumer confidence related to July's failed coup attempt of the Turkish government.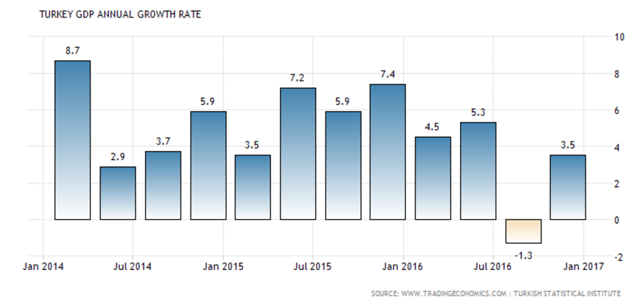 Inflation is also now at highs not seen since 2008, at an 11.3% year-over-year increase. The Central Bank of the Republic of Turkey ("CBRT") aims to keep inflation within a 3%-7% band.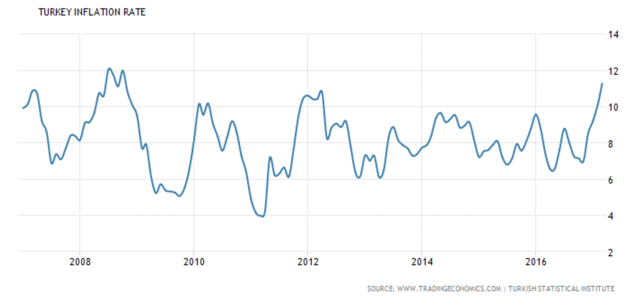 In response, the CBRT tightened its monetary policy by increasing its late liquidity window lending rate from 11.00% to 11.75%. Its overnight rates were left unchanged at 9.25%, with the one-week repo rate maintained at 8.00%.
Inflationary pressures have been high, given the depreciation of the lira, as investors have increasingly left Turkish assets in light of geopolitical risk and domestic political uncertainty. This has effectively increased the costs of imports and diminished consumer purchasing power generally. With the US Federal Reserve undergoing a tightening cycle, this forced the CBRT to follow suit in some manner and raise one of its rates to support the lira.
However, its policy choice to do this was slightly surprising. Raising the liquidity window lending rate, an additional policy tool beyond the overnight rate and benchmark rate (i.e., one-week repo), is an unconventional decision and pushes lending costs for commercial banks to around a five-year high.
It also brings up questions regarding the independence of the CBRT from the central government. To support the country's growth - and hence his political popularity - President Recep Tayyip Erdogan has, whether directly or indirectly, put pressure on the central bank not to raise rates. That could potentially explain a portion of the unconventional policy maneuver. Additionally, it is thought that a wider interest rate corridor (i.e., set of rates used to control the country's monetary policy and their levels relative to each other) would be beneficial to help mitigate volatility in the local currency through the figurative notion of having more levers to pull.
The tightness in this monetary stance is likely to continue until inflation stabilizes and reverts back into the central bank's targeted 3%-7% range. The lira still remains weak in the interim, with the US dollar having appreciated 32% against the currency in the past year. It has nonetheless been stable since the second week in January. This should at least stabilize the inflationary influence attributed to the pass-through effect of the lira's weakness.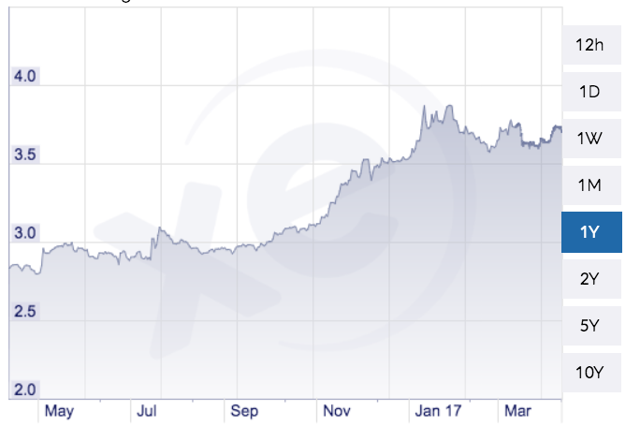 (Source: xe.com)
However, if the surge in inflation was purely a function of the lira's depreciation we would expect consumer and producer prices to increase more or less in conjunction, with any discrepancy not being statistically significant. However, that hasn't been the case, with consumer prices rising at a greater clip, suggesting another inflationary force is in play as well.
The loosening of credit following mid-July's coup attempt and fiscal stimulus from the central government did its part on assisting consumption, though the loss in business confidence has hurt investment spending.
The slowdown is nonetheless not purely a function of a drop in consumer and business sentiment from domestic, regional, and other geopolitical uncertainty. A large fraction of the economy's slowdown is structural, with changes needed to the country's tax system and labor market especially. As government spending is reduced and the country's monetary policy is tightened, this level of growth observed is likely to diminish to a longer-range trend of around 2.5%.
The Case of the April 16 Referendum
This upcoming Saturday, April 16, 2017, Turkish voters will head to the polls to vote on the referendum brought forth by the country's central government. Since last July's failed coup, incumbent president Erdogan has ruled with various checks against his power.
However, should the referendum be approved, his power would increase substantially. He would be eligible to remain in office through 2029, do away with a prime minister, limit or disestablish parliament, and obtain full control of the courts and effective legal protection from their rulings. The potential abuses of power in this system are plain to see, but also offer a political structure that could more easily expedite change in the country.
Detractors will assert that an absence of checks and balances in the system subverts the qualities of democratic rule and opens up the potential for autocracy and dictatorship. Voting "no" will help keep final policy decisions made toward the middle of the political spectrum and disinvite political extremism.
Supporters will assert that the country is badly in need of a strong leader and central decision-maker who should receive the privilege to govern largely as he sees fit. By this line of thinking, potential political infighting and obstruction from parliament and the courts could undermine the economic and social progress that is sorely needed in Turkey.
Summoning a majority to impose the constitutional changes will be a function of a) public support for Erdogan and b) convincing voters that the changes are good for the country as a whole despite the inherent anti-democratic tinge to the proposals. Even if some voters feel good about "part A" they may not feel comfortable about the long-run ramifications associated with "part B."
It's a highly divisive issue. Recent public opinion polls on the subject's Wikipedia page are compiled regularly. From December through March, the "no" vote had mostly won out, though the "yes" contingent has been in the lead in recent polls. At this point, it seems more likely than not that the "yes" vote will win, but the polls are very much in flux.
Investing Outcomes By Result
If voters approve the referendum, this is likely to add additional volatility into the Turkish markets as a greater centralization of power into the executive branch creates a higher "standard deviation" with respect to eventual policy results. Volatility generally causes lower asset prices due to a greater lack of clarity over what the future might hold.
The effect is not likely to be heavily felt in the US markets. Turkish economic activity comprises about 0.9% of global GDP.
A "yes" vote also diminishes the likelihood of structural reforms from taking place. Any disruption to the existing status quo in the case of structural reform could undermine short-term growth and adversely impact re-election of incumbents in the 2019 elections. Structural reforms are likely to improve the long-term growth trajectory of the country, but short-term thinking politicians are unlikely to gamble.
If the referendum is approved, I would expect short-term sovereign bond yields to drop as more investors feel positive about short-term growth prospects. At the same time, longer-term yields might sell off in expectation that tabling structural economic reforms may adversely impact longer-term growth trajectories.
If rates, inflation, and yields are right around their high points post-referendum, this could provide a compelling entry point for longer-dated sovereign bonds
Disclosure: I/we have no positions in any stocks mentioned, and no plans to initiate any positions within the next 72 hours.
I wrote this article myself, and it expresses my own opinions. I am not receiving compensation for it (other than from Seeking Alpha). I have no business relationship with any company whose stock is mentioned in this article.