Overview
Refocusing on the short-term, WTI (NYSEARCA:USO) popped yet again following news of a renewed OPEC output cut. On November 30th, Saudi Arabia led the OPEC member states to an agreement to cut output by 1.2 mmb/d targeting total output of 32.5 mmb/d. Initially, we felt the cut would likely occur, though understated its effect in our models given the fact that OPEC has little credibility. In the months following, OPEC hastily delivered with over 90% cut compliance surprising us to a large extent.
The cut; however, remained only modestly supportive as US production recovered with a vengeance. Current supply and demand trends point to a tighter market in 2H 2017, which will largely be supported by a continued cut. I had initially suspected a cut extension to face hurdles and very much like the fact that we are seeing positive convergence toward a deal extension despite the fact that US shale is continuing to produce and Russia has yet to fully comply with its 600kb/d output cut. We think that the current cut underpins a longer term trend in oil and we are reiterating our bullish stance.
Saudi Arabia: The Determined Leader
The crude oil markets are extremely distorted by geopolitical jawboning, cartel intervention, and speculative fervor that creates an unpredictable environment for investors. Often times; however, this geopolitical action exposes subtleties in key market players' strategies.
Saudi Arabia becomes a prime example of this as they are heavily exposed to crude oil price action. It is widely known that Saudi Arabia lower oil prices are limiting the kingdom's ability to maintain stability through the form of government reimbursements as liquidity tightened during the crude oil downturn. The scope of such government payments can be seen here.
To further complicate matters, Saudi Arabia realizes that oil may not be a source of revenue in the next 50 years and is thus looking to diversify through a formal oil independence plan that can be examined here. A key facet of this strategy is the planned 5% IPO of Saudi Aramco in late 2018. Ultimately, the plan is set to provide a vast deposit of income for the Saudi sovereign wealth fund that will pursue non-energy investment opportunities that will continue to support its growing population in the next century.
These factors remain important in understanding the motives behind the cut and why Saudi Arabia has become so willing to shoulder the brunt of the output cut. What stood out to me; however, is the great degree of patience expressed by Saudi Arabia. The financial media is quick to point out that the Saudis have effectively screwed themselves by choosing to cut output. I disagree and would go so far to say that Saudi Arabia is more interested in the longer term supply and demand picture. Proof of this can be examined in the planned date of the Aramco IPO.
Fundamentals Underpin Saudi Strategy
Just yesterday I published a detailed article detailing longer term supply and demand trends in the crude oil market that point to tighter supply in the next 3 years. Coincidentally, the Aramco IPO is scheduled to be planned at the end of 2018, roughly 2 years from now. The fact that long-cycle projects are continuing to be sacrificed for short-cycle projects is setting the crude market up for tighter supply, and ultimately higher prices 2-3 years down the line.
Market participants have considered this fact and are slowly upgrading their forecasts for WTI prices.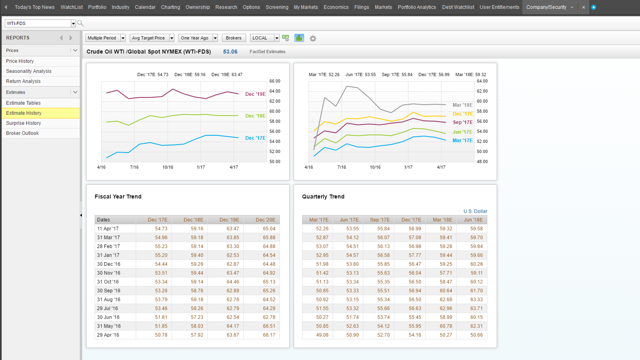 Source: FactSet
Ultimately, higher prices in the next 2-3 years will bode well for the Saudi Aramco deal and will further provide Saudi Arabia with the assurance that they once more side-stepped the market.
Crude Oil: Technical Summary
The news of the OPEC cuts certainly gave a minor bump to crude, which has been on a 2 week win streak. The technicals for crude remain mixed, but the ascension of the support line is consistent with more positive fundamentals vs. last year.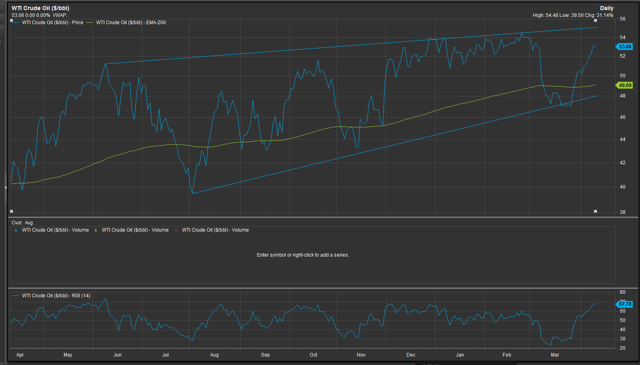 Source: FactSet Charting
While this is a positive, resistance has been very strong at the $54-55 handle. Heading into the summer driving season, we are looking for crude to make headway toward $60. A breakout past the trendline will likely provide fuel to such a rally, and may even have the potential to break beyond $60.
It appears that the current set-up will push crude for a test of the $55 handle. A failure to break past resistance during a seasonally strong month will be a warning sign for crude investors as it will underscore the anxiety market participants have regarding US shale. In the short-run, I see this as the biggest risk to prices.
Conclusion
The news of the possible cut extension is certainly bullish as it will continue to buy time for inventory draws into a stronger demand season. The initial efficacy of the cut seemed to be limited; however, that may change as greater fuel demand may put pressure on inventories. Furthermore, we view the Saudi vision as a bullish subtlety. They are planning for the next 5 years and are realizing that long-run supply and demand dynamics point to tighter supply and higher prices.
Disclosure
This article contains the opinions of BlackVault Investments and in no way is acting as an offering and/or solicitation of securities or investment advice.
Disclosure: I/we have no positions in any stocks mentioned, and no plans to initiate any positions within the next 72 hours.
I wrote this article myself, and it expresses my own opinions. I am not receiving compensation for it (other than from Seeking Alpha). I have no business relationship with any company whose stock is mentioned in this article.