I watched the video and read the story about 69 year old passenger, David Dao, who was literally assaulted, forcibly dragged out of his seat, and embarrassed by a team of officers, who exercised the judgment of thugs. This is 100% unacceptable in America and based on CEO, Oscar Munoz's, initial response, the board of United Continental (NYSE:UAL) must act and should force him to resign. It is beyond words how moronic Mr. Munoz's initial response was and I am utterly speechless that a CEO of a major Fortune 100 company was so tone deaf and exercised the judgment a person with extremely limited innate intelligence. Given the often outsized and egregious executive compensation of most American CEOs, we have been led to believe that these CEOs are the best and the brightest and visionary leaders well worth every penny of their executive compensation. Mr. Munoz has proven to be, yet another, fly in the ointment of the pro outsized executive compensation school of thought.
Oscar Munoz's response and lack of leadership is unforgivable given his title as CEO, as there was crystal clear video evidence of three officers physically assaulting and dragging out a blooded 69 year old passenger, who resisted being bumped. Mr. Dao posed no immediate physical threat to any of the officers or anyone else on that plane. United's stock has been remarkably resilient as investors are underestimating the fallout and PR nightmare this could have on United's future bookings and ultimately its stock price.
United CEO doubles down in email to employees, says passenger was 'disruptive and belligerent' (CNBC - Monday, April 10th)
Incidentally, I spoke with a few colleagues who are software consults, under a two year assignment at my company, who fly back and forth from Boston to Houston every week, and they unequivocally said UAL is notorious for overbooking its flights and then bumping passengers. So clearly, as an organization, United lacked the foresight to anticipate a volatility situation like this one, despite its well known overbooking policies aimed at driving short term revenues. I would argue that United's stock modest dip and then full recovery, since Friday, is underestimating the negative affect this could have on future passenger bookings.
And by the way, given the Obama Justice Department's lack of antitrust enforcement in the airline sector, passengers are now paying much more tickets, paying for bags, and have limited choices given the lack of competition and industry wide capacity discipline. However, that is a topic for another day and different article.
In fairness to Mr. Munoz, well before his September 2015 tenure and during his medical leave from complications from an October 2015 heart attack (he returned in March 2016), in January 2016, Bloomberg published an article: United's Quest To Be Less Awful. So clearly United has had a lousy reputation for quite some time. This is incident certainly doesn't help.
Given this PR nightmare, I am surprised that Warren Buffett hasn't, at least not yet, made a public statement condemning Oscar Munoz's response now that Berkshire Hathaway (NYSE:BRK.A) (NYSE:BRK.B) is the largest institutional shareholder of UAL.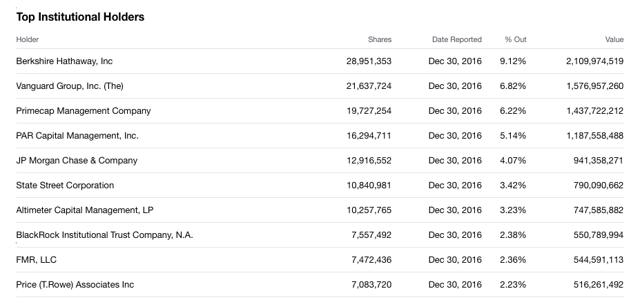 Source: Yahoo Finance
Moreover, it is my understanding that given Berkshire Hathaway's similarly sized, on a percentage basis, stake in Wells Fargo (NYSE:WFC) that he worked behind the scenes to push out former CEO John Stumpf (see 9/29/16 Bloomberg article and 11/19/16 Washington Post article). As you can see, Berkshire Hathaway is the largest institutional shareholder of Wells Fargo.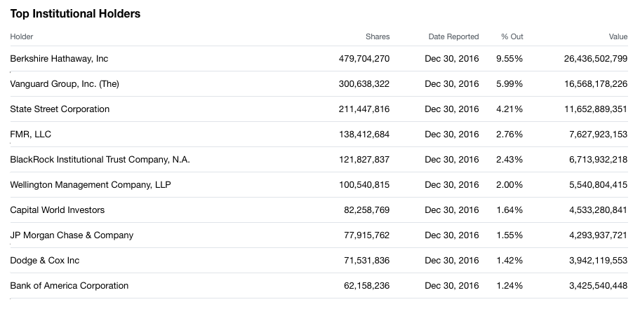 Source: Yahoo Finance
Now that this incident has gone viral, just look at the New York Times coverage and the outrage in China, UAL's key growth market, you can't put the genie back in the bottle.
Takeaway
I predict that Warren Buffett directly or indirectly will lobby to have Mr. Munoz pushed out as out as CEO. This is a PR nightmare that was further inflamed by Oscar Munoz's tone deaf response. Did Mr. Munoz even watch the video? Given the viral nature of the internet, this has been widely broadcast around the globe and is most unfortunate. If UAL's board doesn't respond and fast, then they will be to blame for the widely expected fallout in future bookings (however, given the inherent lag due to passengers booking flights in advance, it might not show up in UAL's numbers until June 2017). If UAL's Board doesn't signal that Mr. Munoz will be pushed out soon, I would be a seller of UAL's stock.
Disclosure: I/we have no positions in any stocks mentioned, and no plans to initiate any positions within the next 72 hours.
I wrote this article myself, and it expresses my own opinions. I am not receiving compensation for it (other than from Seeking Alpha). I have no business relationship with any company whose stock is mentioned in this article.