With millennials focusing on experiences like traveling, they have been less inclined to settle down and raise a family like their parents may have done. So much so a good portion of the global millennial population is expected to live alone by 2030. As well as gaining a boost from the internet of things, we think appliance manufacturers will benefit from this societal shift. One company at the top of our list is Whirlpool Corporation (NYSE:WHR). Is now the time to make a buy and hold investment?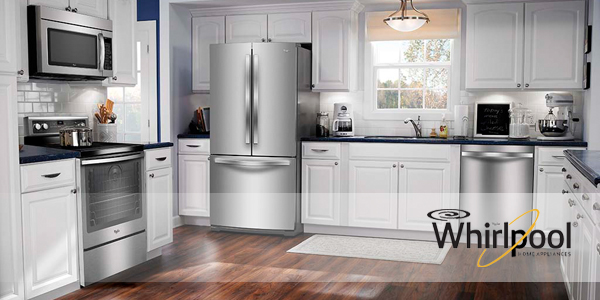 The number of households across the world is forecast to grow to 2.1 billion in 2017. A key driver of this growth is expected to come from the independent millennial that prefers to live alone. We think this is down to millennials having far more choice than their parents. For example, Euromonitor's latest Global Economies and Consumers report for 2017 shows that millennials are more interested in technology, cheap travel, and general entertainment than being tied down with responsibilities. Furthermore, as well as holding off from responsibilities such as home ownership and starting a family, a key catalyst for the increase in millennials living alone is also likely to be rising house prices and growing education costs. With house prices rising strongly, we feel the already heavily indebted millennials are less likely to invest in a spacious home wand go for something a little more affordable and compact.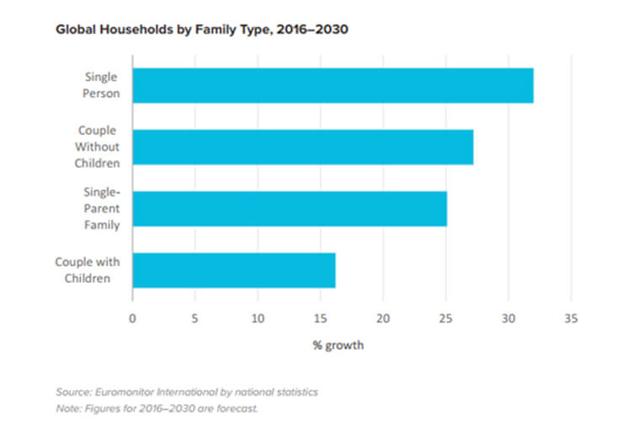 While we expect renting to be the norm for millennials, research indicates that those that do jump onto the property ladder are more likely to do so in single bedroom homes or apartments. Recent research, shown above, forecasts single households to grow by a whopping 32% between 2016 and 2030. Easily making it the fastest growing household type.
Which is great news for the already incredibly lucrative global appliance market. In 2015 the global appliance market generated an estimated $212 billion in sales, but we feel the rise of the singleton could cause this to grow strongly over the next decade. After all, an increasing number of homeowners who opt to live on their own means an increasing number of homes that require appliances. Instead of two or three people sharing one household and all the appliances that come with it, we feel more people opting to live on their own will result in a huge lift in the sales of household appliances. As a company with a long history of delivering innovative products to the market, we believe Whirlpool is in a strong position to profit from these changes. Especially considering the company has a market-leading position and wide distribution in markets across the world.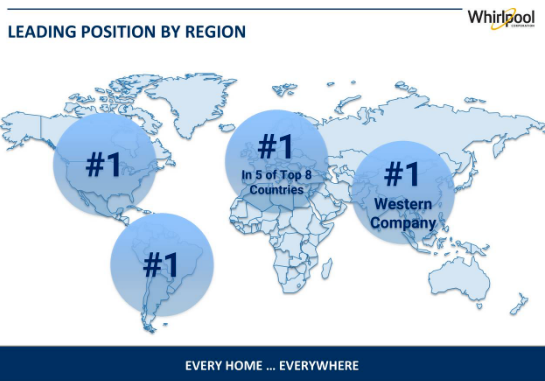 Source: Whirlpool presentation
While we think Whirlpool is a perfect candidate for a long-term buy and hold investment, that doesn't necessarily mean that its addition won't give portfolios a lift in the near term. Weaker-than-expected full-year guidance in January has presented investors with an opportunity to buy shares at a great price in our opinion. Whirlpool's shares have fallen around 11% since management provided full-year guidance of between $15.25 and $16.25 in FY 2017. Whilst the midpoint of $15.75 was 21 cents short of the consensus estimate, we feel the sell-off was an overreaction and short-sighted. We feel the hard work management is doing with cost-cutting, together with increasing demand due to the rise of the Internet of Things and singletons, will allow the company to deliver earnings towards the high-end of its guidance at around $16.00 per share (or GAAP earnings per share of $14.00).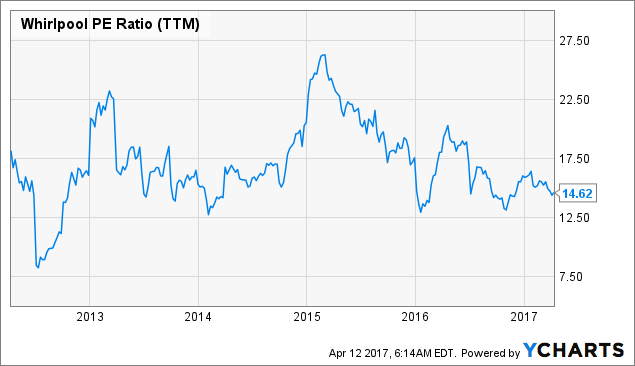 As you can see above, Whirlpool's shares are currently trading at a level we would class as below average. Considering management is predicting earnings growth of between 8.5% and 15.5% this year, we feel its shares deserve to trade at a higher premium of at least 16x earnings. But for the sake of being conservative and providing a decent margin of safety we have decided to base our valuation on a price-to-earnings ratio of 15. Based on this multiple and our GAAP earnings per share forecast of $14.00, we have a price target of $210 on Whirlpool's shares. That is the equivalent of a gain of just less than 25% from the last close price.
Disclosure: I am/we are long WHR.
I wrote this article myself, and it expresses my own opinions. I am not receiving compensation for it (other than from Seeking Alpha). I have no business relationship with any company whose stock is mentioned in this article.