Back on February 28th, Target (NYSE:TGT) reported 4th quarter results and lowered the hammer on earnings for the current year. They reported $4.58 in GAAP earnings for 2016 and returned over $5.0 billion to shareholders via dividends ($.60/qtr) and share buybacks.
Unfortunately, for their stock, the markets always look forward and their forward earnings guidance sent the stock on a slide of 20% since that announcement. Today the stock sits around $54 and is hovering near its 52-week low of $52.72 and well off the 52-week high of $84.14.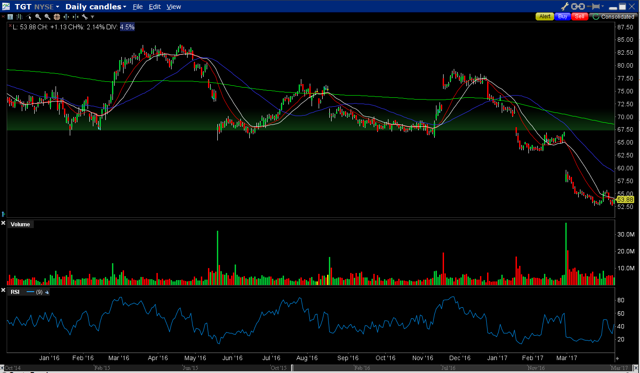 During their conference call, the company lowered FY 2017 guidance to the range of $3.80 to $4.20 and current analysts estimates are for $3.99 this year and $4.07 for next year. At current levels, Target trades at 13.5x earnings and sports a yield of 4.4% paying a quarterly dividend of $.60.
Looking at the balance sheet, the company only has $10B in net debt. When comparing the net debt to the overall market cap of $30B for the common shares, the ratio of net debt to overall enterprise value (EV = Common Stock + Net Debt) is roughly 25%. Target has an investment-grade balance sheet, which is rated A by S&P. Our premise is they have a balance sheet and brand that will enable them to be one of the few large players to survive the retail shakeout.
Is Amazon Going To Take Over The Entire Retail Sector?
Certainly, some may believe Amazon (NASDAQ:AMZN) will destroy all brick and mortar retailers, but we believe it is more likely that Target is going through a phase of tough earnings and re-adjusting its business model. They also recently announced a major renovation and modernization project of 500 of their stores.
Fundamentally, the basis for owning the stock is its relative value versus the broader market S&P 500 (NYSEARCA:SPY). Target's 13.5 P/E ratio is roughly half of the Schiller PE10 ratio of 26.4x. While the market has been weak for retailers in general, we are confident that the shakeout will benefit the large established players such as Target and Wal-Mart (NYSE:WMT). The 50% haircut more than compensates for the longer-term value that we see when the shakeout is finished. And of course, the fact the dividend yield is 4.4% is a positive in this low rate environment too.
Buy-Write Entry Of $51 or 12%+ Return
One of our favorite strategies is doing buy-writes or covered calls on large cap dividend payers and Target is one we currently own. In our opinion, buying Target at current levels and selling the January 2018 $55 calls against the position is a good risk-reward scenario.
For every 100 shares of stock purchased, 1 call option could be sold against it. This trade has the potential to return over 12% over the next 9 months if the stock is called away at expiration and all three $.60 quarterly dividends are collected. If not called away in January, the net cost on Target would be under $51 and an effective yield of 4.7% depending on the entry. If you like Target down here and are willing to part with the stock if it rallies back up and are happy with a 12% return in 9 months, then you might consider this trade.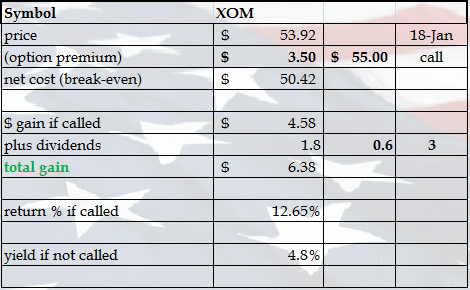 Disclosure: I am/we are long TGT.
I wrote this article myself, and it expresses my own opinions. I am not receiving compensation for it (other than from Seeking Alpha). I have no business relationship with any company whose stock is mentioned in this article.