Since Home Capital Group Inc. (OTCPK:HMCBF) (TSX:HCG) fired its CEO a few weeks ago, shares took a dive and have slipped below their 10-day simple moving average only to gap down further. Investors have had a lot to complain about, but let's not forget that a loss for current investors may be an opportunity for new investors.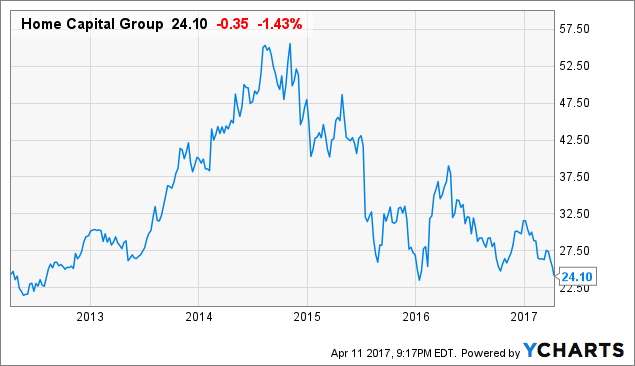 HCG data by YCharts
As a new investor, I am very excited about the opportunity. Still above the very important support price of C$23.00, this security may be worth a lot more than its current stock price. Over the past four fiscal years, the earnings per share, dividends and payout ratios have been as follows:
2016 - EPS $3.70, Dividend $0.98, Payout Ratio 26.5%.
2015 - EPS $4.07, Dividend $0.88, Payout Ratio 21.6%.
2014 - EPS $4.45, Dividend $0.70, Payout Ratio 15.7%.
2013 - EPS $3.66, Dividend $0.54, Payout Ratio 14.7%.
With shares currently trading close to C$24.00, investors are getting a yield on cash (YOC) of no less than 4.25%. As displayed from the information above, the yield is clearly sustainable over the long term. The dividend payout ratio is no more than 30%, with the payout ratio as a percentage of cash from operations (CFO) being no more than 12% in fiscal 2016.
Going further into the financial statements, we can measure the company's tangible book value at no less than $25.11 per share. At a current price of $24.00, investors may be getting a great deal.
Why the Great Deal?
The problems experienced by the company started several years ago with approximately 45 mortgage brokers obtaining mortgages by utilizing fraudulent documentation. Although they have been disciplined and the problem has been rectified, the Ontario Securities Commission (OSC) has decided to investigate the company further in order to determine if there is a need for additional fines or charges.
Enter the next problem.
Shareholders having their confidence shaken again saw the board of directors relieve the CEO of his duties only a few weeks ago. Clearly, the board of directors is properly representing the shareholders by removing the top manager. This will hopefully go a long way to showing the OSC that the board is taking these matters seriously and is cleaning up the company. Clearly, the board is doing everything possible to make the company a leader in its category.
What category?
Since new mortgage regulations came into play several months ago, a number of smaller lenders and alternative lenders have been forced to stop lending since the demands put on them have made it prohibitive. Those who are left include the big banks and only a few alternative lenders, with Home Capital Group Inc. being the biggest. The company which serves the clientele typically turned away from the big banks is now in prime position to benefit from a reduction in the total number of competitors.
In the province of Ontario, a person wanting to obtain a mortgage previously had in excess of 30 lenders to choose from when dealing with a mortgage broker. Currently, that number has declined significantly with a number of major banks have stopped lending through the mortgage broker channel. Again, the result is Home Capital Group Inc. is now one of fewer lenders available to consumers. This is fantastic news for shareholders.
A Potential Fine
Although there may have been improprieties over the past few years, the company does not need to be worried about a fine. In recent memory, the fine at Wells Fargo & Co. (WFC) is one we may be able to use as a reference point. The company was fined $185 million for opening false accounts. Given the size of Wells and the number of clients it serves, a generous amount for Home Capital Group Inc. to set aside is $50 million. Assuming a fine is levied in the amount of $50 million, the company would see its approximate $1.2 billion in cash sitting on the balance sheet decline by $50 million. A $50 million fine would wipe out approximately $0.78 per share of tangible book value.
Looking back at the discount to tangible book value, the worst case scenario is there is no gap.
Investors purchasing shares may be paying exactly what the company is worth in terms of tangible book value with the earnings potential and dividend yield being thrown in for free.
As we saw from the chart above, the company previously traded at multiples of tangible book value. With that said, investors have been forced to remain patient while a number of short sellers took aim at the company. So far, so good. The company has successfully continued the share buyback and dividend payments, returning excess cash to shareholders and making the short sell an expensive position to hold.
The Bear Case
While some are positioned for a Canadian housing collapse, it is from past experience impossible to make any investment if we fear an economic downturn is around the corner. Currently, housing prices in the majority of major Canadian cities have increased substantially, creating additional equity in each home held as collateral by Home Capital Group Inc.
While some of the more recent loans may be at higher valuations and a pullback could hurt the company, let us not forget that this company has gone through the foreclosure process in the past and any losses will be minimal.
Although there is worry about the mortgages obtained fraudulently, the hard truth is the amount of equity in these properties has also grown for the homeowners.
Conclusion
At a discount to tangible book value, a 4.25% sustainable dividend yield, and a board of directors taking action, shareholders may have a lot to look forward to. The beauty is the share buyback machine which continues to move forward.
Moving forward, it will of course be very important to maintain revenues and earnings for shareholders to be continually rewarded. The company, which is in the business of lending, will surely continue to be in high demand by borrowers.
In 2016 alone, net earnings divided by the ending shareholders' equity was 15.3%. For the year going forward, 15% of shareholder's equity equates to a per share profit close to $3.75 per share.
Again, assuming no share buyback.
Disclosure: I am/we are long HMCBF.
I wrote this article myself, and it expresses my own opinions. I am not receiving compensation for it (other than from Seeking Alpha). I have no business relationship with any company whose stock is mentioned in this article.
Editor's Note: This article discusses one or more securities that do not trade on a major U.S. exchange. Please be aware of the risks associated with these stocks.