Introductory Words
Five million New Electric Vehicles ("NEVs") on the road in China by 2020. That is the objective set by the largest clean tech market in the world under the framework of the 13th Five-Year Plan. China is also redirecting subsidy policies towards higher energy density and cobalt-rich EV batteries, which may well have a significant impact on the EV value chain.
CRU, a leading provider of analysis in the mining, metals, and fertilizer markets, expects indeed that over 40% of the world's pure EVs will be sold in China over the next five years. Global demand for critical battery minerals will thus be heavily influenced by changes in the battery mix.
Additionally, a large share of China's EV battery production is meant to be exported to overseas markets. Changes in EV subsidies and battery chemistries for domestic EVs will play a key role in lifting China's total demand for refined cobalt units. CRU estimates that the increasing popularity of ternary cobalt-rich batteries could help triple cobalt demand in China's EV battery manufacturing sector.
For new readers, or if you are generally interested in cobalt, see my previous articles on the matter.
- "Cobalt Keeping Battery Makers Awake At Night", November 2016
- "No cobalt, no Tesla?", January 2017
- "Cobalt: Glencore Strikes Back", March 2017
China Approves NMC Battery Technology For Green Car Subsidies
The Chinese Ministry of Industry and Information Technology in January approved the use of lithium-ion batteries ("LiBs") which employ the chemical elements of nickel, cobalt, and manganese ("NCM") and thus included the technology into the government-supported subsidy program.
Under the previous rule, the NCM technology was ineligible for subsidies, and Chinese battery makers have traditionally focused on the lithium-iron-phosphate chemistry (LiFePO4 or "LFP"). Cheaper and more stable than NCM batteries, LFP batteries benefit from a long lifespan, enhanced safety besides good thermal stability, and tolerance to full charge conditions. They have proven ideal for energy buffers (stationary storage). The drawback of LFP is a higher self-discharge compared to other lithium-ion systems such as NMC.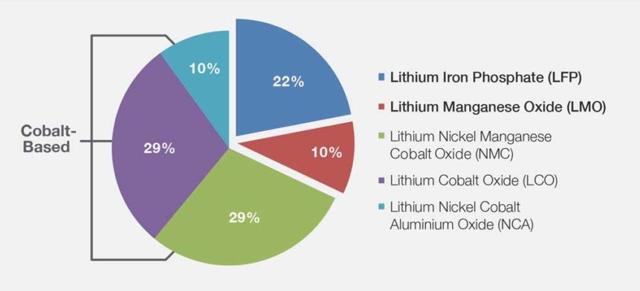 Cobalt-based batteries. Source: ResearchInChina
In China, there is growing evidence that LFP is now losing ground to NMC batteries due to their higher energy density and also because prices are leveling. NMC battery is the preferred candidate for EVs due to its very low self-heating rate.
BYD (OTCPK:BYDDF), the Chinese domestic champion is already the world's largest New Electric Vehicles company (in terms of cars sold) ahead of Tesla (NASDAQ:TSLA). It is the only auto company in the world with a presence along the entire EV value chain. BYD, an early adopter of the LFP chemistry has been shifting towards ternary batteries and notably, the NMC technology. The trend will be fueled by the massive government-supported subsidy program. China has more than 150 EV battery manufacturers ramping up new capacity due to the supply shortage experienced in 2015.
Indeed generous subsidy schemes by central and local governments have in the past proven an extremely effective way to boost production (e.g. LED or photovoltaic technologies). In the clean transportation space and until recently, a buyer of an RMB 1.2million electric bus received close to RMB 1million in subsidy. On top of free license plates, passenger car buyers could receive subsidies of up to RMB 60,000 per vehicle for BEVs. That is approximately one-third of the total selling price.
In parallel to the NEV new policy, China imposed a partial ban on access to the China market for foreign battery producers, buying time for its domestic firms to catch up with Japanese (Panasonic (OTCPK:PCRFY)) and South Korean competitors (Samsung SDI (OTC:SSDIY), LG Chem (OTCPK:LGCLF)) on NMC technology.
Green, The Keynote For Development In The Chinese 13th Five-Year Plan
Pollution is now at the forefront of social concern, and the NEV subsidy scheme is part of a major effort from the Chinese government to address it. Technology has made it more difficult to conceal from the public, and pollution peaks are now actively commented on social networks and, in particular, on the messaging app WeChat (650million+ users). That is certainly a striking change in Chinese mindsets compared to even a few years back.
China's Five-Year Plans are a series of social and economic development initiatives designed to map the strategies for economic development, set growth targets, and launch reforms. Under the 12th Five Year Plan (2010-2015), the environmental protection industry was elevated for the first time ever to "strategic emerging industry" status, signaling a pivotal shift for Beijing.
Green was also the keynote for development in the 13th Five-Year Plan, and it will lead an unprecedented revolution for China to become a driving force and leader in innovation in the world's green development. The plan sets out new targets to reduce China's carbon and energy intensity by 18% from 2015, and ambitious "targets" for air quality progress have been set (note: previously, the terminology was "guidelines") for hundreds of cities. Under the plan, as much as RMB 10trillion ($1.5trillion) will be allocated to environmental protection. Investment is set to represent 2.7% of the Chinese GDP by 2020, a massive number. Five million NEVs on the road are targeted by 2020.
Need For Cobalt In Battery Chemistry
LiBs are a crucial market segment for cobalt already. The EV industry remains in its infancy, yet it is expected to drive much of the demand growth for refined cobalt units. Historically, an obscure and minor byproduct of copper and nickel, investors started to appreciate the EVs supply chain and the critical role of cobalt in lithium-ion batteries. According to Benchmark Mineral Intelligence, 75% of LiBs cathode capacities are expected to contain some volume of cobalt by 2020. "In terms of overall demand, EVs only consumed around 6.5% of refined cobalt in 2016. This will increase to 16.9% in 2021 helping lift demand to nearly 130,000 tonnes," CRU senior consultant, Edward Spencer, was reported as telling Reuters.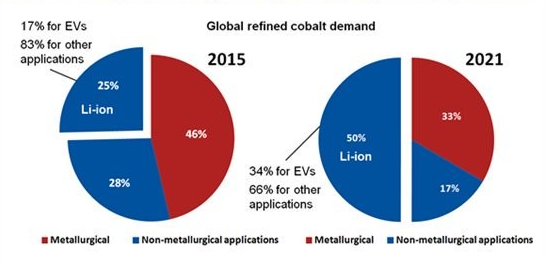 Li-ion will account for 50% of global cobalt demand in 2021. Source: CRU
Many predict a cobalt deficit on anticipation of strong growth in EV sales, and the cobalt spot price has recently risen accordingly. Paul Gait of Sanford C. Bernstein calls it "the Saudi Arabia of the EV boom". Since we first wrote about cobalt in September 2016, the price of cobalt has jumped another 108% to $24.95.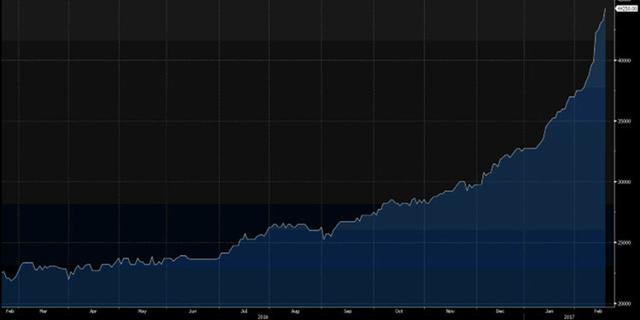 LME Cobalt. Source: Bloomberg
Broadly speaking, NMC batteries use one-third equal parts nickel, manganese, and cobalt ("333" composition). Manufacturers keep the exact ratio a well-guarded secret.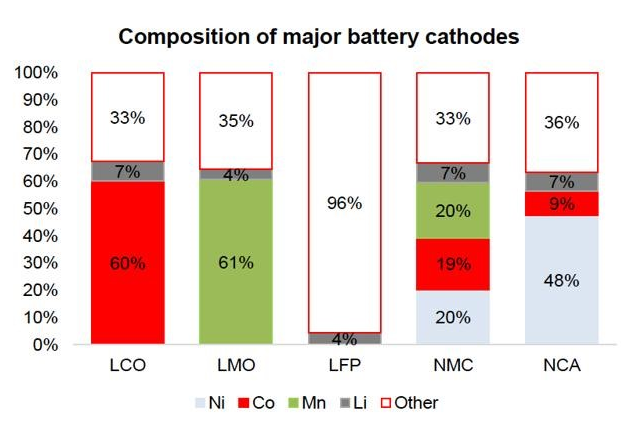 Composition of major battery cathodes. Source: Avicenne, Macquarie research
Cobalt provides the battery with a good cycle ability, safety, and longevity. Anticipating a cobalt deficit, the industry is trying to move towards more nickel-heavy compositions like "523" and "811", with the digits representing nickel, cobalt, and manganese, respectively. As opposed to cobalt, nickel is easily available and currently benefits from a low price. The drawback is that the increase in the proportion of nickel leaves the battery less thermally stable. Many analysts believe today that 10% cobalt minimum must be used in cathode chemistry at all times for safety and battery longevity reasons.
The implications of a shift from LFP towards NMC batteries in China can be massive for cobalt. As we wrote in a previous note, Chinese companies have been recently gobbling up world supplies and securing access to the largest cobalt reserves in the world. This is certainly not random. China Molybdenum (3993: HKG) (OTCPK:CMCLF) and BHR Partners now assume majority control of the Tenke Fungurume mine in the DRC, one of the world's largest known cobalt resources. The Chinese have a stranglehold on the upstream portion of the cobalt supply chain, and with China Moly acquisition of the Kokkola cobalt refinery in Finland, China is also a major owner of downstream assets.
Investment conclusions
Options on U.S.-based exchanges are hard to come by, and the cobalt futures contract on the London Metal Exchange is not heavily traded. Major producers are not pure plays in cobalt as illustrated by Freeport-McMoRan (NYSE:FCX), the U.S. company headquartered in Phoenix, which also notably produces copper, gold, and silver. Glencore (OTCPK:GLCNF) plans to double cobalt output by 2018. In February, it took full control of Mutanda Mining and increased its ownership in Katanga Mining, two of the best cobalt assets worldwide.
For investors seeking to express a view on cobalt, I am thinking of several options:
- Stockpiling in its physical form. Hedge funds notably have purchased and stored a stockpile equivalent to 17 percent of last year's global production of the metal.
- Early-stage exploration. Junior companies, in particular, in Canada and Australia are positioning themselves. Most of these cobalt "pure plays" are not yet cobalt producers and will not generate any cash flow before a few years, thus are potentially very rewarding but also riskier investments. Value will be based on discoveries of economically viable deposits more than actual sales. eCobalt Solutions Inc. (OTCQX:ECSIF) (formerly Formation Metals) [TSX: ECS] is a Canadian mineral exploration and mine development company primarily owning the Idaho cobalt project, a high grade and primary cobalt deposit in the USA.
- Cobalt recycling companies such as Umicore (OTCPK:UMICF) [UMI:BB], a worldwide leader in the recycling, refining, transformation, and marketing of cobalt and nickel specialty chemicals. Cobalt (as opposed to oil for instance) is fully recyclable. Roughly 15% of U.S. cobalt consumption is from recycled scrap today.
- Playing the disruptive technological card. There have been efforts recently to produce other types of battery chemistries that do not require cobalt. Tesla has also been trying to add nickel instead according to its CTO, JB Straubel. We may well see a turnaround from cobalt-intensive batteries once a validated and viable new high-energy battery technology comes online. In that space, I do closely follow Nano One Materials Corp. (OTCPK:NNOMF) [NNO:CN], a Toronto-listed company that is developing processing technology to make high-performance energy storage materials affordable for LiBs.
Disclosure: I am/we are long ASX:CLQ.
I wrote this article myself, and it expresses my own opinions. I am not receiving compensation for it (other than from Seeking Alpha). I have no business relationship with any company whose stock is mentioned in this article.
Additional disclosure: I am not a mining analyst. Information presented is believed to be factual and up-to-date, but should not be regarded as a complete analysis of the subjects discussed. All expressions of opinion reflect my judgment as of the date of publication and are subject to change. Readers are advised that this article is provided solely for informational purposes and should not be construed as an offer to sell or the solicitation of an offer to buy securities mentioned herein. This article covers one or more stocks trading at less than $1 per share and/or with less than a $100 million market cap. Please be aware of the risks associated with these stocks.
Editor's Note: This article covers one or more microcap stocks. Please be aware of the risks associated with these stocks.