Members of Value Investor's Edge received an early look at this report.
Colombian window and glass manufacturer Tecnoglass (NASDAQ:TGLS) effectively went public in the US in December 2013. Since then, shares are up less than 10% despite the business advancing by leaps and bounds over the past three years. There have been several compelling write-ups for Tecnoglass stock at Seeking Alpha over the years. However, the stock has hardly budged.
In this article, I'll make the case for why 2017 may finally be the year the Tecnoglass thesis works, along with comprehensively discussing recent developments and the bearish arguments against the stock.
Tecnoglass: A Growing Company With A Dud Stock
Tecnoglass is Latin America's leading architectural glass and windowpane manufacturer. Some of the company's specialties include glass designed to survive impact from disasters such as hurricanes or missile impacts. The company has been featured in numerous large projects, such as the Trump Tower in Panama, pictured below: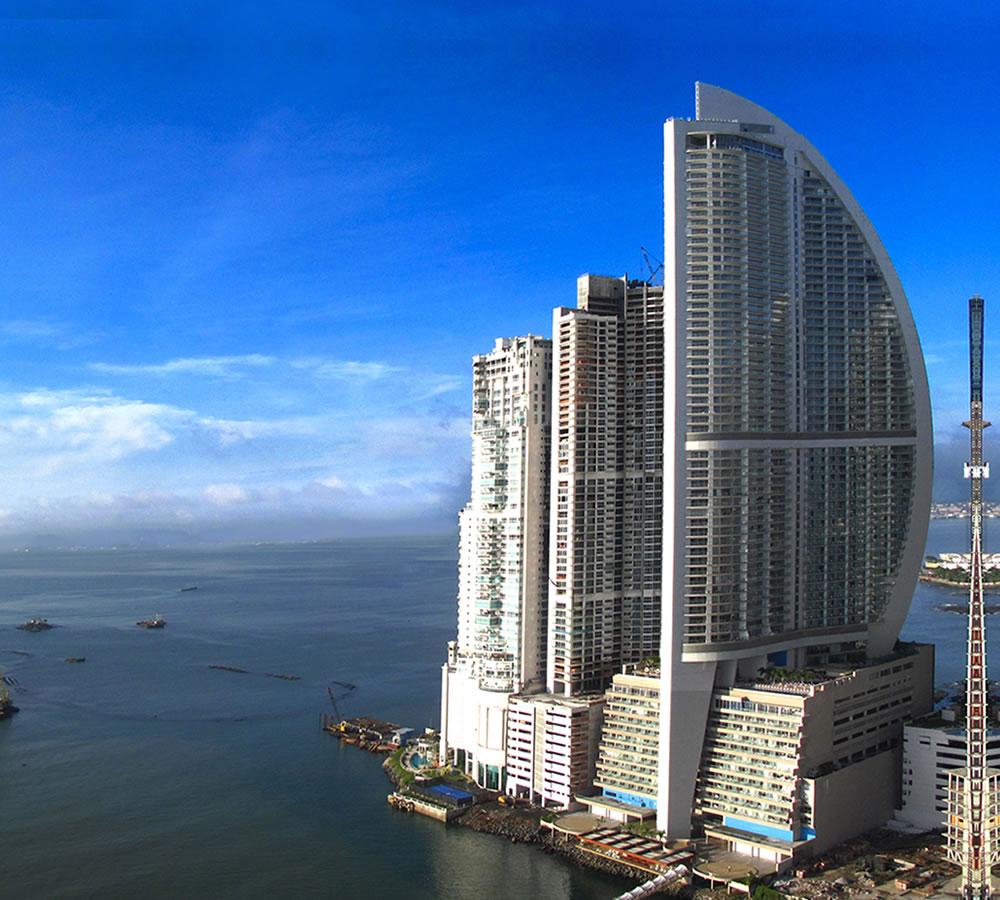 Tecnoglass went public via a special purpose acquisition company "SPAC" in December of 2013. The acquirer, Andina Acquisition, was designed to find an attractively-priced Latin American asset to list in the US. As I'll argue, it succeeded. The deal closed, and shares were changed to the TGLS ticker at that time.
As is common with SPACs, the deal came out at $10. For full-year 2013, which was just finishing up as Tecnoglass went public, the company did $183 million in revenues and $38 million in adjusted EBITDA.
Fast forward 39 months, and Tecnoglass shares are trading just 6% higher. The company, however, has shown explosive growth since the end of 2013. For 2017, the company has guided $375 million in revenue (a double since 2013) and $86 million in adjusted EBITDA (more than a double).
For ease of comparison, let me display Tecnoglass's historical results (2017 numbers are projected) and then show the stock chart since going public:

Despite the strong growth in the business, however, TGLS stock simply hasn't reflected it: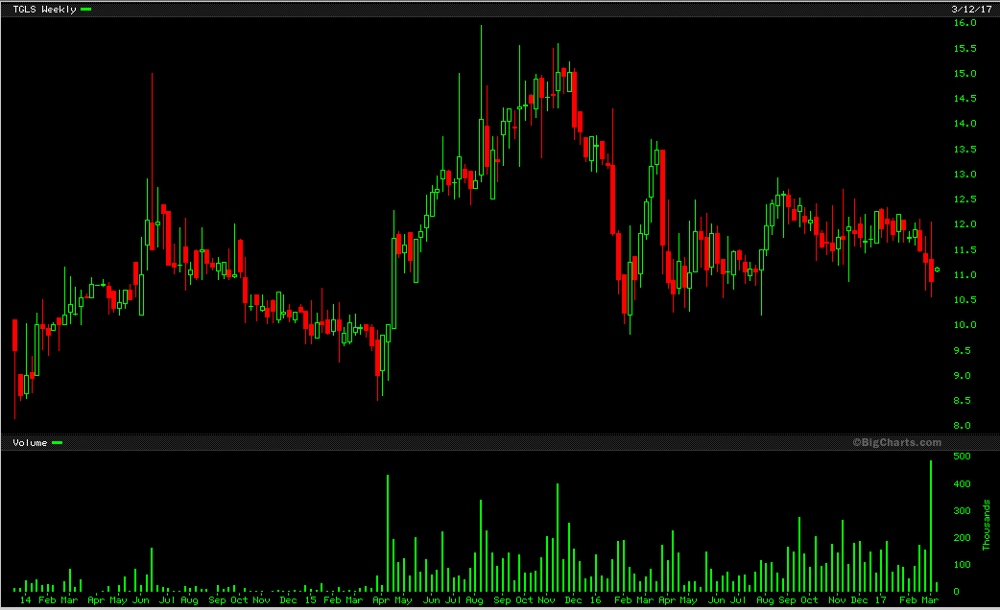 What's Powering The Business's Growth?
Tecnoglass is a classic globalization geography arbitrage sort of business. The company is centered in Barranquilla, Colombia - an Atlantic port city near to Cartagena and Panama. This is an ideal location to center an export industry, since Barranquilla has easy access to the booming Panamanian market (and its canal) along with the southern part of the US.
Shipping is often cheaper for Tecnoglass sending goods from Barranquilla to Florida than US competitors would pay sending goods by road or rail from their domestic manufacturing facilities. Due to the imbalance in trade between Colombia and the US, many vessels leave the US carrying goods to Colombia, but return from there to the US empty; thus Tecnoglass's products can hitch a cheap ride.
Not surprisingly, in a country where the minimum wage is $253/month at today's exchange rate, Tecnoglass has access to far cheaper labor than its US-based competition. Tecnoglass has topped US competitor PGT Innovations (NYSE:PGTI) by about 250 basis points on both operating and net margin over the past year, for example, and my understanding that its gross margin advantage on its actual manufactured products is higher yet.
The plunge in the value of the Colombian Peso since 2014 has been of particular benefit to Tecnoglass. Since that time, the Colombian Peso has fallen from 1,900 to the dollar to around 2,900 today. In practical terms, a reasonably well-paid employee earning 25 million Pesos a year would have cost Tecnoglass $13,158 in annual salary in 2014. That same wage today amounts to just $8,591.
Not surprisingly, Tecnoglass's US business has exploded since 2013, rising from 36% of sales then to 60% of the company's business today. Considering that revenues themselves doubled over that same span, that's a tremendous level of penetration for Tecnoglass's business in the US, as it expands out of its legacy south Florida market.
Operational Details & Market Outlook
Tecnoglass cites high barriers to entry as a competitive advantage in its most recent 10-K:
Entry into many of the markets that we serve is limited due to the technical certifications required on high specification building projects such as IGCC, IqNet Icontec 14001 and ISO9001. Our success in those markets is due in large part to our ability to produce sophisticated products, the breadth of our product offering and our reputation for delivering high quality, made-to-order architectural glass on time. These factors are required to compete successfully for multimillion dollar projects typical of our business. Given the vertically-integrated nature of our operations, including the aluminum extrusion products provided by [Tecnoglass], there is a more limited set of competitors and entry into these markets.
There are a multitude of pure glass manufacturers located in the United States and Canada and a handful of integrated glass and metal producers. The 2016 list of biggest producers from Glass Magazine - here's pure glass and integrated. Tecnoglass is the second biggest integrated producer serving the US, trailing only Oldcastle BuildingEnvelope. Here's Glass Magazine's profile for Tecnoglass:

In all, Glass Magazine lists more than 60 competitors operating in the US, and Tecnoglass is either #2 or #3 in size (unclear if it's ahead of a window competitor since they aren't on the same list.) While there aren't that many direct barriers to entry, scale certainly helps. And most of the competition are shops with revenues under $50 million/year that simply don't have the resources to compete against Tecnoglass for mega projects or high-spec orders.
The industry, like cement, for example, will probably never consolidate that much, since shipping costs are high relative to the cost of finished goods. However, bigger competitors have access to financing, which allows them to build newer facilities to lock up high-end markets with more specialized products. Tecnoglass, with its top-of-the-line new plants, has a huge leg up on tiny US glass manufacturers with more expensive labor operating old crumbling facilities.
As for demand, the glass industry has not been able to easily meet supply in recent years leading to articles with headlines such as: Glass Is The New Gold In A Time Of Shortage. A number of glass manufacturing firms shuttered following the great recession as demand from both housing and commercial building collapsed. However, the last few years have seen revivals in both markets - particularly housing, where homebuilder confidence has hit levels not seen since 2008.
Why TGLS Stock Hasn't Performed: The SPAC
The bull case for this company practically sells itself (more on that in the valuation section), so let's move into discussing the bearish concerns now. The first big point against the Tecnoglass bull case is a simple but powerful question. If this business is so good, why'd it go public via SPAC?
That's an appropriate question to ask. SPACs are generally performed on companies with a significantly lower quality of business than you'd find by IPO. Consider the mechanics at work. A company that wants to IPO has to sell itself, literally, via the roadshow to win over investor favor. If the company can't drum up investor demand, the IPO has to downsize, cut its price, or be pulled altogether. And generally, investment banks won't push something public that they think is a complete joke (though exceptions apply).
SPACs, on the other hand, operate on a different mechanism. A large portion of the market for SPACs is from institutional funds that are there to try to get a free lunch. A hedge fund can buy the SPAC at $10, collect the warrants that come with the deal, and as soon as a deal is consummated, it tends to dump the stock. Thus, the fund gets a free warrant (call option) on a business that may or may not launch to the upside once it's listed.
If the SPAC fails to find an acquisition partner, the investors get their money back. There's no warrant upside for the institutions, and the SPAC-runners don't get deal fees for completing an acquisition. As such, the motivation is inherently to close a deal rather than making sure the transaction is high quality. Just in recent memory, I can remember a bunch of SPACs imploding on investors including Ability (NASDAQ:ABIL), AgroFresh (NASDAQ:AGFS), and the now bankrupt Crumbs Bake Shop.
To sum up, it's very much worth raising an eyebrow when a company goes public via SPAC. That said, it's not inherently a bad thing – unlike reverse mergers, you shouldn't assume most SPACs are toxic from birth.
In Tecnoglass's case, there was very good reason to go SPAC. Tecnoglass needed a bunch of capital, since it needed to raise its bonding capacity in the United States to win bigger deals. The funds received from going public are a big part of the reason why Tecnoglass has been able to grow so quickly in the US post-2013. And the US listing helped improve credibility with insurers. A Colombian media outlet spoke with Tecnoglass's Christian Daes, who stated:
[IPOing on the Nasdaq] was motivated by the company's need for greater credibility in the American market. In the US if you sell something you'll need a compliance insurance policy, and it was very difficult to get this requirement without being an American company. Because of this, we decided to enter the Nasdaq, where we are required to publicly present our balance sheet, which are audited by firms like PricewaterhouseCoopers. After our foray into this market the change in our credibility improved markedly, we even increased the amount of insurance that we can use.
But going public via IPO would have been difficult if not impossible for Tecnoglass. Sure, it could have listed in Colombia. But the exchange in Bogota is still mostly a backwater; even leading Colombian firms' shares have a tendency to trade infrequently there, and liquidity is limited at best. A new company with less-than-widespread market visibility is unlikely to have received an attractive IPO debut in Colombia.
Colombia's market is only the world's 35th largest, with a total market cap of just $86 billion. And even that figure is supported heavily by ADRs of Colombia's leading firms on the New York stock exchange.
That said, not many Colombian firms have made the leap to New York. As of this writing, only the state-run oil company, two large banks, and a Colombian airline are listed in the US in addition to Tecnoglass. At the time Tecnoglass needed money, there was no indication that there would be much market demand for their stock in the US. With both the Colombian and US IPO markets unlikely to deliver the needed capital on schedule on favorable terms, a SPAC was a more expedient way to getting access to the public markets.
Why TGLS Stock Hasn't Performed: The Accounting Delays
There's a second problem that arises from being one of the few Colombian firms listed in the United States. Tecnoglass's management didn't appear to understand how complex and different US accounting standards are from those generally accepted in Colombia. When only four Colombian firms listed in the US, you can see how there would be a lack of US-specific accounting expertise locally.
In early 2015, after a year of being public, it appeared Tecnoglass was about to start rewarding its shareholders. A warrant exchange was supposed to start, with the initiation of a 12.5c/quarter dividend shortly thereafter. Unfortunately, this got heavily delayed, in large part due to switching to a better accounting firm. The company's 2014 10-K filed late.
Regardless, investors gave them a pass; TGLS stock ran up from $10 to $14 over the back half of 2015. But the gains were fleeting, shares got hammered as accounting problems resurfaced. The company was forced to issue a press release titled "Update On 2015 Form 10-K Filing", which is the sort of headline that fills an investor with dread.
In Tecnoglass's case, the findings weren't that bad; some non-cash items had been mis-categorized and had to be restated. Regardless, the company's Colombian stock listing was halted and the NASDAQ threatened to delist the firm.
Finally, in June 2016, the company managed to file its 2015 10-K, regaining full compliance and getting back in regulators' good graces. At this point, the company hired Deloitte & Touche to handle consulting and US GAAP measures, along with beefing up the company's internal finance department.
That was all well and good, but two and a half years late, at this point. The US isn't the Colombian market; something management seemed slow to grasp; institutional investors don't like this sort of extended amateur hour antics.
2017: Turning The Corner
I've dealt with a lot of fraudulent companies over the years; I, previously, was an analyst at a hedge fund that made its name shorting low-quality US-listed Chinese firms. Given that background, accounting troubles worry me. However, while Tecnoglass's accounting troubles gave me pause and I refused to invest heavily in the company until recently due to ongoing concerns, nothing that happened appears to have been an intentional attempt to deceived or mislead investors.
Tecnoglass's management was running the firm with the sorts of related parties and lax accounting that is fine in that company's local market. Management, owning virtually all of the firm itself, had no compelling reason to worry about optics. Suddenly going public would have been challenging enough - going public in a foreign country with far more stringent accounting rules seemed to exceed the company's in-house accounting ability. I don't think it realized the gravity of the situation until the delisting threat arrived, but since that point, it has taken much more tangible measures to clean up the books.
Just two months after filing the belated 2016 10-K, the company finally commenced the warrant exchange taking out the old SPAC overhang. A month later, that finished up, and the company unveiled the promised 12.5c/quarter dividend. And it didn't take long to pay on that promise, the first dividends arrived in November 2016.
With All That Resolved: What's The Bear Issue Now?
I frankly expected Tecnoglass stock to start to rally after the first dividend was paid. This hasn't happened. The stock remained range-bound around $12 and has actually traded down over the past month.
The dividend is a great sign in terms of the company's financial strength. Only the rarest of fraudulent companies pays a more than trivial dividend. At $11.09, TGLS stock is yielding 4.5%. Management, which owns the majority of the company, is offering up something very tangible to its minority shareholders.
Also, the company managed to place $210 million in debt internationally at a reasonable 8.2% interest rate recently. This lowered the company's cost of debt by 70 basis points, refinanced near-term debt, and transformed virtually all of the company's liabilities from floating to fixed rate debt. It's also an accomplishment for a LatAm borrower with such a limited international profile to pull in that significant of a dollar loan; you won't find many smaller Colombian firms issuing international US-denominated debt.
Regardless of paying out a fat dividend and making an impressive and transformative bond issue, investors apparently remain skeptical. TGLS stock certainly hasn't moved higher.
The latest complaint I've heard is that the company remains free cash flow negative. This is true on a trailing 12-month basis, though the company had turned FCF-positive in its most recent quarter, enough to more than meet the dividend twice over.
Regardless, traditionally, Tecnoglass has borrowed money on a short-term basis, used that to expand capacity, and then rolled the borrowings into longer-term paper once the new assets showed financial viability. Tecnoglass, in particular, was able to leverage the 2008 crisis by growing rapidly in the US as competitors withdrew, picking up their market share.
Tecnoglass has continued along this path, and in recent years, has authorized several large capex projects. Additionally, the company is growing revenue at such a rapid rate that the cash conversion cycle hasn't kept up; if you grow revenues at a 20-something percent compounded rate, you get some leeway in my book for rising inventories and accounts receivables. Sure, the presence of related-party transactions raises eyebrows, but management has largely cleared these up by buying out the related parties and large customers.
In short, negative free cash flow is worth watching if it persists (though it may already be finished). Lots of companies with accounting problems report profits but don't generate cash. In Tecnoglass's case, however, the cause of the negative free cash flow is logical and should abate with time once the company's vigorous growth phase slows down.
Tecnoglass: An Orphan Stock And Priced As Such
Management had an opportunity to make Tecnoglass a popular NASDAQ-listed growth stock. Shares did rally up to $15 at one point in 2015, representing a 50% gain for people in from the $10 SPAC price. Given that the business has doubled in size since the SPAC deal closed, it wouldn't be unreasonable to expect a near-doubling of the stock price over the same span. Instead, we're back in the $10s.
My thinking: the accounting problems scared off potential institutional investors, and now there's not much of a natural base to buy up the company's stock. While nothing in the accounting stuff was particularly egregious and it appears to be fully resolved now, it was enough to scare me off for years, and I've lived in Colombia and speak fluent Spanish. I struggle to imagine many New York hedge fund managers buying into a small emerging market 80% management owned company with a funky accounting smell.
Sure, these problems were resolved last summer, but has anyone heard about it? Tecnoglass stock is only covered by Avondale Partners and Dougherty & Company, LLC – neither of which have much pull on Wall Street.
And yes, the company pays a high yield, or at least high yield for a growing industrial company. You won't find many US firms growing revenues at 20%+ a year while paying a 4.7% dividend. But the sorts of retail investors that normally buy stocks for their 4.7% yields are unlikely to have ever heard of Tecnoglass or know much of anything about investing in Colombia.
Furthermore, Tecnoglass doesn't have much natural brand advertising with which it'd connect with US-based investors. The only other small-cap Colombian firm listed in the US, Avianca (NYSE:AVH) lands large planes at New York's JFK airport frequently. Tecnoglass is involved in large buildings in the US – such as its contribution to the VITA Tyson's Corner tower in the DC metro area – but this sort of thing simply doesn't build the same brand awareness: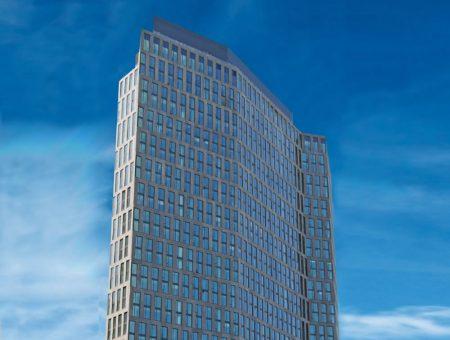 Interlude: Trump Risk
I'm not certain to what extent Trump fears have weighed on TGLS stock in recent months. Tecnoglass didn't trade sharply lower following Trump's victory, but his presence at the White House may be responsible for the steady persistent selling we've seen in Tecnoglass stock this year.
The risk seems obvious. Tecnoglass – or at least the 60% of its sales that occur in the United States – is based on a classic labor arbitrage business model. Take advantage of cheap Colombian wages and an attractively located port, and beat the domestic US competitors badly on price. I've seen estimates that Tecnoglass is scoring a more than 500 basis points profit margin advantage against domestic-US based competitors.
So, this is a classic free trade taking American jobs sort of situation that Trump will stamp out, right? Not so fast. For one thing, Colombia runs a trade deficit with the United States. Colombia doesn't export many manufactured goods – Tecnoglass is quite a pioneer in this sense. Most of the country's population lives in the mountains, and due to the country's tragically inadequate highway system, goods produced in the mountains struggle to make it to sea. The government is currently investing to try to fix this, but it won't change quickly enough to impact the investment thesis here.
Tecnoglass, by setting up an export business in a poorer coastal part of the country, established a niche for itself and can take advantage of advantageous shipping rates and the fact that the country needs more high-quality exports to balance its trade situation. Due to its reliance on raw commodities, such as oil, coal, gold, and coffee that have gotten hammered in price in recent years, Colombia has opened a wide trade deficit overall and a moderate one with the US specifically.
Thus, there's little reason for Trump to target Colombia individually. And on a political basis, Colombia and Trump are arguably the closest natural allies in Latin America. Colombia has long run a mano dura "iron fist" policy against narco-traffickers, exterminating them at the root rather than taking a more measured approach. This fits in well with Trump's anti-drug and pro rule-of-law approach. Colombia is a natural ally against Venezuela, and both Trump and Colombia like conservative but occasionally unorthodox economic policy. I'd be very surprised if a Trump-led US doesn't maintain strong economic ties with Colombia.
Sure, if Trump throws down some sort of import tax on absolutely everything coming into the country, it might hurt Tecnoglass by association. However, the current US-Colombian direct free trade agreement might keep Tecnoglass's current protected 0% import tax rate in effect. More broadly, many of the raw materials Tecnoglass uses tend to come from the US, which might allow the company to avoid potential tariffs on a mutually-beneficial trade basis.
Long story short, sure there is some Trump risk here. But Tecnoglass is way down on the priorities list for the Trump administration. Colombia is unlikely to get singled out for trade complaints, and Tecnoglass has a decent chance of avoiding a generalized import tax. Even if not, its margin advantage is robust enough to overcome some slippage on this front.
Valuation: By Any Measure, Tecnoglass Is Cheap
Tecnoglass is currently trading in the mid-7s on an EV/EBITDA basis, compared to competitors who trade around 10x. Normally, Tecnoglass, as the firm growing revenues at an aggressive clip, would earn a premium. Instead, it trades at a sizable discount.
On a PE basis, it trades under 15x, again quite cheap given the rapid rate of revenue and earnings growth. And it's better than it appears. Once you adjust for the one-time cost related to the warrant exchange in last September's quarter, you end up with a significantly lower figure going forward.
With a forward-looking EV/EBITDA basis, you're looking at something in the low 6s. The two closest listed competitors, Apogee (NASDAQ:APOG), and PGT Innovations are at 10.3x and 9.7x, currently. 50% upside to peers on that basis.
TGLS's dividend yield from the current price is 4.7%. You simply aren't going to find much of anything growing this quickly and showing this strong a level of profitability that concurrently provides such a strong yield.
Tecnoglass also comes with one additional kicker. It's currently paying an obscenely high corporate tax rate, close to 40%, which should decline to 33% on a going-forward basis.
Colombia recently reformed its tax system, with most changes going into effect January 1st this year. 2017 sees no benefit, as the tax cut is offset by a surtax, but benefits begin starting next year. KPMG has the details:
Accordingly, with this tax reform, the corporate income tax will have the following rate schedule (applied beyond a limited profit threshold):

40% in 2017 (34% income tax plus 6% income surtax)
37% in 2018 (33% income tax plus 4% income surtax)
33% in 2019
There's a multitude of reasons that TGLS could be trading so cheaply now. The company made a bad first impression with its accounting issues. The firm has struggled to pick up institutional investors or any meaningful analyst coverage. And Trump's victory cast a long shadow on any sort of US-export based business, such as Tecnoglass runs.
However, whether you look at it from a EV/EBITDA, earnings, or yield perspective, it's hard to justify any price below $15 for a company growing this quickly. Management has taken the necessary steps to restore trust in the firm, and this point forward, the company's impressive numbers can finally speak for themselves.
I see TGLS as a strong buy, $16 price target
This article is part of Seeking Alpha PRO. PRO members receive exclusive access to Seeking Alpha's best ideas and professional tools to fully leverage the platform.
Disclosure: I am/we are long TGLS.
I wrote this article myself, and it expresses my own opinions. I am not receiving compensation for it (other than from Seeking Alpha). I have no business relationship with any company whose stock is mentioned in this article.
Editor's Note: This article covers one or more stocks trading at less than $1 per share and/or with less than a $100 million market cap. Please be aware of the risks associated with these stocks.