We have been bullish on oil (NYSEARCA:USO) since late 2016 with a price target of $60/barrel. We don't own the commodity itself, but nearly 17% of our portfolio is invested in the El Dorado-based company Murphy Oil (NYSE:MUR).
This week, two pieces of news re-affirmed our belief in the medium-term (1-2 years) bullishness of the oil price.
The first one is related to a report by the WSJ which mentioned that Saudi Arabia has told OPEC officials that it needs to extend the production-cut agreement for another 6 months. This move means that SA no longer cares about market share. If it did, then it won't pursue extending the deal at times when US oil production is increasing at a rapid rate (shale production has increased nearly 4.6% since the output cut deal in early December).
We believe that there are two reasons for SA's move. The first one is related to huge budget deficits as a result of lower oil prices and the war costs with Yemen. In just 2 years, the assets of SA central bank were slashed 35%. While the Vision 2030 is an ambitious-brave idea, there is high doubts that the country can withstand so many years of budget deficits given the war costs, the expensive lifestyle of the 15,00 members of the royal family, and the weakness of sectors not related to oil.
Another reason why we think SA needs higher oil prices is the IPO of Aramco. The company stated in January that it's 2018 IPO date is still intact, which means that SA needs oil prices to recover reaching that date. With 265 billion barrels in reserves and sub-$10 production costs per barrel, Aramco will be valued at nearly $2 trillion. Think of it that way; theoretically speaking, each $1 increase in oil price will increase Aramco's valuation by $1 billion, and will increase the proceeds from the IPO by nearly $150 million, assuming Saudi Arabia sold 15% of the company as expected (Financial Times has created an interesting calculator for Aramco's valuation, here).
The second piece of news is related to the increasing tensions between the United States and Russia as a result of the missiles strike on Syria. The Russia ETF (NYSEARCA:RSX) was down 5% last week, while being nearly flat this week. Any arising tensions between the two countries is a bullish news for oil. That's because the possibility of President Trump, backed by an anti-Iranian congress, scrapping the Obama nuclear deal with Iran increases whenever tensions with Russia arise. Doing that, 3 million barrels of daily oil production will disappear from the market.
Actually, given the rhythm between the Saudis and President Trump, we won't be surprised if the Saudis would be the ones pushing Trump for this move. Why not? Everyone (except Iran) would be happy. The Iranian economy would be damaged (the Saudis definitely want that), oil prices would be higher (Trump and the Saudis want that), Israel and pro-Israeli congressmen would be happy (Trump desperately want that), and the Saudi's won't sacrifice their own market share in the sake of higher oil prices.
What to do? Invest in Murphy Oil
We don't want to repeat our fundamental analysis on Murphy Oil which is stated in the article linked below.
Instead, we will share this chart which shows a possible retracement of MUR price from current levels.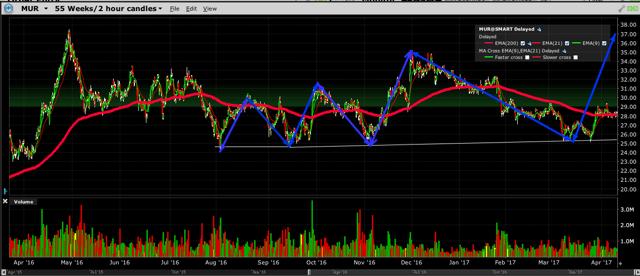 Since August 2016, a strong pattern has been formed. Whenever MUR price touches the $25-$26/share level, the stock bounces to make higher highs. If this pattern persists, then we might see the $37/share level again. With the stock trading at $28.4, that's a 30% upside. And by entering a stop loss order at $24/share, that's a 18% maximum loss. This makes the trade favorable from a risk/reward perspective.
To be true, we highly exclude the pessimistic case scenario from happening. The stock has a 0.6 downside correlation with the price of oil, which is very low compared to other shale players. For example, Devon Energy (NYSE:DVN) and ConocoPhillips (NYSE:COP) have a 2 and 1.7 downside correlation respectively. This means that the downside is limited for MUR, and any unexpected drop in the price of oil will have a minimal impact on the stock.
Conclusion
We believe that oil price will rise in the short/medium term. Political risks and the Saudi's desire to push oil prices are enough to let the commodity trade in the $50-$60 range. While we are confident in our conclusion, we think it's more favorable from a risk/reward perspective to invest in E&P companies. That's because the shares for these companies seemed relatively resilient at the commodity's cycle worst times. As we said in one of our articles about oil, there is so much capital in this country that even if a very small portion is allocated to the oil sector, it's enough to let the sector afloat for a very long time. This gets us back to Murphy Oil, one of the cheapest and most resilient oil companies. We believe that the company's reserves are more valuable than those for other companies, and yet the market is pricing these reserves at very low levels. We also believe that the stock is trading at a solid pattern with clear downside risk. We recommend investors to buy the stock and enter a stop loss at $24/share with a price target at $37/share. For more information about our valuation of Murphy Oil, please read the link below.
"Murphy Oil: A Safe Oil Pick With Significant Upside"
Happy Investing to All.
Disclosure: I am/we are long MUR.
I wrote this article myself, and it expresses my own opinions. I am not receiving compensation for it (other than from Seeking Alpha). I have no business relationship with any company whose stock is mentioned in this article.