Take a look at the long term price of gold (NYSEARCA:GLD), what do you see?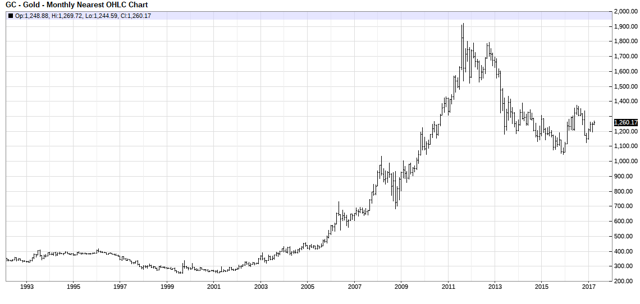 I see a very strong uptrend in the price of gold from early 2000s to 2011. Then, I see a tight range between $1550 and $1750 until March 2013. So, what happens next?
Gold broke down the support of $1550 in April of 2013 and continued

selling off for another 2 months, May 2013 and June 2013. Thus we had a 3-month sell-off.

Since June of 2013, gold has virtually done nothing. In fact, the price of gold now in April of 2017 (almost 4 years later) is

about the same as in June of 2013.
So, here is the summary: Gold had a 10-year strong uptrend, nearly 2-year range, a 3-month sell-off, and nearly 4-year of virtual flat line.
So, let's think about this. Clearly, there was a strong fundamental reason for gold to rally for about 10 years. Near the peak of this uptrend, many have been calling it "a gold bubble". Well, when the bubbles burst, the price generally quickly collapses back to some kind of base. However, gold remained in a range for 2 years, and then had a 3-month sell-off. Why the sell-off? Perhaps, a major technical support was broken. Or, as the chart below show, the Japanese yen (NYSEARCA:FXY) collapsed at the same time (the chart shows US dollar rising vs. the yen). Or, the collapse of Japanese yen possibly caused the technical sell off in gold.

Regardless, the sell-off lasted only 3 months. Since, for almost 4 years, gold remained flat. This is important observation, as it clearly shows that there was no "gold bubble", the price remained stable for nearly 4 years, after the 3-month sell-off. Don't forget, from 2013 to 2017, gold had all possible reasons to sell-off, back to the base of about $400-600. Specifically, we had a major bull market in stocks (NYSEARCA:SPY), the euro (NYSEARCA:FXE) collapsed, and in fact, the US dollar (NYSEARCA:UUP) was in a major uptrend versus most currencies, the Fed started to increase the interest rates, etc. Yet, gold remained very stable.
So, what is the point? Since gold had basically only a 3-month sell-off, most serious fundamental investors likely remained invested in gold. Furthermore, the last 4 years of stability likely indicate a long term accumulation, rather than distribution. Thus, it is likely that the same fundamental reasons behind the 10-year bull market in gold are still in place: global fight against deflation with alternative monetary policy tool. Just read what's going to happen when the next recession comes, you'll understand.
Over the short term, it is important that gold breaks out the key resistance at around $1400, and from there we are not that far from the all time high.
Disclosure: I/we have no positions in any stocks mentioned, and no plans to initiate any positions within the next 72 hours.
I wrote this article myself, and it expresses my own opinions. I am not receiving compensation for it (other than from Seeking Alpha). I have no business relationship with any company whose stock is mentioned in this article.