Welcome to the continuation edition of Oil Markets Daily!
US Crude Storage
EIA's crude storage report showed total US liquids stockpile fell year over year with the surplus at just 103 bbls.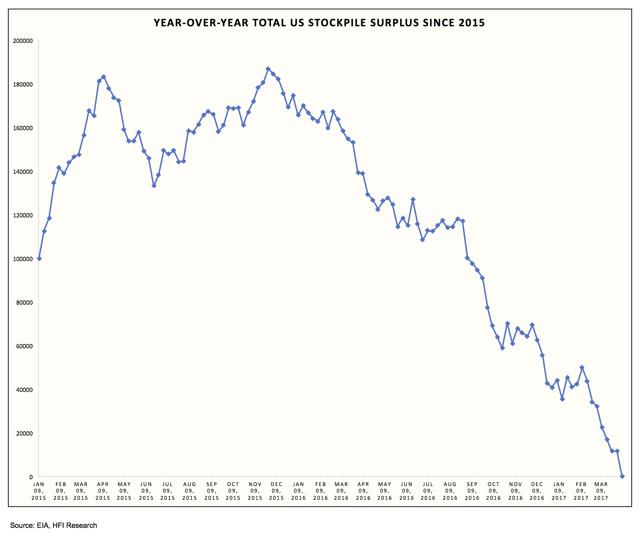 As you can see from the chart above, year-over-year changes in total US liquids stockpile started falling in March 2016. That's also when we started talking about how the global oil markets started to rebalance.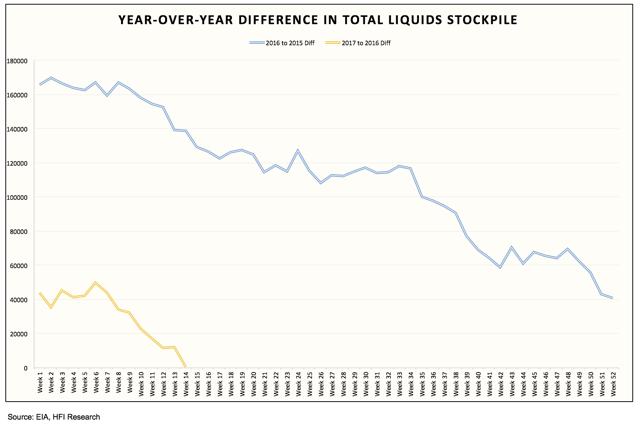 With the 2017 total US liquids stockpile back to the same level last year, the total liquids stockpile draws over the next several weeks will see the trend continuing as refinery throughput ramps up.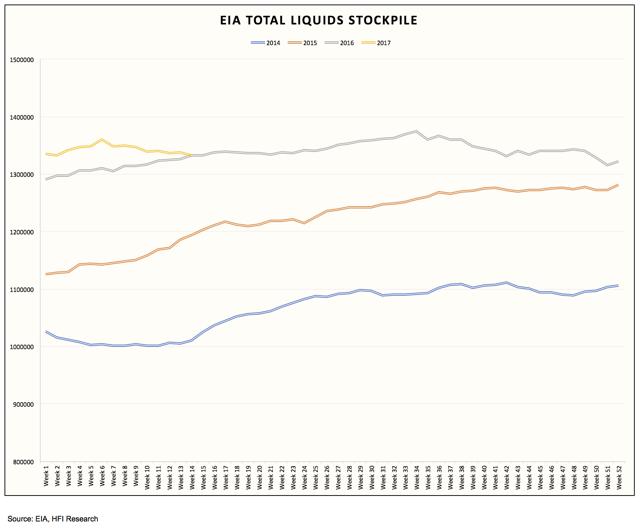 What's evident now to most observers is that the oil market is rebalancing contrary to what some might have written about on Seeking Alpha or in the media. While US crude production is on the rise again according to the weekly EIA estimates, the global rebalancing that's taking place won't stop anytime soon.
As a matter of fact, we expect the next few months to show severe draws in global crude storage inventory. If OPEC maintains the production cut agreement of 1.2 million b/d for another 6 months, we expect global liquids stockpile to reach the five-year average by August this year. In turn, the sentiment surrounding the oil markets will be more buoyant and prices should rise as a result.
For more additional insightful oil market analysis and energy equities research, please take a look here for more info .
Disclosure: I/we have no positions in any stocks mentioned, and no plans to initiate any positions within the next 72 hours.
I wrote this article myself, and it expresses my own opinions. I am not receiving compensation for it (other than from Seeking Alpha). I have no business relationship with any company whose stock is mentioned in this article.