SNAP data by YCharts
I believe that Snap Inc. (NYSE:SNAP) is near peak user growth and the majority of future growth will come from the other low value markets around the world. Weak growth, combined with the IPO lockup expiration in August, could create a lot of downward pressure on the share price.
Snap defines a daily active user (DAU) as a registered Snap user who opens the Snapchat application at least once during a defined 24-hour period, which is fair. What's impressive and noteworthy is that Snap claims their DAUs visit Snapchat more than 18 times a day and spend an average of 25 to 30 minutes on it. They also claim that more than 60% of their DAUs aren't just shadow lurkers like myself, they actually create snaps.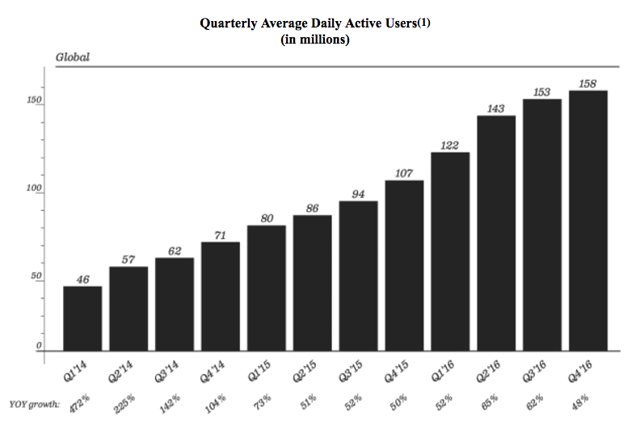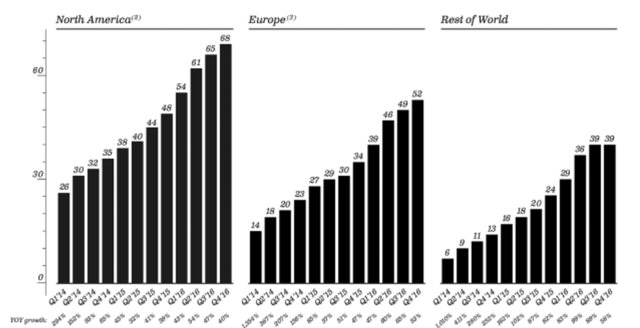 Two things to note about these charts above (from Snap's S-1 filing), first is the quarter over quarter flat line in DAUs in the "Rest of World" bar chart. Second is the slowing quarter over quarter growth rates in the North American and European markets.
Snap claims their largest age group of users are 18 - 24 which make up 36% of their U.S. DAUs, the next largest age group is 25 - 34 at 27% of DAUs, followed by age group 13 - 17 which makes up 22% of DAUs. Add that all up and we have 85% of their U.S. DAUs are between the ages of 13 and 34. As of Q4 2016 they had 68 million daily active users in North America (also including Mexico and the Caribbean). Now only Snapchat knows how many of those DAUs are in Mexico, Canada, and the Caribbean but I'm willing to bet U.S. users outweigh all of them. According the U.S. Census Bureau the population growth between 1980 - 2010 was 82,199,733 (it doesn't distinguish from immigration, emigration and babies born so I'm staying conservative and assuming immigration had a net effect of 0 and this data consists solely of babies born. Today those people are between the ages of 7 - 37). If we removed ages 7 -12 and 35 - 37 that would be nine different ages and leave us with the same data set as Snap's measured age group of 13 - 34 which comprise 85% of U.S. DAUs. removing 9 ages from our data set is equivalent to 30% so if we subtract 30% from our 82,199,733 we get an approximate population within the 13 - 34 age group of 57,539,814. Again, we don't know exactly how many of its "North American" DAUs are from the U.S. and the other regions, but the point I'm trying to make is that Snapchat's high dollar advertising market is rather saturated. Just how valuable is the North American market you say? Here are a few more charts from their S-1 filing.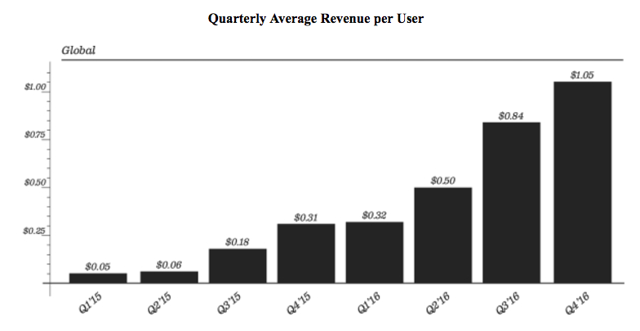 North America is clearly the sweet spot with an average revenue per user (ARPU) of $2.15 which Snap defines as quarterly revenue divided by the average Daily Active Users. Quite a lead on the European market of $0.28 and "Rest of World" at $0.15. Combined we have an ARPU of $1.05
If Snapchat does manage to significantly grow its user base it may also increase its costs (although probably not incrementally). Currently Snapchat has committed to spend $2 billion with Google Cloud over the next five years and 1 billion with Amazon's AWS cloud services. That's an annual cloud services cost of 600 million.
Another cause for concern is Spiegel's dictatorship style of hoarding the mass majority of the voting rights. Would he even have done the public stock offering without a strangle-hold on the company? it signals to me that he might not be so confident in the company's future. Snap currently has Class A, B, and C shares. Class A common stock (512,527,443 shares outstanding), which was sold in the offering and has no voting power. Class B shares (283,817,489 outstanding) which have one vote. Class C shares of common stock are each entitled to 10 votes and there are 215,887,848 outstanding. The class C shares are held by the company's founders and with them the founders control 88.5% of the voting power.
Zuckerberg's Facebook (NASDAQ:FB) copycat products and attempt to buy Snap does say something about the ingenuity and innovativeness of Spiegel but when Spiegel declined Zuck's buyout offer he immediately became Zuck's biggest potential threat and competitor, and quite frankly Spiegel is out-gunned and out-matched by Zuckerberg. Zuckerberg is the Muhammad Ali of Silicon Valley. This leads me to my next point, Spiegel graced the cover of L'Uomo Vogue, an Italian men's fashion magazine in October 2015. The spread featured Spiegel in several high end fashion digs and fur coats. Now I'm not saying that in and of itself is a death knell for Snap but I'll take the guy who wears the same hoodie and jeans everyday, less decision fatigue.
Although I don't think Facebook and Instagram's copycat products are going to replace Snapchat overnight I do think they will slowly take market share, take a percentage of potentially new users that might have otherwise joined Snapchat, take engagement, and most importantly, set the stage for price wars and competition for ad dollars that would have otherwise just went to Snap. In short, this situation is analogous to The Undertaker, Kane, and Paul Bearer (think Snap, Facebook and Twitter (NYSE:TWTR)) stepping into the ring with Snap and if Snap doesn't think fast it will be getting a double choke-slam through the canvas (for those who don't know, The Undertaker just recently retired from the WWE after a 27-year career so a shout out is in order. Thanks Taker, I spent many nights of my childhood up past my bedtime just to watch you tombstone guys into the mat).
Spiegel does have first mover advantage. In the same way Zuckerberg took over the social media space, Spiegel has taken over his space by getting the young influential people on his platform first, once it has been established that this is the cool kid table of the lunchroom cafeteria, that's where everyone wants to be and it's difficult to change that. If Snap is the platform all your friends are on that's where you'll go to socialize it becomes a bit of a self fulfilling prophecy due to the positive feedback between belief and behavior. Simply copying Snapchat's features won't draw many users away, it'll take real innovation to scoop Snapchat's users at this point. The real risk to Snap's user base is keeping users interested, which is no easy task with the younger demographic. With that being said, my research suggests that Snap's users are still just as engaged as ever. But like I said earlier, I believe user growth is coming to an end so Snap will have to find a way to extract maximum value from the users it currently has. I think this will be difficult as I am very skeptical of the effectiveness of their current ad model and their ability to significantly increase ad load on their users without losing engagement. Two things some of the other social media companies were able to do well that I think will be really difficult for Snap is transition from the younger more trendy crowd to the older generations and transcending cultures.
Evan Spiegel has proven to be a good leader thus far but is he a great leader? Now that they are a public company it will become more clear but it's still undecided. I'm sure most have forgotten or maybe never knew but several years ago Spiegel was at the center of a pretty immature scandal after some of his emails were leaked. Yet again I find myself comparing Spiegel to some of the other Silicon Valley greats and trying to imagine them acting like this. It would be easier to dismiss if Spiegel wasn't the CEO of a hyper growth startup tech company in Silicon Valley, the very definition of the kind of company where the leadership needs to be analyzed just as much as the actual business. An investment in Snap is a bet that the captain and his lieutenants can execute and out-innovate their competition.
In Snap's S-1 it states that 60% of all ads are watched with sound on. I found this a strange data point to mention since most people don't watch Snapchat with the sound off and ads usually appear randomly and quickly in-between 1-10 second snaps. Snap videos are the main feature on Snapchat and watching video without sound is like putting Heinz ketchup on a wagyu ribeye, it's just not the same. Especially when considering users can quickly skip the ad with a simple screen tap.
Snap's Lenses and Geofilter products have proven to be a big hit and increased user engagement but Snap's attempt to monetize Lenses by charging users was a complete failure. Snap had to quickly roll back the Lenses store. This demonstrated an unwillingness from Snap's users to directly pay for creative tools.
Bull Case Arguments
Snapchat thinks snaping is the newest form of communication, replacing regular text/talk communication. Think: Telegraph to telephone to text/video messaging to snap messaging. I find it reasonable to think snaps are a new alternative to previous forms of communications but far from replacing the older mediums.
Mobile ad spend growth will be a nice tailwind for Snap even if the other tech giants are fighting for those same dollars (chart data below from Advertiser Perceptions' show Snap ranking 4th behind YouTube (NASDAQ:GOOG) (GOOGL, Facebook, and Instagram in the category of "plans to increase ad spend") as advertisers move more of their advertising spend from traditional media to mobile. The International Data Corporation projects that worldwide advertising spend will grow by 18% from $652 billion in 2016 to $767 billion in 2020. Mobile advertising is the fastest growing segment of this market, and is expected to grow nearly 3x from $66 billion in 2016 to $196 billion in 2020, while non-mobile advertising spend is expected to decrease by approximately $15 billion during the same time period. Charts below are from Snap's S-1 filing.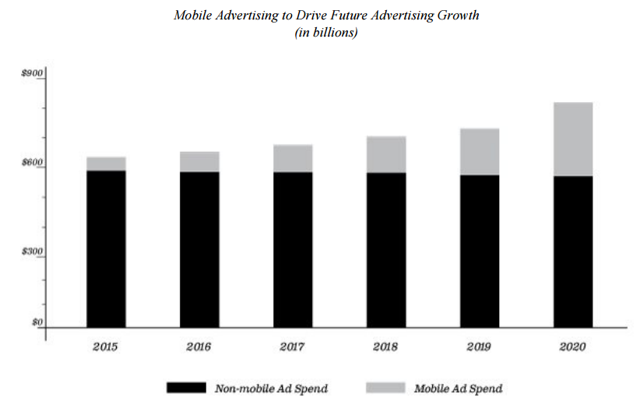 For the year ended December 31, 2016, Snap recorded revenue of $404.5 million, as compared to revenue of $58.7 million for the year ended December 31, 2015, representing a year-over-year increase of more than 6x. Morgan Stanley, the lead underwriter thinks Snapchat will reach $4.9 billion in revenue in 2020. Snapchat's 2016 ad load was .6 ads per user every hour. This compares to roughly 50 on Facebook, 100 on Twitter and 7 on Instagram. Some experts believe Snapchat can increase their ad load to about 8. Over 13x what is currently displayed. Although I think they can definitely increase their ad load I think that 8 is a stretch, but the real question is what is the true effectiveness of the ads on Snapchat. Below is some data provided by Snap that looks pretty good. But I'm skeptical. I assume that data was cherry picked from dozens or hundreds of other ad campaigns that didn't go as well and why wouldn't they cherry pick when ramping up for an IPO it's not like they are going to display an ad campaign that completely bombed. I think it's fair to assume that this is more of a best-case scenario as opposed to an average ad campaigns on Snap's platform.
Snap recently developed its own Snap-to-Store measurement product using the location-based features of the Snapchat application to determine the increase in store visits after viewing an advertising campaign. For example, Wendy's blanketed its U.S. stores with Sponsored Geofilters that promoted the Jalapeño Fresco Chicken Sandwich. They used their Snap-to-Store measurement methodology to report that the Sponsored Geofilter drove over 42,000 incremental people to a Wendy's location within seven days of viewing the Sponsored Geofilter. Flo-chart below comes from Snap's S-1 filing.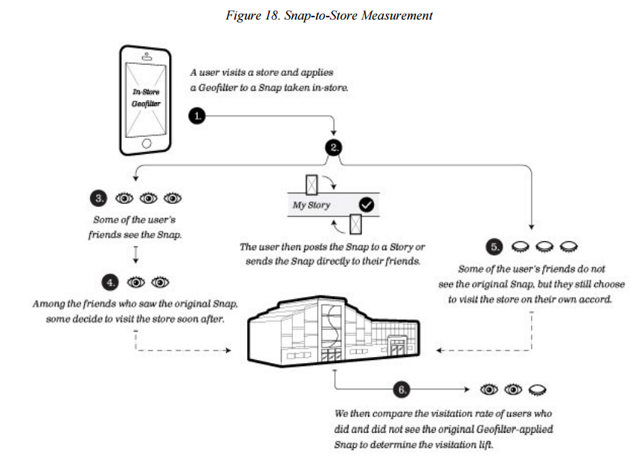 It's important to note that Snapchat's advertising model is still in its early stages. They were included in Advertiser Perceptions' September 2016 Digital Campaign Management System Report, which examines advertiser and agency perceptions of various advertising platforms. In a comparison with Facebook, Google Display Network, Instagram, Pinterest, Twitter, and YouTube, they ranked first in overall satisfaction, fourth in plans to increase advertising spend, and third in likelihood to recommend to a colleague. Chart below is from Snap's S-1 filing.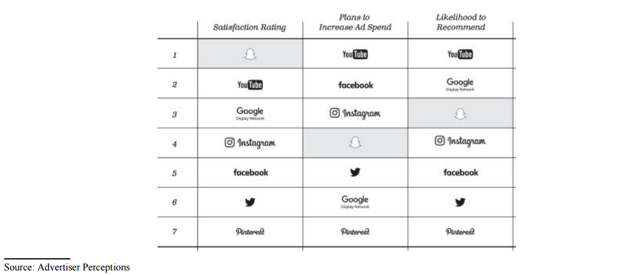 Regardless of Snap's current revenue model I do believe it has a joker up its sleeve. It could be enough to thrust the stock price higher. Especially if the joker is used at the right time, while the float is relatively small and the short interest is high. Snap claims to be a camera company. This claim got me thinking. My first thought was GoPro (NASDAQ:GPRO) and hardware, not the kind of company vision the leaves me rushing to invest. Although hardware (Snap's Spectacle glasses) is definitely in its future (could be a game changer or a costly mistake). I think that Spiegel and company are smart enough to not try and compete with established camera companies and Chinese manufacturers. And although these weren't mentioned anywhere in Snapchat's S-1 filing, I think Snap is going to be making strides into the augmented reality and virtual reality spaces, and the official mention of either of those could send the stock higher.
Another pivot Snap could make is to grow into a content delivery network and media company. Just recently Snap announced a partnership deal with Vice to produce eight original shows that will be aired exclusively on Snapchat. If Snap can evolve and execute this successfully it could open up new avenues of revenue.
Snap signed a deal with NBC Universal for the Winter Olympics in Pyeongchang, South Korea, worth approximately $50-75m in 1Q2018 revenue. NBC Universal and Snap completed a similar deal last summer for the Rio summer games, during which roughly 35 million Americans viewed 230 million minutes of Snapchat content according to NBC Olympics President Gary Zenkel. It'll be important to watch how those numbers change. It's also important to note that NBC Universal put $500 million into Snap's February IPO. NBC Universal could be the key partner for Snap's media ventures and be the start of a great partnership, something to keep an eye on.
Also, Snap has patents! As of December 31, 2016, they had 328 issued patents and approximately 220 filed patent applications in the United States and foreign countries.
Final Thoughts
A lot can go wrong before profitability is reached, competition is heating up and I'm not yet sold on the bull case. I'm also not ready to take a long-term short position. With the low float, high short interest, many unknowns and lots of hype we should see a fair bit of volatility at the least. Things I'm paying attention to going forward are:
Can SNAP continue to sell the vision and support this valuation while burning cash?
Are they going to officially enter the AR and VR realm?
User growth (currently 158 million DAUs)
Snaps created daily (currently 2.5 billion)
User visits per day (currently 18)
Daily average time spent (currently 25 - 30 minutes)
IPO Lockup period expiration
Hardware numbers (spectacle sales/usage)
Monetization efforts
Average Revenue Per DAU (currently $1.05)
Can they significantly increase revenue from the weaker markets
Will user privacy issues pop up?
Winter Olympics data vs. Rio summer Olympics (roughly 35 million Americans viewed 230 million minutes)
Disclosure: I/we have no positions in any stocks mentioned, and no plans to initiate any positions within the next 72 hours.
I wrote this article myself, and it expresses my own opinions. I am not receiving compensation for it. I have no business relationship with any company whose stock is mentioned in this article.