As things stand right now, there are only four automotive companies with a bigger market cap than Tesla (NASDAQ:TSLA). Those companies are Toyota (NYSE:TM), Daimler (OTCPK:DDAIF), Volkswagen (OTCPK:VLKAY), and BMW (OTCPK:BMWYY). Tesla is already the largest US automaker by market cap, as it has been widely reported in the past week or so.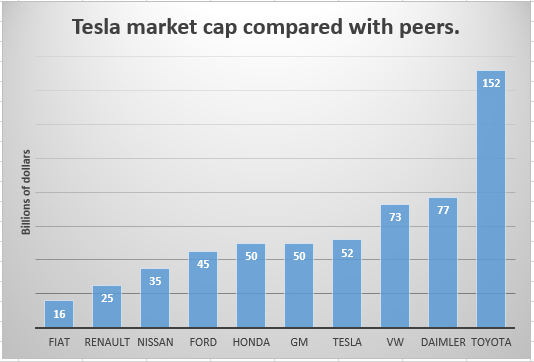 As we can see, Tesla which last year did not manage to break into the 100,000 car deliveries range, currently, has a market cap that is higher compared with a number of peers, all of which are selling over a million cars per year, at the very least.
The big story which is driving this is the fact that Tesla is expected to produce and deliver about 500,000 cars next year, on the back of the inauguration of full production of its gigafactory and the impending release of the Model 3 on the production side and years of pent up demand for a more affordable Tesla on the demand side. The conditions to make it happen are in place. The only thing that may still be in the way of Tesla having a phenomenal year in 2018 is the execution of the grand plan.
Time of reckoning will be in late 2019 or early 2020.
It is not always easy to get an accurate picture of what is going on with Tesla. Going by some secondary sources, I managed to piece together the fact that by May 2016 there were about 380,000 pre-orders for the model 3. Another site, which claims to have an accurate up to date count of model 3 pre-orders claims that there are currently about 532,000 pre-orders. This means that, in the last 11 months or so, about 150,000 new orders were taken for the model 3.
If we look at the counter, assuming it is relatively accurate, it seems that new orders are currently running at a rate of about 200 per day, which is an annual rate of about 73,000, meaning that we are looking at a slowing trend in demand. It is important for us to look at this number, because it isolates the current rate of demand from the pent up demand, which saw orders flow in at a furious pace in the first few months of Tesla taking in such orders.
Based on this data, assuming that it is relatively accurate, it suggests that current yearly demand for Tesla's model 3 is about 165,000 cars, based on an 11-month average, and only about 73,000 when extrapolating forward the current daily demand rate.
The tracker also estimates that the current orders will take until mid-2019 to be filled. Tesla will, in the meantime, take in another 150,000-330,000 orders by then, which should keep the company running at its new full capacity of 500,000 cars per year until the end of 2019 or early 2020. At that point however, it will be down to just a few months' worth of orders if the current rate of orders remains steady. Unless the rate of new orders increases dramatically between now and then, Tesla will (for the first time) experience what many other car makers around the world also experience, production overcapacity.
It is entirely possible that the current rate of demand for the model 3, which would be entirely inadequate to meet the medium-term sales targets of 500,000 Tesla cars per year, is more of a reflection of unwillingness to sign up for a long wait time, rather than a true reflection of the actual rate of demand. Given that demand for the Model S & Model X is not likely to ever surpass the 100,000 units per year range, demand for the Model 3 would have to see as much as a five-fold increase compared with the current rate of demand.
This increase needs to happen by 2019 if next year Tesla will indeed deliver 500,000 cars as planned. If not, we will likely see a precipitous decline in sales volume by 2020, which will be the point where the Tesla stock bubble will likely be permanently punctured.
Profitability questions still relevant.
Another important aspect of this story is going to be proof of profitability. So far, Tesla has shown little indication of being able to profitably sell its luxury cars, which cost around $68,000-$138,000 each. Ramp-up costs are cited as the main factor, which limits Tesla's profitability.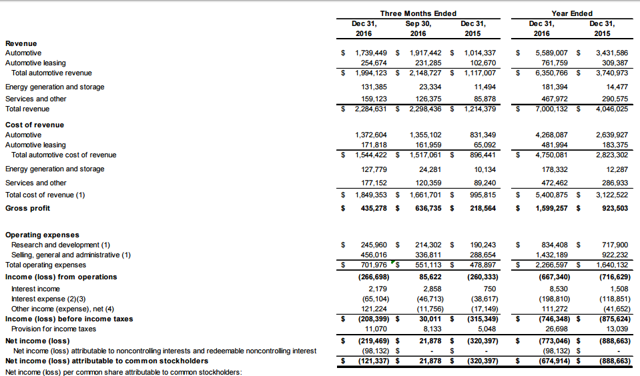 Source: Tesla.
As we can see, the gross profit on $7 billion in revenue in 2016 was $1.5 billion. This means that the cost of producing those luxury cars was way above the sale price of the Model 3. In fact, it seems that it was about twice as much. It is true that the Model 3 will be smaller, with a shorter battery range and so on, therefore, the cost of production automatically drops.
The scaling up of production, with the gigafactory and the expanded car production facilities will also bring production prices down. It remains to be seen if it will be enough. The net loss for 2016 was $773 million, while selling cars in the $100,000 range. A few weak quarterly reports in a row in 2018, showing a wide profitability gap, can potentially, partially overshadow the triumph of reaching a production level of 500,000 per year. It is more than likely however that at first such warning signs will be explained away and largely cast aside, making it very unlikely that the Tesla success story will be derailed next year.
2018 likely to be a great year for Tesla.
With over 530,000 pre-orders for the model 3 and additional orders for the Model S & Model X, next year is set to be perhaps the most important for Tesla. It is true that most likely less than 100% of the orders will translate into actual sales, but it has enough to make 500,000 car deliveries happen in 2018, especially given the fact that new orders are still coming in.
The big story starting this year when Model 3 deliveries will start, as well as next year when deliveries will reach the kind of volumes that will start to look like something which can start to justify Tesla's current valuation, will likely be Tesla potentially reaching the number two spot in terms of car maker market cap, with only Toyota escaping the negative image presented by being an ICE carmaker that is overtaken by Tesla. Furthermore, this will be a big story that will dominate business & finance headlines, lending credibility to the prospect of Tesla also joining the big leagues, not just in terms of market cap but also in terms of car sales.
Given that it will be a very big year for Tesla, 2018 should see so much coverage of it that it is very likely to act as free advertisement, which should in theory boost Tesla sales as well. That in turn is likely to further boost Tesla stock as it will be able to not only report phenomenal growth in deliveries compared with 2017, but also growth in new pre-orders. Whether that growth in pre-orders will be enough to at the very least continue with sales of half a million cars per year, it remains to be seen.
Even if it will be enough to do so, we have to remember that this is now a stock priced in anticipation of millions of cars sold per year, with the current goal of half a million per year seen as only a confirmation of being on track to eventually get there. If Tesla gets to a sales volume of half a million cars per year and stagnates at that level, it is no longer a growth stock and it will have to be priced accordingly.
We are already seeing a chorus of analysts claiming that Tesla is overpriced and needs to shed some market cap. I personally do not think that things are looking particularly bright for Tesla after 2018, once the pent up demand of the past few years will be flushed through. As I pointed out, current demand levels being recorded suggest that perhaps only half of the 500,000/year production capacity will be utilized once all the pent up demand of the past few years is satisfied.
Furthermore, it is not clear whether Tesla will be able to produce those Model 3 cars at a profit. Having said that, it would be a clear mistake to bet against Tesla at this point, because all the pieces are in place for it to have a great year in 2018. In fact, it would be wise to wait until we get closer to the end of the decade and revisit the facts before considering selling or shorting this stock.
Disclosure: I/we have no positions in any stocks mentioned, and no plans to initiate any positions within the next 72 hours.
I wrote this article myself, and it expresses my own opinions. I am not receiving compensation for it (other than from Seeking Alpha). I have no business relationship with any company whose stock is mentioned in this article.
Editor's Note: This article discusses one or more securities that do not trade on a major U.S. exchange. Please be aware of the risks associated with these stocks.