I recently wrote a PRO article on Gramercy Property Trust (NYSE:GPT) highlighting its investment characteristics. Shortly put, below is a quick recap of my buy thesis:
Gramercy Property Trust is an "industrial REIT" that trades at "Diversified REIT" valuation.
GPT currently trades at 12 times FFO while its industrial peer group sells for about 20 times FFO.
Its portfolio is today composed of approx. 70% industrial real estate and therefore deserves a multiple closer to its industrial peers. The large differential in valuation is caused by GPT's rapid portfolio transition, complex history, and lack of "pure-play" strategy.
Future growth and multiple expansion is likely to result in outperformance. Moreover, the high dividend yield (5.6%) is safe at a low payout ratio.
Since publishing this last article, the shares are already up about 9% in less than a month.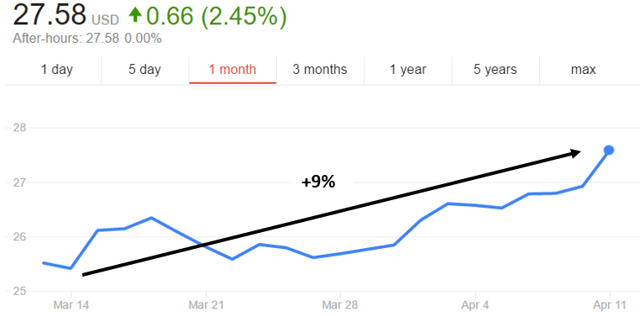 Source: Google Finance
The market seems to be finally warming up to this overlooked REIT and I expect the share price to keep on increasing at an above average rate as the market bids up the low FFO multiple of GPT. Another similar opportunity in the net lease space is Lexington Realty Trust (NYSE:LXP). Many of my readers asked me which one I prefer at today's market price, and therefore I decided to write this follow-up article.
LXP shares many characteristics with GPT. They are both relatively small with market caps below $4 billion, invest in industrial and office net lease properties, and trade at below average valuations and high dividend yields.
I like both names at today's price, but have a slight preference for GPT for the following 2 main reasons:
GPT has a higher exposure to industrial assets
This is partly subjective, but I just do not like single tenant office investments. It is not that the portfolio of LXP is weak, but its high exposure to single tenant net lease office properties makes me feel uncomfortable. I used to work in private equity real estate and have had bad experiences with such investments and therefore prefer to avoid them whenever I can find better options. I have written on the risks of these properties at multiple times, but will repeat myself one more time. Single tenant office properties can often be bought at high cap rates and with long term leases, which is all great, but as soon as the lease expires, it can become very difficult to sustain the cash flow. In case of vacancy, these properties typically require substantial capex and tenant improvements to potentially secure a new tenant. Moreover, while the property sits empty, the owner must carry all the operating expenses and it may take a surprisingly long time to find a new occupant. LXP has a strong concentration to this property type at 53% of its total portfolio.
GPT, on the other hand, has a much higher exposure to industrial assets, which tend to generate more stable and predictable returns over time. This is because they are typically less management intensive and require less Capex. Furthermore, the demand for industrial space benefits from many major long-term trends such as globalization and e-commerce, to name a few.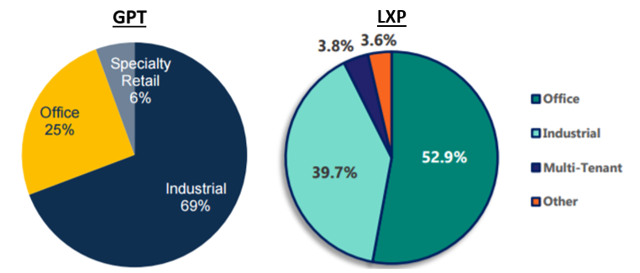 Source: GPT Investor Presentation & LXP Investor Presenation
By the end of 2017, GPT is expecting to grow its industrial allocation up to 75% by selling an additional 5% currently allocated to offices. In this sense, GPT is really getting closer to being a "pure play" industrial REIT which deserves a much higher valuation multiple relative to a diversified REIT such as LXP.
Both REITs have otherwise relatively strong tenants, long WALTs, leases with contractual rent, and overall good quality portfolios. I simply prefer the one from GPT because of its higher exposure to industrial assets rather than single tenant office properties.
GPT Has a Better Catalyst
Relative to the average valuations of the REIT market, both GPT and LXP trade at low valuations today. I believe this to be due to the recent portfolio transitions of GPT and LXP, which increased risk and caused many investor to remain on the sideline. Moreover, both are quite small REITs and their trading volume may not allow large institution to build sizable positions.
GPT and LXP have, however, done a great job at repositioning their portfolios and possess now stronger holdings than before. Despite that, LXP still trades at about 10 times its FFO and GPT at approx. 12-13 its FFO when at the same time, the broad REIT index trades at about 18-19 times its FFO.
I believe that this massive valuation differential is overdone, especially in the case of GPT, which is becoming a pure-play industrial REIT. Its peer group is changing from "Diversified REITs" to "Industrial REITs," and I expect this to act as a catalyst that will eventually result in FFO multiple expansion and upside.

Source: NAREIT
The above table is provided by NAREIT and shows on the right side the expected 2017 FFO multiples of Industrial REITs. The average is close to 20 compared to only 12-13 for GPT. Considering that its portfolio is today composed of approx. 70% industrial real estate and will soon be 75%, it is clear that this massive discount is not justified. The portfolio transformation seems to have been overlooked, and I suspect that market participants will soon realize that this "almost industrial" REIT deserves a valuation closer to other industrial REITs.
On the other hand, diversified REIT (including LXP) tend to trade at discounts to the broad REIT market. Their average forward FFO multiple is 15 today: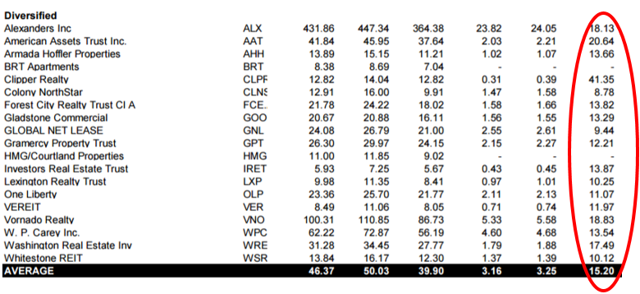 Source: NAREIT
So compared to the average, LXP also appears to be inexpensive, but I don't see a similar catalyst that could unlock value in the short run like GPT. The reality is that LXP trades at a discount due to its high exposure to single tenant office properties which tend to scare experienced real estate investors away. So I would argue that LXP deserves to trade at discount to its peer group, and therefore its potential for FFO multiple expansion appears to be less than GPT.
But don't get me wrong, I am not bearish on LXP. Opposite of that, I do believe that it trades at opportunistic levels today. It is just that the story is not as compelling as GPT in my opinion. LXP is cheaper on an absolute basis, but not on a relative basis when comparing to the valuation of the respective peer groups.
Final Thoughts
Earlier this week, in a separate article, I noted that GPT is one of my top 3 Net Lease REIT picks at today's market price. I see great potential for long term outperformance and will add to my position if a new drop in share price occurs.
LXP is certainly an interesting "value" play. It is slowly disposing of office properties and also reallocating into industrial assets. This is a good plan and will continue to closely follow its progress.
If you enjoyed this article, please scroll up and click on the "Follow" button next to my name to not miss my future articles on other REIT opportunities.
Disclosure: This article is for informational purposes only. It is not a recommendation to buy or sell any security and is strictly the opinion of the writer. Readers are expected to conduct their own due diligence or seek advice from a qualified professional.
Disclosure: I am/we are long GPT.
I wrote this article myself, and it expresses my own opinions. I am not receiving compensation for it (other than from Seeking Alpha). I have no business relationship with any company whose stock is mentioned in this article.