(Editor's note: There is much greater liquidity on the Toronto Exchange under the ticker TCN)
Please note all amounts are in USD unless otherwise noted.
Tricon Capital Group (OTC:TCNGF) is a diversified real estate company, with operations in both Canada and the United States. Tricon has five main business segments: Tricon Housing Partners, Tricon American Homes, Tricon Lifestyle Communities, Tricon Luxury Residences, and Private Funds and Advisory.
Tricon Housing Partners provides equity-type financing for housing and land-development projects. As of 2016, it has $1.4B in assets under management, which generated $118m in cash for Tricon in 2016. 94% of Tricon's 26,000 units available are for single-family homes, with the remainder multi-family homes; over 90% are located in the United States.
Tricon American Homes was set up in order to take advantage of the massive discounts in US homes that were present following the Great Financial Crisis of 2008/9. With $1.2B under management at the end of 2016, Tricon had 7,765 homes generating rent with 60% operating margins. Many of these homes were acquired through foreclosure or to take up some of the massive over-builds by developers that occurred during this time period. Tricon put in place a specific strategy to refurbish these homes if required.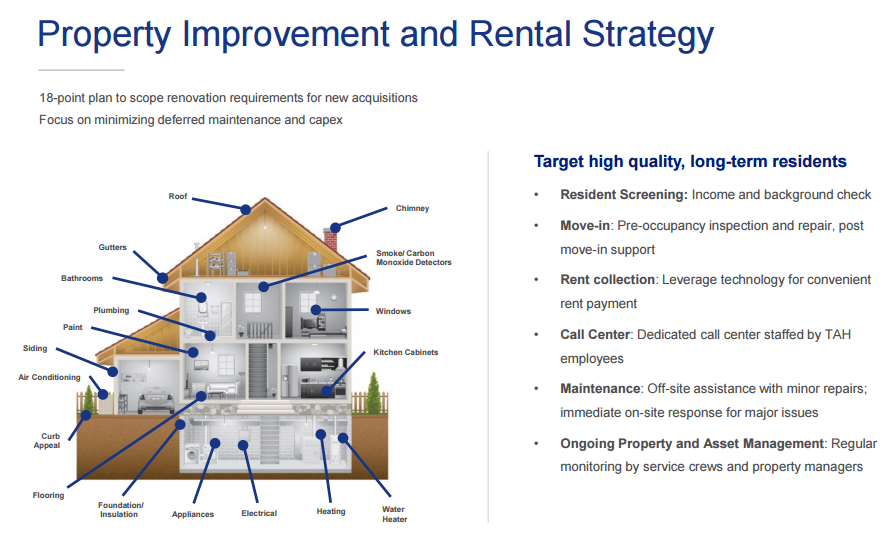 Source: Company Presentation, February 2017
Tricon Lifestyle Communities is a group of 14 retirement communities valued at $131m. As of Q4, these were 82.4% occupied and are all located in the United States.
Tricon Luxury Residences is a multi-family development and rental business. The company had a total of just over $250m of assets under management, of which 75% are located in Canada. The company has different equity structures for the US and Canadian operations. The US operations are largely owned by Tricon while it is largely a minority owner in Canada. It appears the company has had a harder time attracting capital for its projects in the US than it has in Canada. This may be due to the massive housing boom that has continued in Canada (some say it is a significant bubble).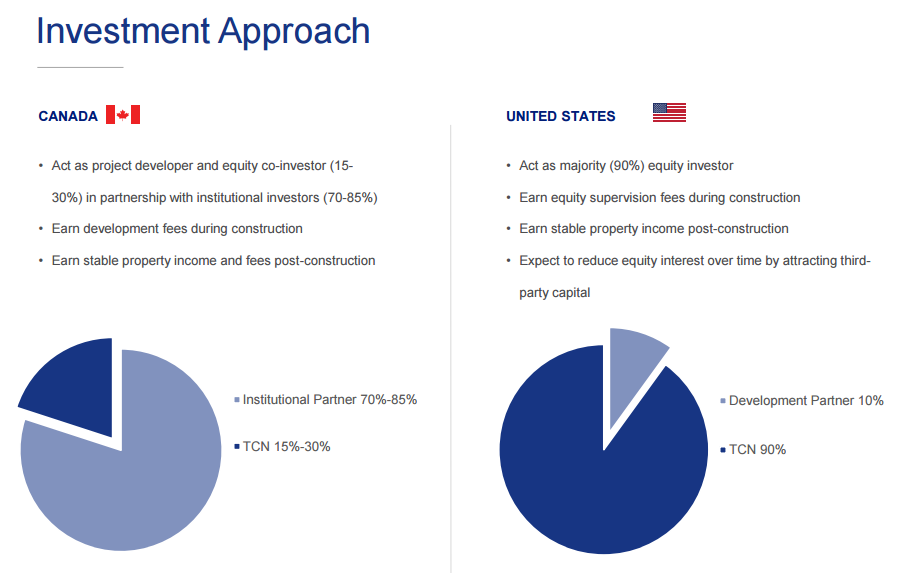 Source: Company Presentation, February 2017
Tricon provides management for over $1.1B in third-party assets; in Q4, this division added $7.8m in fee generation revenues.
Rolling it all together, Tricon has put together a growing business with several different real estate verticals that have produced solid financial performance.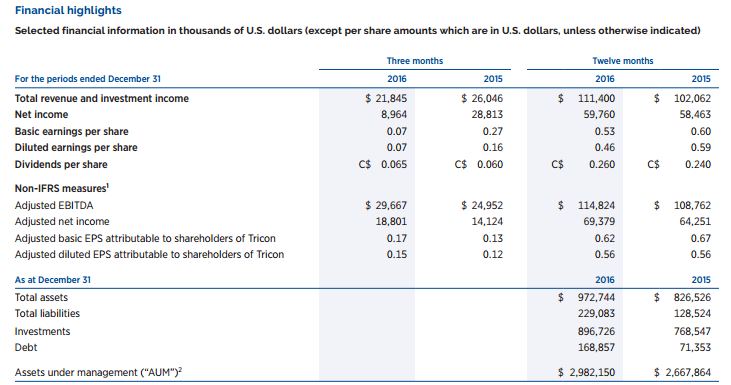 Source: 2016 Annual Report
EBITDA has risen from $66m in 2013 to $115m in 2016. With shares now trading near all-time highs, its EV/EBITDA on a TTM basis has risen substantially.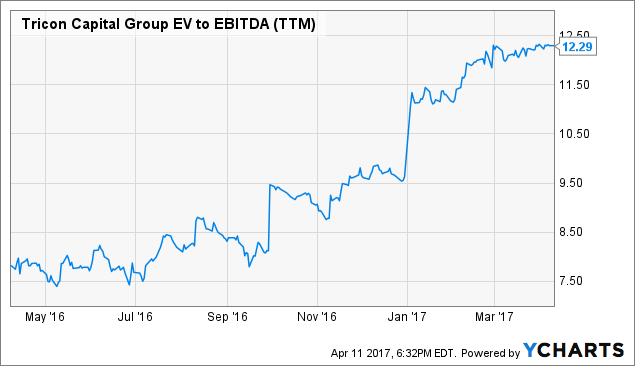 TCN EV to EBITDA (TTM) data by YCharts
Admittedly, I have buried the lead substantially here, which is what is leading to the increase in its EV/EBITDA ratio. On February 27, 2017, Tricon announced the purchase of Silver Bay Realty Trust Corp. (NYSE:SBY) for $1.4B.
The Silver Bay Acquisition
Silver Bay's business is very similar to that of Tricon's American Homes division and is the prime driver for the acquisition. The deal details include:
$1.4B in enterprise value, including $600m in assumed debt.
Financing through a new $1.2B warehouse facility and $0.2B through a combination of Tricon corporate credit, convertible debentures and a public offering of subscription receipts for common shares.
Closing debt scheduled for Q2 2017.
The Single Family Rental ("SFR") market is a relatively new market for large-scale rentals. Traditionally, the management of rental homes can be difficult to be done efficiently. Unlike apartments, there is a lot more work to managing a single-family home property, such as yard work, roofing etc. SFRs are often spread out over greater distances, which take more time to cover than multi-family units.
In the aftermath of the 2008/9 housing bust, there was substantial housing inventory available that a number of groups, such as Tricon, Blackstone (NYSE:BX), American Homes 4 Rent (NYSE:AMH), Two Harbors (NYSE:TWO) (the precursor to Silver Bay) and Colony Starwood (NYSE:SFR) began to buy up large amounts of single-family homes. With the increased scale in operations, these entities can spread the management costs over a greater revenue base, thus improving margins. This was a fundamental change to the business.
There is also a lot of demographic support for an increase in rental homes. In the wake of the housing bust, a lot of people could not afford to buy homes or were foreclosed on. They still need a place to live. The millennial cohort is reaching to the age of family formation. In the past, this is when families would buy homes. Millennials are somewhat different in their view of tangible goods and ownership than prior generations are (I realize I am at risk of stereotyping here). They are more likely to be "asset-lite", preferring to take advantage of rental arrangements on cars (ride-sharing), vacations (Airbnb) or even cabs (Uber/Lyft). They are also likely to be more levered already, either through student or consumer debt, so the thought of more debt is likely a big deterrent to home ownership.
On the supply side, there are fewer houses to buy, meaning some buyers may not even be able to; this makes rentals a potential alternative for more people due to a scarcity in supply.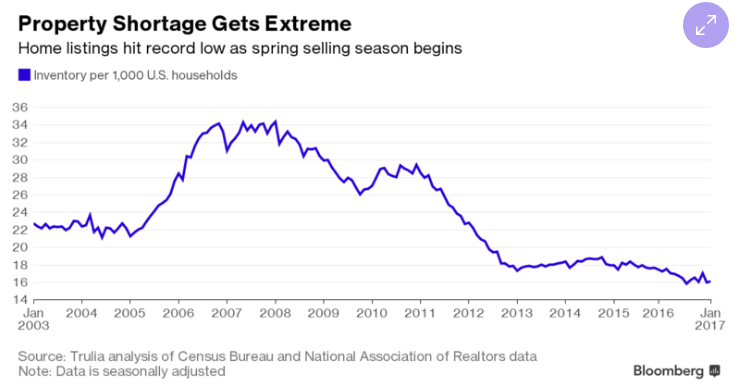 Source: Bloomberg
For these reasons, Tricon decided to greatly expand its presence in this market. Tricon further stratified itself into the median rent level; the low income market has too much risk of default while the high income market skews towards property purchases rather than rentals.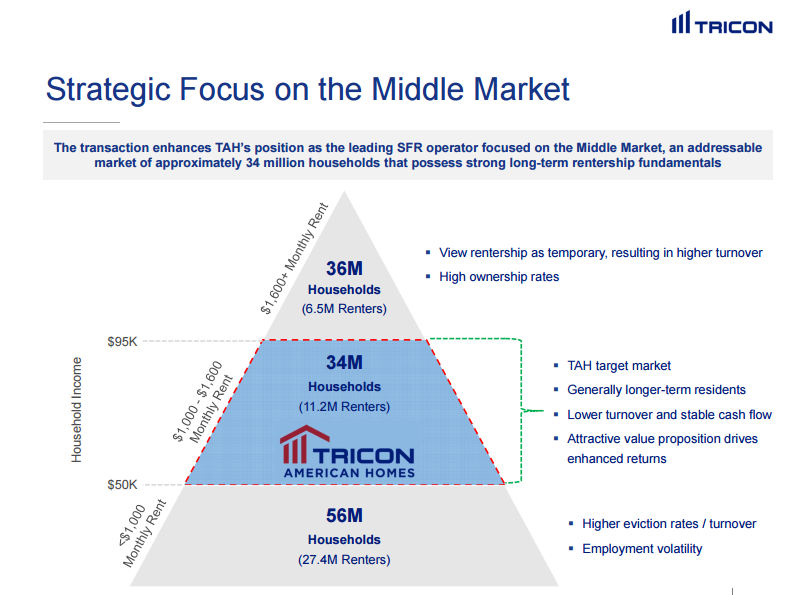 Source: Tricon/Silver Bay presentation February 2017
With the acquisition of Silver Bay, the combined Tricon will focus primarily on growing markets through the Sun Belt in the United States.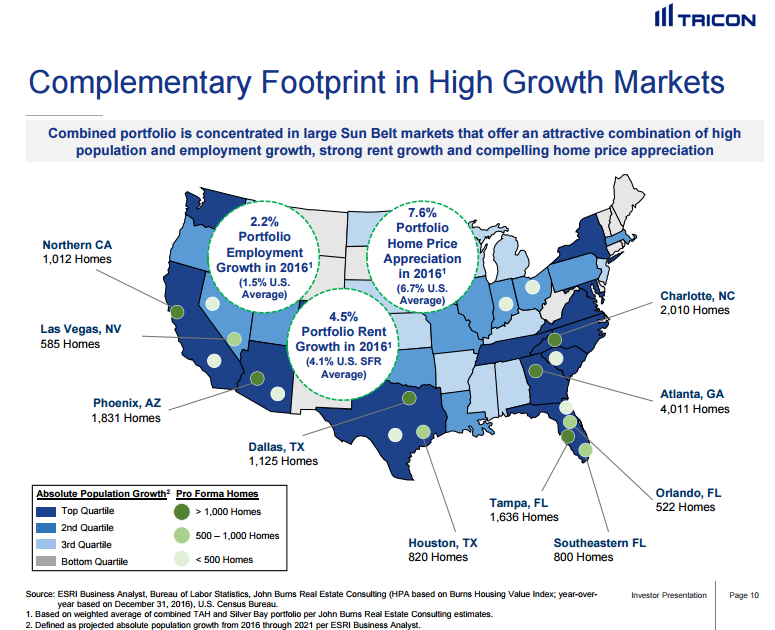 Source: Silver Bay/Tricon Presentation, February 2017
There will be some fairly substantial financial benefits to this transaction for the combined entity. Tricon's American Homes division operates at a gross margin of 60%; Silver Bay's has been at 58%. Management believes that it can raise Silver Bay's to be in line with Tricon's. I believe the benefits of further scaling should allow this to happen, as management believes each operational employee will be able to manage 100 homes in the combined Tricon, up from 75 currently, due to the added density of its properties. A graphical example better illustrates how this scaling of operations will manifest itself.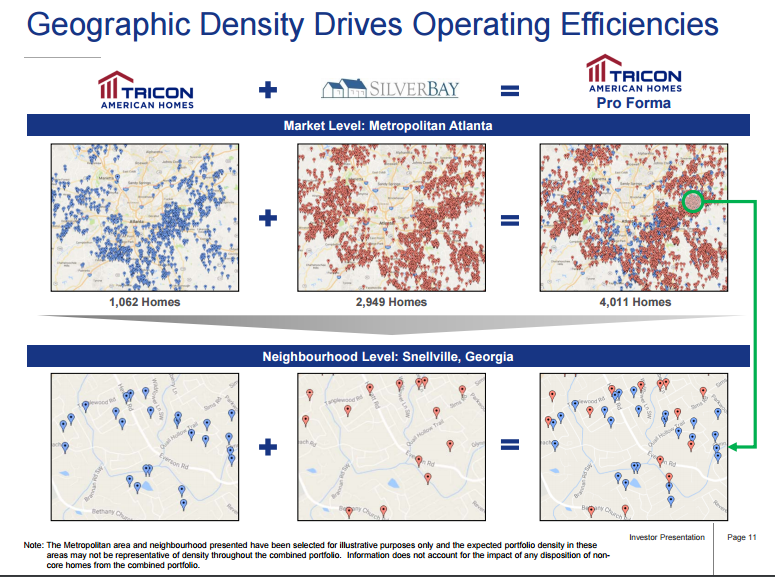 Source: Silver Bay/Tricon Presentation, February 2017
The downside of density is that the new Tricon may be more exposed to localized real estate risk in particular geographic areas. The reduced overhead expected from the combined entity should mitigate this somewhat.
Management has estimated close to $10m in annual G&A savings. The reduction in reporting costs from two entities to one should support this goal. Silver Bay is essentially a large bolt-on acquisition to Tricon's existing business which should support some rationalization of the back office support costs. In 2016, Silver Bay had roughly $14.5m in G&A costs; carving out $10m should be doable based on potential redundancies.
This acquisition is driving a significant restructuring of Tricon's overall business model. Before the merger, Tricon had five different vertical markets of varying sizes. The company's balance sheet was very conservative with a ratio of debt to assets of just 17%; this compares to Colony Starwood's ratio of 57% and American Homes 4 Rent's of 37%. The Silver Bay transaction took advantage of Tricon's balance sheet as it could support the debt component.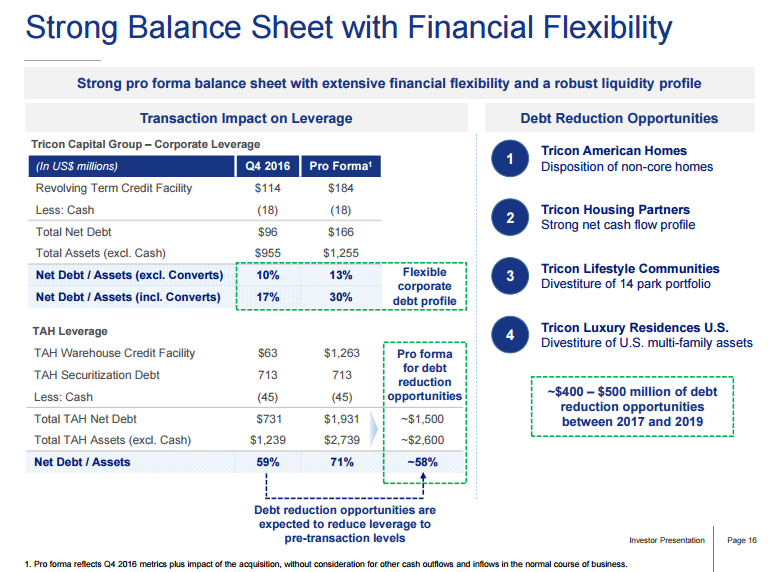 Source: Silver Bay/Tricon Presentation, February 2017
The Silver Bay merger significantly expanded the leverage in the Tricon American Homes (TAH) division. Overall, Tricon's debt as a percentage of assets remains below its competitors on a consolidated business, but even this ratio jumps from 17% to 30%. At 71% for TAH, it clearly would like to reduce this, as outlined above. The two outright asset sale potentials identified are the Lifestyle Communities division and the Luxury Residences business.
The Lifestyle group has occupancy levels similar to those of other publicly traded US retirement companies such as Brookdale (NYSE:BKD) at 82.2% in the last year, with long-term stays of 73.9%, per its 2016 year-end annual report. There will be some issue with trying to monetize this group, as there has been an over-build of retirement communities in the US market. This has led to some companies like Extendicare (OTCPK:EXETF) to completely exit the US market. There is some potential upside here for a strong operating acquirer to take over this unit, but they would likely want to get a discount as a result. BKD current trades at an EV to EBITDA of 11.4x; I think Tricon will be lucky to get back its current investment of $52.6m, which would be roughly 10x, but it should be close.
The Tricon US Luxury Residences currently has an equity value of approximately $50m; being a small player in a crowded market makes the disposal of this particular unit a logical move as well.
The biggest source of asset sales to reduce debt will likely be derived from identifying non-core housing properties in the TAH division. With an asset value of $2.7B for this group, even a sale of just 10% could help meet management's debt reduction target of $400m to $500m. Should its properties continue to appreciate, it could also potentially capitalize on further price appreciation, though there is always the other side of the sword as well should home prices drop. With low housing inventory currently, this may be a good time to offload some in markets that Tricon determines to be non-core.
Valuation
With a lot of moving parts, it is incumbent to value Tricon on where we see it going forward. This will involve combining the remaining parts post-restructuring: the combined Tricon/Silver Bay SFR division, the Canadian Luxury Residences, Tricon Housing Partners and the Advisory arm. I will also use EBITDA as a metric rather than FFO as Tricon will still have businesses outside of traditional REIT verticals.
In its presentation to shareholders, management assumes that it will have substantial synergies available to it: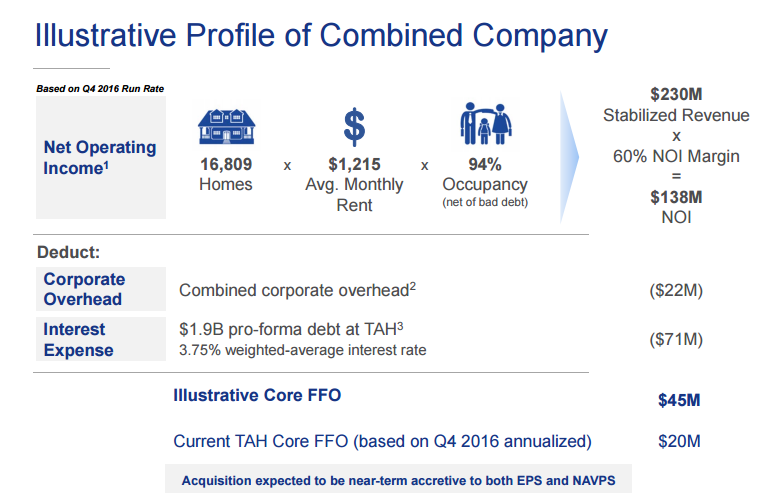 For comparatives, we will have an expected EBITDA of roughly $175.8m (NOI of $138m + $0.5m+$37.3m in depreciation) for this business unit. The depreciation is in line with 2016's numbers per its 2016 annual report from Tricon combined with $37.3m from Silvery Bay. I will reduce this by 10% to reflect the sale of 10% of its homes to bring its debt levels down, netting an EBITDA of $158.2m.
In order to focus on the impact of Silver Bay, I am going to use 2016's performance for the other units as a base, factoring out the disposal of the US luxury residences and lifestyle communities.
For the Canadian luxury residences, Tricon is traditionally a minority partner with stakes of between 15% and 20%. It shares in the fair value gains and losses of these developments proportionally with the non-controlling interests: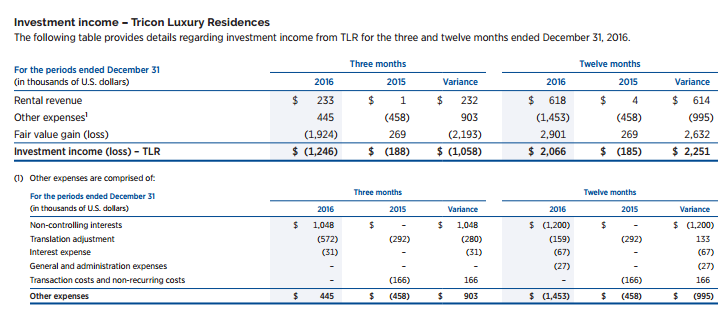 Source: 2016 Tricon Annual Report
Being a minority partner will mute the effects of fair value swings, both up and down, on this division. I will assume 75% of the 2016's rental revenue of $618k is derived by the Canadian assets (based on the share of total assets under management, regardless of ownership) with all the hard costs associated with it while assuming no fair value adjustment.
The projected performance of the combined Tricon/Silver Bay group looks as follows:
| | |
| --- | --- |
| Tricon Group | Annual EBITDA |
| Tricon American Homes | $158.2m |
| Tricon Canadian Luxury Residences | $0.4m |
| Tricon Housing Partners | $27.6m |
| Tricon Advisory | $26.6m |
| Less: Overheads | ($29.4m) |
| Total Projected Annual EBITDA | $183.4m |
Source: Author Assumptions, 2016 Annual Report, Silver Bay/Tricon Presentation
Due to the recent bought deal, Tricon's outstanding share count will increase from 112.7m at the end of 2016 to approximately to 133m including the over-allotment. At $8.10 per share, this gives a market cap of $1.08B.
Tricon currently estimates post-acquisition debt level will be $1.9B. Looking at it from a pro-forma perspective, I will reduce it by $100m for the lifestyle/US development sales and a further $300m for 10% of its non-core American Homes division. This will yield us a debt level of $1.5B post-restructuring.
Adding on the $1.5B in pro-forma debt, this brings Tricon's projected EV to $2.6B, with an EV/EBITDA ratio of 14.2. This compares to American Homes 4 Rent's ratio of 15.8x and Colony Starwood's ratio of 30.8x. AMH has significantly greater scale, but has a more complicated capital structure (including recently issued preferred shares) that makes its common shares less appealing. This is including no growth in any of its other verticals. If we assume a 18-20x multiple, this gives us a potential share price of between $13.50 and $16.27.
From a financing side, management is estimating interest costs of $71m post-acquisition on the $1.9B in debt. Using the pro-forma debt of $1.5B gives an expected annual interest cost of about $60m, which is more than covered by its EBITDA performance. It also has a current dividend of $0.26 CAD ($0.20 USD), which requires $26.6m annually to fund, with a yield of 2.5%. Combined with the financing costs, Tricon still has ample coverage to meet both its debt and dividend obligations. Legacy shareholders of Silver Bay likely preferred its dividends to that of AMH's, and Tricon's rate is very comparable to Silver Bay's prior yield. Maintaining this shareholder base will be important.
The Takeaway
Tricon's acquisition of Silver Bay was not cheap if we compare the $1.4B in EV absorbed to the annualized Q4 SBY cash flow of $40m + $25m in synergies. This equates to a rough multiple of 21.5x; this is north of both Tricon's prior valuation and AMH's. Tricon was able to utilize its balance sheet to make a giant leap forward in scale; with debt servicing costs at historic lows, now may be as good a time as any to finance this type of acquisition as the future cash flows can support the financing charges.
On an absolute basis, this gets the TAH division of Tricon to a substantially greater scale. It still remains at only about 1/3 the size of AMH's in total inventory, but is clearly marketing its inventory to a different price point of consumer, as noted earlier:

Source: Schmitt Jean-Christophe's AMH article, many thanks!
This is what makes Tricon a good investment here. Despite the slight over-pay for Silver Bay, Tricon has established a strong presence in the rental market. It has chosen, in its and my opinion, the one best suited to current trends in demographics and economics. This built-in demand for its homes should give it better pricing power in the future, as well as the potential for price appreciation. The 2.5% yield should continue to attract yield-based investors to the company as well. Despite hitting 52-week highs recently, Tricon does appear to have decent upside from this point, driven by its better positioning and synergies with Silver Bay.
If you see something in this article that you agree with, or even better disagree with, please take the time to comment below. This makes all of us better investors. I predominantly focus my investing in the small- and micro-cap company space, but reserve the right to deviate from time to time. If you like what I'm doing, you can follow me by hitting the "Follow" button at the top of this article. Plus, you can follow me in real time by selecting that option.
Disclosure: I/we have no positions in any stocks mentioned, but may initiate a long position in TCNGF over the next 72 hours.
I wrote this article myself, and it expresses my own opinions. I am not receiving compensation for it (other than from Seeking Alpha). I have no business relationship with any company whose stock is mentioned in this article.
Additional disclosure: I will likely go long the more liquid TSX ticker TCN.TO.