A few months ago, we issued an article on Seeking Alpha, "Calumet Specialty Products Partners - A Bust or a Turnaround?" Our belief is and continues to be that Calumet (NASDAQ:CLMT) is most likely a turnaround. We are updating our view while adding financial details. During 2016, Calumet achieved an important level of financial stability. Of most importance, their Distributable Cash Flow (DFC) was -10M for the year, +10M excluding the abnormal 1st quarter.
To provide usable financial performance information, calculating a true cash flow basis for last year will be our starting point. In 2016, the company experienced several one-time abnormal events. They paid off the balance for a bridge loan worth $20M, sold $400M of high interest bonds, and endured extreme negative pressure on crack spreads especially during the first quarter. After the 1st quarter, total debt was neutral. In addition, the company spent $67M in process improvement capital (cash flow not included in its DCF calculation). In a practical sense, the virtually neutral DCF coupled with a stable debt level suggests that the actual cash flow for the last three quarters could be no more negative than $60M (total process improvement capital). This simple approach for determining 2016 real total cash flow calculates it at -$60M.
In our view going forward, by following four parameters- on-going self-help goals, lower cost or market, RIN's pricing, crack spreads (Gulf 2-1-1), inventory adjustments- the magnitude of the changes for the financial health (true cash flow) can be reasonably predicted. Without significant increases in refining capacity planned, refining input is assumed constant. (We understand that this year begins some major turnaround spending with a high probability of more downtime than last year. Without further information, we cannot estimate this effect.) Another factor, capital expenditures, is expected to be unchanged YoY. A last parameter, asphalt, is considered neutral, but on a quarter by quarter basis this will affect adjusted EBIT. The March quarter will be negatively affected during a quarter in which inventory is built. But as the inventory is sold in the spring, summer and fall months, cash will be returned for inventory.
Operational Excellence Savings (Self-help)
The company stated its expected self-help cost improvement goal of $60M during the 4th quarter conference call. We accept that number on their word. Combining self-help with our -$60M basis for 2016 in effect creates cash neutrality.
Lower Cost or Market ("LCM")
"The lower of cost or market rule states that a business must record the cost of inventory at whichever cost is lower - the original cost or its current market price. ... Net realizable value is defined as the estimated selling price, minus estimated costs of completion and disposal." In the case of increasing inventory value, LCM is positive. The opposite is also true. The company included this statement in their most recent 10-K, "In a period of decreasing crude oil or refined product prices, our inventory valuation methodology may result in decreases in net income. For example, due to the significant decrease in crude oil prices in 2015, we recorded an unfavorable LCM inventory adjustment of $81.8 million." Last year, its LCM was +$50M for the year.
Figure 1 is a chart of crude oil prices for the past 6 months. From the chart, crude oil price per barrel averaged about approximately $49.5 in the December quarter, and $51 in the March quarter. The LCM inventory adjustment should be slightly positive yet small for the March quarter.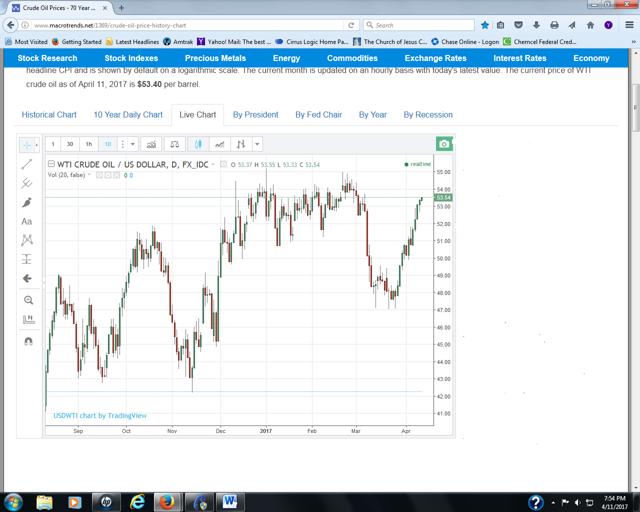 Figure 1: Crude Oil Prices for the Past 6 Months
RIN Costs
The concept of a RIN is defined, "Renewable Identification Numbers (RINs) are the instrument through which refiners and blenders ("obligated parties," in the text of the regulation) demonstrate that they have met their annual renewable volume obligation. Whenever a gallon of biofuel is produced and reported to the EPA, it is assigned a RIN." For refineries without access to blending or other means must purchase RIN's on the open market. In past few years, many companies who have had to purchase RINs have been hit with exceptionally high and unwarranted prices.
The latest 10-K contains several important statements about Calumet's RIN exposure. The first concerns its rights to the "small refinery exemption." "During 2016, the EPA granted certain of our refineries a "small refinery exemption" under the RFS for the full year 2014 and 2015 as provided for under the federal Clean Air Act, as amended ("CAA"). In granting those exemptions, the EPA determined that for the full year 2014 and 2015, compliance with the RFS would represent a "disproportionate economic hardship" for these refineries."
The second statement from the 10-K relates to costs. "We continue to anticipate that expenses related to RFS compliance have the potential to remain a significant expense for our fuel products segment, assuming current market prices for RINs ... Our gross RINs obligation, which includes RINs that are required to be secured through either blending or through the purchase of RINs in the open market, was 112 million RINs in 2016. For the full-year 2017, we anticipate our gross RINs obligation will increase to 128 million RINs, given recent production capacity expansion at our Great Falls refinery."
The third statement provides insight to the effect that RIN price changes have cash expenses. "Holding other variables constant (RINs requirements), a $1.00 change in the price of RINs as of December 31, 2016, would be expected to have an impact on net income for 2016 of approximately $112.0 million." If RIN prices are cut in half, the company would save approximately $60M a year.
Finally, Calumet states their policy for purchasing RINs. "We have not entered into any derivative instruments to manage this risk, but we have purchased RINs when the price of these instruments is deemed favorable."
During the 1st quarter of 17, RIN costs dropped from just over a dollar to an average near fifty cents. Note: Look for the graph labeled RINs Values - 2017 and find the parameter labeled D6 '17.
Refining Profits - Crack Spreads
Concerning crack spreads, the 10-K states, "For the year, the Gulf Coast 2-1-1 crack spread averaged roughly $12 per barrel compared to an average of $18 per barrel in 2015 and $17 per barrel in 2014." Calumet uses this method for their comparison: "The Gulf Coast crack spread is calculated using the near-month futures price of NYMEX WTI crude oil, the price of U.S. Gulf Coast Pipeline 87 Octane Conventional Gasoline and the price of U.S. Gulf Coast Pipeline Ultra-Low Sulfur Diesel ("ULSD")." We have learned by viewing crack spreads over at least one year periods that each dollar change is worth $10M a quarter at high production rates.
Gulf Coast 2-1-1 Crack spreads remained low during the first two months of the March quarter averaging $13 in the first two months, but the spreads from the middle of March have been above $16 consistently. We expect at least a dollar average increase over last year's average of $12 for the March quarter or $10-15M.
Conclusion
We have purposely left out several seasonal factors (asphalt seasonal affect, turn around outages, production rates), which will affect quarterly results, but the parameters discussed will give investors a good idea on the real financial performance on a quarter by quarter basis.
Adding these parameters, $10-15M for crack spreads, $15M for RINs equals a $30M YoY cash improvement for the March quarter. It is also important to note that asphalt is still being stored in the March quarter. If crack spreads continue to stay above $16 and RIN costs remain in the $0.50 range going forward, quarterly cash flow improvements will be in excess of $55M/quarter.
Disclosure: I am/we are long CLMT.
I wrote this article myself, and it expresses my own opinions. I am not receiving compensation for it (other than from Seeking Alpha). I have no business relationship with any company whose stock is mentioned in this article.