Thesis: The passive investing shift presents risks to investors as many are less likely to receive any advice prior to selling during the next severe correction. Psychology tells us that investors will always fear losses and react to market downturns. The shift into passive assets will exacerbate the next downturn, not alleviate it.
The psychology of loss:
People are generally not all that happy about risk. As Nobel Prize-winning psychologist Daniel Kahneman has written, "For most people, the fear of losing $100 is more intense than the hope of gaining $150. [Amos Tversky and I] concluded from many such observations that 'losses loom larger than gains' and that people are loss averse."
Passive investing:
Passive investing is on a tear, and for very good reason
Just over half of assets in both mutual funds and exchange-traded funds are now passively invested, meaning they follow an index of some sort, according to research firm Morningstar. Over the last year alone some $408 billion has flowed into passively managed funds. Meanwhile, investors have yanked $329 billion out of actively managed funds.
Cheap is good:
When it comes to investing, cheap is good, said Matt Becker, a fee-only financial planner and founder of Mom and Dad Money, but it's counter to the way consumers usually approach spending. "We're used to paying more for quality," Becker said.
I was an early adopter of passive investing and recommended the SPDR S&p 500 Trust ETF (SPY), the iShares Russell 2000 ETF (IWM) and the SPDR S&P MidCap 400 ETF (MDY) to friends and family who asked me for advice. One advantage my friends and family had was that I was available to them if they became fearful of the market and needed counsel.
Today's passive investor receives no counsel. If and when they get nervous or "panic," they have no one to remind them of their long-term goals. The pennies gained from saving fees can be lost and more if an investor sells a substantial portion of their portfolio in a severe downturn like 2008.
Active Managers and brokers:
I combine active managers with brokers, since many brokers recommend active managers and their advice is included in the fees one pays. Some brokers add value and some are not worth the fees. It's unrealistic to assume that no brokers add value.
Due to an industry shift towards larger clients for brokers like Merrill Lynch (BAC) and other wealth management firms, the brokers who add the most value have high minimums along the lines of $5M or higher. However, there are brokers who add value and do not have higher minimums. It simply requires looking harder and asking around. Quality advice is worth looking for.
The assumption behind this shift towards passive investing is that active managers don't add value above their fees, which I disagree with. Some do and some don't.
2008: A conversation before selling
The benefit of having a conversation with someone who has market experience and can offer alternatives to selling everything is very helpful and can save the investor hundreds of thousands of dollars. A broker who recommended selling 20% instead of 100% in 2008 added tremendous value. Not all brokers add value. But some add tremendous value.
Valuation is agnostic:
The valuation of the stock market doesn't care if the investor is in an index or invested in a mutual fund. Recessions and bear markets will always test investors. Fear and greed rule the investment world.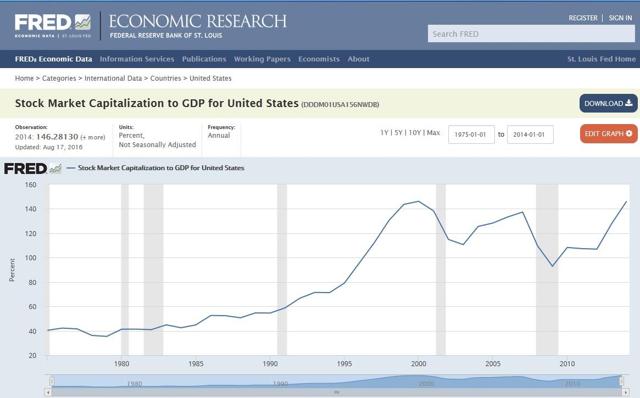 Volatility:
Many are now questioning the impact of fund flows into passive investing with the unusual levels of complacency in the market. I do not know the answer to this question. However, fear is always present in investing. I do not believe a few months of unusually low volatility represents a shift.
Profiting from passive investing panic:
There is no such thing as investing without fear (VXX) or volatility. In fact, the patient investor will profit from the undervalued bargains of the next downturn, as they always do. Passive investors who sell will likely cause certain names overrepresented in the indexes to become oversold, undervalued, and much more attractive.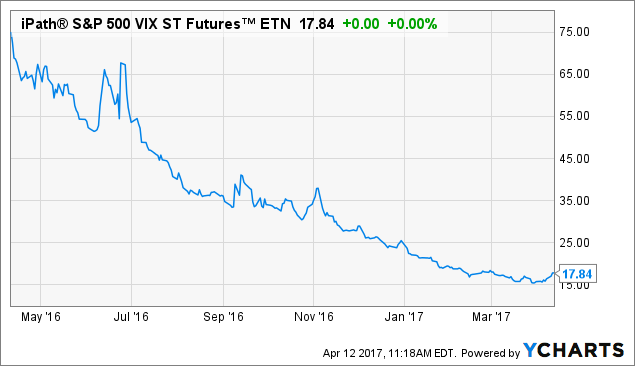 Selling and passive investing:
The theory is that since investors are saving ~1% from using a passive investing strategy, that they will be more confident in their strategy and not sell. Investors always sell. The fear of loss is incredibly powerful. Psychology, market behavior, and the fear of loss will never change. And passive investors have less chance of being reminded of their long-term goals before selling.
"If you don't sell, you don't lose money," says Tony Robbins. "Every single bear market has turned into a bull market."
Fear of loss is real:
October 8, 2008:
Jim Cramer: Time to get out of the stock market
"Whatever money you may need for the next five years, please take it out of the stock market right now, this week. I do not believe that you should risk those assets in the stock market right now."
Debt:
Debt is part of the overall balance sheet for the investor/consumer. Stock market gains can create a "wealth effect." Losses will have a negative affect on the investor psyche and consumer spending.
Since we have so much accumulated debt, the impact to the downside for both consumer spending and the stock market could likely be greater. An investor should keep these risks to the current market in mind.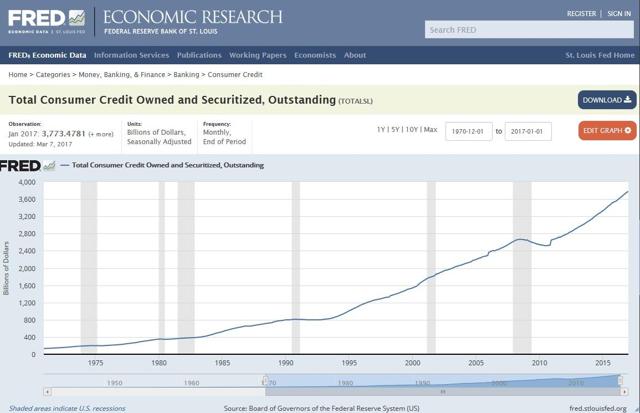 Conclusion:
Fear of loss is a powerful force for every investor. The shift towards passive investing will not protect investors in the next correction. In fact, the lack of wise advice could easily make the correction worse as selling begets selling. In addition, high consumer debt levels will certainly impact both the overall market and consumer behavior in the next severe correction.
The smart and patient investor will be ready to take advantage of this opportunity to buy undervalued stocks and profit.
Follow me for more ideas and analysis