With increased evidence that the various oil markets have bottomed, I thought I'd check in on a name that's been on my watch list for some time, Occidental Petroleum (NYSE:OXY).
In my view, the worst is behind the company and now is a great time to acquire shares. Given that this is a company in a cyclical business, I don't recommend a "buy and forget" strategy with these, but rather, to sell when euphoria seems highest and to buy when the first signs of a turnaround happen.
In my view, the fact that prices didn't take another leg down after the relatively bearish Doha meeting suggests to me that prices have bottomed and it's time to explore (forgive the pun) opportunities in the energy space. Occidental is one of my favorite names here. I'll do a quick review of the company's financials going back to 2011 before modeling price based on the dividend history at the firm. I'll conclude with a brief comment about insider activity on the stock.
Financial Snapshot
This is obviously a cyclical business as evidenced by the fact that both revenue and net income have both declined twice since 2011, and the declines since 2014 have obviously been bloody. That said, troughs are the necessary precondition for peaks, and it seems that from 2015 to 2016 the pain has abated quite a bit. After a 42% revenue decline from 2014 to 2015, sales dropped by "only" 18% from 2015 to 2016.
Throughout this stressful time, the company has managed to increase its dividend, while performing some modest share buybacks. In my view, that is a sign that management remains quite shareholder friendly, in spite of the downturn. If they're friendly in this environment, I think it reasonable to conclude that they'll remain so when the market turns.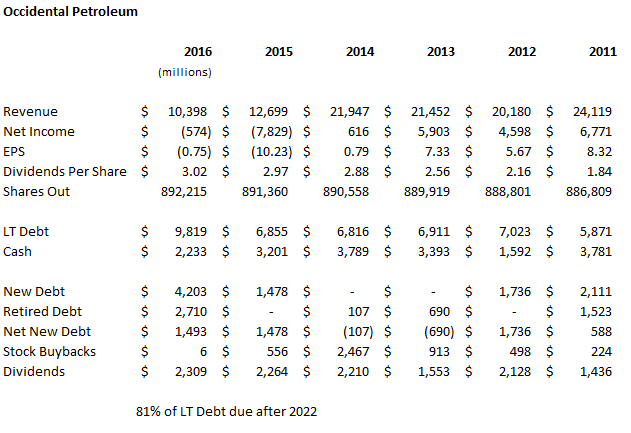 Turning to the capital structure, although debt levels increased throughout the most recent fall in oil prices, it is certainly not at crisis levels in my view. First, the company has cash approximately 22% of the size of the current long term debt levels. Second, fully 81% of debt is due after 2022, so there's very little risk of a credit problem with this company, unlike some others in the energy space.
Modeling The Dividend
One thing I like to do when attempting the unenviable task of modeling the future is to change only one variable and hold all others constant. Specifically, I'm going to assume that the dividend yield remains the same, while growing the dividend at a rate below its historical norm. I then infer what I think would be a reasonable price going forward.
In spite of the cyclical nature of the business, the dividend has grown at a CAGR of ~8.6% since 2011. Given that it's likely that things are turning around for the oil market, it's reasonable to infer that this rate of growth will continue, but I want to be as conservative in my estimates as is reasonable. Thus, I'll lower the growth rate from 8.6% to assume that dividend growth will only be about 6% or 4% over the next four years.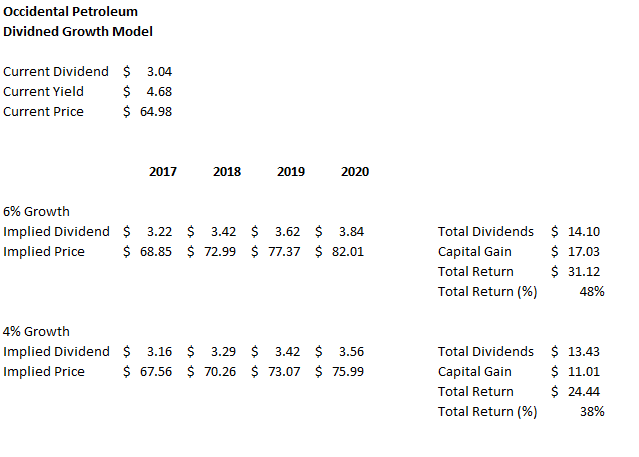 When I run this exercise on OXY, I determine that a reasonable return target by 2020 (perhaps the next peak?) is between 38% and 48%. The former target implies that the company will halve the dividend growth rate, so I believe it is a very conservative forecast.
Technical Snapshot
As per our ChartMasterPro Daily Trade Model the trend for OXY would turn Bullish with a close above $65.00. This would signal a bullish breakout from an Ascending Triangle Pattern which the shares have formed, and which we believe is a bottoming process that will lead to a bullish run. From here we see the shares rising to the $69.00 level over the next three months.
As you know, we like to anticipate technical breakouts when the fundamentals support what we see on the charts. Today we bought OXY Call Options which will provide us with approximately 12x leverage on our LONG trade (for details on the call option please visit our website). Our initial stop-loss exit signal will be a daily close below $63.50.
For investors in the shares we recommend you hold for three months or $69.00, whichever comes first. For longer term investors (years not months) we believe OXY is a solid addition to any Dividend Growth Portfolio.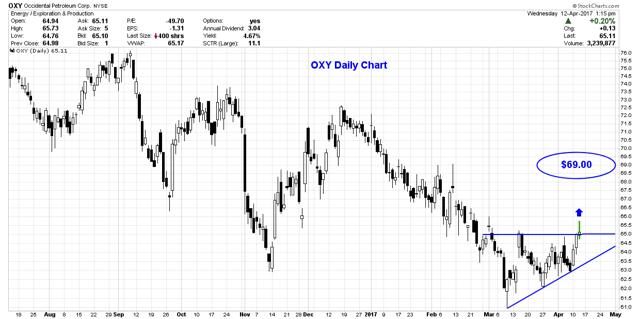 CM Pro Portfolio
Our trading portfolio now stands at 36% LONG, 3% SHORT, and 61% CASH.
Conclusion
We investors suffer a relatively large informational disadvantage relative to the people who live and breathe the companies we invest in. It's for that reason that when we get some evidence about their buying habits, we should pay attention. So it is with OXY. From November of last year to now, insiders purchased 35,000 shares of the company. If these insiders are putting their own capital to work in the company, that is one of the most compelling reasons for us to follow. It's for that reason that I strongly recommend purchasing shares of Occidental at the moment.
Disclosure: I am/we are long OXY.
I wrote this article myself, and it expresses my own opinions. I am not receiving compensation for it (other than from Seeking Alpha). I have no business relationship with any company whose stock is mentioned in this article.
Additional disclosure: We trade options. Sometimes our trades last a few days, sometimes a few weeks, sometimes a few months. Please review our trade history listed in our BlogPosts to get a feel for our trading style.