You've probably seen tons of charts supporting the argument that equity markets are overvalued. Shiller's P/E ratio, the Buffett indicator, the S&P 500 price-to-sales ratio all prove the same thing. Even after viewing these charts, bullish investors say things like "markets can behave irrationally for longer than you can stay solvent", "we're still far away from the highs seen in 2000", or "this time it's different". Given that these arguments are valid, I wouldn't use valuation ratios to time the next correction. They remind you to be cautious with equities and to expect a reversion to the mean, nothing more. However, when short-term indicators point to a switch in sentiment towards risk-off behavior, I would take money (if not all of it) from the table. I strongly believe now is the time to stay away from the S&P 500 (NYSEARCA:SPY) for the next 3-6 months. See the reasons for my concern below.
1. Industrial sectors lose steam
For two months after the election, transportation stocks have indicated a strong economy. Utilities took a dive at the same time. That underpinned the switch towards risk-on behavior. In February, this relationship reversed its trend. Utilities have outperformed the market while transportation has clearly underperformed. The ratio between the two groups shows the same.
You get the same results by comparing Consumer Discretionary (NYSEARCA:XLY) with Consumer Staples or Materials (NYSEARCA:XLB) with Utilities (NYSEARCA:XLU).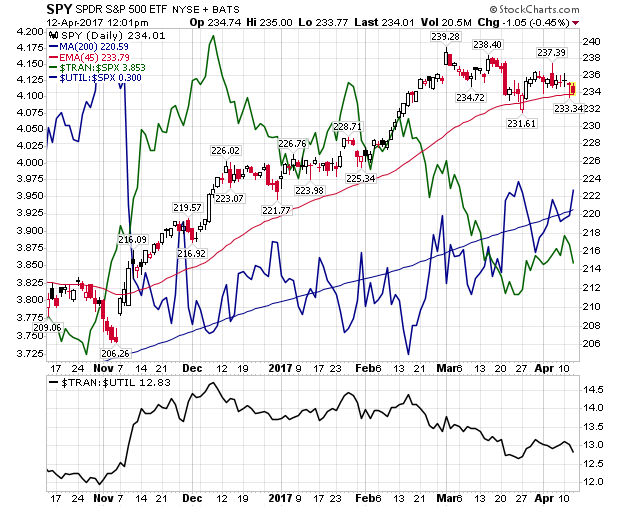 2. Risk-off in currencies
An appreciating Australian dollar indicates hopes of a strong global economy - as more demand for commodities is expected. That's due to the dependency on commodities on the Australian currency. As we have seen during risk-off events, the Japanese yen serves as a safe haven currency. In a similar way to cyclicals/defensives, the AUD has underperformed versus the JPY since February.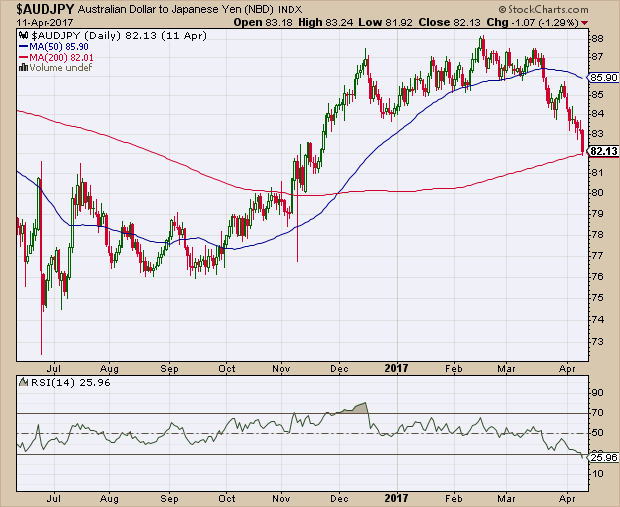 3. Treasuries don't support the view of a cyclical upturn
US 10-year Treasuries haven't made it above the crucial 2.60 mark. We've seen a short-lived rally right before the latest rate hike, but afterwards, yields have plunged back below the 50-day MA. A sell-off in Treasuries hasn't happened the same way the stock market has skyrocketed. That doesn't make me feel comfortable about a booming economy. For the last couple of weeks, bonds have even rallied again. Money flowing back into bonds indicates more investors are becoming cautious.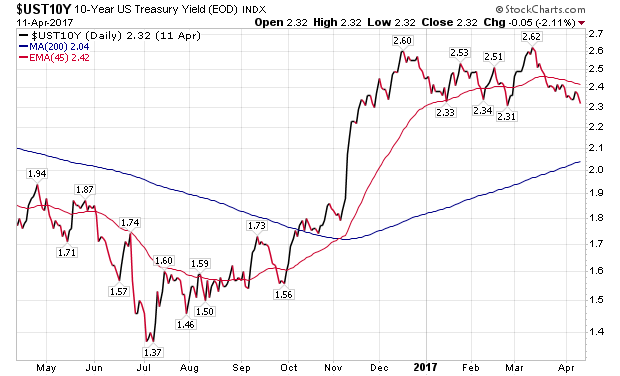 4. The chart picture
The trading range of the S&P 500 is getting increasingly thinner. Since March, the index is trending lower. Two weeks ago, the 50-day moving average was touched for the first time since election, followed by a decent rebound. The second time occurred yesterday. By time of writing, the S&P 500 has just closed below its 50-day MA for the first time since election. This is a clear signal for a correction to start.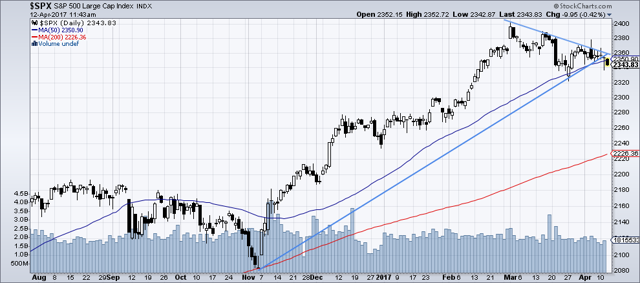 5. Volatility
Volatility (NYSEARCA:VXX) indicates that the calm days are over. Uncertainty starts to emerge, although it isn't at a scary level yet. It has to be mentioned the S&P 500 is just 2.5% below its all-time-high. Which means there's still some way to go. When investors across a broad front feel the need to hedge and deleverage, the VIX tends to be higher.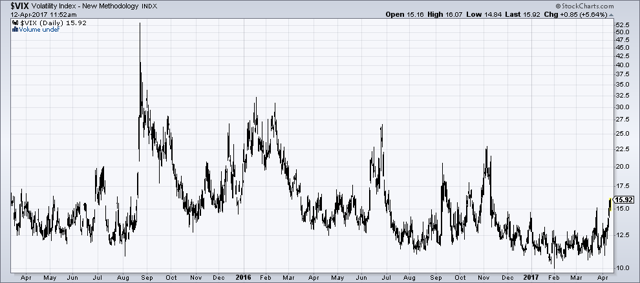 Conclusion
Several markets point to a more cautious sentiment. Sectors, currencies and bonds are all trending in a risk-off mode. However, the broad market hasn't followed suit. The usual sell-off when investors' risk appetite significantly decreases still has to follow. I believe it is finally time to take some money from the table, hedge equity exposure and even position to profit from a sustained correction in equity markets.
Disclosure: I/we have no positions in any stocks mentioned, and no plans to initiate any positions within the next 72 hours.
I wrote this article myself, and it expresses my own opinions. I am not receiving compensation for it (other than from Seeking Alpha). I have no business relationship with any company whose stock is mentioned in this article.