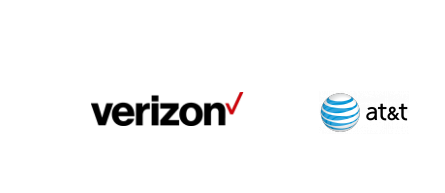 I often find myself in a situation where I have the money to buy some stock in one company but I have two, or more, stocks that I want and are priced at a good value. I suspect that many investors have a similar dilemma from time to time. Verizon (NYSE:VZ) and AT&T (NYSE:T) are two such stocks. I last wrote about VZ here. I most recently evaluated T here. So two stocks will enter, and one will exit as the best buy.
How are T and VZ doing at generating cash to pay dividends in the past?
Both VZ and T are telecommunication companies and compete with each other. They are the biggest two competitors in a market dominated by 4 larger players.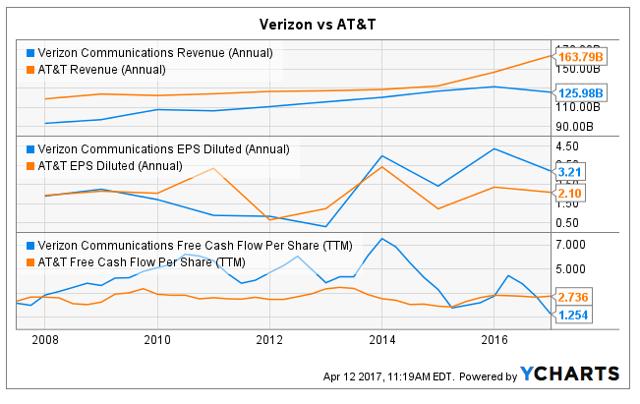 On revenues, T seems to be doing a little better than VZ, especially over the last 2 years. While T has a better revenue trend over the last 2 years or so, prior to that VZ had the better revenue trend. I think they are tied at this point on revenue comparisons.
On EPS, VZ seems to be doing a little better than T. If you compare current P/E, VZ is only 15.18 while T is at 19.23. Both T and VZ have recently seen earnings declines; at this point, the somewhat steeper decline that VZ has seen isn't yet enough to deny it the win in the EPS comparison.
Next I want to look at Free Cash Flow per share (this is a good measure of ability to pay dividends for these companies). T has been pretty consistent in this measure, and that might indicate some upper limit on the dividend. With a dividend payment of $1.96, there is still plenty of room left. For most of the last 10 years, VZ has had a higher level of FCF per share than T, not unexpected since the share price was also higher, but in the last year, that has dramatically changed. VZ will need a good improvement in this number not to have some problems paying the dividend. T is the clear winner on this measure.
So looking at the past, in large part because of changes in the last two years, T has been doing better. I don't think anyone scored a knockout, but VZ didn't do well in the FCF comparison.
How well does each grow in the future?
So next up, I want to see what analysts say about future earnings. Looking at finviz.com, EPS growth for T is predicted to be 3.25% and for the next 5 years is 7.4%. VZ on the other hand is predicted to have EPS growth of 2.74% for next year, and 1.81% a year for the next 5 years. While you should take analysts' predictions with a big helping of salt, it's clear that T is the winner on the EPS growth comparison.
Both T and VZ also have some big and controversial acquisitions, either upcoming or recently completed. For T, there is the DirecTV and the Time Warner (NYSE:TWX) deals. For VZ there is the Yahoo (YHOO) deal. Given all the negative news about YHOO, even though it did help VZ get a better price, I think it's clear that T has the better set of acquisitions here. Don't get me wrong, I don't think that the YHOO deal is bad; I just think that T has a lot more potential in its acquisitions.
The European Commission has approved the TWX acquisition, moving that deal along. I think this is significant because the Europeans are often more concerned about monopolies than are US regulators. Given that Trump has pulled back on his criticism of the deal, I think it's very likely to go through at this point.
After two rounds, T is ahead two round to none for VZ. This isn't an insurmountable lead, as there are 3 more rounds to go, and the last 3 are more important to me.
What about debt? How do they compare in managing the debt?
Handling debt well is very important. A company can have a great past and a bright future, but squander it away by handling debt poorly.
Looking to Moody's I see that T has a rating of Baa1. Currently the rating is under review pending more details on the TWX deal. Note however that two smaller acquisitions have gotten a positive review.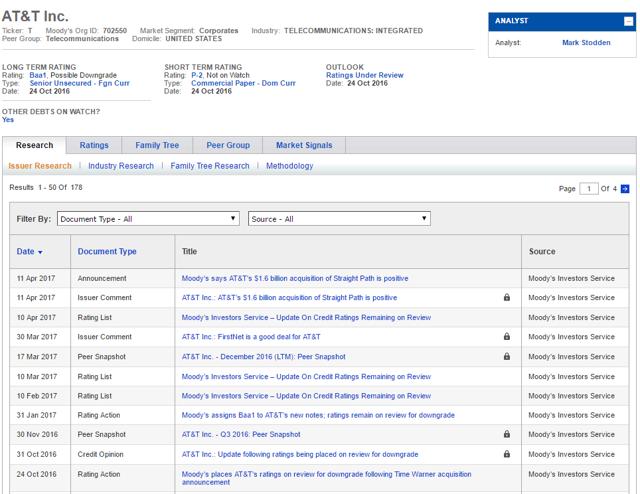 Looking at VZ, I see its credit rating is Baa1. The big difference compared to T is that this rating is not under review. Neither acquisition of Yahoo or Fleetmatics was determined to have an impact on its credit rating.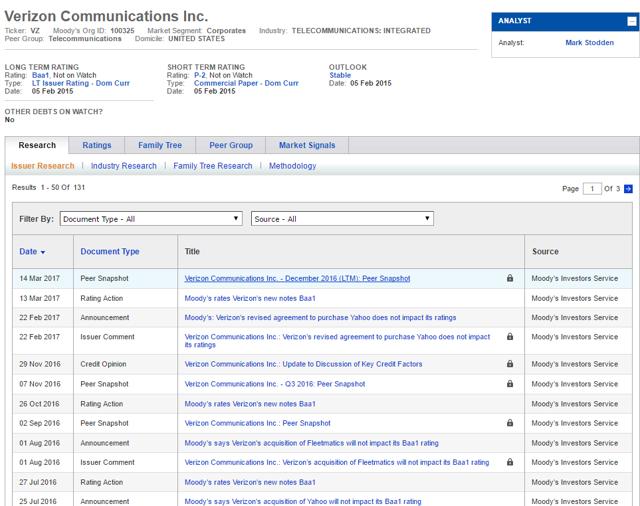 At this point, if I was running T, I would be working with the credit agencies to do whatever I could to avoid a downgrade. Given the current situation, and the chance that its ratings will decline, I think it's clear that T didn't win the debt handling comparison.
After 3 rounds, VZ is making a move and is now down only 2 to 1. With the two most important rounds to go, either company could emerge the winner.
What about dividends? How well are they doing at growing dividends?
Looking at the CCC List, I can see that both VZ and T have streaks longer than 10 years. And dividend yields between 4.5% and 5%. I judge this to be a tie.
Looking at the 5 year DGR I see that T has a value of 2.2%. For VZ I see a value of 3.0%. Generally, VZ has slightly better values for each DGR metric. VZ edges out T here.
Using column CN from the CCC List (which calculates how much of the purchase price will be returned in the form of predicted dividends), I see that VZ will pay back 24.6% of its price while T will pay back 26.2%. I judge this a narrow win for T.
So for the dividend growth comparison, with one tied, and a win for each, I judge this round a tie. The score is now 2-1-1 in favor of T.
How well is each company doing at turning my investment dollars into dividends?
To figure out a good price, I do a DDM calculation using my Excel® based DDM calculator (pictured above, you can see the web-based calculator I based it on here and read a discussion on how the formulas were developed here). Nothing that affects the DDM calculation has changed, so I just repeat the calculation I did in the last articles on each stock using the latest version of my DDM calculator.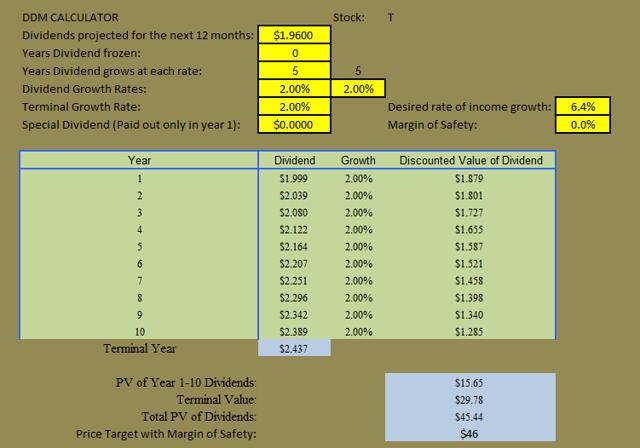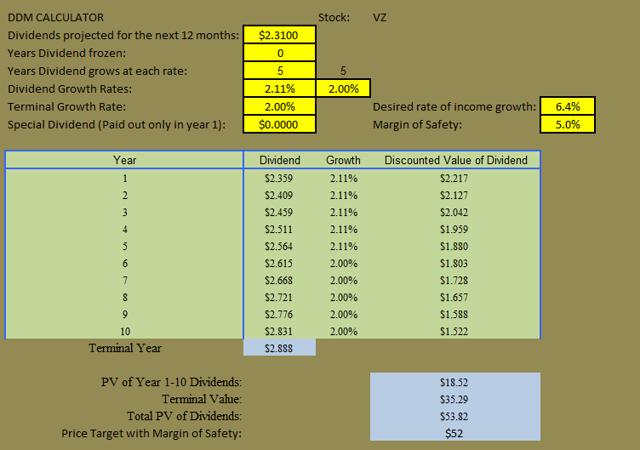 To determine how efficiently my investment dollars are turned into dividend payments, I will take the present value of each dividend stream and divide it by the current market price for the stock. So for T with a current market price of $40.44 and a PV of the dividends of $45.44, that means that every dollar spent buying shares will get the investor $1.1236 in present value. For VZ with a current market price of $48.77 and a PV of the dividends of $53.82, every dollar spent will give $1.1035 in present value of the dividends. So T edges out VZ in turning investment dollars into dividend dollars by just a bit over 2 cents for every dollar spent.
Conclusion
Every investor will at one time or another face the dilemma that two or more stocks are good buys but they don't have the cash to buy more than one. So it's a good idea to develop a comparison system to evaluate pairs of stocks, based on your goal, where the better valued stock will emerge. As a dividend growth investor, my process is weighted towards growing dividends and the factors I think will help a company grow those dividends over time. At this time, VZ and T went in, and T emerged the victor.
Note: I hope you all got something out of this article. I do appreciate the time you took reading it. If you are one of those who follow me here, I appreciate it; if you'd like to include yourself amongst those individuals, please hit the "Follow" button next to my name as well as following other contributors whose work you enjoy. As always, please leave any feedback and questions you may have in the comments below.
Disclaimer: This article is intended to provide information to interested parties. As I have no knowledge of individual investor circumstances, goals, and/or portfolio concentration or diversification, readers are expected to complete their own due diligence before purchasing any stocks mentioned or recommended. The price I call fair valued is not a prediction of future price but only the price at which I consider the stock to be of value for its dividends.
Disclosure: I am/we are long T.
I wrote this article myself, and it expresses my own opinions. I am not receiving compensation for it (other than from Seeking Alpha). I have no business relationship with any company whose stock is mentioned in this article.
Additional disclosure: I get TV, internet and phone service from Verizon. My father once worked for AT&T and while I have interviewed with them for a job, I have never worked for AT&T.