Thesis
Due to short-term market conditions, Martinrea (OTCPK:MRETF) has faced unfair pressure on its stock price and has been trading at low trading multiples. With some of the lowest margins in the industry, we believe that a small improvement in efficiencies and cost cutting can result in upside north of 20% to the stock price. Additionally, new regulations in the industry have been favorable as automotive companies are moving towards implementing lighter metals such as aluminum to decrease CO2 emissions and increase mile per gallon.
Company Overview
Martinrea is a manufacturer and designer of automotive products with more than 44 facilities across North and South America, Europe, and China. Martinrea is a tier one supplier in North America, as the second largest metal forming player, and a top three supplier of fluid management systems (by revenue). Over the past 15 years Martinrea has proven that its business model works in an already saturated market, growing sales from $40mm to nearly $4 billion.
In 2016, the company generated global sales of $3.97 billion, EBITDA of $336mm and earnings of $92.4mm. It currently has a market capitalization of $851.9mm and an EV of $1,513.6mm. Now that the company has built a name for itself in the industry by cultivating an established operating base, the focus has now shifted to growing operational efficiency and margin improvement. Despite this, Martinrea is still expanding its currently 9 million square feet of manufacturing space. Martinrea serves a diverse portfolio of auto-manufacturers with its top 10 platforms ranging from GM (NYSE:GM) Equinox to the Jeep Wrangler (NYSE:FCAU), to Ford (NYSE:F) F-Series Super Duty. The diversity of the company's platform portfolio and its geographic footprint provide insulation from short-term market fluctuations, ensuring more stable cash flows. Regulations in developed countries are pushing auto-manufacturers to be producing the lightest cars they possibly can to reduce CO2 emissions. As a lightweight parts manufacturer, Martinrea, as well as its recent aluminum parts supplier tuck-ins, is well situated to capitalize on these trends.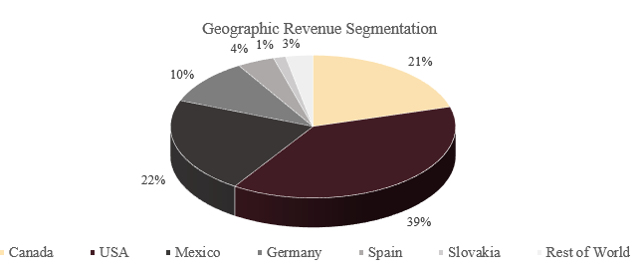 (Source: Company Financials)
Industry Overview
There is currently significant investor uncertainty surrounding North American auto-parts manufacturers regarding Trump's trade policies. As such, we have seen players across the field trading at depressed multiples (as seen in the comps table). While the prospect of a border adjustment test is a legitimate threat to manufacturers with operations in Mexico, political interest will make it difficult to realize the adjustments proposed by Ryan and Bannon.
Another concern for auto-part manufacturers comes from uncertainty surrounding the changing vehicle landscape and how it will affect demand for parts. Given the nature of Martinrea's product offerings, it is well insulated against a changing vehicle landscape.
Global industry revenues are projected to grow at a CAGR of 1.5% through 2021, and are expected to grow only slightly in North America. Much of this demand growth is coming from emerging markets with rapid growth in automobile demand. While this is true for the industry as a whole, aluminum part manufacturers in the light weight space are expected to see significant demand growth as the pounds of aluminum per North American light weight vehicle is projected to grow at a CAGR of 3.7% through 2025. As a percentage of total vehicle composition, aluminum is expected to grow at a CAGR of 12.39%.

(Source: IBISWorld)
Valuation
As shown in the exhibits, Martinrea trades in line with its peers, and its currently at a 14.5% discount to its two-year historical EV/EBITDA and a 2.3% discount to its two-year historical P/E. Its current multiples are unduly low given the opportunities for margin expansion and present an opportunity for a long-term value investment in currently overvalued equity markets. As illustrated in the exhibits, even a small margin expansion, given constant multiples, results in significant value creation. It is also important to note that this is done assuming a constant capital structure and stagnant top-line growth. The total debt/EBITDA is currently only 0.8x with an interest coverage ratio of 13.9x, leaving room for a substantial increase in leverage.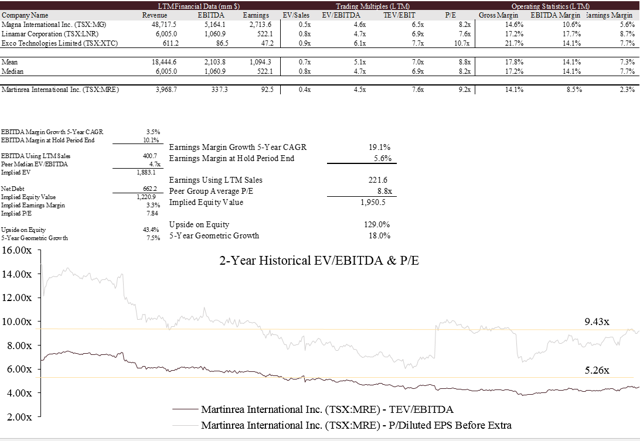 Our Takeaway
Short-term market conditions have resulted in unjust low trading multiples. With its attractive valuation, strong debt capacity, currently low margins, and relatively stable free cash flows, we believe the company has potential to realize upside north of 20%.
Our rating: BUY.
Disclosure: I/we have no positions in any stocks mentioned, and no plans to initiate any positions within the next 72 hours.
I wrote this article myself, and it expresses my own opinions. I am not receiving compensation for it (other than from Seeking Alpha). I have no business relationship with any company whose stock is mentioned in this article.
Editor's Note: This article discusses one or more securities that do not trade on a major U.S. exchange. Please be aware of the risks associated with these stocks.