As you may recall, OPEC and Non-OPEC agreed to reduce oil production by approximately 1.7 million bpd in a series of agreements last year (collectively "Vienna Agreement"). The two agreements began on January 1, 2017, and are scheduled to last for six months. OPEC will then decide in a May 25th meeting whether to extend the agreement. The six-month cut should have rebalanced the market and lowered inventories to its five-year average, and this potential outcome led oil prices to end 2016 on a high note. Three factors, however, forestalled the rebalancing and temporarily sidetracked oil prices in Q1.
1. OPEC Overproduction
First, OPEC and Non-OPEC participants separately increased production leading up to and immediately after the Vienna Agreement as part of their negotiating strategies to "cut" from a higher level of oil production and to front-run impending oil quotas once the group finalized its agreement.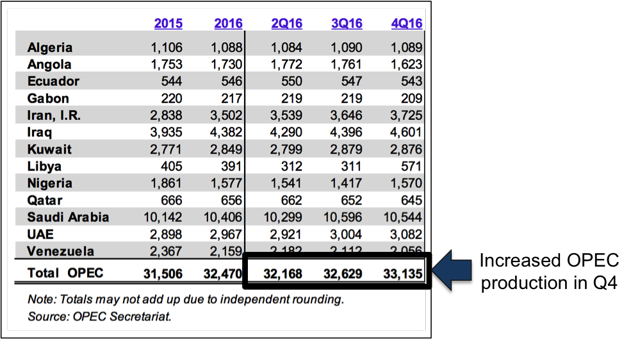 Notice the production spike in the last quarter? Eventually, these extra barrels would show up as higher imports and inventories at the beginning of the year.
We've analogized the oil supply chain to a giant, slow-moving caterpillar before, where a move on one end takes a while to show up on the other. Given the large number of oil producers, a concerted effort to increase production upstream will result in higher levels of oil downstream, but not immediately. This is because physical oil takes time to travel from the source to the market via supertankers (i.e., about 45-60 days from the Middle East to the US). Therefore, the oil consumed today was largely produced a few months ago.

Normally, this time lag isn't much of an issue, but with the hyper-scrutiny on inventory levels after the Vienna Agreement, investors were already on edge. The market fixed its attention on US inventory data, and while it expected an inventory build for the first two months (on account of the production increase), it expected a substantial draw 60 days later. When this failed to appear, the market prematurely began turning bearish - a sentiment that was compounded by two other reasons.
2. Refinery Maintenance
Refineries are often brought off-line for maintenance during the first quarter of the year, but planned refinery outages in the US were much higher than normal in the first quarter, thus tempering crude demand. In particular, look at the spike in planned refinery maintenance in Q1 versus 2016 (in green below).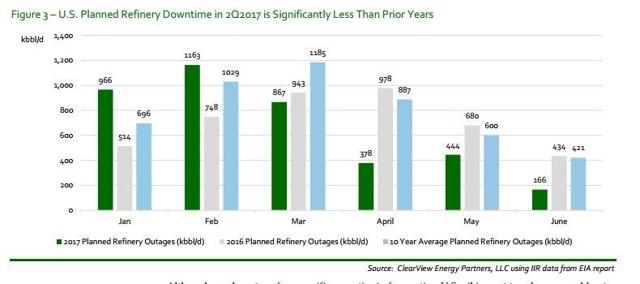 Although initially higher, refinery outages will progressively decline in Q2. When refineries are brought back on-line, oil draws will accelerate the destocking. We know that end-user demand has stayed robust, because products derived from crude oil (i.e., gasoline and diesel) have fallen steadily during this period, even though we've yet to start the summer driving season. Consequently, this leaves refinery maintenance as the key culprit in keeping US crude oil inventories high.
3. Offshore Inventory Destocking
Third, as the market rebalances, oil kept in offshore floating storage (e.g., rented supertankers) will work its way back onshore and show up in inventory data. In Q1, offshore stocks worldwide halved, and some of this came onshore in the US, exacerbating the inventory build. Numerous third-party oil firms have also begun confirming the destocking. Here's Thomson Reuters' chart: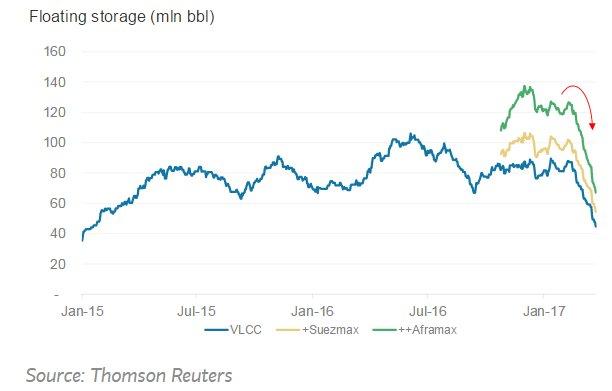 Morgan Stanley recently stated that floating inventory has decreased by 72 million barrels in the past few months - crude that makes its way onshore, whether in the US or elsewhere. As a quick background, when supplies exceed demand, the spot price for oil becomes cheaper than future prices, creating a price curve traders call "contango". Traders capture this spread by buying oil today and simultaneously selling a futures contract. The trader then rents space to store the oil (e.g., onshore storage or a supertanker offshore) until delivery. When supplies tighten, the price curve enters backwardation as the spot price rises versus future prices. Now unprofitable, traders abandon the trade, and oil previously stored offshore destocks and onshore inventory rises.
This offshore destocking is largely a one-time event. It's a sign that supplies are becoming tighter and backwardation is taking hold. Our more conservative view is that the market has absorbed close to 60 million barrels of offshore oil in Q1, significantly reducing offshore inventories. Moreover, whether oil stocks are falling onshore or offshore, they are falling - and that's what we fundamentally want to see.
4. Price Reaction
Regardless of the reasons, the nuances were lost on the market. When met with higher inventory figures in the first week of March, the oil market sold off. The market shoots first and aims later when it encounters "bearish" data. This occurred, in part because investors had bet heavily on higher oil prices, and by February, money managers had placed record bets on the long side by a factor of 10:1.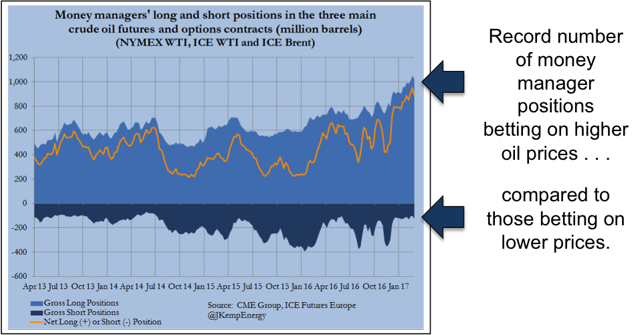 It wasn't surprising to us that inventories would increase in the first quarter. Combine overproduction, higher refinery maintenance and offshore destocking, and voilà, an inevitable post-holiday hangover. Kind of makes sense, right? Not for the market, because while it's okay for oil inventories to build for 60 days, a build into March? Inconceivable!
Unfortunately, the market demanded that the oil supply chain operate with the precision of Oscar ballot counters. So, like The Rock at the Oscars, the oil market slid into La La Land confusion.
As if on cue, doubt and uncertainty stepped onto the stage, and the pundits began asking the "critical" questions. Did OPEC/Non-OPEC really reduce production? Where's all this oil coming from? Have we all been duped? Has anyone really seen Moonlight??
Yet, for all the drama, we believe the price action makes little sense, and much of it is sentiment-driven. Just because physical oil takes 60 days to travel from the Middle East to the US, it doesn't mean production cuts beginning January 1st would lead to imports suddenly plummeting in the first week of March. Moreover, higher refinery maintenance, coupled with offshore destocking, means imports will increase in the short run, but that's the key... the short run.
The oil market and supply chain is exceedingly complicated, and while rebalancing will take time, it will occur. We've said before that sentiment and fundamentals are two different things. Fundamentals drive sentiment, and not the other way around. If fundamentals continue to indicate an inventory drawdown, then sentiment will eventually swing back. We believe the recent air pocket only helps the oil market rebalance faster, as it discourages needed investment. In truth, we're much more bullish on oil today than we were last quarter. In the next few articles, we'll peel back the onion and talk about our views underpinning the fundamentals for 2017, and explain why we think oil is poised to head higher.
As always, we welcome your comments. If you would like to read more of our articles, please be sure to hit the "Follow" button above.
Disclosure: I/we have no positions in any stocks mentioned, and no plans to initiate any positions within the next 72 hours.
I wrote this article myself, and it expresses my own opinions. I am not receiving compensation for it (other than from Seeking Alpha). I have no business relationship with any company whose stock is mentioned in this article.