Procter & Gamble (NYSE:PG) is losing, and in many respects has already lost, its stronghold on the razor market. The century-old brand that P&G bought in 2005, Gillette, has come under pricing pressure and lost market share from various startups, such as Harry's and Dollar Shave Club. Gillette must now cut prices to try and stay competitive.
Gillette owned 70% of the men's razor market share in 2010, but it's down to 54% as of last year. Still, the razor business has been high-margin for P&G, and it is fighting back. The answer, apparently, isn't with rolling out new, pricier products. Instead, P&G has turned to price costs, with a plan to drop prices for blades and razors by 12% on average. The focus is on putting more marketing resources toward the company's lower-priced products.
The long-term stock chart for P&G can be misleading. The chart is a solid "up and to the right."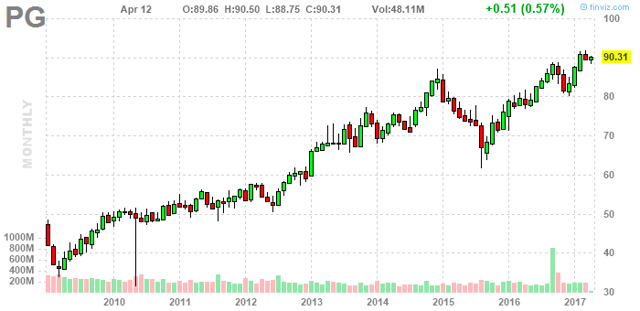 However, compared to the S&P 500 over the last 1-, 3-, 5- and 10-year periods, it's been an underperformer.
But a great dividend
Investors have long seen P&G as a solid, resilient dividend. Its shares yield 3.1%, and the company has a 60-year streak of consecutive dividend increases. It generates a lot of revenues across a number of name brand products, such as Dawn, Febreze, Tide, Olay and a host of others, which helps supports its solid dividend.
P&G has done away with 100 underperforming brands over the last couple years, hoping to focus on its core brands that still have growth potential. But the decline of Gillette and its grooming brands stings (a lot). Grooming is P&G's most dominant segment and accounts for over 15% of earnings.
The likely Trian thesis
The company has already been cutting costs and divesting underperforming brands, yet the high-single digit earnings growth that helps support that 60-year streak of dividend increases is becoming questionable going forward.
But it's unlikely we'll see a push for a full-blown break-up like we saw at Energizer Holdings (NYSE:ENR). Rather, activist investor Trian will likely want a major sell-off or spin-off to help further slim down P&G. The likely candidate appears to be the grooming business. That means we could see a push for a sale of the Gillette brand or a spin-off of the grooming unit. This business has had some of P&G's worst losses of late.
In the meantime, the company can control its costs, which has been the focus. It's managed to cut $7 billion from manufacturing and overhead, with a plan to cut another $10 billion in the next couple years. Margins for P&G are above those of many major personal products peers.
P&G has looked at a breakup in the past, ultimately making a hard pass on the idea. And it appears that Trian won't be able to get enough support for a breakup proposal. It is destined to be a big, slow growth company that focuses on cutting costs. Institutional investors and massive passive investors likely enjoy P&G just as it is and won't stand for a breakup. They'll take their yearly dividend increase and ~3% yield and settle for about 6-7 percentage points of underperformance relative to the S&P 500. The company will continue this path unless Trian can convince it to take a hard look at the grooming business or the Gillette brand.
Disclosure: I/we have no positions in any stocks mentioned, and no plans to initiate any positions within the next 72 hours.
I wrote this article myself, and it expresses my own opinions. I am not receiving compensation for it (other than from Seeking Alpha). I have no business relationship with any company whose stock is mentioned in this article.