Osisko Mining (OTCPK:OBNNF) has been quite successful with their massive drilling program on their flagship Windfall Project, but no level of success can justify the current share price. The US$750M market cap and US$600M EV are so disconnected from reality that one tiny hiccup could cause a crash in the share price of up to 50%. As the company releases results from their metallurgical program and moves the project towards feasibility, the market will come to see that such a premium valuation compared to peers cannot be justified.
Osisko Mining (OSK on the TSX) surely has a lot of things going for them. They are led by Sean Roosen and the team who brought Canadian Malartic to production and sold it for US$4B in 2014. There's no doubt that the team is solid, but Windfall is no Canadian Malartic. Canadian Malartic is an open-pit mine, while Windfall will be a high-grade underground mine. We still have no idea what kind of recoveries they'll be able to get from Windfall, and the 2015 PEA considered a 110k ounce/year operation, while Canadian Malartic produces 600k ounces/year.
Of course, the PEA is very out of date two years later, but let's take a look anyway.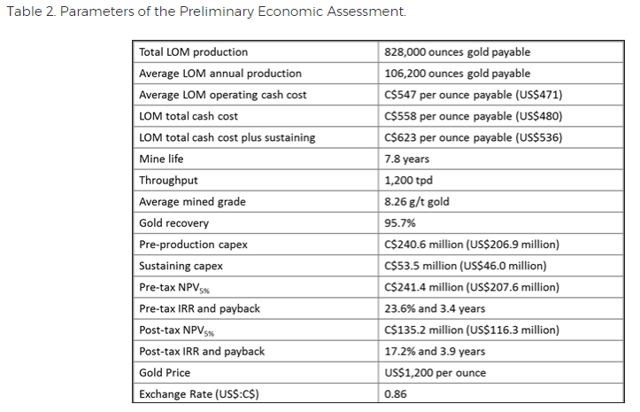 Just to get the project producing at 110k ounces/year, the company will need to spend almost US$200M in initial capex, so any larger operation would cost considerably more, especially considering it's an underground mine. If they go with a 110k ounce/year operation, the company will be limited in their ability to significantly raise the NPV and IRR numbers. While the drilling over the last two years could lead to a resource expansion of double or more, those numbers would just be added to the back end of the mine life, so the improvements would be negligible. With a post-tax NPV of US$120M and an IRR under 20%, the project is mediocre, and it would be difficult to justify the initial capex, even considering the top-tier jurisdiction.
The recent drilling program has been a success, but I don't see how those extra ounces would improve the economics considerably. The drill intersections are not so outstanding that the new resource estimate will significantly raise the average grade, in my opinion, which would be the easiest way to improve the economics considerably. The company reports some very high grades in their news releases, but they do not provide drill maps so it's very hard to conceptualize the whole thing as an independent analyst. If I'm wrong, however, and the new resource estimate can raise the average resource grade above 10gpt, it will start to look much more economic. However, the share price is already sky high, so it's hard to believe that would result in much of a share price appreciation.
I would also note that this PEA assumes gold recoveries above 95%, which is optimistic to say the least. The company should provide metallurgical test results this year along with a resource update, but I think those announcements only carry risk of disappointment and no upside potential.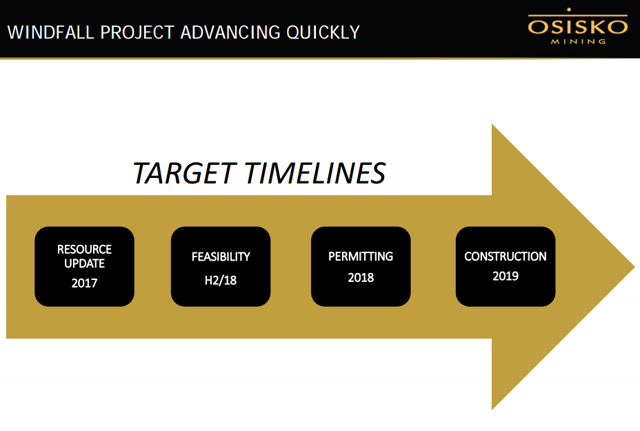 The company is moving the Windfall Project forward quickly, and as the market gets a better understanding of the economics over the next year and a half, I believe investors will realize the market cap is just too high compared to peers.
While no company is perfectly comparable to Osisko Mining, I think First Mining Finance (OTCQX:FFMGF) comes the closest. They both have a lot of gold resources in projects in Quebec/Ontario.
First Mining Finance: US$320M market cap, US$280M EV
- global gold resources: 10M ounces
- flagship (Springpole) project: 230k ounces/year, US$440M initial capex, US$390M post-tax NPV
Osisko Mining: US$750M market cap, US$600M EV
- global gold resources: 4M ounces (5M+ after imminent resource update)
- flagship (Windfall) project: 110k ounces/year, US$190M initial capex, US$120M post-tax NPV
Now, Osisko Mining probably deserves a premium valuation as they are moving toward production more quickly and have a better team backing them, but this much is ridiculous. You can buy double the ounces for half the price with First Mining Finance, and I personally think fast-tracking projects to production isn't necessarily wise in this market. Osisko provides us a graph themselves that shows their relative overvaluation.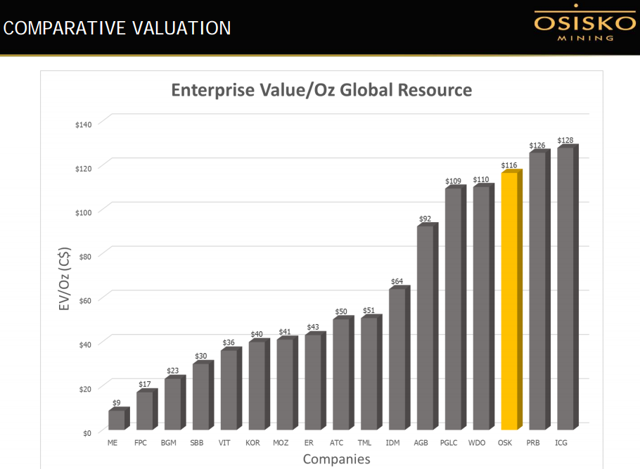 In conclusion, Osisko Mining is priced to perfection. The market seems to be assuming the company will have absolutely no problems with Windfall's metallurgy, resource update, and bringing the project to feasibility over the next year and a half. While the company has great land positions in arguably the best jurisdiction in the world, the market is pricing in too much success on too many fronts, and the risks are real as the company moves Windfall forward at a breakneck pace. While the team behind Osisko Mining is top notch, the market also seems to be forgetting the company is beholden to Osisko Gold Royalties (NYSE:OR), and will feel obligated to sell them royalties or streams on their projects, which will worsen the economics.
Share price upside seems limited to me over the next year, and downside risk is significant if Windfall's development doesn't meet the lofty expectations. So I think we could see a share price depreciation of up to 50% if the company burns through their cash and Windfall disappoints on any front as it's rushed to feasibility.
Disclosure: I/we have no positions in any stocks mentioned, and no plans to initiate any positions within the next 72 hours.
I wrote this article myself, and it expresses my own opinions. I am not receiving compensation for it (other than from Seeking Alpha). I have no business relationship with any company whose stock is mentioned in this article.
Editor's Note: This article covers one or more stocks trading at less than $1 per share and/or with less than a $100 million market cap. Please be aware of the risks associated with these stocks.