ValueAct, led by Jeffrey Ubben, is returning 1.25 billion of its 16 billion of assets under management to investors because they view the market as overvalued. This is objectively true going by valuation ratios. Subjectively, these can only be justified by unsustainable factors while perhaps ValueAct's playground is especially rich.
S&P 500 valuation
Multpl pegs the S&P 500 at an average PE of 26.32. The median is about 14.65 which is probably a better yardstick to go by. The lowest reported ratio was 5.31x back in 1917 while the highest occurred in May 2009 when it hit 123.73. One of the more worrying charts Multpl publishes is the one below depicting 12-month real earnings per share, a figure that is inflation adjusted: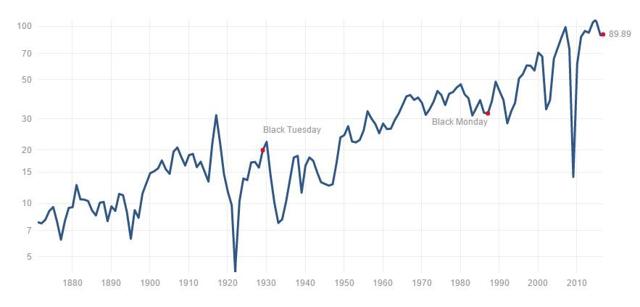 CNBC has Ubben commenting:
These valuations can only be justified by assuming cyclically high corporate margins will persist, a certainty of lower corporate tax rates and a risk-free rate that stays near all-time lows. We are skeptical of all of the above.
Unsustainable
Ubben speaks of cyclically high corporate margins. If that sounds alien to you just think of how the cost input side has looked for the past several years for many S&P 500 companies with subdued wage inflation, low energy prices, low commodity prices and low tax rates for multinationals.
Sure, President Trump may come up with tax reform beneficial to the corporate world but that's actually unlikely to benefit multinationals as much as it is small-caps that are often burdened with the 30% tax rate while the Apples (AAPL) and Googles (GOOG) (GOOGL) of this world are able to achieve much lower effective tax rates.
Cost inputs are playing an important part in keeping corporate margins up. There are very few factors that look like they are going to be beneficial on this front.
Time to sell quality?

ValueAct is not just a constructive activist shop. It also favors quality business models with pricing power, strong IP and predictable revenue streams. With quality and low-volatility investing being all the rage and ETFs to sell these factors multiplying faster than rabbits in spring, it seems logical valuations are rising. Also read Why I Wouldn't Pile Into Quality.
ValueAct has been selling out of MSCI (MSCI) and Adobe (ADBE) over the past year and is currently reducing Baker Hughes (BHI), Morgan Stanley (MS) and Allisson Transmission Holdings (ALSN). Instead Ubben favors "idiosyncratic, mid-sized companies such as spin-offs and "weird" corporate structures" as discussed in ValueAct going risk-off.
Conclusion
The widely respected Jeffrey Ubben deems the S&P 500 and especially his corner of the market highly valued. His response has been to return less than 10% of money to his investors.
The advantage of that being it increases his "reputation currency" which he'll be able to cash in once opportunities come back. The obvious downside being he isn't cashing in on his management fee and reducing the size of performance fees in case he's wrong. Overall, I'd say to Ubben it is slightly less advantageous to return cash to investors than it is for investors to reduce exposure.
An alternative I really like is to look for the idiosyncratic opportunities and do so outside of the S&P 500 and the universe of ETF building blocks.
Disclosure: I/we have no positions in any stocks mentioned, and no plans to initiate any positions within the next 72 hours.
I wrote this article myself, and it expresses my own opinions. I am not receiving compensation for it (other than from Seeking Alpha). I have no business relationship with any company whose stock is mentioned in this article.