Introduction
With the bull market in its eighth year, it has become increasingly difficult finding stocks which present a fair value opportunity for investors. This is especially a problem in the dividend growth realm, as investors have bid many dividend paying stocks up due to historically low interest rates. One of the most stable industries in one of the most stable sectors is the food industry. Recently, several big food companies have appeared on my stock screeners and on Custom Stock Alerts due to their recently falling stock prices and proximity to their 52-week lows.
The article series will cover Kellogg's (NYSE:K), General Mills (NYSE:GIS), Hormel (NYSE:HRL) and J.M. Smucker (NYSE:SJM).
My Kellogg article is here.
My goals are simple:
Is investment worthy?
Is it worth investing now?

If not, at what price might an investment be attractive?
Overview
Brands
A portfolio of recognizable brands separates these companies from generic products on a shelf. It's crucial for the players in this space to develop brand trust over time and buy up and coming brands strategically to stay ahead of competition.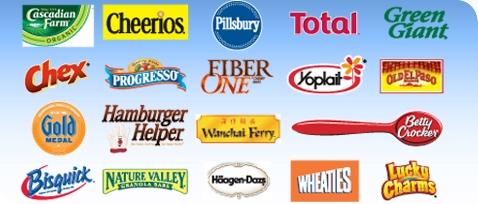 General Mills has a tremendous amount of brands covering all parts of cuisine, you could go a whole day eating just General Mills products. From Cheerios and Yoplait for breakfast, Progresso soup with Green Giant vegetables for lunch, Hamburger Helper for dinner washed down with some Haagen-Dazs or a Betty Crocker product for dessert.
Sales
From the 2016 annual report, meals make up 24% of sales, cereal 23%, snacks 21%, baking products 19% and yogurt/other the remaining 13%. The pie graph illustrates the product category diversity.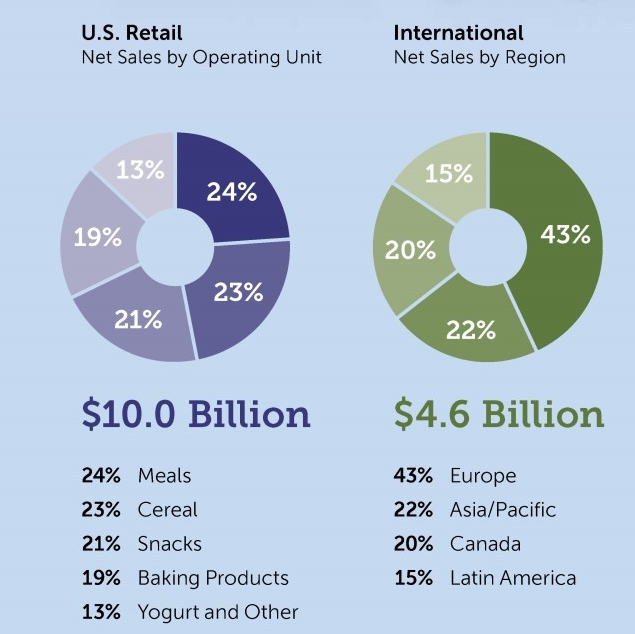 General Mills is also diversified by sales region with about 1/3 of total sales coming internationally. This will also be a big growth opportunity in the coming years.
Sales declined 6% in 2016 with management pinning that on the sale of the Green Giant brand, forex and a calendar shift. Backing out exchange rates, sales still declined 2%.
More recently, General Mills announced their third-quarter 2017 results in late March. Earnings grew 3% though sales were 5% lower from the third quarter of 2016. While that is a mixed bag, operating results through the first three quarters are a little less encouraging. Sales are down 7% with operating profit down 10%. Earnings are down 3% from a year ago, though if you massage them by adjusting out currency changes they are up 4%, so take that with a grain of salt.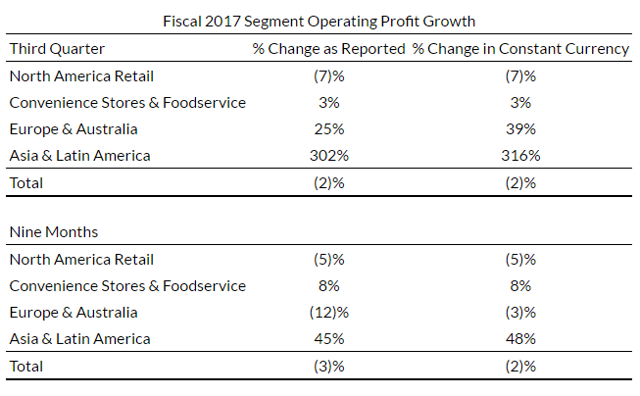 During the third quarter General Mills announced a new global organization structure. The new four segments are North America Retail, Convenience Stores & Foodservice, Europe & Australia and Asia & Latin America.
Sales in developed markets are down through nine months while Asia & Latin America are showing strong growth.
During Q3, the North America market saw double digit sales declines in baking and yogurt products though on the bottom line profits were only down 7% due to benefits from cost savings initiatives. It's clear there is work to do with sales dropping middle single digits in the prime market of North America.
The following are all figures through the first nine months of their fiscal year.
| | |
| --- | --- |
| Cash from operating activities | $1.56B |
| Capex | $475M |
| Dividends | $856M |
| Subtotal | $229M |
| Buybacks | $1.65B |
| Cash spent before debt servicing | ($1,421) |
Cash flow generation of $1.56B through nine months is down 16% from 2016. After capital expenditures and dividends, only $229M remained from cash flow which was promptly spent on share buybacks.
As to efficacy - 25.4 million shares were repurchased totaling $1.65B. With some quick math the shares were purchased with an average price of $64.96, some 11% higher than where shares sit now. It seems these buybacks were executed poorly at a much higher price when the company was arguably overvalued.
Historical Performance
Fast Graphs helps provide a clear picture on how a company has performed over time. General Mills has offered consistent single digit earnings growth over the past twenty years, including growing earnings during the recession. The company current sports a BBB+ S&P credit rating with a 3.3% yield.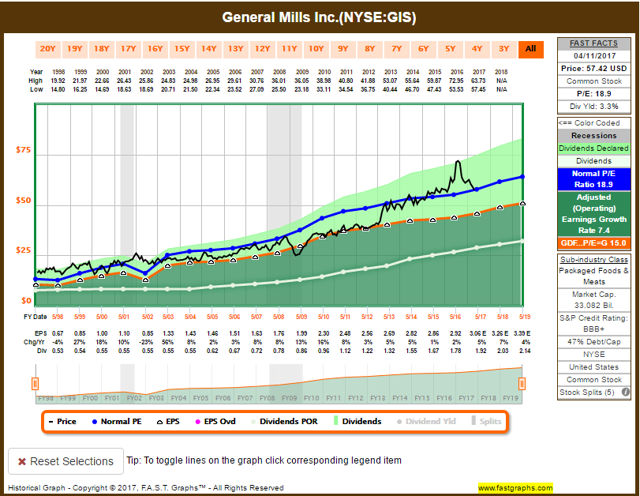 With price plotted as the black line we can see how the company has come in and out of favor over time. For the reference time frame, the company typically trades at about 19x earnings.
In fact, for most of the time from 2003 to 2013, the stock was out of favor. Ironically this was a great time to buy and hold a position with a market beating performance during this timeframe especially.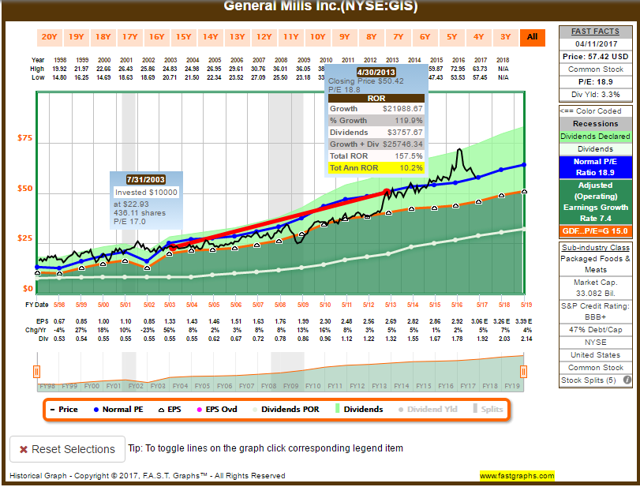 During 2016 the price spiked which pushed the P/E well into the 20s before the price has begun to revert to the mean.

The FUN Graph shows a similar story, this is mapping earnings growth versus dividend growth. Earnings have grown at 6.9% CAGR with the dividend growing at 6.8% CAGR.
From 2000 to 2005 the company held the dividend stable at $0.55/quarter until finally getting into a continual growth phase. Per the dividend CCC list, General Mills is a Dividend Contender with a 13 year history of raising annually.
Concerns
Just on April 7th, Fitch lowered its outlook to negative.
"Fitch expects the company will continue shaping its portfolio with dispositions of slow- or negative-growth brands and acquisitions in faster-growing categories. In the near- to intermediate-term, Fitch expects organic growth to be challenged and trend negative in the low single-digit range beyond fiscal 2017 given the continued declines in the cereal and yogurt business."

"Fitch expects debt balances to remain roughly flat over the next two years with FCF being directed to shareholders versus debt paydown. However, debt-financed share buybacks that take leverage towards 3x would be a rating concern."
General Mills has over $4B in debt coming due by the end of 2021 that will need to be refinanced.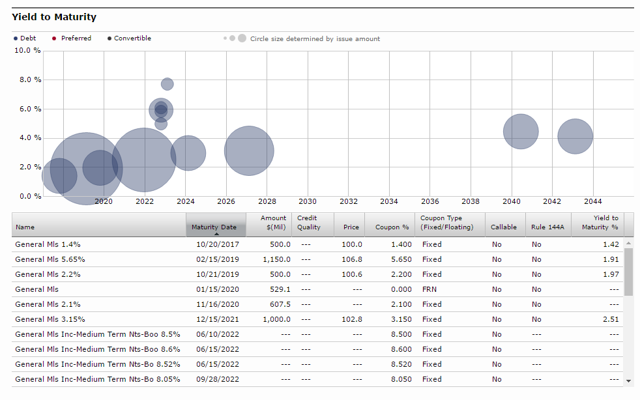 Looking back at the annual report, it'll take some time for General Mills to try and pay down any debt rather than rerolling it.
| | |
| --- | --- |
| Operating cash flow | $2.63B |
| Capex | $729M |
| Dividends | $1.01B |
| Subtotal | $891M |
From the 2016 year end perspective, the company at best had $891M to work with which is about 1/5th of the cash needed to pay off the debt coming due. With the exception of the 5.65% note, the rates are quite favorable on the bonds with the next highest being 3.15%. As these aren't callable by the time they are rerolled they may be have higher interest rates and subsequently a higher interest charge every quarter.
In Lowell Miller's book, The Single Best Investment: Creating Wealth with Dividend Growth, he highlights credit rating being of the most important parts of an investment thesis. His recommendation is BBB+ or better from S&P. On that front, General Mills would just pass here, but is on credit watch.
Simply Safe Dividends
Brian runs a great site at Simply Safe Dividends so I love using some of his resources.

From an overall perspective, he gives General Mills a 91 safety, 54 growth and 70 yield score.

Recently dividend growth has been very good with a 5 and 10 year average in the 10% range. My fear is this trend will slow in the near time until sales and profits get back to where the company needs them to be.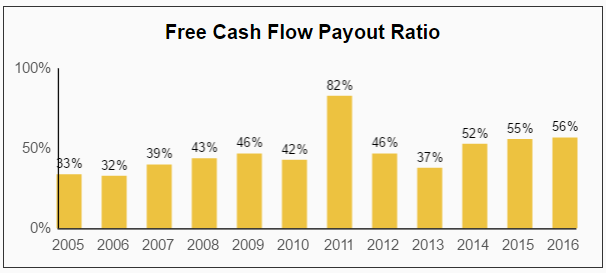 To a dividend growth investor, the free cash flow payout ratio is one of the most important pieces of information to study and analyze. As dividends are paid in cash, this graph shows just how much of free cash ((cash from operations + cash from financing) - capex) is being taken out of the business to pay investors. The ratio has ticked up slightly in recent years, but the dividend is very much still well covered. Just don't expect massive growth, expect increases to be in line with earnings growth.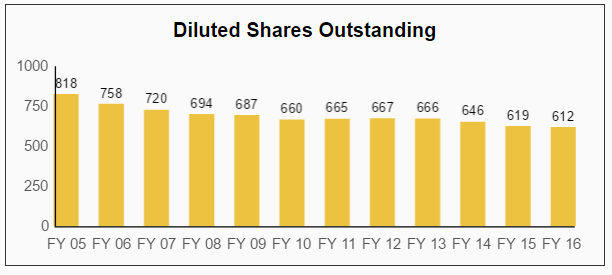 Lastly, you can visually see the impact of the aggressive share repurchase program. I covered the cost of the repurchases above, they seem to have been poorly executed at too high of a share price. Perhaps it's an effort to try and boost earnings per share metrics with top line sales moving negative recently. For shareholders sake, I hope they haven't pushed too hard trying to juice the numbers.
Looking Forward
General Mills is still guiding for full year 2017 sales to decline 4%. From a longer range perspective, the company is well aware of the growing demand for natural and organic offerings. Their organic products generated $750M in sales during 2016 and they are hoping to grow alongside the projected double-digit growth rate for the food category. The current target is to have $1B in net sales coming from organics in the US market by 2019, a full year earlier than they had originally planned.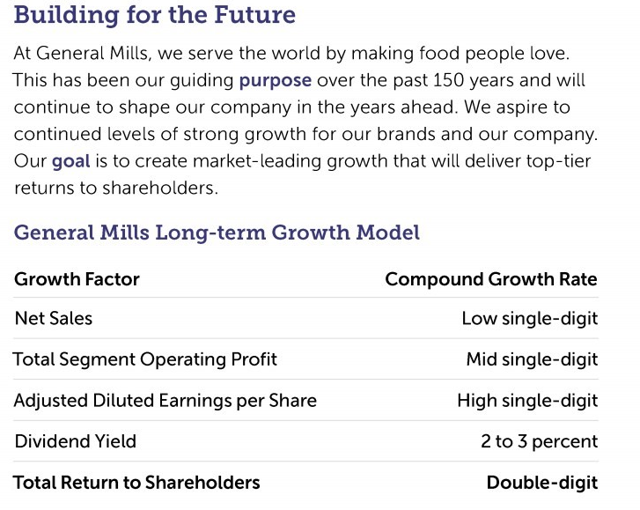 Over the long term, the company hopes to have low single digit sales growth which through cost optimization can translate into mid single digit profits. From there, strategic buybacks can translate into high single digit earnings growth. Finally, a dividend yield between 2 - 3% in combination with earnings growth is how the company expects to generate double digit shareholder returns for the long term.
That's the plan at least, it remains to be seen whether they will be able to execute on it, 2017 has looked incredibly weak for the company.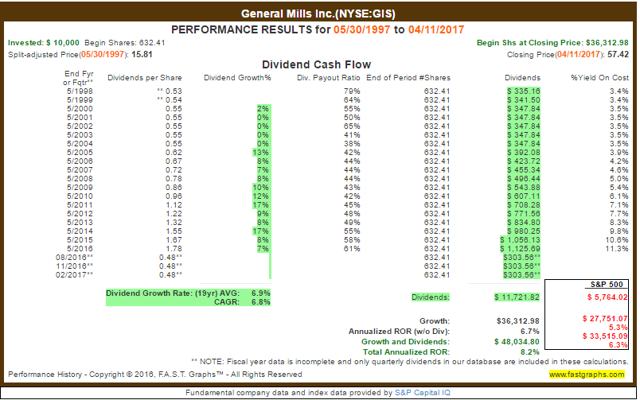 Using the returns graph from Fast Graphs, looking at the past twenty years the company has experienced total returns of 8.2% per year compounded. Double digit returns may be a bit optimistic if history is to be relied on as a guide as to what may come in the future. I will note though that the stock handily beat the market by nearly 2 points compounded per year.
General Mills has four key priorities as part of their "Keeping our Consumer First" strategy.
Drive More from the Core
Funding Our Future
Reshaping Our Portfolio
Building an Advantaged and Agile Organization
Drive More from the Core
Cheerios, Pillsbury, Nature Valley and Haagen-Dazs are the "economic engines" of the company and they know that driving growth through these brands generate the best returns for shareholders.
Funding Our Future
Management believes long-term shareholder value comes from balancing growth and returns. The company does have a long history of achieving this goal and expects to continue to do so in the future. Over the past two years cost savings opportunities have helped streamline their global supply chain and in restructuring the organization. The target is $4B in cost-of-goods savings by 2020. A more near term goal is a 20% operating profit margin by fiscal 2018.
Reshaping Our Portfolio
The company is staying on its toes by both acquiring and divesting product brands. In 2016 they sold their Green Giant vegetable business while acquiring the Carolina yogurt brand which is very popular in Brazil. As previously mentioned they are also focusing on their natural and organic product offerings to catch trends as they happen.
Building an Advantaged and Agile Organization
While vague sounding, the company is developing new capabilities throughout to enable growth in a rapidly changing marketplace. This also involves more investment in e-commerce.
Separate from the key priorities, General Mills is aware of the need to grow yogurt sales. Bringing Yoplait, the number two global yogurt brand, to emerging markets has been a top goal. In 2016 it was introduced in Shanghai and Yoplait has already gained a 10% market share. The company perceives the China yogurt market to be $16B annually and are looking to take their share of that.
Conclusion
With shares trading at a TTM P/E of 19 and an estimated 17.7x full year 2017 earnings, shares don't appear incredibly expensive. I would hardly call them a steal though.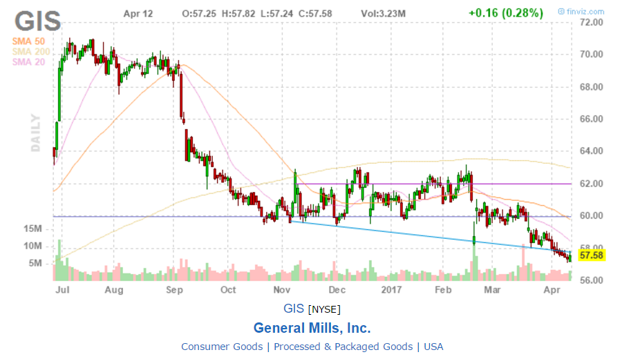 The stock has been making new lows over the past couple weeks which makes it interesting at this time.
If the company can sort out the sales declines in the cereal and yogurt segments and North America segment, there may be something here. It remains to be seen if this is still a falling knife situation if sales continue to weaken.
At the very least, the company sports a healthy dividend in both terms of current yield and financial stability. Dividend growth may be slowing now in the near term. The company has the right prospects for continued long term growth, people still need to eat after all. I would keep an eye on the debt situation as that may limit financial flexibility for key acquisitions. Sales are diverse through the product lines and the international opportunities seem large.
From my introduction, I wished to solve two questions, is the company investment worthy and whether it is worth investing in right now.
At the end of the day, General Mills is absolutely investment worthy. The company has an incredibly long and rich history and has rewarded shareholders over the long term.
My second part summary is very similar to that of Kellogg's. The company has been making new lows over the past few weeks and the stock is trading in line with historical valuations. So to reiterate, now is not the worst time to buy, though that is hardly a glowing recommendation. If you have shares already, continue to hold them and reinvest those dividends!
Using Custom Stock Alerts I have setup a few alerts on General Mills where I may be more interested in shares.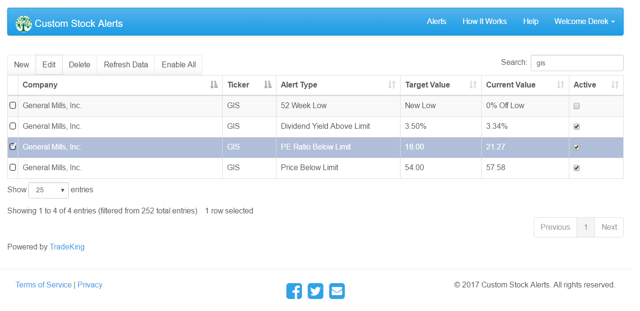 While my alert for a new 52 week low has hit (and continued to be hit as I turned it back on), I would be more encouraged if shares ticked down some more and gave me an initial 3.5% yield.
I hope you enjoyed the article and please leave me feedback. If you found this value, I will encourage you to follow me. I'll be working on the other parts of the series in the coming weeks.
Disclosure: I/we have no positions in any stocks mentioned, but may initiate a long position in GIS over the next 72 hours.
I wrote this article myself, and it expresses my own opinions. I am not receiving compensation for it (other than from Seeking Alpha). I have no business relationship with any company whose stock is mentioned in this article.