The biggest key indicator for my analysis starts with personal income and expenditures. The United States economy is primarily driven by consumers via what they earn and what they spend. Sure, government and business contribute. But, if you have an economy that is 72% consumer, you start there. Given that, personal incomes and personal consumption are slowing down. There was a peak a few months back with real personal consumption expenditures on a whole number. That being the driving force, the economy will do the same.
Here is a look at some of the data, specifically, Real Personal Consumption Expenditures (Real PCE) where you can see how the date topped out about 3 months ago: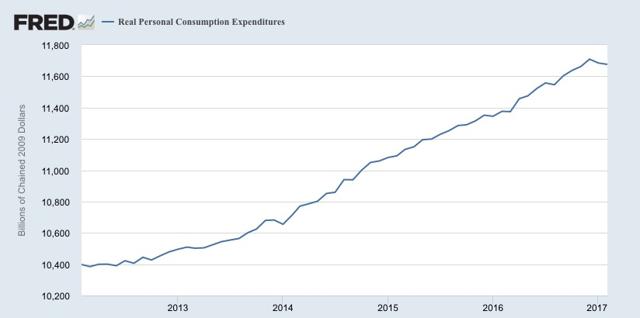 The rate of growth is what I usually target when I look at the numbers with PCE. PCE, of course is driven via incomes. If the rate of growth in incomes declines so will the rate of growth in consumption. That is easy mathematics, and here is the graph showing that: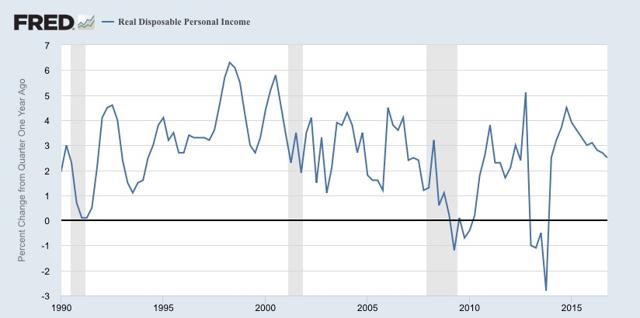 Incomes have had a consistent increase month-over-month the past 12 months. However, month-over-month can be a little misleading. Also, there is no 1-for-1 relationship with incomes and consumption as these two charts show, respectively: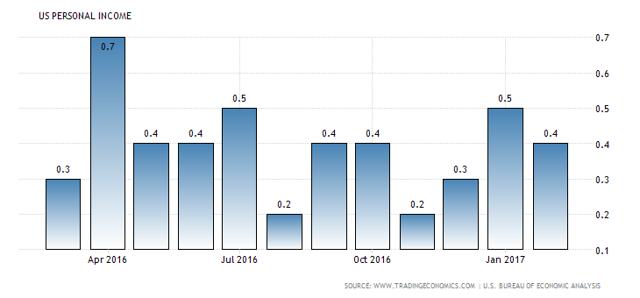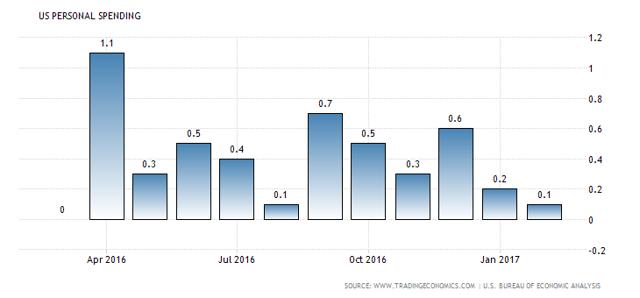 Incomes are increasing month-over-month but the correlation with consumption is lacking. Interestingly, confidence has been running high. But, again, there is a disconnect with confidence and consumption.
The math on this is simple. 72% of Americans have less than $1,000.00 in their savings accounts. 35% of Americans barely have a penny and are just getting by. So, if the rate of growth in incomes increases then it can be assumed that individuals will spend their incomes at about that same rate of growth.
That is not happening.
Instead, the rate of growth is moderating. And, as the first chart above shows, consumption has peaked. If that is the case, then I am leaning towards an opinion that in this latest economic cycle, the economy has peaked.
The consumer really does drive this economy. As consumers consume then businesses ramp up production to restock inventories. Maybe businesses also invest in new facilities to increase productivity or to keep up demand, perpetuating the economic cycle. These business add more employees and more consumption occurs. This is the simplest of concepts we all learned in Econ 1.
There is a lot of hope that the new administration can drive the economy further with tax cuts, infrastructure spending and regulatory reform. With the latter, we have seen some progress as Trump has rolled back a lot of the environmental works his predecessor put in place. I believe that will increase the profitability of a few target companies. However, I do not see these regulatory reforms translating into new hires. Instead, I see a few shareholders earning a few extra dollars while simultaneously being devoid of any benevolence to extend these new-found profits to employees. Nothing new there.
As for the remaining two, I am reluctant to believe the administration will get anywhere with tax reform . At all. This is far, far more complicated than health care. This administration was unable to get the very biggest promise through. Tax reform will go nowhere. Even if tax reform miraculously gets ushered in on the backs of unicorns, it is far down the road. And, infrastructure spending will perpetuate a construction economy that has been very firm lately. But, I doubt there will productivity gains tucked into repairing bridges that will propel this economy faster.
The only way incomes, and by consequence consumption, pushes above that peak from a few months back is to outpace the current growth and simultaneously outpace inflation. But, that may be wishful thinking as well. Inflation rates in the United States are 2.7% and 2.2% for headline and core inflation, respectively. For there to be significant advances in expenditures then income growth would have to outpace inflation rates as well as increase above the previous year's numbers.
Fundamentally, I do not see that happening. I do not see anything from the government that could propel the economy beyond where it is. Also, with the Federal Reserve raising interest rates, this only works to temper economic growth.
I am bearish on economic growth going forward. The numbers have been soft the past few months, disconnecting from confidence numbers, the soft data. The hard data is suggesting continued sluggishness.
The valuations for the equity market are entirely unjustifiable. The U.S. equity market will come down. With the lack of stimulus from the government materializing, it is a matter of when, not if, equities sell off sharply.
Disclosure: I/we have no positions in any stocks mentioned, and no plans to initiate any positions within the next 72 hours.
I wrote this article myself, and it expresses my own opinions. I am not receiving compensation for it (other than from Seeking Alpha). I have no business relationship with any company whose stock is mentioned in this article.