I was recently walking around a Lowe's (NYSE:LOW) to buy a new set of appliances for my house. I spent alot of time doing research online and then went and checked them all out in store to make sure I was getting a good set that hopefully won't need replacement in the next decade or so. Being a shareholder of Whirlpool (NYSE:WHR), there really wasn't much likelihood that I was going to be buying a non-Whirlpool brand to put into our house. However, I was happy to find that I didn't have to justify it just based on owning shares. Whirlpool is American-made, and has continued to build out the reputation of being a high quality product. Hours of research ended up proving this to me, but that alone isn't enough to invest in a company. However, add in the company's brand strength combined with a shareholder-friendly capital allocation strategy and strong growth prospects and you have an excellent candidate for long-term investment.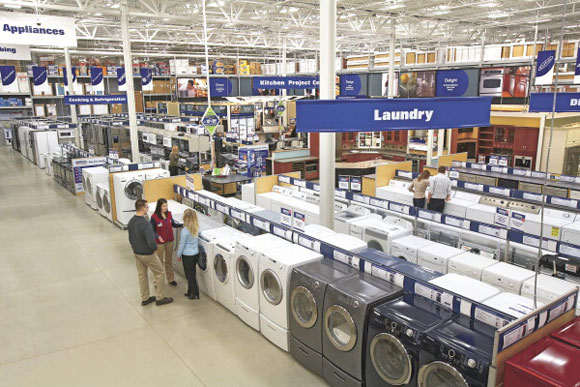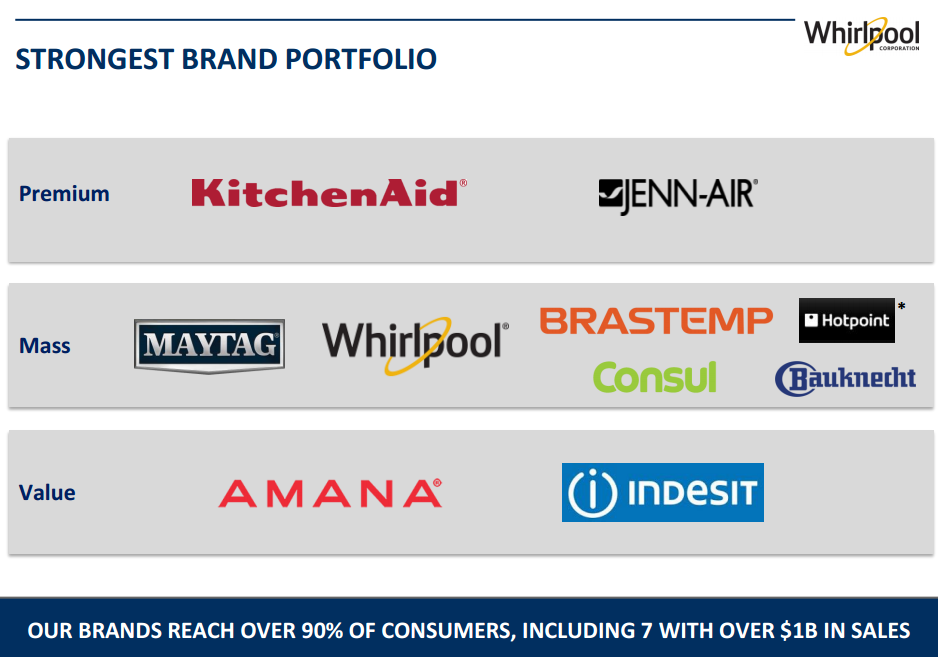 Whirlpool is the #1 appliance manufacturer in North America, and one of the top manufacturers in every area around the world that it operates in. The company operates 43 facilities spread over 14 countries, with around half of all net sales coming from outside North America. Strong geographical diversification is a benefit in many ways, but the strong dollar has proven to be a headwind for some time now.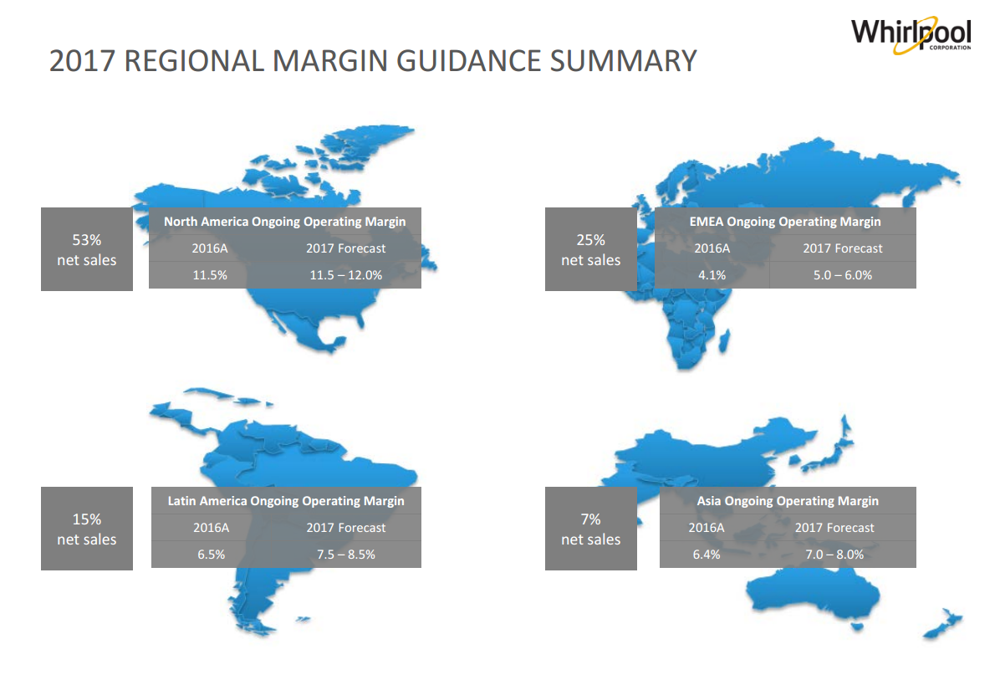 Whirlpool's appliance breakdown is shown below, with sales more or less evenly split among the basic categories.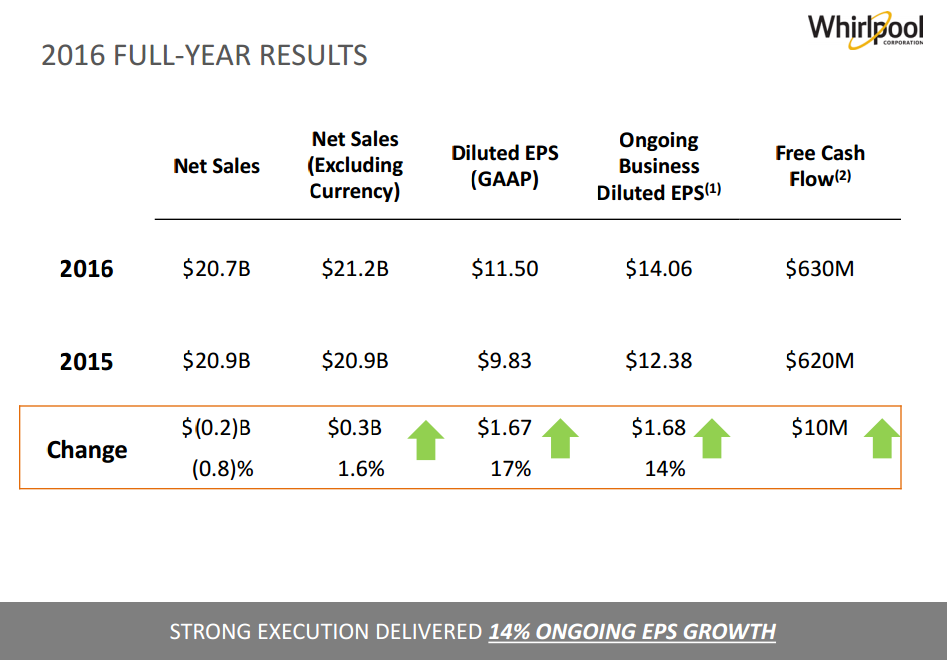 2016 was a great year for Whirlpool in terms of its share price. 2015 saw a large decline into the end of the year, and shares could be picked up in the mid $120's in February of last year. Since then, the price has recovered well and has been mostly range-bound between $150 and $190. Operation-wise, the company performed well last year, despite the Brexit vote affecting EMEA operations and weak emerging market demand. Management expects that weak demand and currency headwinds weighed on results to the tune of ~$600M in revenue and $2 per share of earnings. That being said, earnings rose 14% and Whirlpool maintained its strong capital position while continuing to invest heavily in R&D.
Continued currency headwinds in the form of the strong dollar will weigh on results, but 2017 guidance calls for 9-15% EPS growth and an eye popping ~60% increase in free cash flow to $1B. Cash is king, and seeing strong cash flow growth is one of the keys to strong shareholder returns. Whirlpool plans to accomplish this through continued margin expansion through restructuring efforts in EMEA in conjunction with working capital improvements. One of the knocks on Whirlpool is the highly competitive nature of its business. For that reason, it can be difficult to expand margins since there is not a significant amount of pricing power in home appliances. As much as a person may be loyal to a brand, it's not likely that they will heavily overpay for that brand if another equally good appliance is selling more cheaply right next to it. That being said, Whirlpool has been pushing to be the higher quality option for some time, and I think that has started to bear out.
Long-term targets for the company include 3-5% organic revenue growth per year in conjunction with a 10% EBIT margin overall by 2020. This is expected to be accomplished through cost productivity gains and leveraging the brand to improve pricing mix and increased demand. In some of the countries Whirlpool operates in, these appliances have very little penetration into the marketplace as a whole. As the middle class grows in some of these markets, Whirlpool expects to have the market leading position and grow with them. One of the obvious ones is China, where Whirlpool has been pushing to expand distribution along with India. These initiatives hope to drive 10-15% earnings growth per year and free cash flow of 5-6% of revenues by next year.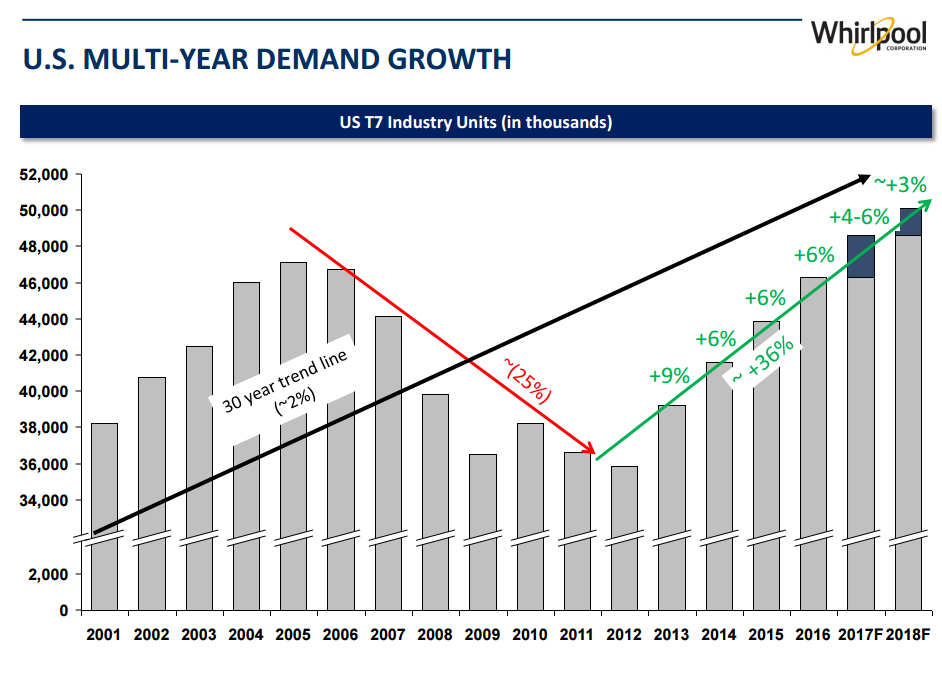 One of the growth drivers going forward for the company is the strong US housing market. Whirlpool's leading market position allows the company to reap the benefits of the large number of new builds across the country. Additionally, the replacement cycle of the appliances provides a firm demand level for the company as loyal customers buy the newer models.
Competition from LG and Samsung have been issues, but a recent American ruling looks to help Whirlpool significantly. The U.S. International Trade Commission unanimously ruled that Samsung and LG were guilty of dumping washing machines into the American market at less than cost to harm the industry as a whole. Whirlpool filed the case in December of 2015, and the government's investigation yielded results earlier this year.
Chairman and CEO Jeff Fetig had this to say:
This is a gratifying win for American manufacturing, particularly our more than 3,000 employees at our factory in Clyde, Ohio, who make clothes washers for American consumers. The government made the right decision today, affirming that Samsung and LG's long-term pattern of serial dumping injures American appliance manufacturers and threatens U.S. jobs. By enforcing and applying trade remedies that help ensure fair competition, the government supports a solid U.S. manufacturing base and continued investments in innovation that improve the lives of consumers.
Four years ago, Samsung and LG were found guilty of doing the same thing from Korean and Mexican factories, at which point the companies shifted to China to circumvent the rulings. This decision should provide a tailwind for Whirlpool in the North American market as some of the pricing pressure lifts on its core business. I would expect to see meaningful margin expansion as the market is no longer flooded with cheaper products and LG and Samsung are forced to pay the anti-dumping duties.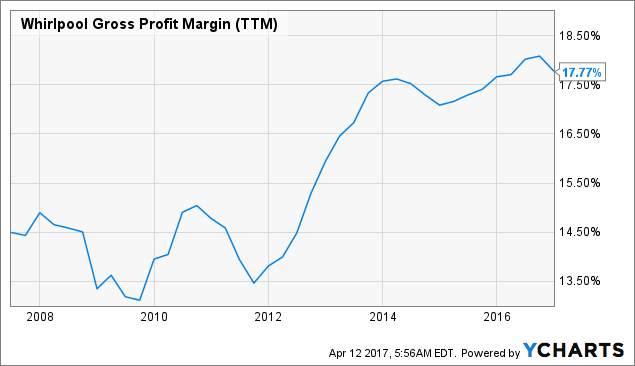 WHR Gross Profit Margin (TTM) data by YCharts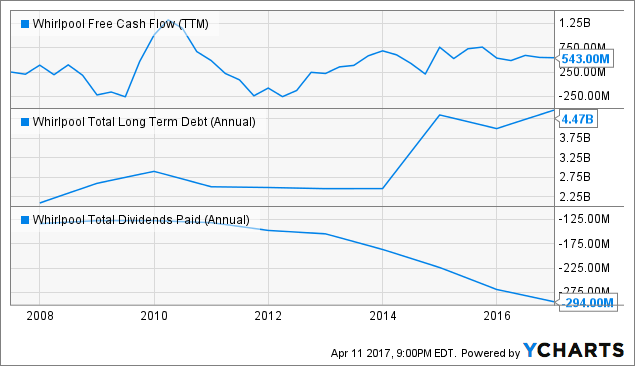 WHR Free Cash Flow (TTM) data by YCharts
Whirlpools return on invested capital has improved to a solid 17.87%, showing strength in its brand moat and continued investment into the business. Free cash flow generation has been strong and continues to grow, with $1B expected this year. The company continues to grow the dividend, and has hiked it every year for the last 6 years at an outstanding rate. Whirlpool yields 2.38% today, and only carries a payout ratio of 33%. This is about in line with the target of 25-30% of trailing earnings. This leaves plenty of room to continue investing into R&D and buying back shares when they are undervalued. R&D investments totaled $604M last year, and $579M the year before. These investments are important components of the company's brand strength as it pushed towards having more reliable as well as the most advanced appliances for its customers.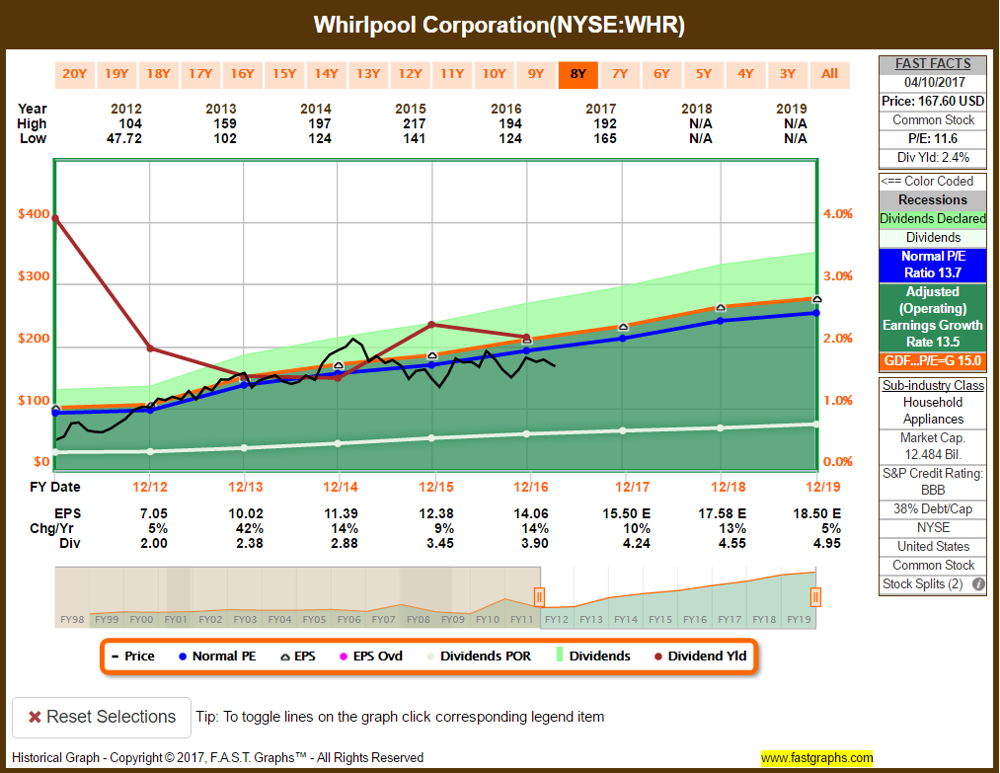 Whirlpool looks undervalued today based on its earnings per share. Continued strong growth in earnings and cash flow have not really been borne out in the share price as the company trades at only 11.6X earnings today. The long-term trend line of 13.7X is low, too, for the leader in its industry. S&P Capital gives the company fair value calculation of $212.50, or ~27% higher than the share price today. I tend to agree with them, and I am calling Whirlpool a strong buy today for the long-term investor with a price target of $230 in the next 2-3 years.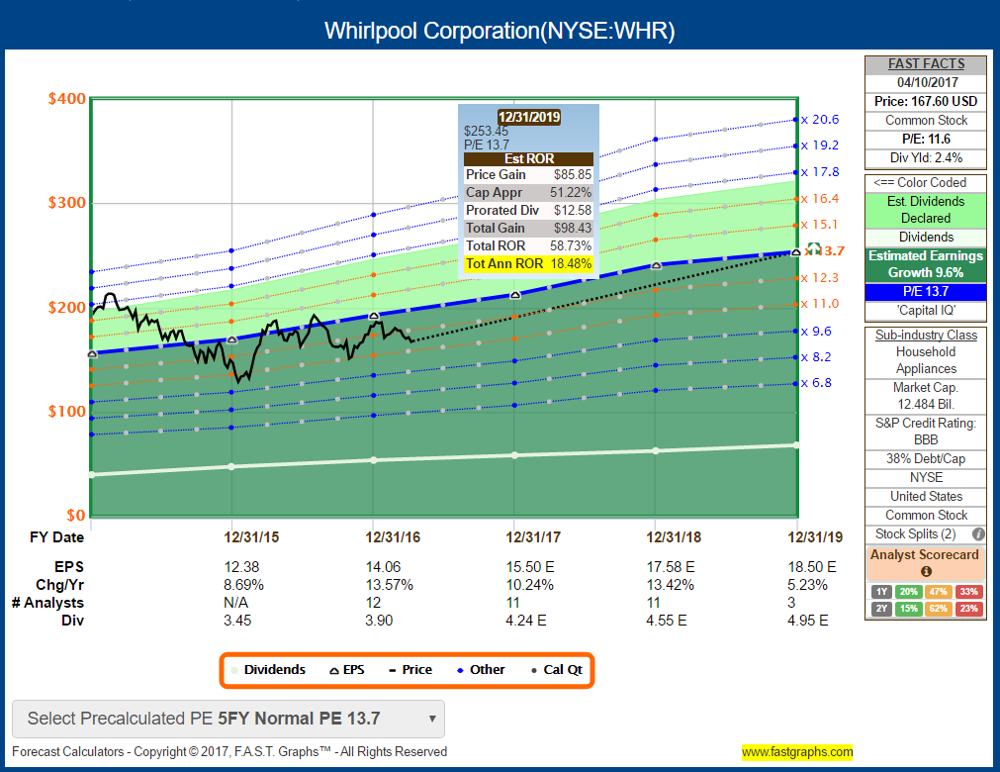 Looking at my favorite graph, the estimated returns on a reversion to 13.7X P/E ratio and analyst estimates is ~18.5% annualized. Strong growth internationally as well as the recent ruling in America are likely to provide a nice runway for Whirlpool to continue delivering strong shareholder returns. Brand strength and solid cash generation provide a sizable moat around the company, and continued dividend growth is likely. I consider Whirlpool to be an excellent choice for long-term investors today.
If you liked this article and would like to read more like it, please click the "Follow" button next to my picture at the top and select Real-time alerts. Thanks for reading and please leave a comment below.
Financial statistics were sourced from Morningstar, with the charts and tables created by the author, unless otherwise stated. This article is for informational purposes only and represents the author's own opinions. It is not a formal recommendation to buy or sell any stock, as the author is not a registered investment advisor. Please do your own due diligence and/or consult a financial professional prior to making investment decisions. All investments carry risk, including loss of principal.
Disclosure: I am/we are long WHR, LOW.
I wrote this article myself, and it expresses my own opinions. I am not receiving compensation for it (other than from Seeking Alpha). I have no business relationship with any company whose stock is mentioned in this article.