Gold - Bullish Outlook Overview
I have been a gold bull for years, and the precious metal has seen mixed times after the big rally post the financial crisis of 2007-08. Gold peaked out in August 2011 at above $1,800 an ounce and corrected all the way down to $1,060 an ounce by January 2016. Since then, gold has gradually trended higher, and I am of the opinion that the precious metal bottomed out in January 2016.
In the recent past, gold was trading at $1,302 an ounce on November 4, 2016, and the precious metal sharply declined to $1,125 an ounce by December 20, 2016. However, the recovery was equally sharp, and in less than four months, the precious metal is higher by 14%.
This article will discuss why the reversal in gold prices will sustain and it might, therefore, be a good time to buy the precious metal.
Weak Growth Coming
The chart below shows the GDPNow forecast for 1Q17 GDP growth.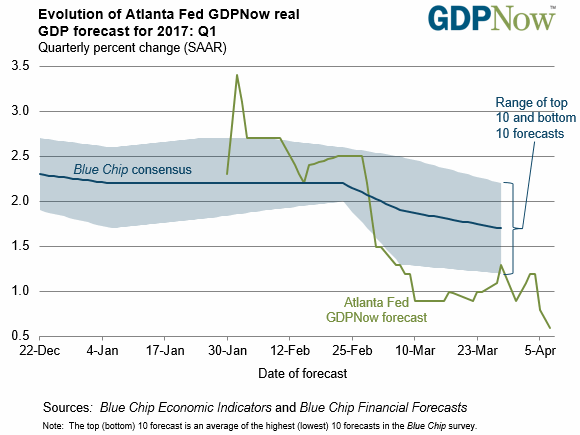 According to the model from the Federal Reserve Bank of Atlanta, 1Q17 GDP growth is now likely at 0.6%, sharply down from an earlier forecast of 1.2%. GDP growth is, therefore, likely to be sluggish for the first quarter, and this has several implications.
First, the Fed is unlikely to go for another rate hike anytime soon. It is important to note that real interest rates remain negative.
Second, if GDP growth remains sluggish in 2Q16, there can be a potential case for monetary or fiscal stimulus. While it's early to discuss this, the possibility can't be ruled out.
Third, weak GDP growth will put pressure on the dollar, and a weak dollar is desirable for some boost in exports.
All these three factors are likely to work in favor of gold trending higher. I am certainly not suggesting another recession, but a slowdown in economic activity seems likely, and that will boost prospects for precious metals.
Escalating Geopolitical Worries
One of the key factors that have driven the rally for gold in the near term has been an increase in geopolitical tensions. The chemical attacks in Syria by the Assad regime and the subsequent action by the United States have renewed tensions in the region with increased friction with Russia.
I do believe that there is no immediate end to the crisis in the region, and this will keep sentiments positive for gold. It is important to note here that Russia has been among the major buyers of gold in the last few years. Central banks and individuals will seek to diversify into gold in a scenario where geopolitical tensions are high.
Besides Syria, there are concerns related to North Korea, and there is no end in sight for the South China Sea crisis as well.
Relatively Attractive Asset Class
The global financial system has ample liquidity, and this liquidity will manifest itself in the form of exuberance in a particular asset class and subsequent movement of funds to another asset class.
Currently, equity valuations in key markets globally look stretched, and this point is clear from the valuation data presented by Star Capital. It is likely that markets see further rally, but at some point of time, I expect a 10% to 15% correction, and as funds flow out from equities, I see gold and treasuries being the key beneficiaries.
I do believe that gold is trading at attractive levels considering the point that gold has been largely sideways in the last three years. Of course, the above discussed factors of geopolitical tension and sluggish GDP growth will add to the positive momentum for gold.
Investment Ideas
Without doubt, my favorite investment style in the precious metal is exposure to physical gold. However, investors can also consider gold ETF (NYSEARCA:GLD) as a second alternative.
Over the past years, I have also recommended gold mining stocks as attractive investment options, and I maintain my view on that. Newmont Mining (NYSE:NEM) is my stock pick from the gold mining sector with the stock still attractive for exposure at current levels.
The key factors to be bullish on Newmont Mining are as follows:
Newmont Mining reported all-in sustaining cost of $933 an ounce in FY15, and the cost declined to $912 an ounce in FY16. With AISC cost outlook below $1,000 an ounce for the long term, Newmont Mining is well positioned to report robust EBITDA margin as gold moves higher.
Newmont Mining reported free cash flow of $277 million for FY15 and $784 million for FY16. I expect strong free cash flow in the coming years as well. This will help Newmont Mining pay higher dividends and also improve the company's financial flexibility for accelerated growth.
Talking about financial flexibility, Newmont Mining has $2.8 billion in cash, and with net debt to adjusted EBITDA of 0.8, I don't see any financing concerns for organic or inorganic growth.
Conclusion
The bull market for gold is far from over, and the recent rally in gold is likely to continue. From an economic perspective, the scenario will remain challenging globally and that will push gold prices higher.
Further, it's also important to note that higher geopolitical tensions also impact economic activity and will have implications on gold prices in the foreseeable future.
Overall, gold is worth holding at current levels, and fresh exposure can also be considered for investors willing to hold the precious metal for the next 3-5 years.
Disclosure: I/we have no positions in any stocks mentioned, and no plans to initiate any positions within the next 72 hours.
I wrote this article myself, and it expresses my own opinions. I am not receiving compensation for it (other than from Seeking Alpha). I have no business relationship with any company whose stock is mentioned in this article.