There has been no shortage of analysts, investors, and arm-chair quarterbacks weighing in on what Gilead Sciences (NASDAQ:GILD) should do to spur revenue growth and strengthen their pipeline. Most speculate that Gilead needs to make a large acquisition to stop the bleeding from dwindling sales of their blockbuster Hepatitis C (HCV) drug Harvoni/Sovaldi. I have a slightly different view that smaller partnerships with cutting edge biotechnology firms offers the most upside potential and overpaying for a company such as Incyte (NASDAQ:INCY), BioMarin (NASDAQ:BMRN), or Vertex (VTX) could further pull down an already depressed share price. I believe a partnership between Gilead and Intellia Therapeutics (NASDAQ:NTLA) tackling Hepatitis B virus (HBV) could be a natural fit for both companies.
Why it makes sense for Gilead.
It's no secret that Gilead's pipeline is lacking future blockbusters, which the company so desperately needs. One area that Gilead has shown success and has a great deal of expertise is in the liver. Hepatitis C which attacks the liver was essentially cured by Gilead and the company has aggressively pursued nonalcoholic fatty liver disease (NASH).
Gilead has had moderate success in treating hepatitis B with its drug Viread, but acknowledges it only helps patient manage symptoms and is far from a cure. Below is an excerpt from Gilead's liver disease pipeline overview.
Viread® (tenofovir disoproxil fumarate), available for the treatment of chronic HBV infection, provides an option to help manage this chronic disease. For most patients, however, life-long therapy is required. Viread has demonstrated efficacy for chronic HBV sufferers, however, Gilead's ultimate goal is to offer these patients a cure. Because the biology of HBV infection differs from that of HCV, developing a cure for HBV might require an approach that necessitates multiple drugs to inhibit viral replication and eliminate HBV DNA from all infected liver cells. Several clinical studies with differing approaches are ongoing to investigate this strategy.
Currently in Gilead's pipeline, the company only has a phase 2 drug to help manage chronic HBV, but nothing related to the company's stated goal of a cure. Here's where I believe Intellia could prove to be an invaluable partner. Intellia is one of 3 publicly traded companies exclusively using CRISPR/Cas9 technology to develop potential cures to genetic disorders. Because HBV is caused by a virus replicating in the liver, the possibility exists for a cure by gene editing. Intellia is currently the only company actively targeting HBV through CRISPR technology and aims to begin animal studies later in 2017.
HBV represents a potentially larger patient population than HCV. According to the World Health Organization an estimated 240 million people are chronically infected with HBV and more than 686,000 people die every year from HBV complications. This compares to between 130-150 million people globally suffering from HCV. To make it worthwhile for a company like Gilead, the treatable population must be large enough to move the needle on revenue, so clearly potentially curing HBV represents an incredibly lucrative market.
While CRISPR is still an unproven technology for approved therapeutic therapies, Intellia has assembled an excellent management team and is the first company utilizing CRISPR technology to show effective in vivo editing studies. After a single dose, Intellia has demonstrated 70% editing of the Transthyretin Amyloidisis (TTR) gene in the liver thereby decreasing TTR serum by 97%. In addition, the delivery vehicle (lipid nanoparticle) and Cas9 messenger RNA were undetectable after 72 hours. While still early in studies, Intellia has shown it can accurately edit its intended target with a clean safety profile, which should give Gilead some confidence in Intellia's ability.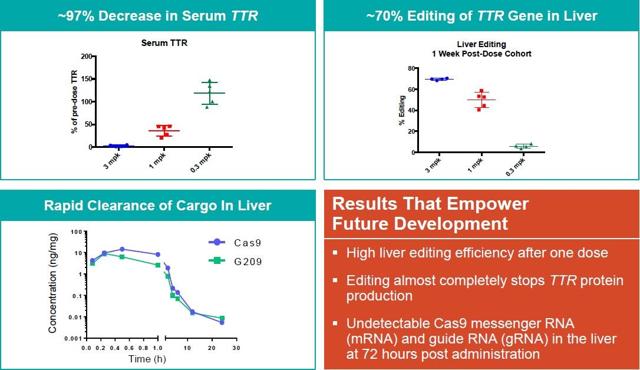 Source: Needham Healthcare Conference
Why it makes sense for Intellia.
Intellia has stated publicly many times that they look beyond the financial terms when considering a partnership. When the company partnered with Regeneron (NASDAQ:REGN) they were given access to Regeneron's Genetics Center, one of the most comprehensive genetic databases in the world and advanced gene sequencing technology. In addition, Intellia was given access to Regeneron's proprietary technology, Velocimouse. This technology has dramatically shortened the time needed to engineer genetically modified mice, while at the same time reducing costs and improving precision. When Intellia partnered with Novartis, the company was given access to Novartis's next generation lipid nanoparticle (LNP). This was developed by Novartis for CRISPR/Cas9 use and designed to be biodegradable, thereby establishing a cleaner safety profile. The technology given to Intellia by Regeneron and Novartis is invaluable and an incredibly smart and forward thinking approach for a small rapidly growing biotech firm.
Intellia has decided to initially focus on unmet diseases of the liver before branching out into other organs including the eye, central nervous system and muscle. Here is where I believe Gilead can offer important insight and become a strategic partner for Intellia. Intellia acquired an important research platform from Regeneron, a next generation LNP delivery system from Novartis, and Gilead can offer expertise in treating a host of liver diseases, Intellia's main focus. Gilead cured HCV and now wants to conquer HBV.
Intellia has shown a willingness to partner its wholly-owned programs in order to expedite trials with companies with proven track records. Advanced clinical trials to get a gene editing therapy approved in such a large patient population, like HBV, would require hundreds of millions of dollars, which Intellia can't afford in its current state. Gilead has the deep pockets and expertise to become the perfect partner for Intellia in HBV.
Will it happen?
Obviously this is speculation on my part, but it makes too much sense to ignore. Rather than spending tens of billions of dollars completing a blockbuster megadeal that could end up reducing shareholder equity, Gilead could spend $75-$100 million upfront with modest milestones and royalties and gain a potential blockbuster drug on the same level as Sovaldi/Harvoni. Intellia has yet to even begin animal model studies, so it is a speculative transaction and potential approval wouldn't even be considered until next decade. But if Gilead went out and made impactful partnerships like this years ago, we wouldn't even be having this conversation. Celgene (NASDAQ:CELG) has perfected this model of small strategic partnerships over the past several years and now boast one of the strongest pipelines in all of big pharma.
In addition to any acquisition, Gilead should consider partnerships with cutting edge biotech companies, like Intellia, to not only improve its pipeline, but to again get investors excited about the company's potential.
Disclosure: I am/we are long NTLA, GILD.
I wrote this article myself, and it expresses my own opinions. I am not receiving compensation for it (other than from Seeking Alpha). I have no business relationship with any company whose stock is mentioned in this article.