Shares of Finisar (NASDAQ:FNSR) are heading higher today, 4/13, after fellow optical networking firm Applied Optoelectronics (NASDAQ:AAOI) announced preliminary Q1 numbers which were far better than expected. AAOI's numbers give substantial credence to the thesis that hyperscale data center demand from major cloud players like Facebook (NASDAQ:FB), Amazon (NASDAQ:AMZN) and Microsoft (NASDAQ:MSFT) remains strong and will continue into the foreseeable future. We largely agree with this thesis, and believe FNSR's valuation is depressed enough to give the stock a favorable risk-reward profile for value investors.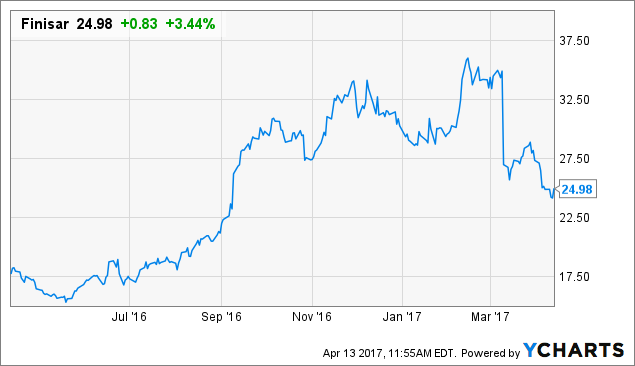 The big debate with optical stocks is whether or not recent operational weakness is just seasonal softness across the optical industry or a cyclical downturn in demand. If its the latter, investors are concerned we are looking at a repeat of 2011. In 2010, the stock prices of big optical components players soared as the industry welcomed a wave of major enterprise data center upgrades. Those upgrades brought with them a surge in demand for optical components and transceivers. Consequently, FNSR's stock doubled from November 2010 to March 2011.
But the bubble popped in March 2011 when FNSR announced that a build-up in inventories was going to lead to slower demand. The stock got slaughtered, and so did the rest of the industry.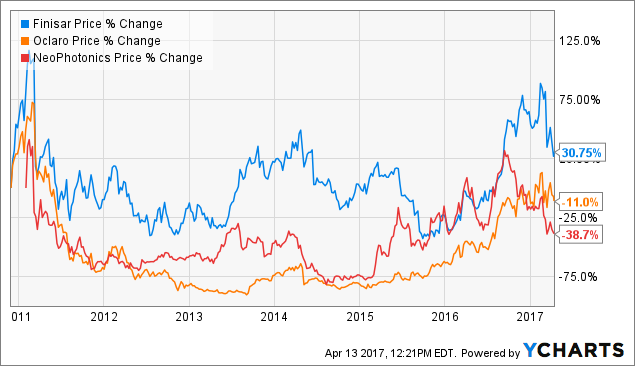 For bearish investors, the 2010-11 dynamic looks similar to the 2016-17 one currently playing out. In 2016, optical stocks surged higher with hyperscale data center demand. But early 2017 data points, including FNSR's March 2017 earnings report, began to show cracks in the cloud growth story. Investors freaked out that this was the beginning of a 2011-like correction, and optical stocks have fallen sharply.
But this feels little like the 2011 correction. The big problem in 2011 was that inventory levels were very high, so when there was a natural inventory correction, it was a huge deal. But according to FNSR management, that just isn't the case today. Specific to FNSR, the company's 100-gigabit QSFP28 transceivers continue to be sold out despite the company continually adding capacity. This speaks to continued strong demand from hyperscale data centers.
Moreover, AAOI reported very, very strong Q1 numbers that were far better than the strong guide management gave back in February. That implies that demand really strengthened in March, adding additional credence to analysts who keep saying that recent weakness is just a beginning-of-the-year, seasonal slowdown.
All in all, it looks like the cloud boom is far from over for optical stocks. The attractive investment opportunity is that fear had taken hold of investors who priced these stocks as if the cloud boom were going to suddenly end.
The thing we like specifically about FNSR is that the stock features a favorable risk-reward profile at these levels. Likely due to the March 2017 report's eerie similarity to the March 2011 one, FNSR stock is now in a big valuation trough. Specifically, the stock has dipped below a 10x EV/EBITDA multiple. Over the past five years, when the EBITDA multiple has dipped that low, the stock was near a bottom and proceeded to take off over the next several months.
In other words, valuation troughs have proven to be excellent medium-to-long term buying opportunities for FNSR. We like that the current valuation profile seems to be overly priced with pessimistic expectations regarding continued hyperscale data center demand.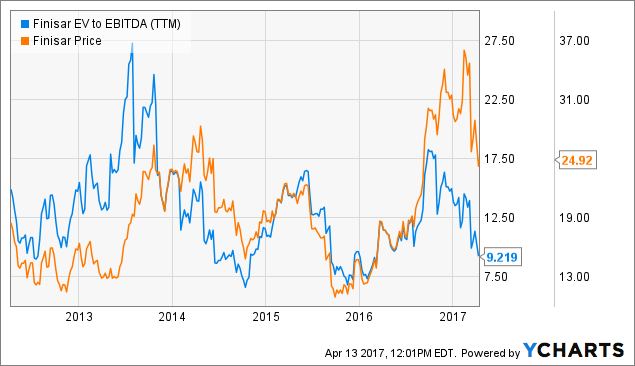 FNSR EV to EBITDA (NYSE:TTM) data by YCharts
We also favor the stock's valuation relative to its growth potential. FNSR is trading around 12x this year's consensus earnings estimate. Given AAOI's Q1 numbers, the cloud boom looks like it still has legs, and FNSR management believes revenue will grow again beginning in the first quarter of 2018. All signs point to a solid sales growth outlook over the next several years as data continues to move to the cloud, and we think FNSR can grow revenues at a high single-digit CAGR over the next five years. Sales growth should lead to R&D, S&M, and G&A leverage, so we also think that high single-digit sales growth will be accompanied by slight operating margin expansion. Overall, we think FNSR can grow earnings at somewhere around 10% per year over the next five years. A 12x P/E multiple on 10% compounded earnings growth is quite attractive considering the company's healthy cash flows and strong balance sheet.
Overall, we like FNSR here. We don't like buying things up 3% in a day, but the stock is severely depressed when you back it out to a multi-week window. We are buyers here and lower, all else equal.
Disclosure: I am/we are long FNSR, FB, AMZN, MSFT.
I wrote this article myself, and it expresses my own opinions. I am not receiving compensation for it (other than from Seeking Alpha). I have no business relationship with any company whose stock is mentioned in this article.