Rockwell Automation (NYSE:ROK) is a pure-play Industrial Internet of Things (IIoT) company that is working hard to increase its revenues from selling software. It's focused on the right priorities of increasing its software sales and integrating with data analytics platforms and ERP systems. In the long run, there may be greater convergence of industrial automation software, robotics and enterprise software. This may lead to Rockwell acquiring robotics companies or even it being acquired.
Industrial Internet, which enables smart factories, exists to best serve the needs of the customer. The integration of Industrial Internet and enterprise software will help manufacturing companies respond faster to changing demands and reacting faster to product defects. Companies can achieve this flexibility while keeping costs low. Eventually, there may be very little distinction between Industrial Internet and ERP systems when tightly integrated.
The IIoT integration with rest of the enterprise software stack is still in its infancy, but the convergence of Industrial Internet and enterprise software will enable a software company to help their customers gather, analyze and act on data from the factory floor to the customer. It is an enticing prospect for any enterprise software company to be able to sell products that cover every aspect of their customer business. For these reasons, Rockwell Automation may be an ideal acquisition candidate for an enterprise software company such as Microsoft (NASDAQ:MSFT), SAP (NYSE:SAP), Oracle (NYSE:ORCL), Salesforce (NYSE:CRM) or even a company like Cisco Systems (NASDAQ:CSCO).
From the customer perspective, it is easier for them to deploy and maintain industrial automation systems from a single vendor. There is business value in making near real-time production decisions by analyzing sales data, warranty data and raw material costs. The integration of the factory and enterprise data can help bring about greater efficiencies to the company. Moreover, automated factories can help lower labor cost, improve operational efficiencies and help with preventive maintenance.
There are multiple trends driving the adoption of the Industrial Internet.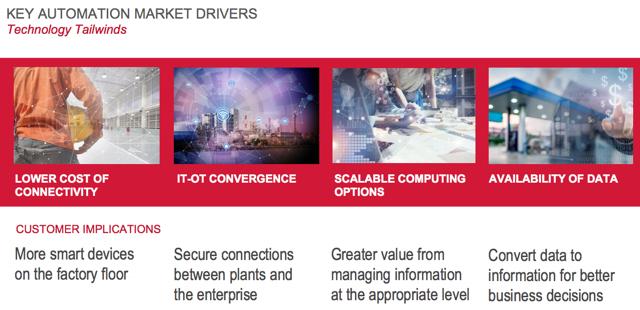 Exhibit: Trends Driving Industrial Automation (Source: Company Filings)
The cost of semiconductors and wireless hardware has dropped dramatically. It is now cost effective to add sensor technology and wireless connectivity to very low-cost industrial equipment. Now, data from every aspect of a plant can be gathered and analyzed. That data can be stored in elastic cloud environments hosted on premise or by a public cloud vendor. The cost to store and retrieve data from computing platforms has dropped dramatically too. The availability and robustness of today's Big Data tools to quickly analyze vast amounts of data and present actionable intelligence is making it easy for companies like Rockwell Automation to manage data. Demographic trends such as population growth and increased urbanization is increasing the demand for products. The income levels in many emerging countries are less than that in developed countries. The large population coupled with lower income levels necessitates efficient and flexible operations while lowering the unit cost of products. Products and services offered by Rockwell Automation help in making products efficiently.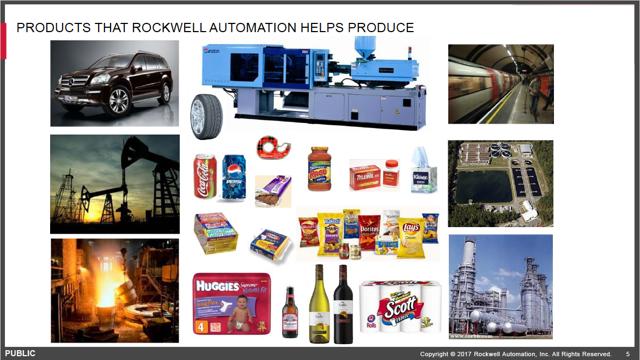 Exhibit: Products That Rockwell Automation Helps Produce (Source: Company Filings)
Rockwell Automation operates under two business segments:
Architecture & Software
Control Products & Solutions
In 2016, Architecture & Software operating segment accounted for $2.64 billion or 45% of the total sales. Its Control Products & Solutions operating segment accounted for $3.24 billion or the remaining 55% of the total sales. Rockwell Automation has customers in consumer products, resource-based and transportation industries.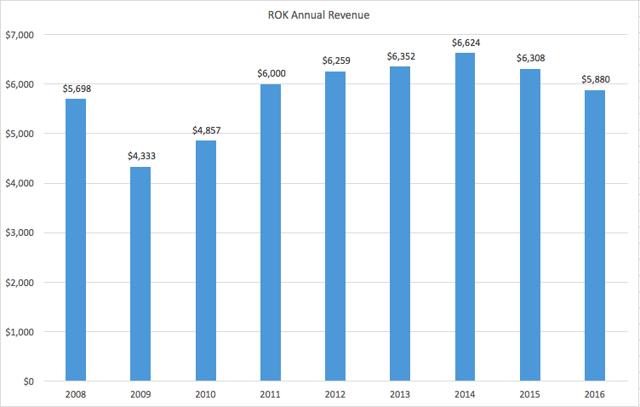 Exhibit: Rockwell Automation Annual Revenue (Source: Company Filings)
Software Has Larger Margins, But Has Shown Inconsistent Growth!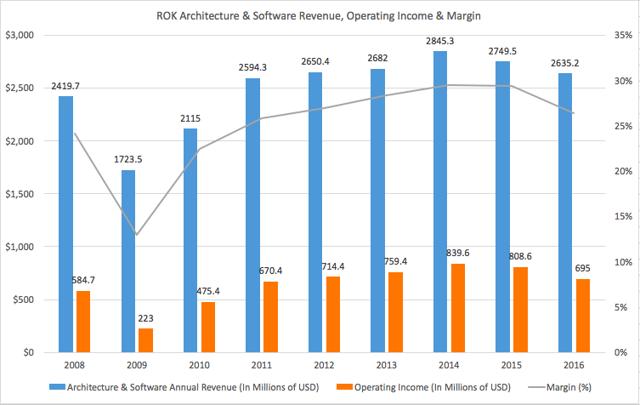 Exhibit: Rockwell Automation Revenue from Architecture & Software (Source: Company Filings)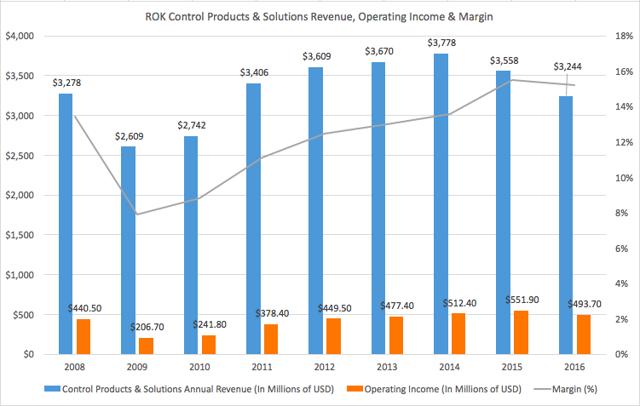 Exhibit: Rockwell Automation Control Products & Solutions (Source: Company Filings)
Rockwell Automation enjoys a higher operating margin in its Software business compared to its Control Products operating segment.
To achieve a truly smart factory that can deliver on lower costs and increased efficiency, one would need an integrated approach to data management and analysis.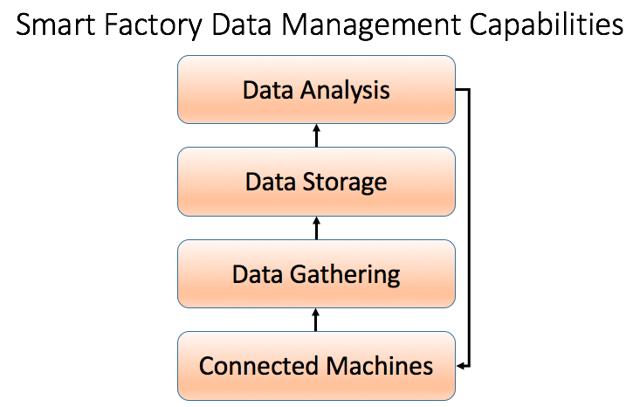 Exhibit: Data Management Capabilities to Truly Enable a Smart Factory (Source: Author)
Rockwell has products that enable a connected machine, help in gathering data and provide the network connectivity required to transport data to Manufacturing Execution Systems (MES) and to ERP and data analytics systems. Broadly speaking, Rockwell offers products in these categories:
Motor Control Devices

PowerFlex & IntelliCENTER

Industrial Network Infrastructure & Media
Operator Interfaces & Industrial Computers

PanelView, MobileView, VersaView

Programmable Automation Controllers

CompactLogix, ControlLogix, GuardLogix, Armor GuardLogix

Input/Output Devices

Compact I/O, FLEX I/O, POINT I/O, ArmorBlock, ArmorPoint

Visualization & Information Software
Motion Control
Distributed Control System
Automation Design Software
It has also teamed up with Microsoft and integrated with its business intelligence software and Azure cloud to provide end-to-end system for a smart factory. In essence, Rockwell has capabilities in enabling connected machines and in data gathering via use of its networking technology, but lacks the ability and infrastructure or compute cloud to store and analyze vast amounts of data. Microsoft has expertise in the areas of Big Data storage and analysis. Its partnership is complementary.
Even though Rockwell has a stated goal to increase its revenues from software, the reality is much different. Its revenue from software hasn't shown any consistent growth. Until it starts showing consistent revenue growth in software, it may not be enticing for an enterprise software company to acquire it.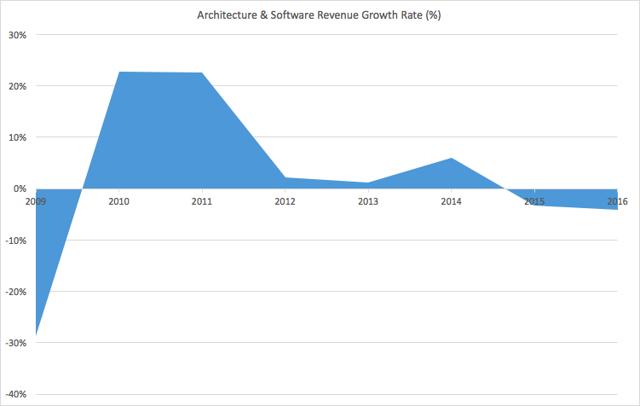 Exhibit: Revenue Growth in Architecture and Software Segment (Source: Company Filings)
There could be multiple reasons for this lack of growth in software sales:
Lack of capital investment in industrial automation software.
Cost of labor is still lower than the cost of automation in many developing countries, so there is less of a business case to invest in industrial automation.
Lack of compelling value proposition for integrating Industrial Internet with enterprise software.
Lack of demand growth or fall in prices in some of the major industries that Rockwell serves:

The fall in oil prices has decreased capital investment in the oil & gas sector.
The slowdown of economic growth rate in China and anemic growth rate in the U.S. have led to lower capacity utilization.
Rockwell Automation Heavily Dependent On Revenue From Raw Materials Production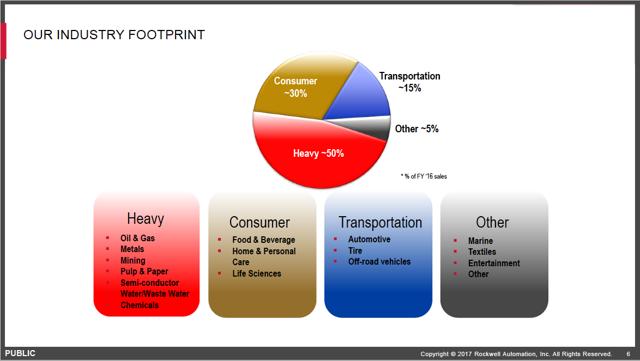 Exhibit: Revenue from Various Industry Segments (Source: Company Filings)
But there may be signs that things are about the change. Industrial companies closely monitor economic trends and pay close attention to Industrial Production (IP) Index, Manufacturing Purchasing Managers' Index (PMI), Industrial Equipment Spending and Capacity Utilization (Total Industry).

Exhibit: Economic Data on Industrial Spending and Manufacturing Trends (Source: Company Filings)
The industrial production index and capacity utilization were slightly down, but industrial equipment spending and PMI were up in the first quarter of fiscal year 2017. The economic data is positive sign for Rockwell Automation in the short term, assuming the current geopolitical risks don't dampen consumer spending and lead to a decrease in industrial production.
Rockwell Automation has built a solid foundation, but has to start showing good consistent organic growth in its software operating segment to extend its leadership position in IIoT. The eventual convergence of industrial automation and enterprise software is inevitable in the long run. There will also be further close integration between robotics and industrial automation software. For example, Rockwell and FANUC have a global collaboration agreement in place to create integrated manufacturing solutions. Rockwell may even acquire robotics companies in order to help it gain a larger share of industrial spending and further its goal of increasing software sales. Or, it may be an acquisition target for a large enterprise software company looking to gain a strong foothold in the Industrial Internet. It may first have to prove that it can be major force in industrial automation software by showing consistent growth.
Disclosure: I/we have no positions in any stocks mentioned, and no plans to initiate any positions within the next 72 hours.
I wrote this article myself, and it expresses my own opinions. I am not receiving compensation for it (other than from Seeking Alpha). I have no business relationship with any company whose stock is mentioned in this article.