This article is about SNAP-ON (SNA) and why it's a buy for the total return investor. SNAP-ON is one of the largest manufacturer of profession grade tools.

Fundamentals of SNAP-ON will be reviewed in the following topics below The Good Business Portfolio Guidelines, Total Return and Yearly Dividend, Last Quarter's Earnings, Company Business and Takeaways And Recent Portfolio Changes.
I use a set of guidelines that I codified over the last few years to review the companies in The Good Business Portfolio (my portfolio) and other companies that I am taking a look at. For a complete set of the guidelines, please see my article "The Good Business Portfolio: Update To Guidelines and July 2016 Performance Review". These guidelines provide me with a balanced portfolio of income, defensive, total return and growing companies that hopefully keeps me ahead of the Dow average.
Good Business Portfolio Guidelines.
SNAP-ON passes 11 of 11 Good Business Portfolio Guidelines. These guidelines are only used to filter companies to be considered in the portfolio. Some of the points brought out by the guidelines are shown below.
SNAP-ON has a dividend yield of 1.73% which is a little below average for the market. The dividend has been increased for 9 of the last 10 years and its dividend is safe meeting my dividend guideline. SNAP-ON is therefore a fair choice for the income investor since the dividend almost increases each year. The average 5 year earnings payout ratio is low at 29% leaving strong cash flow for expansion with the dividend being very safe.
SNAP-ON is a large-cap company with a capitalization of $9.6 Billion. The large size of SNAP-ON gives it the muscle, plus its cash flow to increase the business going forward. SNAP-ON 2016 total yearly cash flow at $620 Million is strong allowing the company to have the means for company growth and paying a growing dividend.
I also require the CAGR going forward to be able to cover my yearly expenses. My dividends provide 3.2% of the portfolio as income and I need 1.9% more for a yearly distribution of 5.1%. The three-year forward CAGR of 12.0% (S&P Capital IQ) easily meets my requirement. This good CAGR is conservative considering the forward economy growing strongly as President Trump lowers the tax rates and brings foreign earnings back to the United States.
Looking back five years $10,000 invested five years ago would now be worth over $29,900 today. This makes SNAP-ON a great investment for the total return investor looking back that also wants fair growing income.
SNAP-ON S&P Capital IQ rating is four stars or buy with a target price of $195.0. SNAP-ON price is presently 13% below the target. SNAP-ON is under priced at the present price and is a good investment for the long term investor who wants average income and good growth potential.
One of my guidelines is would you buy the whole company if you could, the answer is yes. The Good Business Portfolio likes to embrace all kinds of investment styles but concentrates on buying businesses that can be understood, makes a fair profit, invests profits back into the business and also generates a fair income stream. Most of all what makes SNA interesting is the increasing economy growth and the hope of reduced taxes.
Total Return And Yearly Dividend
The Good Business Portfolio Guidelines are just a screen to start with and not absolute rules. When I look at a company, the total return is a key parameter to see if it fits the objective of the Good Business Portfolio. SNAP-ON total return underperforms the Dow baseline in my 51.0 month test compared to the Dow average. I chose the 51.0 month test period (starting January 1, 2013 and ending to date) because it includes the great year of 2013, and other years that had fair and bad performance. The great total return of 120.85% makes SNAP-ON a excellent investment for the total return investor that also provides a steady growing income. SNAP-ON Has increased its dividend for the past 9 of 10 years and presently has a yield of 1.73% which is slightly below average for the income investor.
DOW's 51.0 month total return baseline is 57.64%
| | | | |
| --- | --- | --- | --- |
| Company Name | 51.0 Month total return | Difference from DOW baseline | Yearly Dividend percentage |
| SNAP-ON | +120.85% | +63.21% | 1.73% |
As seen in the 5 year price chart below SNAP-ON price chart moves up and to the right in a steady pattern which shows continuous growth.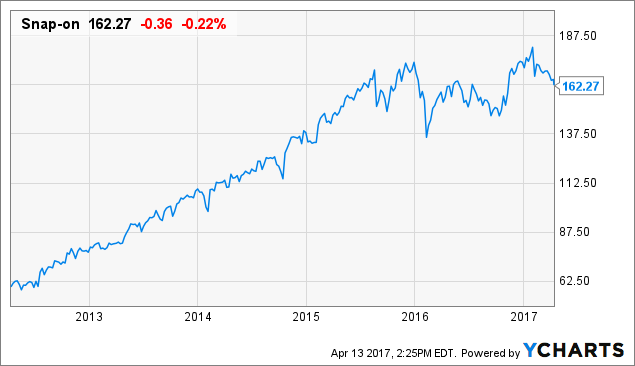 SNA data by YCharts
Last Quarter's Earnings
For the fourth quarter on February 2, 2017 SNAP-ON reported earnings that beat expected by $0.06 at $2.47. Total revenue was higher at $890 Million up more than a year ago by 4.5% year over year and beat by $15 Million compared to expected revenue. This was a good report with bottom line and top line reasonably beating expected numbers. The next earnings report will be out in late April 2017 and is expected at $2.36 compared to last year at $2.16 showing continued growth. The company revenues and earnings growth from 2015 to year 2016 are shown in the slide below from fourth quarter earnings report slides.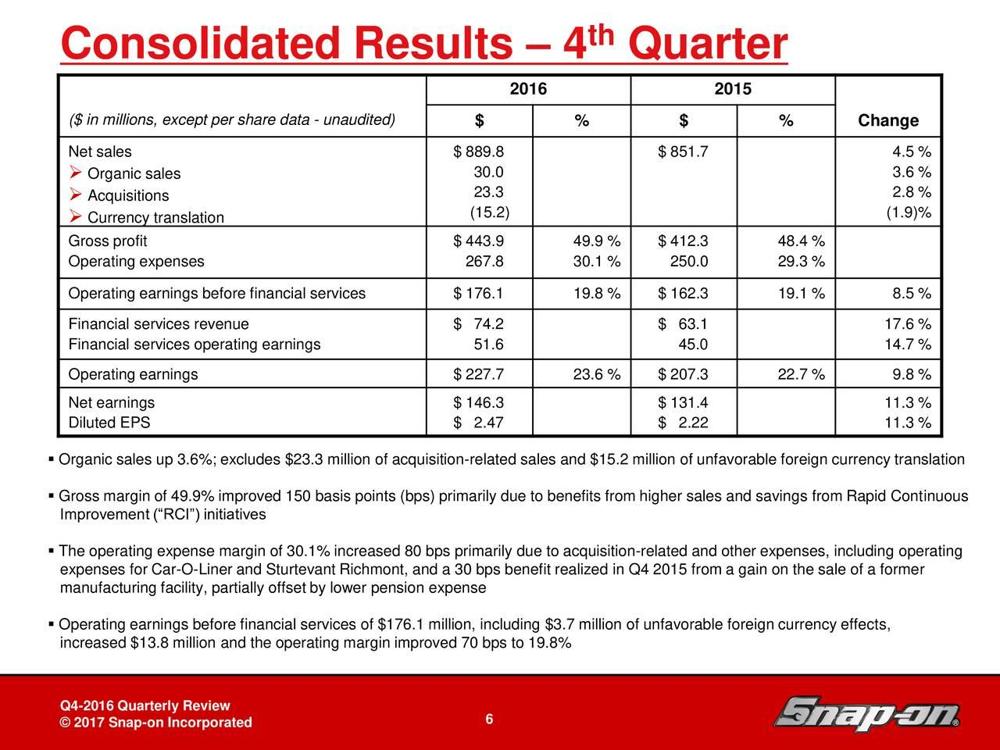 Source: Fourth quarter SNAP-ON earnings slides
Business Overview
SNAP-ON is one of the largest manufacturer and distributor of profession tools in the world. The company grows by adding new products and buying bolt on companies with its good cash flow.
As per Reuters " Snap-on Incorporated is a manufacturer and marketer of tools, equipment, diagnostics, repair information and systems solutions. The Company's segments include the Commercial & Industrial Group, the Snap-on Tools Group, the Repair Systems & Information Group, and Financial Services. The Commercial & Industrial Group consists of business operations serving a range of industrial and commercial customers, including customers in the aerospace, natural resources, government, power generation, transportation and technical education markets. The Snap-on Tools Group consists of business operations primarily serving vehicle service and repair technicians. The Repair Systems & Information Group consists of business operations serving other professional vehicle repair customers, primarily owners and managers of independent repair shops and original equipment manufacturer (OEM) dealership service and repair shops. Financial Services consists of the business operations of its finance subsidiaries."
SNAP-ON is growing its business with good organic growth and good increases from bolt on companies as seen in the quote below from the fourth quarter earnings call.
From the February 2, 2017 earnings call transcript Nicholas T. Pinchuk ( Chairman and Chief Executive Officer) said.
"The Snap-on fourth quarter, sales increases and broad profit gains marking another period of encouraging performance; again this quarter we had opportunities and we had headwinds. We took advantage of those opportunities and we overcame the headwinds.

Overall sales in the quarter were $889.8 million, 4.5% higher than last year. That total included acquisition related volume from Car-O-Liner and Sturtevant Richmont and it also included the impact of $15.2 million of unfavorable foreign currency. Our organic growth in the quarter was 3.6% with gains registered across every group. EPS, it was $2.47, up 11.3% from the $2.22 registered in 2015.

Our OpCo operating margin reached 19.8%, an increase of 70 basis points and those profits include $3.7 million of adverse foreign currency. Financial services earnings of 51.6% (sic) [$51.6 million] (3:27) were also up, leading to a consolidated operating margin including both financial services and OpCo of 23.6%, an improvement of 90 basis points in the quarter. And our markets, well the Automotive Repair segment continues to remain favorable, changing technology, the aging vehicles requiring new tools and more repairs. Our Tools Group – progress in all geographies, gains throughout the franchise network and the repair systems and information, our RS&I Group, advancements across our businesses serving repair shops, owners and managers."
Overall SNAP-ON is a good business with 12% CAGR projected growth as the need for more professional tools will be needed as the economy grows going forward. The good cash flow provides SNAP-ON the capability to continue its growth by buying bolt on companies and adding additional new products to its vast tool and diagnostic segments.
As seen in the graphic From the February 2, 2017 fourth quarter earnings slides SNA's business and cash flow will grow as more and more industry needs good professional tools. This shows they are meeting their goals for continued year over year cash flow growth.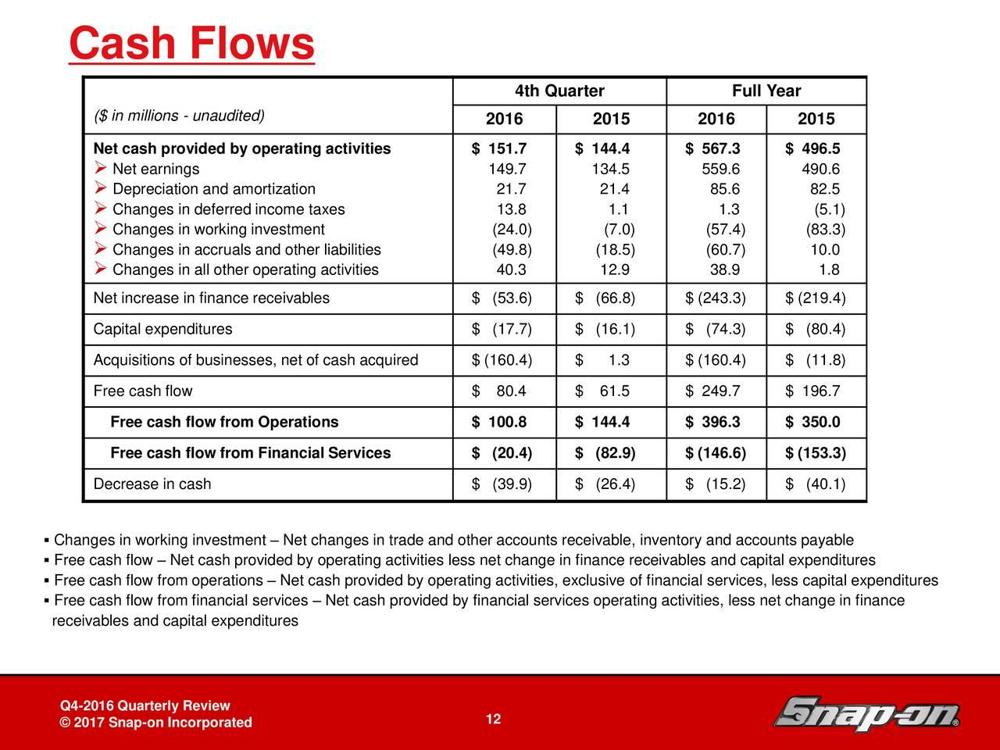 Source: SNA Fourth quarter earnings slides
Also as a tail wind we have President Trump who wants to lower foreign tax rates and bring back the earnings to the United States. As the tax rate is lowered earnings of SNAP-ON business should increase with lower rates than the present 35%.
The economy is showing moderate economic (about 2.3%) growth right now and the FED has raised rates in March 2017 with future rate increases dependent on the United States economy. The FED projects for 1-2 more increases in 2017. I feel when it does raise rates it will be less, maybe just one more, they don't want to trigger a slowdown in the economy.
Takeaways and Recent Portfolio Changes
SNAP-ON is an investment choice for the total return investor with its slightly below average yield of 1.73% and its fantastic beat of 63% in total return compared to the DOW average. SNAP-ON will be definitely be considered by The Good Business Portfolio when cash is available as a buy to add to the other total return companies owned in the portfolio. If you need more growth in your portfolio then the professional tool sector using SNAP-ON may be the company for you.
Trimmed Harley Davidson (HOG) to 3.8% of the portfolio. Growth looks likely to be negative again this year. A great company but competition is hurting, earnings will come out soon and are projected to be less than last year.
Increased position of Omega Healthcare Investors (OHI) to 5.84% of the portfolio. I wanted a little more income and a dividend increase is coming in mid April.
Trimmed Boeing (BA) from 10% of the portfolio to 9.4%. Great Company but you have to be diversified.
Sold covered calls April 28th $59.0 strike price on a portion of the HOG position to make some money while I wait for Harley sales to start to grow again.
Sold covered calls April 20th $58.5 strike price on a portion of the HOG position to make some money while I wait for Harley sales to start to grow again.
Sold covered calls April 13th $58.0 strike price on a portion of the HOG position to make some money while I wait for Harley sales to start to grow again.
Added to position of Ingersoll-Rand (IR) now at 4.1% of the portfolio a full position. S&P recently raised IR target price to $86 from $80.
Added to position of Digital Reality Trust (DLR) now at 1.3% of the portfolio. I feel the computer industry facilities business has nowhere to go but up and DLR pays an above average dividend. I wrote an article on Digital Reality Trust this year if you are interested. This is another specialty REIT in a growing sector.
The Good Business Portfolio generally trims a position when it gets above 8% of the portfolio. The four top positions in The Good Business Portfolio are, Johnson and Johnson (JNJ) is 8.3% of the portfolio, Altria Group (MO) is 8.0% of the portfolio, Home Depot (HD) is 8.2% of portfolio and Boeing is 9.4% of the portfolio, therefore all four are now in trim position.
Boeing is going to be pressed to 10% of the portfolio because of it being cash positive on 787 deferred plane costs at $251 Million in the fourth quarter a $64 Million increase from the third quarter. The fourth quarter earnings were good with Boeing beating the estimate by $0.14 at $2.47. S&P Capital IQ also raised its one year target to $191. First quarter earnings will be out April 25 and I expect a beat of $0.10 at $2.10.
JNJ will be pressed to 9% of the portfolio because it's so defensive in this post BREXIT world. Earnings in the last quarter beat on the top and bottom line but Mr. Market did not like the growth going forward. JNJ is not a trading stock but a hold forever, it is now a strong buy as the healthcare sector is under pressure to reduce medical costs.
For the total Good Business Portfolio please see my article on The Good Business Portfolio: 2016 4th-Quarter Earnings and Performance Review for the complete portfolio list and performance. Become a real time follower and you will get each quarters performance after the earnings season is over.
I have written individual articles on JNJ, EOS, GE, IR, MO, BA, PEP, Omega Health Investors, Texas Instrument (TXN), Digital Investors Trust (DLR) and Home Depot (HD) that are in The Good Business Portfolio and other companies being evaluated by the portfolio. If you have an interest please look for them in my list of previous articles.
Of course this is not a recommendation to buy or sell and you should always do your own research and talk to your financial advisor before any purchase or sale. This is how I manage my IRA retirement account and the opinions on the companies are my own.
Disclosure: I am/we are long BA, JNJ, HD, MO, OHI, DLR, HOG, IR, TXN.
I wrote this article myself, and it expresses my own opinions. I am not receiving compensation for it (other than from Seeking Alpha). I have no business relationship with any company whose stock is mentioned in this article.