Snap Inc. (NYSE:SNAP) announced its first quarterly conference call for May 10. If I am right, you will see blood on the streets. SNAP shareholder blood that is.
For those who remember the dot-com era, analysts were trying to find new ways to value companies, because the know set of metrics that everyone used at the time did not compute. There was no way to come to any sensible valuation conclusion.
So analysts devised metrics such as page hits, and many other crazy metrics to try to come to some conclusion why some stocks had the valuation they had. In the end, of course ,it turned out that things were not very different this time, and all the metrics devised did not work out so well.
Currently, we have a similar situation with SNAP. SNAP is currently not profitable. In fact, for the next two years, analysts see the company losing money (data from yahoo).
And since the company is not profitable yet, it does not have a P/E. So another way analysts have tried to value SNAP is to use active user data. Twitter (NYSE:TWTR) was valued in a similar way in its IPO.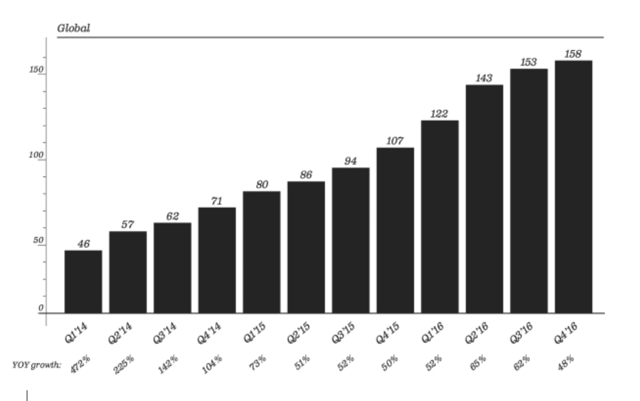 The above active user data is from SNAP's IPO filing. The data shows quarterly user growth on a Y/Y basis. So one could say that Q4 was not bad, with active users increasing by 48% Y/Y.
However, please also notice that growth has been coming down a lot from previous quarters. In fact, one can clearly see growth flattening off. And if we calculate user growth on a Q/Q basis, then we get a different picture.
The chart below uses the same data as the chart above, but instead of Y/Y numbers, I have calculated the Q/Q percentage growth.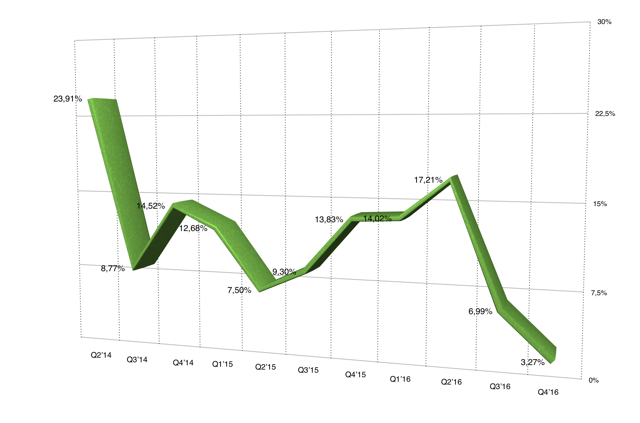 As you can see, Q/Q percentage growth between Q3'16 and Q4'16 dropped to 3.27%. The lowest on record. And I think this number will continue to drop, and we might even see negative growth. How so?
Well, we all know that Facebook (NASDAQ:FB) has been copying many SNAP type functions in its social Apps. It all started with Instagram back in August 2016, when the company announced on its blog the first SNAP type features.
Today, we're introducing Instagram Stories, a new feature that lets you share all the moments of your day, not just the ones you want to keep on your profile. As you share multiple photos and videos, they appear together in a slideshow format: your story.

With Instagram Stories, you don't have to worry about overposting. Instead, you can share as much as you want throughout the day - with as much creativity as you want. You can bring your story to life in new ways with text and drawing tools. The photos and videos will disappear after 24 hours and won't appear on your profile grid or in feed.
Sounds familiar? Please note Instagram has more than 600 million users, twice the users of SNAP. And if I may say so, I think one of the reasons why SNAP's Q/Q growth dropped to 3.27% in Q4'16 probably has a lot to do with Instagram Stories.
So come May 10th, it will be the first quarter that we will see what kind of damage (if any) Facebook has done to SNAP, as a result of incorporating many of its features in its social ecosystem. Because it will be the first time these SNAP features will be available to the entire FB social space for a full quarter.
What might happen on May 10th
While we will have to wait for active daily user numbers from SNAP to see if FB has done any damage, personally, I think the damage has already been done.
It's simple; It's fair to say that all SNAP users also use FB, as do their friends. So if everyone you know is also on FB, why use two Apps, since you could do the same thing you do on SNAP, with FB, Instagram or WhatsApp?
Like I said, I suspect that the user growth shortfall in Q4'16 probably has a lot to do with Instagram. And with Facebook, Instagram and WhatsApp also in the picture, I think SNAP's active users will come under a lot of pressure just to stay at the same Q/Q level on May 10th.
While I have no doubt SNAP's revenue can continue to increase, what's important to understand is that without continually increased active users, the market will stop valuing SNAP as it does. Because at some point, without an increasing user base, revenue cannot increase forever.
And if active users flatten (or fall), then no matter how much SNAP's revenue increases from current levels, it will be very hard even for investors that are very positive on SNAP to hold on to it at 20X revenue.
Now, if for some reason FB has put a lot more heat on SNAP than we realize, and we see a fall in Q1'17 active users, then I think SNAP's stock might fall as much as 50%. I am not counting on something like this, but please note it is a possibility.
Disclosure: I am/we are short SNAP.
I wrote this article myself, and it expresses my own opinions. I am not receiving compensation for it (other than from Seeking Alpha). I have no business relationship with any company whose stock is mentioned in this article.