Brunswick Corporation (NYSE:BC) has not reached pre-crisis sales levels yet (down 25% compared to 2006), however management's shift from less "Boat" to more "Marine Engine" (these are company segments) has enabled the company to generate higher EBIT levels than a decade ago. We will discuss why we believe this momentum should continue and whether it makes sense to invest after this past year's rally.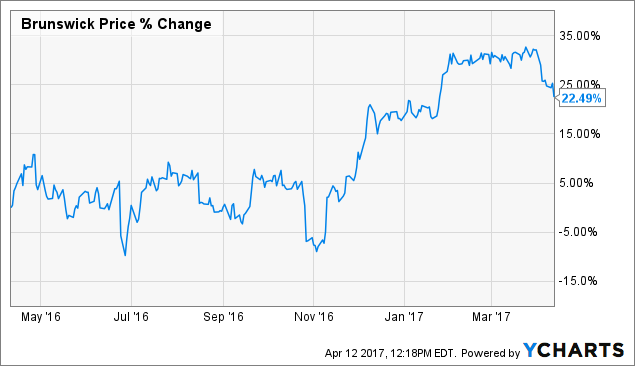 1. Diversified enough to capture growth from various products and regions
In the last decade Brunswick has managed to focus on Marine Engine (51% of sales), a higher margin generator at 16%, to the detriment of Boat (27%) which generates only 4% in margins. This shift has enabled the company to increase its profitability ratio coupled with the expansion of its Fitness segment (18% of sales) which generates 12% in EBIT margins. The disposal of the billiards business, although historical, was rather a good call as management will be less distracted by an auxiliary activity to its core business. Currently the non-U.S. business is well diversified among Europe (39%), Asia-Pacific (25%), Canada (19%) and Latin America as well as Africa & Middle East (16%). The remaining business is strictly coming from the U.S. (67%), where growth has been stronger than internationally mainly in the Marine Engine and Boat divisions. We believe that the recent benefits from favorable market trends and market share gains will persist throughout 2017. However, revenues in the U.S. increased modestly in the Fitness segment due to lower sales to local and federal governments but largely offset by strong growth in international markets. Most of the non-U.S. sales are made in the Marine Engine segment (47%), followed by Fitness (30%) and Boat (23%), hence international markets are critical to the most profitable segments of Brunswick.
Looking closer at product trends, marine parts and accessories as well as outboard engines outperformed other Marine Engine products thanks to the strong growth in the US marine market. On the boat side, fiberglass outboard boats, aluminum boats, fiberglass sterndrive and inboard boats were supported by replacement cycle dynamics and innovative products. We think that recent product introductions - R&D grew by +50% in 2016 vs. 2015 while representing the same percentage of revenues for the last couple years at 3% - will help the company gain new market share.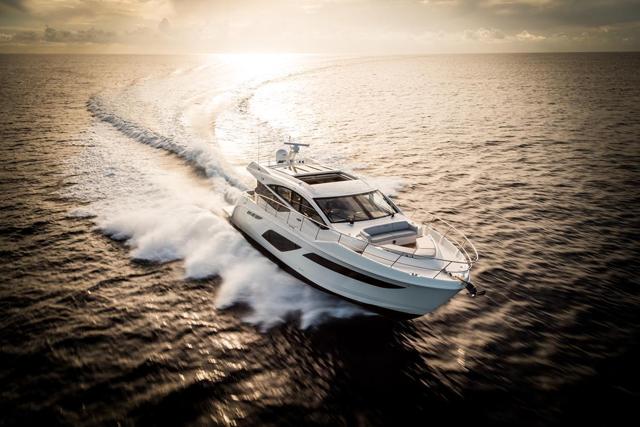 Source: Sea Ray website
2. Strong financial fundamentals providing a safety cushion
For a business that is capital intensive and well known for being volatile, we are very comfortable with Brunswick financials. The wide range of products manufactured by the company helps mitigate a future potential financial crisis. Current assets to current liabilities are defensive at 1.75 times, inventories have gone up by 11% since last year for new product launches but still represent less than half of current assets. Cash on the balance sheet reached 13% after acquisitions of $275 million paid in cash so debt levels didn't edge up and net debt to EBITDA is still in negative territory. Brunswick was able to generate a positive free cash flow which is a key factor showing the health of its balance sheet. The company has room to grow its gross margin, currently at 27%, thanks to its large domestic manufacturing facilities throughout the U.S. which is nowadays a big plus. Based on recent innovation and product mix, we expect double-digit EBITDA margins at 13.5% to grow further and provide a better safety of cushion for the company.
3. Few reasons to ignore this investment opportunity
In our opinion there are two important items to closely monitor for this company: first the financial services activity in which Brunswick owns 49% and helps finance distributors, and secondly the Boat exposure to "MarineMax" which currently represents approximately 24%
Nevertheless, we believe management is being conservative by forecasting 6% to 8% sales growth in 2017 on the back of 10% in 2016 at a constant currency basis as U.S. and Europe market conditions are still improving. Hence current PE valuations at 14 times are attractive and we believe it's the right time to invest before the second quarter earnings release when sales are generally the highest for the Marine Engine and Boat business.
Strong sales growth for Fitness at the end of the year was an early sign that confirms the market robustness (Fitness sales are generally the highest in the fourth quarter of the year).
You are currently paying 1.3 times the growth of the next two years. As a rule of thumb we think that below 1.5 times is attractive. The company is also paying an interesting dividend yield of 1.1% which is not marginal for the boat industry. Brunswick will report 2017 first quarter sales on April 27, 2017.
If you have enjoyed this article, feel free to hit the "Follow" button for more articles with a long-term investment horizon.
Disclosure: I am/we are long BC.
I wrote this article myself, and it expresses my own opinions. I am not receiving compensation for it (other than from Seeking Alpha). I have no business relationship with any company whose stock is mentioned in this article.