This is our third and final article updating our oil thesis for 2017. Our prior articles addressed sentiment and fundamentals, and here, we'll discuss international rig counts and what the low number of rigs portend for oil production.
As always, we like to use our kids' affinity for desserts to explain an oil concept, and kids are a bit of an expert when it comes to understanding decline and depletion rates. So, let's use my daughter for instance.
Like any oil producer with a new oil field, whenever my daughter gets a big bowl of ice cream, she dives right in. Big scoops of "where has this been all of my life" fly into her mouth. As her bowl of ice cream dwindles (depletes), her scoops begin to shrink (decline) as she tries to savor the last mouthfuls. Like a good little oil executive, she usually tries to find more capital to replenish her finite bowl of ice cream and stem depletion ("More Daddy?"), but when the capital markets don't cooperate ("Daddy says no. #sad"), then the ice cream enters terminal decline. Tough life kid, but that's the way the ice cream melts.
Today's oil producers can keep pumping at high volumes, but that merely increases depletion rates, or pump at lower volumes to stem depletion and preserve the reservoir, but that increases decline rates. Oil companies have tried to balance the two, but it's a Sophie's choice in today's oil prices. Low oil prices mean many oil producers have elected to keep pumping at high volumes (because they need the cash), but that sacrifices the longevity of their reserves. As we enter the third year of low oil prices, we're starting to see that there's just not enough capital to even stem decline rates let alone depletion.
Just take a look at international rig counts. Rigs, the machinery that drills the wells, are leading indicators for production.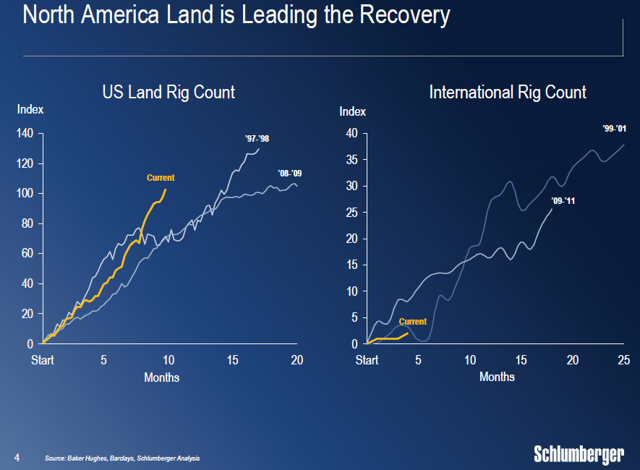 While rig counts in the US have recovered dramatically, rig counts worldwide have remained at all-time lows, which means wells aren't being drilled outside of the US. US production accounts for about 10% of worldwide production. Invert that and 90% of worldwide production comes from outside of the US. With international rig counts hovering near all-time lows, many of these countries will be subject to faster declines simply because new oil wells aren't being drilled. So even if 60% of the world's producers hadn't agreed to cut/freeze oil production under the Vienna Agreement, non-US oil production will likely continue to fall.
Admittedly, this is where we diverge from the IEA's estimates and, to some extent, consensus. The IEA continues to project non-OPEC supplies will increase in 2017 compared to last year.

Yet, as we look at the rig counts, the projects coming online, and the underlying data, we believe new projects will be unable to arrest the accelerating decline rates. From a macro perspective, if supply/demand indicated a draw of over 700K bpd to end 2017 (and this gap was accelerating as the year closed out), it's likely this undersupply will continue well into 2017 given where rig counts stand. Unlike the US, where days to drill have declined significantly, no such evidence exists for international drilling. Thus, it's much more likely the flat rig counts will generate the same supply levels and, in turn, an accelerating decline rate. Here's Andurand Capital's chart on the matter (black line), something that we think makes much more sense based on our read of the data.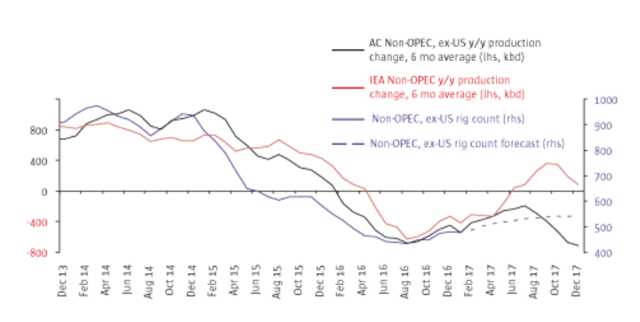 On the flip side, will US production increase? Yes, but the projected 400K bpd of US production increase (mostly from shale) has already inflated services costs, which will cap US production growth. Furthermore, keep in mind that global demand is expected to rise 1.4M bpd, so even if the increase could stem decline rates, it would do little to address the demand increase. In the end, it's ill-advised to think this 10% production base alone can make up for falling international production in the next few years.
The Third Year of Low Oil Prices
So, we're a bit at a turning point. It's been many moons since we began our journey, and 2017 will be very interesting for our oil thesis as reality is beginning to bite. The decline in worldwide production indicates that producers are no longer able to keep up the charade. There simply isn't any profit at $45-55/barrel to reinvest and stem both decline and depletion rates. As the temporary factors impacting US inventories wear off, the market should begin to turn and really focus on the bigger picture. We anticipate inventory draws will approach 1M bpd for the entire year, and inventories will be slightly below the five-year average by year-end. Inventory draws, however, will accelerate thereafter in 2018-2019.
Ultimately, the data lag effect will work both ways. It took time before oversupplies showed up in the data, and it's taking time before the undersupply will as well. By the time the information is clear, the world will have walked into an oil shortage. This is why we've stayed patient with the volatility. Our thesis and portfolio may be whipsawed by oil prices today, but that's noise and sentiment. Fundamentals matter, and no matter what your sentiment on oil is, the world will rediscover an inescapable truth... If oil prices aren't high enough, then oil supplies won't be enough.
As always, we welcome your comments. If you would like to read more of our articles, please be sure to hit the "Follow" button above.
Disclosure: I/we have no positions in any stocks mentioned, and no plans to initiate any positions within the next 72 hours.
I wrote this article myself, and it expresses my own opinions. I am not receiving compensation for it (other than from Seeking Alpha). I have no business relationship with any company whose stock is mentioned in this article.