This post is written by Callum Lo for Integer Investments.
Introduction
American Express (NYSE:AXP) is one of the oldest companies on the stock exchange, having been founded 167 years ago in 1850 by William G. Fargo and Henry Wells of Wells Fargo (WFC). Since that time, it has grown to become one of the largest and most important financial services firms in the world, with a market capitalisation of close to $70 billion.
Originally started as an express mail service, the firm is now known for its credit cards (including the elite Platinum card), which account for around a quarter of all credit card transaction volume in the United States.
Net income for the firm was $5.4 billion in 2016, an increase of 6.81% from the previous year, and the firm acquired over 10 million additional proprietary cards during the year. This was the result of sustained marketing and technological innovation. Despite drops in revenue, partly as a result of the Costco (COST) split, the firm continued to make progress on cost reductions.
Past and Future Earnings Per Share (Simply Wall St):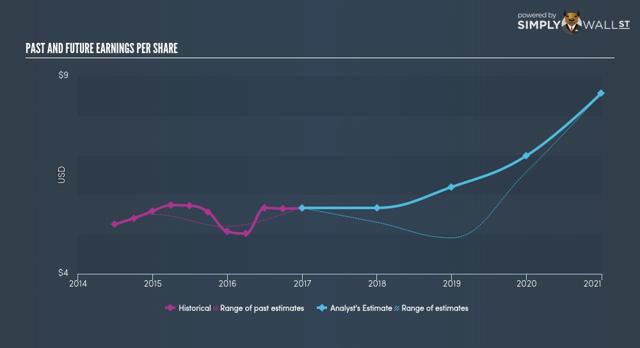 Industry Outlook
A number of new financial innovations are challenging the core business model of traditional financial services firms such as American Express and its historical competitors, such as Visa (V) and MasterCard (MA). The rise of smartphones and mobile technology has precipitated the growth of new forms of payment mechanisms that are not reliant on plastic cards. In particular, the roll-out of Apple (AAPL) Pay and Android (GOOG) (GOOGL) Pay across many countries threatens the ability of the industry to maintain demand. Apple Pay is experiencing rapid growth, and the system added over 20 additional banks and credit unions within the United States to its list of partners in April of this year.
Moreover, competing banks have struggled to make legal challenges stick, with competition law cases in Australia and similar jurisdictions failing to place restrictions on Apple Pay's ability to continue seizing market share. The Apple Pay and Android Pay systems present a particularly immediate threat because both systems benefit from already having huge numbers of users on their platforms. This means that, unlike with other technological disruptions, firms like American Express have a much shorter time frame in which to react to the new competition.
Apple Pay: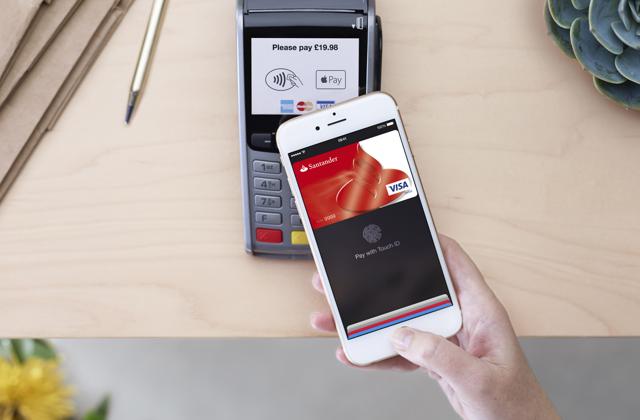 The response from the traditional financial services companies so far has been to tinker with their rewards schemes in the hope that more attractive perks will convince customers to stay on their platforms. It is highly likely that, short of a significant rethink of how financial services are delivered, these measures will prove insufficient to stop mobile solutions from stealing market share through their convenience and widespread uptake.
Product Differentiation
In general, financial services companies struggle to differentiate themselves from competitors. This is because they largely provide a homogeneous product in the form of credit or liquidity. Most customers are able to receive a similar risk and return trade-off elsewhere, so it is difficult for banks to compete on lowering variability or increasing interest rates received by depositors. As such, banks often focus on investing in service and convenience as a way to attract customers away from competitors.
This concept is the core of the American Express business model, and it explains a lot of its success over the past century and a half. Innovations such as travellers cheques and plastic cards have allowed it to grab a large amount of market share, even when the credit being provided to customers remains essentially the same as what competitors receive. Also important to its long-term success is the strength of its branding, which comes to represent a more upmarket form of financial services. This is also crucial in the financial services industry, where a large number of banks pour significant sums of money into marketing and branding in order to differentiate themselves in customers' minds.
American Express Platinum Card: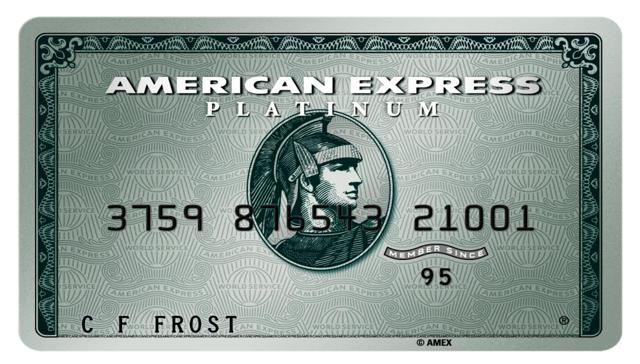 Technology also plays a large role in differentiation. Across the financial sector, technological innovations have helped to improve the customer experience and generate convenience, as well as reducing costs through automation on the company's end. Most trading is now done in a computerised form, as well as a large amount of in-house financial calculation.
American Express has steadily invested in emerging technologies in order to take advantage of the benefits they yield. Most recently, it has been looking into Artificial Intelligence as a means to streamline its business. AI has been used in the firm for a number of years to assist human employees as they decide whether or not to approve large transactions. The software analyses each transaction and then presents a recommendation to the human operator as to whether it should be approved or investigated further.
Costco
American Express has been in recovery mode every since the loss of one of its key strategic partnerships in 2016. The loss of the Costco credit card business by Amex allowed Visa to step into the gap to provide credit card processing and Citigroup (C) to win the credit card portfolio. Costco has a market capitalisation of $74 billion, revenue of over $100 billion, and nearly 130,000 employees. The scope of the loss of this deal cannot be understated. The stock lost significant ground due to this setback. American Express CEO Kenneth Chenault began his letter to shareholders in the 2016 Annual Report by addressing the issue:
"American Express faced many tests in 2016, but we ended the year in a stronger position than we started. Much has changed since I told shareholders that our performance entering 2016 was not what we, or you, had come to expect from us. We faced significant challenges, such as the wind-down of our relationship with Costco, industry-wide pressure on cobrand economics and merchant fees, as well as persistent macroeconomic headwinds."
Although the loss of a major partnership is obviously a negative development, the rationale behind this move is sensible. As the CEO repeatedly mentioned, Costco demanded changes to the relationship that did not make financial sense from AXP's point of view. We appreciate the decision and the courage. We prefer a profitable company more than a growing company. A relationship that adds to the top line, but not to the bottom line, is not something to pursue.
Costco: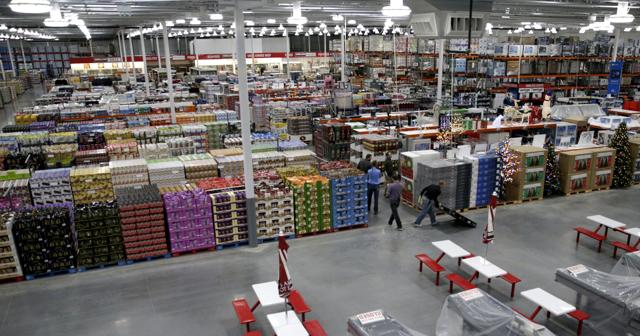 Fourth-quarter profit in 2016 fell by 8% from a year earlier. The firm acted quickly to mitigate the damage from the loss by attempting to convince Costco customers to sign up to other cards that the firm offered. It has also expanded partnerships in recent years with tech giants such as Facebook (FB) and Amazon (AMZN). However, it is uncertain, going forward, whether additional partnerships will end. In general, retailers are discouraged by the high fees charged by the company. If other partnerships will end, the stock price might suffer significant declines. In addition, considering this situation, American Express might enter negotiations with existing partners from a weak standpoint.
Rewards
As discussed earlier, financial services companies struggle to differentiate themselves. American Express is still an iconic brand that carries prestige. For example, Interbrand consider American Express to be the 25th most valuable brand in the world, way above other card companies such as Visa (61st) and MasterCard (76th). Yet, one of the main ways in which firms like American Express, Visa and MasterCard have sought to attract and retain customers is by offering rewards, bonuses and perks from their various cards and other products. Fierce competition in this area in recent years has led to a war between the three major players in terms of these offers. American Express recently upped its bonus points reward for new Platinum card customers from 40,000 bonus points to 60,000 bonus points. Much of this differentiation is purely aesthetic; the Platinum card has been redesigned to be comprised of stainless steel instead of plastic. This helps it to compete against JPMorgan Chase's (JPM) new Sapphire Reserve card, which was launched at a similar time. The strategy also forms part of the company's attempts to stave off competition from mobile payment solutions, which don't feature the same kind of rewards incentives. American Express is betting that the upfront cost of delivering these perks will pay off in the long term as it retains its sizeable customer base.
Valuation
In this section, we produce a valuation for American Express using comparables analysis. Similar companies operating in the industry have been selected to compare; in this case, Visa, MasterCard, JPMorgan Chase, PayPal Holdings (PYPL). The closest competitors are Visa and MasterCard. However, AXP covers the entire financing cycle and can be considered a semi-bank, hence the addition of JPM. Finally, it started to compete with new technology providers such as PYPL.
| | | | | |
| --- | --- | --- | --- | --- |
| | P/E 2017 | EV/Sales 2017 | % Revenue Growth ('16-'17) | % Operating Margin 2017 |
| Visa | 26.80 | 12.30 | 17.57 | 67.1 |
| MasterCard | 26.30 | 9.99 | 9.27 | 55.20 |
| JPMorgan Chase | 13.30 | 3.06 | 2.94 | 41.80 |
| PayPal Holdings, Inc. | 31.10 | 3.61 | 16.30 | 20.00 |
| American Express | 14.00 | 2.17 | 0.87 | 29.7 |
| Average (exc. American Express) | 24.38 | 7.24 | 11.52 | 46.03 |
The firm has very poor projected revenue growth and operating margin in comparison to similar firms in the industry. As such, investors have punished the stock, and its P/E Ratio is just 14, a much lower figure than the comparable average of 24.38. Even removing from the comparison PayPal, which might be considered more like a tech play, we obtain an average PE of 22. Clearly, a number of investors are still worried about the impact of new competition in the market, the loss of important deals like Costco, and the ability for the firm to continue differentiating itself. We still think that American Express offers value, especially compared to other card companies such as Visa and MasterCard. However, the impact of mobile payment solutions and new entries into the market will make it difficult for these firms to maintain their current market share. Investors interested in this segment should evaluate the impact that these new technologies and trends might have on credit card companies.
Conclusion
American Express is a very old and powerful firm. In particular, it has key advantages with its large existing customer base, brand image and its continued innovations in customer experience solutions. However, a number of competitive factors present significant challenges in the coming years, both to the industry at large and to the firm in particular.
Mobile payment solutions represent a new form of financial transaction that may eventually lead to traditional financial services firms being cut from the equation entirely. Existing credit card companies have been engaged in fierce competition over reward schemes, out of which no player is likely to benefit. Moreover, the loss of key partnerships such as Costco should cause concern to investors about the firm's ability to maintain its current level of market share. We currently own American Express, but we started our position at $52. Although we believe that the stock still offers value and that the company is well managed, new investors should consider the risks mentioned in this article.
As always, thank you for reading. If you wish to follow our future articles, just click the "Follow" button next to our name at the top. If you would like us to cover a company, please let us know in the comments. Thank you for reading.