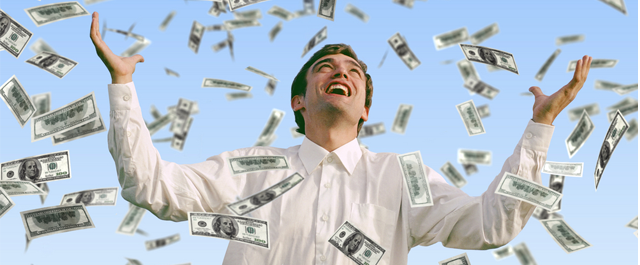 Hello and welcome back to my portfolio update, where every quarter I give the readers an update on the portfolio, the value changes, the transactions, the dividend changes, and the plan going forward. Many of you knew me as a dividend growth investor, and a nutjob fixated on free cash flow analysis within my articles.
Though I love the thought of being "wealthy" in terms of being a millionaire-in-progress, there is no point being one if I couldn't have the lifestyle I wanted in terms of income! I came to the realization that if I had a choice between $1,000,000 in investments producing $20,000-$35,000 a year, or $700,000 producing $49,000-$61,000, I would choose the latter. My portfolio's transformation in my previous article was the result of that choice.
Portfolio Series:
Introducing My New High Yield RIC Portfolio
The Portfolio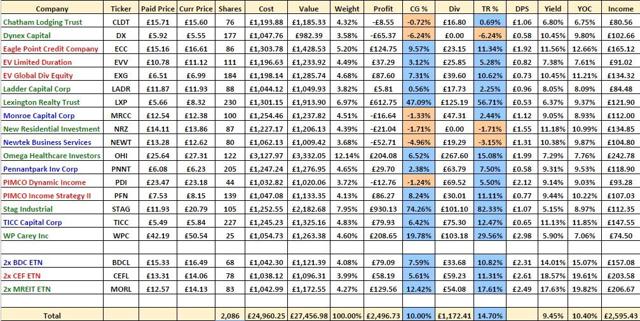 In just over 3 months, the portfolio value has grown by 3.23% with a total return of 6.51% if we exclude the 5 REITs that I kept from my DGI portfolio. As you can see, the portfolio as a whole has a gain of 10% with a total return of 14.70%. According to simplywall.st, my portfolio will have annual returns of 17.9%, though this indeed looks impressive, it has not been tested in a bear market. Then I assume the annual return will drop to the low digits, though if I can manage 8% I will be happy. The portfolio has a yield on cost of 8.84% after paying the 15% withholding tax, with expected annual dividends of £2,206.
I would like to point out I made a mistake in my previous article, the yield on cost and income for Ladder Capital Corp.'s (NYSE: LADR) was wrong due to an error on my part.
Please let me know if you prefer seeing my portfolio as it is displayed in the previous article, or how it is displayed now.
Portfolio Transactions
I purchased 86 shares of Eagle Point Credit Company (NYSE: ECC) on February 24th at $18.57 a share. This is a closed-end fund that specializes investments in equity and junior debt tranches of collateralized debt obligations (CLOs). If you were to screen for senior loan funds on cefconnect.com, and made the criteria to show return on NAV since inception, ECC is leading the pack followed by Avenue Income Credit Strategies (NYSE: ACP) and the highly popular Oxford Lane Capital Corp. (NYSE: OXLC).
I made my choice based on a few factors, I managed to get a price at a 5% premium as I unfortunately did not have any capital to invest a week before where it had traded as low as a tiny discount. Though it would seem unwise to invest at a premium as you're effectively starting with less assets than you started with, ECC has historically only traded at a discount 3 times since its inception.
The management team has moved to monthly distributions and have estimated a special distribution in the range of $0.60-$0.80, so 3-4 months' worth of monthly distributions! So the company is clearly covering its distribution payments. The company's expense ratio was also cheaper than its competitor OXLC.
I also purchased 87 shares of New Residential Investment Corporation (NYSE: NRZ) on March 17th at $17.03 a share. The company is a hybrid REIT and this article from The Fortune Teller gave all the information I needed to make a purchase. The company is performing well as evidenced by its 4.3% dividend increase on January 30th. In hindsight, I should have waited for the ex-dividend date on March 23rd to enter at a better price.
Portfolio Dividends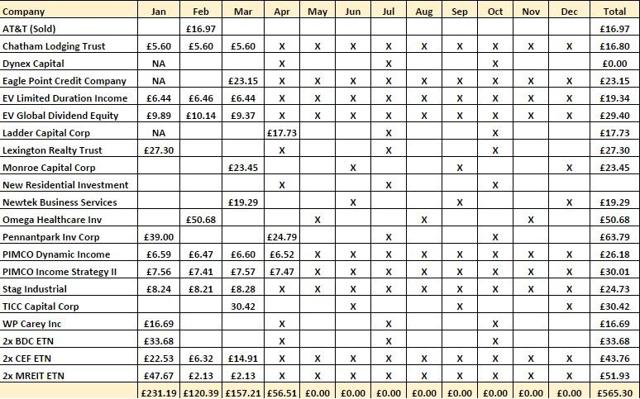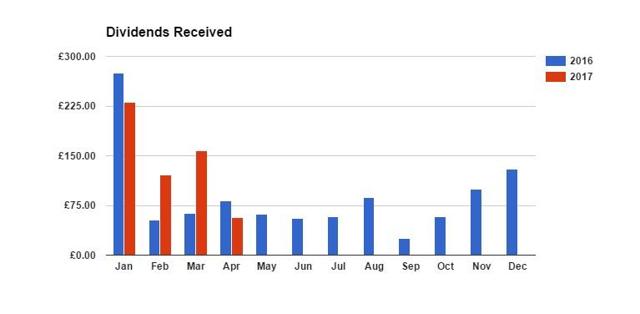 For Q1, the dividends amounted to £508.79, for a monthly average of £169.60 ($212.08). Quite a nice start to the year, and it's safe to assume my monthly income should increase by £10 a month depending on the capital I have available to invest. My annual income is £2,206 after subtracting the 15% withholding tax, I'm looking to achieve £2,750 by end of 2017, with a 5-year goal of £10,000 by end of 2021.
Portfolio's Future

Considering during periods of rising interest rates, business development companies tend to outperform, I'm incredibly underweight don't you think? Most are trading near 52-week highs so I have been reluctant to add positions. However, I need to pull the trigger and purchase a few as I currently only have 4 BDCs along with a BDC ETN.
Gladstone Investment (NASDAQ: GAIN) recently caught my attention with a small dividend increase of 2.4% and the announcement of a special dividend. I intend to do some due diligence and make a purchase on April 19th.
I also plan on researching Ares Capital (NASDAQ: ARCC) and its acquisition of American Capital (NASDAQ: ACAS). Hercules Capital (NASDAQ: HTGC) is the 3rd company I will look at before the Q2 portfolio update.
Main Street Capital (NYSE: MAIN) continues to elude me, I'm just not willing to pay the price it's currently trading at, even with those special dividends.
If I want to be greedy and add another commercial REIT to the portfolio, Starwood Property Trust (NYSE: STWD) has been on my mind ever since the Founder & CEO Barry Sternlicht claimed they were "swimming in cash." Special thanks to Brad Thomas who highlighted it in his aptly named article "Starwood Is Swimming In Cash."
Closing
I'm looking forward to presenting more information on my portfolio as each quarter goes by. The next article should be published in the first week of July.
If you appreciate this article and wish to be notified on future publications, please click on the "Follow" button and feel free to either inbox me or leave a comment below!
Disclosure: I am/we are long EVERYTHING IN THE PORTFOLIO.
I wrote this article myself, and it expresses my own opinions. I am not receiving compensation for it (other than from Seeking Alpha). I have no business relationship with any company whose stock is mentioned in this article.