In the past months, I have started to publish more and more articles on different REIT opportunities. This has led to many of my readers asking me to share my personal portfolio to see what I hold and why. In this article, I aim to provide an overview of my portfolio and my underlying investment philosophy.
My background is in private equity real estate, and therefore it comes naturally to me to actively manage my own REIT portfolio. Passive indexes possess many advantages, but I believe that the REIT space is one of the few sectors where active management can still outperform. REIT investing requires very specialized knowledge of commercial real estate, and most public market participants seem to lack this expertise. It often creates opportunities where quality does not coincide with price, and this is the exact type of deal that I am looking for:
Above average quality REIT trading at average valuation.
Average REIT trading at below average valuation.
Below average quality REIT trading at an excessive discount relative to other below average quality REITs.
As such, I rate each REIT based on its quality as measured by its portfolio, capital structure and management and then try to identify the best combination of quality relative to market price. To assist me in this exercise, I have developed a simple scoring tool that uses a combination of factors and weights to determine a quality score for each individual REIT relative to its peer groups. Brad Thomas and other prominent REIT analysts provided their input in the development of the model and it has proven to be a valuable addition to my analytical efforts. (You can see Brad Thomas utilize my model in his recent article here.)
In this sense, I always look at REITs on a relative basis and seek to identify the best risk/reward opportunities within each REIT peer group. The objective is then to build a well-diversified portfolio to mitigate any REIT-specific as well as country-specific and currency-specific risks. I do not aim to maximize returns at all cost, but to minimize risk and achieve superior risk-adjusted returns over time.
One of the primary differentiators of my portfolio relative to other ones seen here on Seeking Alpha is that it has a strong international orientation.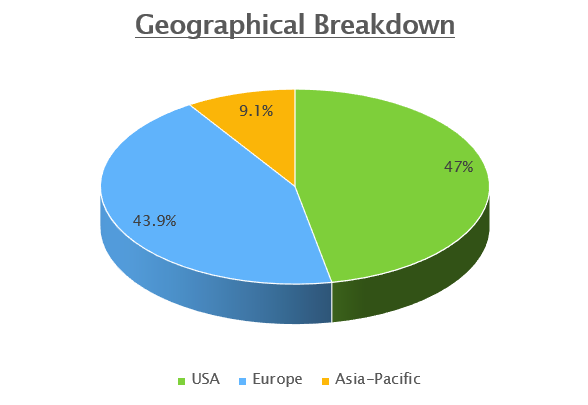 I was born in Finland, raised in France and have studied and worked in Germany, the UK and the USA. I believe that this background gives me a certain edge over most investors when it comes to international investing. It provides me a superior understanding of the differences between European and American markets and helps me identify superior opportunities in a broader universe of securities. I fully utilize this expertise and actively allocate into global REIT markets with a special emphasis on US (47%) and European REITs (43.9%).
This international exposure also leads to currency diversification, which may be particularly valuable in times of rising interest rates. The U.S. fed has hiked interest rates several times in the last years, and this has become the primary fear of most REIT investors. Being exposed to only 47% US REITs, my exposure to the risk of rising U.S. interest rates is limited. While there may be a clear trend toward higher rates in the US; this is much less certain in Europe where interest rates remain exceptionally low and spreads particularly attractive. The macro risk is hence well-diversified compared to a U.S.-only REIT portfolio.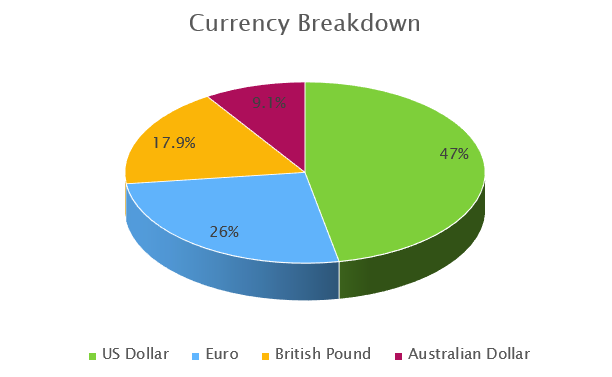 Moreover, I emphasize on gaining adequate exposure to most major property types to mitigate the risk profile of the portfolio. The largest single allocation is into retail today because it is the sector where I find the most value following the recent retail sell-off. I believe that the fears over e-commerce are overblown and that many retail REIT sell at very opportunistic levels today.
The second largest allocation is into European self-storage with a single concentrated position. U.S. self-storage REITs have historically been strong outperformers, but its market is today becoming more competitive. On the other hand, the European market is still at its very beginnings in terms of self-storage investments. To put this into perspective, today there is 9.2 sqft of storage space per person in the U.S. compared to only a small 0.6 sqft per person in the UK and about 0.1 sqft in the rest of Europe. I consider the European market to be strongly underserved, and local REITs will benefit from this in the long run.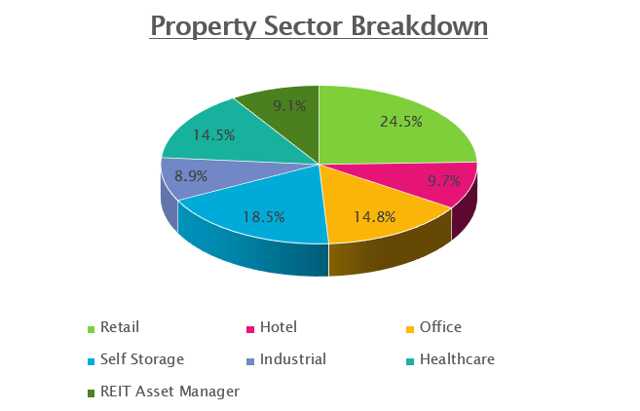 Overall, the portfolio is well diversified by geography, currency and property type. I do not hold today any Residential REIT due to the lack of market opportunity and overweight instead Health Care REITs, which trade at historical discounts due to fears of potential changes of the new administration.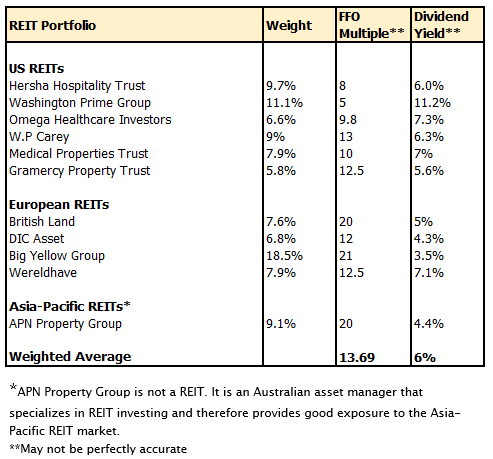 With only 11 single positions, the portfolio is relatively concentrated. It includes 6 US REITs, 2 UK REITs, 2 EU REITs, and 1 Australian REIT asset manager. The focus is on quality names with the only deep value play being Washington Prime Group (NYSE:WPG). The great majority of the above REITs, including W.P Carey (NYSE:WPC), Omega (NYSE:OHI), Hersha (NYSE:HT) and Medical (NYSE:MPW), own high-quality portfolios that are conservatory financed and very well managed. According to my analyses, they possess the best combination of quality relative to market price within their respective peer groups and are set to outperform going forward.
The portfolio does not include any externally managed REITs which tend to suffer from larger conflicts of interests. I would be open to investing in externally managed REITs, but only at a significant discount to internally managed peers. Due to this same reason, the portfolio does not include any mortgage REIT currently either. It used to own Apollo Commercial Real Estate Finance (NYSE:ARI), but after the recent run up in share price, I decided to reallocate into Gramercy Property Trust (NYSE:GPT) and Washington Prime Group.
I have written detailed buy theses on many of the above-mentioned REITs. You can read them by clicking the below links:
Gramercy Property Trust Buy Thesis
Washington Prime Group Buy Thesis
Finally, in addition to the above positions, I have sold put options on CBL & Associates (NYSE:CBL) to mitigate the risk of my B-Mall position. Instead of initiating a full position into WPG right away, I took a half position, and sold puts for the other half. In case the price of CBL declines further, I will get them put to me at a very attractive basis. And if I don't get them put to me, I earn a double-digit return. I plan on writing a separate article on this strategy in the near future.
Relative Valuation and Final Thoughts
Despite being much more concentrated than the average passive REIT index, I would argue that it has a similar or better risk profile due to the following reasons:
Strong concentration on quality names with strong track records.
No externally managed REIT.
Excludes overleveraged (+60% LTV) REITs.
Adequate international diversification.
Limited exposure to US interest rate increases.
Overweight on self-storage which tends to be relatively resilient to recessions.
More conservative current valuations limit downside potential.
Adequate use of derivative options to reduce downside when premiums are opportunistic.
Moreover, the portfolio has a similar growth profile as the broad US REIT market, but trades at significantly lower valuation multiple and higher dividend yield. Currently, the dividend yield is 6% and the FFO multiple 13.69 compared to only about 4% and 19 times FFO for the broad US REIT index (NYSEARCA:VNQ).

I believe that this massive valuation differential is not justified by a lower average quality, higher risk profile or lower growth potential. And therefore, I anticipate my portfolio to outperform passive indexes going forward.
If you enjoyed this article, please scroll up and click on the "Follow" button next to my name to not miss my future articles on other REIT opportunities.
Disclosure: This article is for informational purposes only. It is not a recommendation to buy or sell any security and is strictly the opinion of the writer. Readers are expected to conduct their own due diligence or seek advice from a qualified professional.
Disclosure: I am/we are long HT, WPG, OHI, WPC, MPW, GPT, BTLCY, BYLOF, WRDEF, DIC:GR, APD:AU.
I wrote this article myself, and it expresses my own opinions. I am not receiving compensation for it (other than from Seeking Alpha). I have no business relationship with any company whose stock is mentioned in this article.