The Consumer Price Index for All Urban Consumers (CPI-U) fell 0.3% in March on a seasonally adjusted basis, the U.S. Bureau of Labor Statistics reported today. Over the last 12 months, "headline" inflation rose 2.4%.
This March inflation report was a crucial one for investors in US Series I Savings Bonds because it was the final factor in determining the I Bond's new variable rate, which goes into effect on May 1. This new variable rate is based on non-seasonally adjusted inflation from September 2016 to March 2017.
The BLS report set the March inflation index at 243.801, an increase of 0.08% over the February number. From September to March, non-seasonally adjusted inflation increased 0.98%, which means that the I Bond's new variable rate will fall from 2.76% to 1.96% on May 1. Here are the numbers for the last year: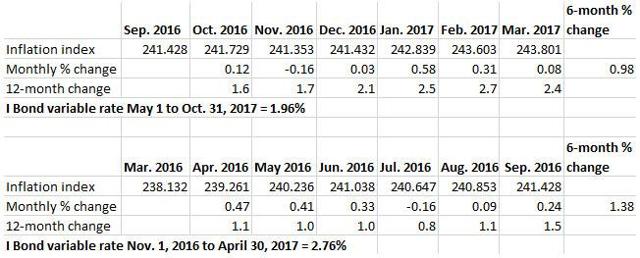 This decline in the variable rate sets up an interesting decision for I Bond investors: Buy before May 1 to get the 2.76% variable rate for six months, or wait until May 1 to see if the I Bond's fixed rate - currently set at 0.0% - will rise to 0.1% (or higher).
I speculated in an April 3 article that the real yield on a 10-year TIPS - then at 0.43%, seemed to support a rise in the fixed rate to 0.1%. Since then, however, the 10-year real yield has dipped to 0.32%, and that is getting dangerously low to support a fixed rate of 0.1%. The real yield has fallen 12 basis points since April 7.
At this point, I would still "guess" that a fixed rate of 0.1% is the most likely scenario, but 0.0% remains a strong possibility. Anything higher than 0.1% is extremely unlikely.
Keep in mind that a 0.1% fixed rate generates only $10 in annual income (rising with inflation) on a $10,000 investment in I Bonds. A variable rate of 2.76% for six months would generate about $40 more than a fixed rate of 1.96%. So the breakeven for a 0.1% fixed rate is four years.
I'd say today's inflation report and the trend of declining 10-year TIPS yields slightly shifts my thinking to buying before May 1. I will be writing more on this decision-making process next week.
For holders of Treasury Inflation-Protected Securities, the March inflation numbers mean principal balances will be rising 0.08% in May. Here are the new May CPI indexes for TIPS.
The March inflation report
The 0.3% drop in "headline" inflation was a shocker because the consensus estimate was for 0.0% inflation in March. The March decline in seasonally-adjusted inflation was the first in more than a year. The key factor was a whopping 6.2% decline in gasoline prices, but price declines were widespread:
Overall energy, down 3.2%
New vehicles, down 0.3%
Used vehicles, down 0.9%
Apparel, down 0.7%
Wireless telephone services, down 7.0%
These were partially balanced off by some price increases, such as for food at home (up 0.5%), rents (up 0.3%) transportation services (up 0.4%) and medical care commodities (up 0.2%).
"Core inflation" - which removes food and energy - declined 0.1% in March and was up 2.0% over the last 12 months. The 12-month number is the lowest in more than a year.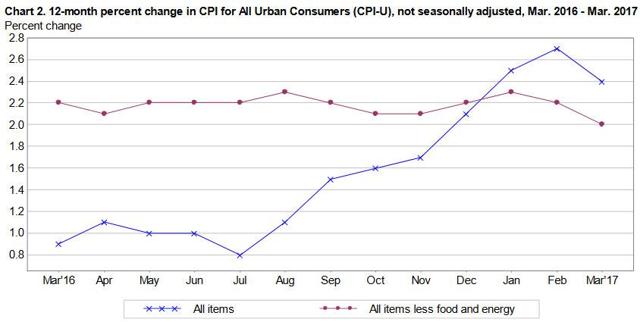 The March inflation report should allow the Federal Reserve some leeway in raising interest short-term interest rates in 2017, but I think two more increases remain likely. Gasoline prices are up sharply in April, due partly to seasonal adjustments, but inflation definitely hasn't gone into hiding.
Disclosure: I/we have no positions in any stocks mentioned, and no plans to initiate any positions within the next 72 hours. I wrote this article myself, and it expresses my own opinions. I am not receiving compensation for it (other than from Seeking Alpha). I have no business relationship with any company whose stock is mentioned in this article.