In a previous article, we discussed investing in the S&P when P/E multiples are at or near extreme levels. We discovered that investing when P/E multiples are at or near an extreme low tends to generate positive returns. Conversely, reducing exposure when P/E multiples are at or near extreme highs tends to preserve capital. However, we also recognized that using P/E multiples only makes sense when they are at or near extremes. We are not recommending that they be used as a daily trading tool.
In this article, we will take another look at this issue from a slightly different perspective. The first chart illustrates current P/E multiples since 1900 and real 20-Year rolling returns to the S&P 500. We include returns looking forward (e.g., the red line represents the expected 20-year return from that date forward) and looking backward (the black line represents the previous 20-year return). The difference between the two lines is 20 years. (We have done the same analysis using 10-year horizons that we can make available upon request.) When P/E multiples are at extremes below historical averages (as in 1950 and in 1980, it makes sense to buy the S&P 500. And conversely, when P/E multiples are at extremes above historical averages (as in 1929, 1966, and 1999), reducing exposure is likely to preserve capital.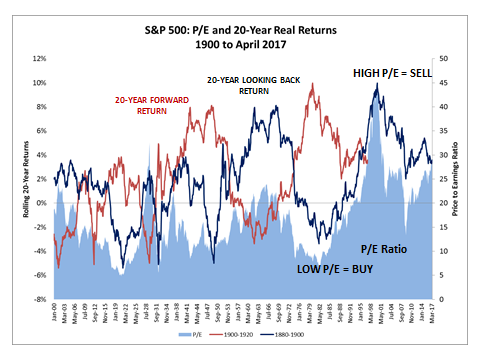 The relationship between extreme P/E multiples and real 20-year S&P 500 returns is illustrated in the tables below. Based on our analysis, we would expect returns to be strongly positive when P/E multiples are at extreme lows and to be negative when P/E multiples are at extreme highs. And the data does not disappoint. The average P/E multiple since 1900 has been 16.7, though the ratio has climbed somewhat in recent years. Interestingly, for current investors, current P/E multiples (29.1) are at levels similar to those recorded in 1929 (we will have more to say about that later).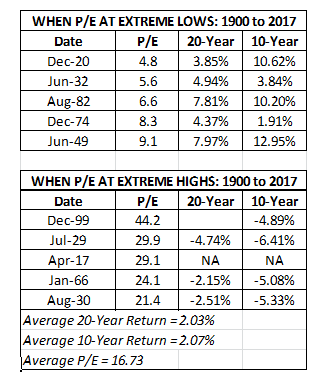 To determine a rough estimate of current return expectations over the next 20 years, we regress 20-year rolling real returns with P/E multiples. The results are presented in the chart below. In presenting this data, we repeat that P/E multiples should only be used when they are at extreme levels. The R2 for the regression is 0.33. Based on this simple regression equation, plugging in the current P/E multiple (29.1), we would expect returns going forward to be about -3.5% over 20 years and -1.9% over the next 10 years. Neither estimate offers much hope relative to expected returns.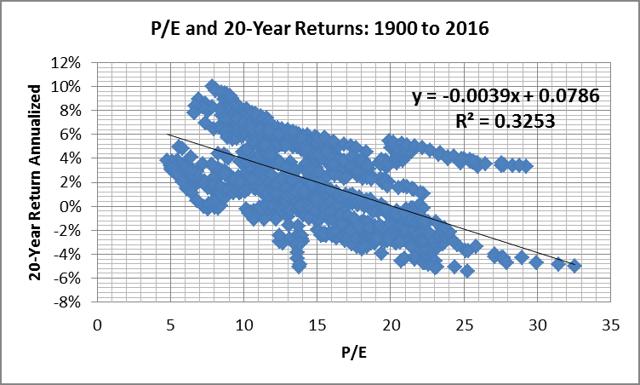 Some (including us) argue that we have been in a different market regime since the 1980s when financial markets were liberalized and deregulated (we will have more to say about that in a separate article). So we also run this analysis from January 1980. In fact, the average P/E multiple since 1980 has been 21.7, significantly higher than the 16.7 average since 1900. The R2 is a robust 0.62. Based on this simple regression, forecasted returns are 1.8% for investors with a 20-year horizon and 2.0% for those with 10-year horizons.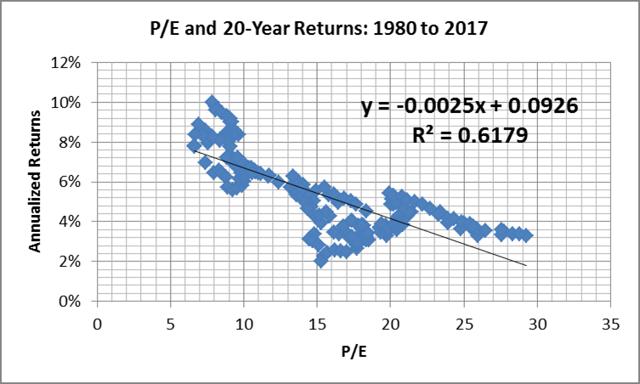 All of this data reaffirms our conclusion in our previous article, namely that returns to the S&P 500 are likely to be close to flat over the next decade or two. Of course, this does not rule out various paths, but there appears little reason to hold out much hope for the so-called "norm" of 7% to 8% per year. Perhaps average returns of 3-5% is realistic.
We expect very modest returns from the S&P 500 over the next decade and more. However, potential for significant interim losses in between now and then cannot be ruled out. Since 2000, investors (not once but) twice have lost 40% of the value of their portfolios. There is little sign that these risks have vanished. Given low expected returns in combination with the real world potential for significant short-term losses, we believe an adaptive approach to investing across asset classes or equity sectors is the way to go, as discussed here.
Disclosure: I/we have no positions in any stocks mentioned, and no plans to initiate any positions within the next 72 hours.
I wrote this article myself, and it expresses my own opinions. I am not receiving compensation for it. I have no business relationship with any company whose stock is mentioned in this article.