BP plc. (NYSE:BP) is the single most attractive income stock in the energy sector. Instead of climbing steadily, the stock is stuck in a range, due mostly to the uncertainty around oil prices. Fortunately, the company expects free cash flow growth in the next five years even if oil prices languish. It has the flexibility in adjusting capital expenditure levels, depending on the health of the energy market.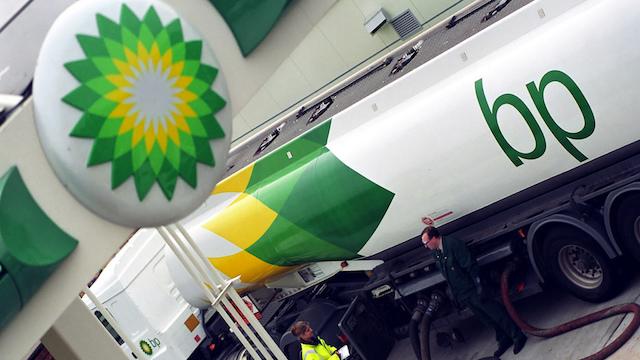 In its strategy update hosted at the end of February, BP cited the need for strong cost controls and improving operating performance to differentiate itself from competitors. Even though natural gas and renewable energy sources are growing, demand for energy will also grow. BP's management positioned both the upstream and downstream businesses for the ongoing uncertainties in the energy markets. For example, BP improved performance for downstream by delivering $3 billion in savings since 2014. At its current pace, BP will save $15 - $17 billion annually through 2021.
BP's capex of $16 billion assumes oil prices in the range of $50 to $55 per barrel.
Free cash flow is falling for both Exxon Mobil (NYSE:XOM) and BP. Investors are more than compensated for the risks through a higher dividend yield: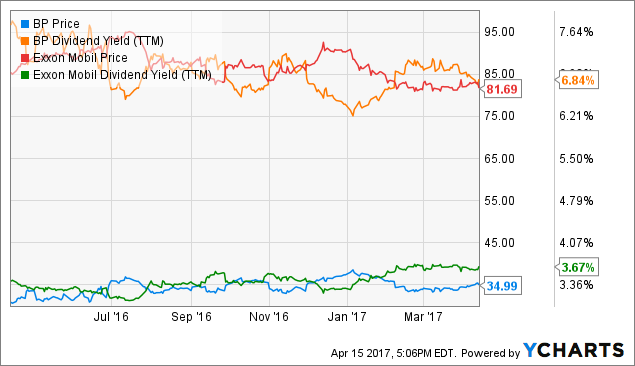 Healthy Portfolio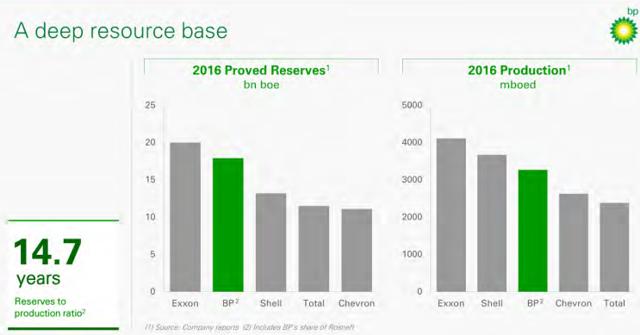 Source: BP, plc.
Even after selling nearly $75 billion in assets since 2010, BP still has a healthy reserve to production ratio of 14.7 years. The output from Upstream is at 3.3 million barrels per day, a level BP believes is sustainable even within capex spend at no more than $15 billion.
Growth
Project coming online by 2021 will add over 1 million barrels per day in Upstream. BP expect operating cash flow growing. Downstream will see cash flow improvements, too, thanks to BP's expansion plans in Australia. Baku is of particular significance for BP because the company cut headcount by one-third and cut costs by $9 billion. This cost savings was completed a year ahead of schedule. Further, BP started six projects in Baku, one more than promised in 2016. Overall, BP previously forecast Baku will generate $7 to $8 billion in free cash flow in 2020 at $50 per barrel. BP now expects free cash flow of $13 - $14 billion in 2021 at $55 per barrel.
BP will adjust its product mix through gas projects. By mid-2025, gas will account for 60% of the company's output, compared to 50 percent today. BP expects both renewable and clean energy will become a bigger part of demand in the years ahead. By investing in the right projects that account for such trends, BP ensures that its business meets the future energy needs of its customers.
Valuation: $45 fair value
Assuming BP grows at between 4.0% and 5.0% and a cost of capital of between 9.6% and 11.6 percent, the stock has a fair value of $40.73 a share: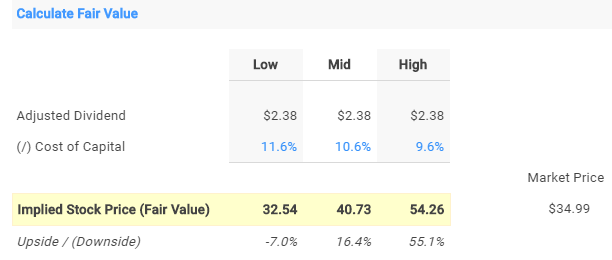 Source: finbox.io
Takeaway on BP Stock
BP will have little problem in growing production by 5 percent annually. Free cash flow growth of between $13 - $14 billion in 2021 is achievable. BP's management demonstrated it may cut production costs without sacrificing output. BP obviously prefers an energy market where prices are higher but that is out of its control. At current levels, BP's dividend, which yields 6.9 percent, is sustainable. Management set out a primary object of growing free cash flow distributions. In doing so, it will manage expenses, output, and project costs. That way, dividend rates will not change.
Please [+]Follow me for continued coverage on energy stocks for income investors. Click on my name next to my avatar at the top of the article.
Disclosure: I am/we are long BP.
I wrote this article myself, and it expresses my own opinions. I am not receiving compensation for it (other than from Seeking Alpha). I have no business relationship with any company whose stock is mentioned in this article.