A decade ago, investing in airlines was a sure way to run an equity portfolio into the ground. The industry was hyper competitive, and had far too much capacity available for consumers. Fast forwarding to today, the industry has consolidated into just a few companies thanks to the combination of mergers and bankruptcies as seen below: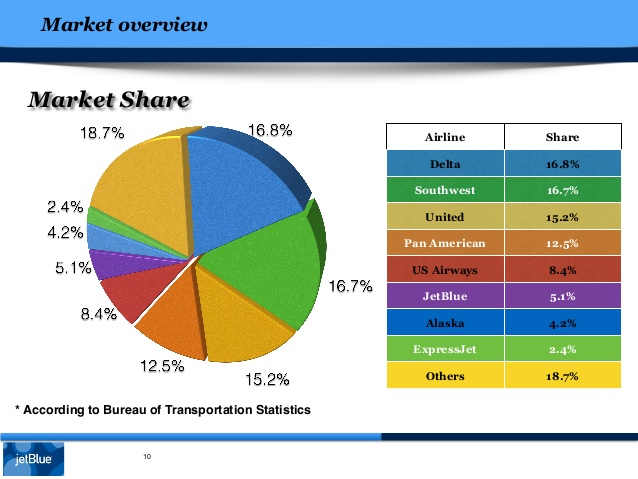 This has resulted in the industry seeing significantly better capacity rates (meaning seats are full or nearly full on flights). Furthermore, margins have expanded significantly with the combination of full flights, additional fee charges, and overall pricing power due to reduced competition. Just last Wednesday, Delta Air Lines (NYSE:DAL) report Q1 earnings. Examining those earnings, along with the company's current financial condition and business model, let's determine if Delta Air Lines should be added to your portfolio.
On the earnings front, Delta did slightly beat earnings expectations, which came in at $.04 EPS. While earnings were positive (the company demonstrated strong income growth which came in at nearly $850 million for the quarter), margins did decline because of higher fuel costs. Year over year, per gallon fuel costs were up 12 cents, resulting in an additional $330 million dollars in fuel expenses. However, Delta did say they expect the increase in passenger growth and moderating fuel prices to more than offset the margin pressure in Q1 (Delta quarterly earnings slides). Based on Q1 results, and expectations shown below for 2017-2018, Delta should be bought.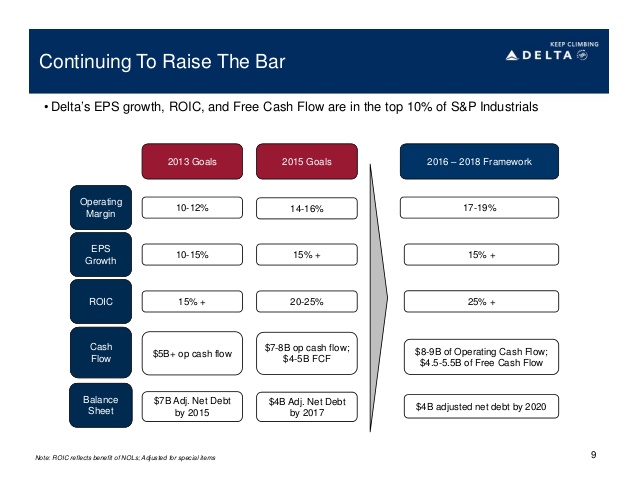 Expanding our investigation beyond earnings, let's look at Delta's financials and business model. Net income and EPS have both been positive and growing in each of the last five years, indicating the company is growing its bottom line year in and year out. Revenue growth has flat lined at just over 40 billion, indicating the company does have some work to do in driving new business growth. On the balance sheet, immediate liquidity needs are no issue, since the company has 3.5 billion in cash. Somewhat concerning is the current ratio, which is .48, meaning short term liabilities are more than double current assets. However, the company is in excellent shape from a cash flow standpoint, given that free cash flow has risen from 508 million to 3.83 billion in just the last 5 years (MarketWatch). Furthermore Delta continues to grow its dividend as seen below: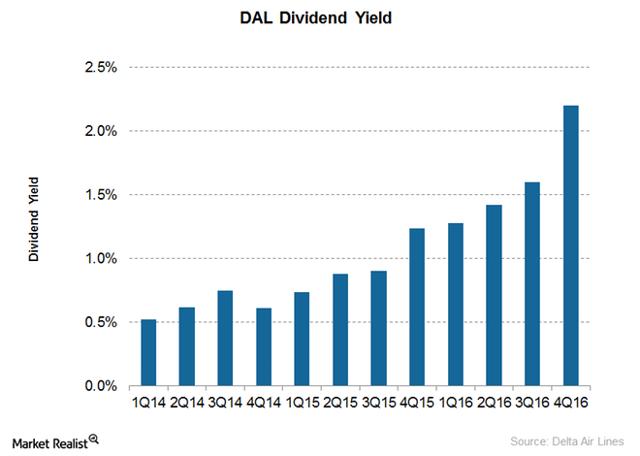 Examining some basic financial metrics, Delta appears to be in healthy condition, especially given the amount of free cash it is generating. Once again my only concern is the lack of liquidity demonstrated by its current ratio.
Delta's business model has evolved significantly over the last 5 years. It now focuses on passenger capacity, cost cutting, additional fees, and efficiency. In summary, it has been designed to drive bottom line growth on the income statement. Particularly involving overall seat capacity, the chart below demonstrates the decision the company made a few years ago to begin trying to reduce seat supply (in order to drive demand and ultimately higher ticket prices).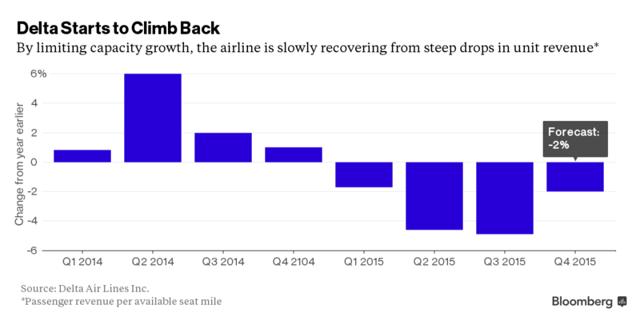 This focus on making the business model drive efficiency above anything else will benefit Delta shareholders in the years to come. Based on this, along with strong financials and a solid Q1 earnings report, Delta should be bought today before its shares move significantly higher in 2017.
Disclosure: I am/we are long DAL.
I wrote this article myself, and it expresses my own opinions. I am not receiving compensation for it (other than from Seeking Alpha). I have no business relationship with any company whose stock is mentioned in this article.