The US stock market had an incredible run after November 8 election. All major indexes had huge moves.
From the pre-election low on November 4th, 2016 and until March 1, 2017, the Dow Jones 30 index gained 18.04%, NASDAQ was up 17.00% and S&P 500 rose 15.15%. Small-cap index Russell 2000 led the gains, rising 21.51%.
But the market's run has been out of gas since it reached its all time high on March 1, and now both S&P 500 and the Dow Jones 30 are in downtrends. NASDAQ is better, but is still trading in narrow ranges.
See the S&P 500 60-minute chart below (all the source of charts below are from Scottrade.com):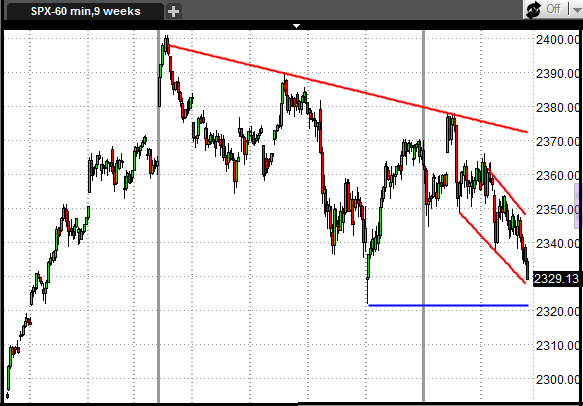 The chart shows clearly that it has been in lower-highs-and-lower-lows mode now since it reached its all time high on March 1.
Bears Are Dominating The Market Now
The bearishness is more evident as of last week, when companies started to report their Q1 2017 earnings. We have selected a few stocks from different sectors to investigate how they performed after their earning releases:

Source: Nasdaq.com
Where:
est - the average of analysts' estimated Q1 earnings
act - the actual Q1 earning results
surprise - extent of beat or miss
preYr - the actual Q1 2016 earning results
prePrice - the closing price before companies reported their earnings.
aftPrice - the closing price after companies reported their earnings
g/l% - the percentage change after earnings report.
Observations:
With the exception of Infosys (NASDAQ:INFY), all of these companies beat or meet the numbers. Apogee (NASDAQ:APOG), Citigroup (NYSE:C) and JPMorgan (NYSE:JPM) beat by wide margins and they also showed good growth compared Q1 2016 results.
But no matter how good the results were, their share price were all beaten down after these respective earnings releases. Please note that we have only shown the stock price changes that took place one day after earnings. For the companies that reported on 04/12, their stock prices declined further the following day.
Let us look at a few individual charts to get a feel for how bad these stocks performed post-earnings:
APOG - In the general contractor sector. Q1 EPS beats by 0.08 and revenue beat by 22.34 million. Guidance in line. But stock crashed over 12%: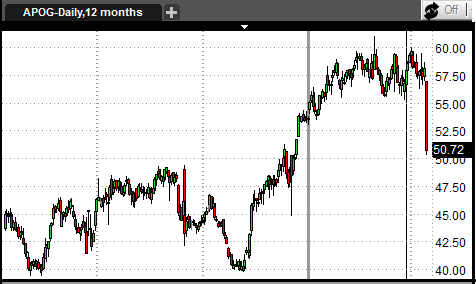 WFC - In the banking sector. Q1 EPS beat by 0.04 and revenue missed by $310 million. Stock crashed: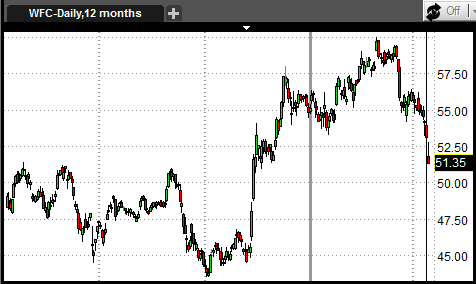 Fastenal (NASDAQ:FAST) - In the home improvement sector. Earning in line and revenue beat by 10 million. Stock crashed after earning release.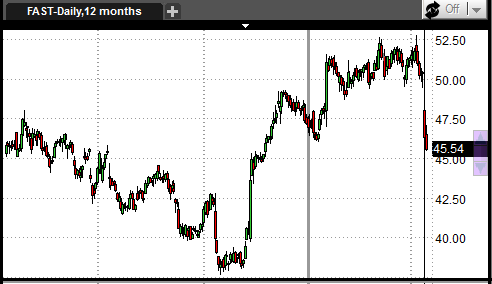 JPM - Another one in the banking sector. Its EPS and revenue both beat by big margins. But the stock still cannot make a move: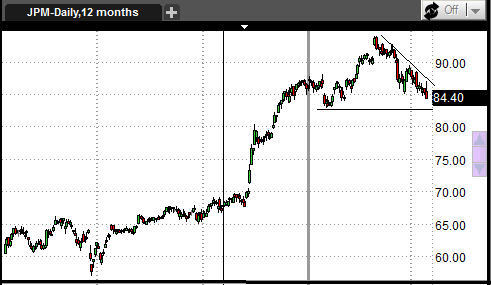 Other stocks, such as Delta (NYSE:DAL), in airlines sector; Taiwan Semiconductor (NYSE:TSM) in the semiconductor sector; Pier 1 Imports (NYSE:PIR) in the home-furnishing sector; and INFY in software outsourcing sector were all down after earnings. This provides a clear signal: Bears are very strong at the moment. Investors are taking money out of market.
My View for Coming Week:
There are more companies set to report this week, including Netflix (NFLX) and United Continental Airlines (UAL) on Monday; Bank of America (BAC), Goldman Sachs (GS), IBM (IBM), Johnson & Johnson (JNJ), and Lam Research (LRCX) on Tuesday; and others to come.
I believe that most of the companies will report better than expected results. The market is also short-term oversold as shown in the S&P 500 60-min chart above. I would not be surprised to see S&P 500 bounce back to 2350 or higher levels in the next 1-2 weeks. Bullish sentiment should return the market. Oversold stocks may see rebounds as well.
But I am bearish for the longer-term trend (for the next 1-2 months) and we may see more pain ahead. I will be very careful adding new stocks into my portfolio. Only the stocks that are experiencing real beat-downs with strong fundamentals will be considered.
Invest with care.
Disclosure: I/we have no positions in any stocks mentioned, but may initiate a long position in C over the next 72 hours.
I wrote this article myself, and it expresses my own opinions. I am not receiving compensation for it (other than from Seeking Alpha). I have no business relationship with any company whose stock is mentioned in this article.