A special holiday edition of Rethink Technology business briefs for April 15, 2017.
California DMV Adds Apple to Autonomous Vehicles Permit List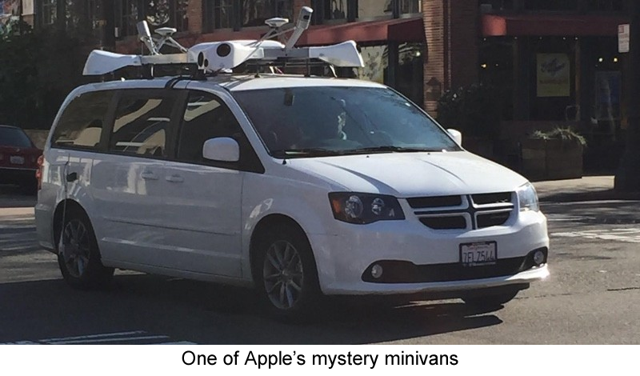 Source: Mac Rumors
The California Department of Motor Vehicles (DMV) has officially added Apple (NASDAQ:AAPL) to its list of participants in its Autonomous Vehicle Tester Program. Apple joins 29 other companies that include Google (NASDAQ:GOOG), Tesla (NASDAQ:TSLA), GM's (NYSE:GM) Cruise LLC subsidiary, and Nvidia (NASDAQ:NVDA).
Participants are required to register with the DMV and comply with a special set of rules in order to perform testing on California public roads. Among those requirements are filing special accident reports and the Vehicle Disengagement Reports that provide some indication of the level of maturity of the self-driving systems. Vehicle Disengagement is an event where the self-driving system either "voluntarily" relinquishes control to the human driver or is overridden.
The fact that Apple was added to the list is seen as confirmation that Apple really is serious at least about developing an autonomous vehicle solution. But of course, we already knew that from Apple's letter to the National Highway Traffic Safety Administration (NHTSA) which at the time I saw as a sure sign that Project Titan was far from dead.
There may still be some argument about whether this indicates interest in a full-up Apple Car or merely that Apple intends to offer an autonomous vehicle solution to some other manufacturer. I continue to maintain the latter option is completely contrary to Apple's corporate culture.
Apple is not about software licensing. Analysts have urged Apple to license macOS over the years, but it hasn't happened since Steve Jobs put a stop to that experiment when he returned to Apple.
Apple is about providing beautifully integrated hardware/software solutions, and I believe that's what Apple Car will be. Apple's apparent hiring of Alex Hitzinger I also saw as confirmation that Apple was serious about the hardware side. Hitzinger had been responsible for the Porsche 919 Hybrid which won two world championships and victories at Le Mans.
Will we actually see Apple's car on the road? Of course not. What we are likely to see is a return of the mysterious minivans that were first spotted roaming the countryside in 2015. I now consider it probable that these vans were not merely a mapping exercise, but were early test and data collection vehicles for Apple's autonomous vehicle system. Apple could learn a great deal just by running image processing and machine learning algorithms in real time, even with a human driver at the wheel. The apparent use of LIDAR scanners on the vehicles also suggest that the purpose of them was more than collecting "street view" images.
Rethink Technology recommends Apple as a buy.
Apple May Chip in to Buy Toshiba Memory
Reuters reports that Apple may take a stake in Toshiba's memory business after all. As I have pointed out, the Japanese government appears to be strongly against an outright sale of the memory division (estimated to be worth about $20 billion) to a foreign bidder, except for the US.
Apple's chief contract assembler, Foxconn, is reported to have submitted a bid, along with SK Hynix and Broadcom (NASDAQ:AVGO). I had previously considered Broadcom the likely winner on the basis of Japanese security considerations.
Foxconn is reported to have offered as much as $27 billion for the memory business. The Reuters report claims that Apple participation would allow Foxconn to take a minority stake in the business, while Toshiba and Apple would jointly maintain majority control. Apple's stake would be on the order of several billion dollars, keeping within the bounds of what Apple appears to be willing to spend for single acquisitions or equity investments.
Apple would probably have been willing to let its supplier take control, as it did in the case of Sharp. Apple doesn't seem to be interested in hardware manufacturing, especially in a highly commoditized business such as memory chips.
In effect, Apple participation would be designed to facilitate Foxconn's capital infusion, while placating the Japanese government. Apple would probably take a very hands-off approach, and in effect, Toshiba would retain control.
But Apple would probably secure for itself a source of DRAM and flash memory independent of Samsung (OTC:SSNLF) and SK Hynix. I continue to believe that Apple wants to distance itself financially from Samsung to the greatest extent possible.
I think this rumor will probably prove true, and that Apple's and Foxconn's combined bid can beat anyone else's. The main uncertainty now revolves around the disposition of Western Digital (NYSE:WDC) towards the deal. WDC has written a letter to Toshiba claiming that its joint venture with Toshiba in a Japanese memory factory gives it veto power over any deal.
This may be another reason for the combined Toshiba-Apple-Foxconn ownership. WDC's veto power probably only pertains to the fate of the jointly operated factory. In the proposed tripartite ownership regime, Toshiba could carve out the WDC joint venture, thus denying WDC any say in the sale of Toshiba's other memory assets.
Amit Daryanani's Terrible Idea
RBC Capital Markets analyst Amit Daryanani has proposed that Apple could buy Disney (NYSE:DIS), forming what he calls a tech/media "juggernaut". In a post published exclusively for Rethink Technology subscribers I described the disadvantages of such an acquisition, calling it a "Terrible Idea".
The main problem is the price tag. Disney has a market cap of about $180 billion. With the premium of 40% that Daryanani assumes, that brings the price to about $250 billion.
Such a deal would only be possible with a very low repatriation tax rate, but it's unknown when or if the Trump administration will get around to its tax reform proposals. Trump had proposed a special repatriation rate of 10%.
Even with that rate, Apple would come up short and have to borrow. Perhaps there's some "creative financing" that Apple could do, maybe with a partial stock swap, but it's still a lot of money. Apple is currently saddled with $73 billion in long term debt. Compared to Apple's cash, which was $246 billion as of fiscal 2017 Q1, it wasn't a concern. If Apple wiped out most or all of its cash to buy Disney, it would become much more of a concern.
Disclosure: I am/we are long AAPL, NVDA.
I wrote this article myself, and it expresses my own opinions. I am not receiving compensation for it (other than from Seeking Alpha). I have no business relationship with any company whose stock is mentioned in this article.
Editor's Note: This article discusses one or more securities that do not trade on a major U.S. exchange. Please be aware of the risks associated with these stocks.