Canada Goose (NYSE:GOOS) is one of the most interesting high-growth, early stage IPOs that have come out of Canada in the last 5 years. The company has provided evidence that they have strong management and innovative approaches to marketing and product control that have allowed them to grow at extremely rapid rates, increase their margins, and improve their e-commerce penetration to over 20% since 2014. At a time when retailers are feeling the negative effects of the digitalization of the industry, there is a window of opportunity for young, innovative retailers to enter the market and grow at never-before-seen pace. In theory, e-commerce is the perfect business model for this industry. With minimal capital investment, Canada Goose has access to 3 billion customers immediately, without building fancy stores. In the past, it would take multiple years for retailers to build brands this large, establish stores, and distribute their products with such volume. We think this is a very exciting opportunity and time for a new retailer to emerge and embark on a long journey of growth.
Direct to Consumer Growth
Currently, Canada Goose has one of the lowest gross margins in the industry. Their wholesale gross margins are currently at 45% and DTC gross margins of 73%. Because the company takes a store light approach to its DTC growth (Two stores in Toronto and New York City), CG has currently experienced a rapid shift towards sales in DTC through a strong push in their e-commerce sales. Using similar company such as Moncler as a base, we can expect that Canada Goose will eventually build up their DTC to approximately 75% of total sales. Without any improvement of current processes, this would lead to margin improvement of their gross margin to 65%. We believe this is something the market is currently discounting, focusing on currently low margins instead of looking at growth plans. We feel confident that the company will improve margins to minimum levels of 65%, but more likely ~10% higher than that as they will find operational efficiencies and economies of scale.
(Source: Evercore ER)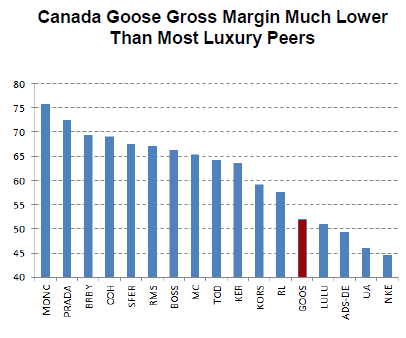 Leadership
Dani Reiss has accomplished one of the most astonishing feats in management in recent history. He took an average apparel manufacturing company with a long history and built it up into a global brand seemingly overnight. It is very unusual for a second or third generation family CEO to perform this well, but Dani was able to take the high-quality products and operational efficiencies his father and grandfather established and create a compelling story around it. Specifically, he has been able to establish a strong Canadian brand by keeping production in Canada, which was initially seen as a risky move considering the cheap production available abroad. However, this has now become a vital part of the company's brand and identity, and a huge reason for the customer loyalty it has established. We are confident that Dani is the right person to take this company to the next level, growing it into a global leader in luxury wear.
Global Expansion Opportunities
The company has grown its product line and brand focusing on products that can keep its customers safe and warm from the harsh Canadian winters. With much of the country frozen for at least half the year, Canada is an easy association for a brand offering the ultimate in cold protection. Much of the marketing the company has done involved adventurous people exploring both the Canadian north and some more extreme locations such as Antarctica. Although initially it may seem as a product that will have limited growth opportunities, Canada Goose has seen success in much warmer locations such as United States, U.K, and Germany. We think this is due to the high-quality of the product as well as smart marketing techniques and partnerships such as collaborations with Canadian native Drake's OVO brand and sponsorships of global events such as the Toronto International Film Festival to help raise brand awareness. Additionally, the company as began expanding into streetwear, spring jackets, rain jackets, and accessories. We believe that strong marketing and product line expansion will continue to drive global market share growth in the near future.
Vertical Business Model
Historically, high growth businesses in this sector had business models that are vertically integrated, allowing them to have full control of manufacturing, distribution, and sales of the products. Companies such as Gucci and Louis Vuitton have increased visibility into customer needs and are able to ensure quality and service that is necessary for success in luxury markets. This additionally allows luxury companies to offer more competitive prices while keeping high margins as they do not have to split profits with third-parties along the supply chain. With the additional production capacity the company has been consistently investing in, we believe they are well positioned to profit of upcoming increases in demand.
Our Takeaway
We are bullish on Canada Goose. Strong leadership, margin growth through DTC increase, strong sales outlook, and fully integrated supply chain provides the company all the needed tools for fast growth. Our rating: BUY.
Disclosure: I/we have no positions in any stocks mentioned, and no plans to initiate any positions within the next 72 hours.
I wrote this article myself, and it expresses my own opinions. I am not receiving compensation for it (other than from Seeking Alpha). I have no business relationship with any company whose stock is mentioned in this article.