After battling repeated rounds of selling pressure and profit booking, precious metal silver seems to have overcome the final hurdle before it targets $21. This achievement has come alongside a powerful upmove in gold (NYSEARCA: GLD), which is probably staring at the beginning of a multi-year bull market. This might be a good time for the shorts to cover their positions as a massive appreciation in silver is on the cards.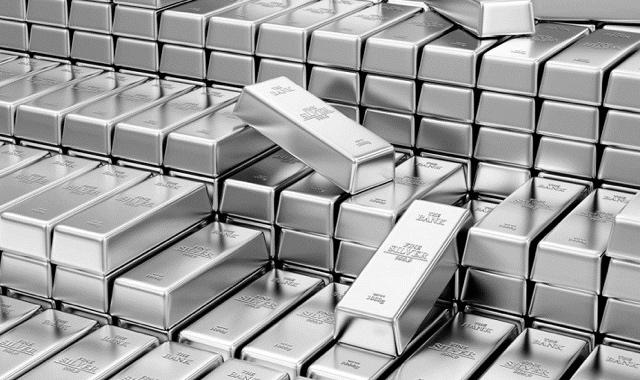 Source: ETFDailynews.com
The breakout in silver that I am talking about is easily visible on the weekly silver futures price chart. Last week's closing of $18.545 was the highest weekly closing since October 2016. From a technical perspective, Argentum is breaking out from a bullish reversal pattern commonly known as the Inverse Head and Shoulders. Investopedia.com defines this pattern as,
An inverse head and shoulders, often referred to as a head and shoulders bottom, is a chart pattern, used in technical analysis to predict the reversal of a current downtrend. This pattern is identified when the price action of a security meets the following characteristics: the price falls to a trough and then rises; the price falls below the former trough and then rises again; finally, the price falls again but not as far as the second trough. Once the final trough is made, the price heads upward, toward the resistance found near the top of the previous troughs.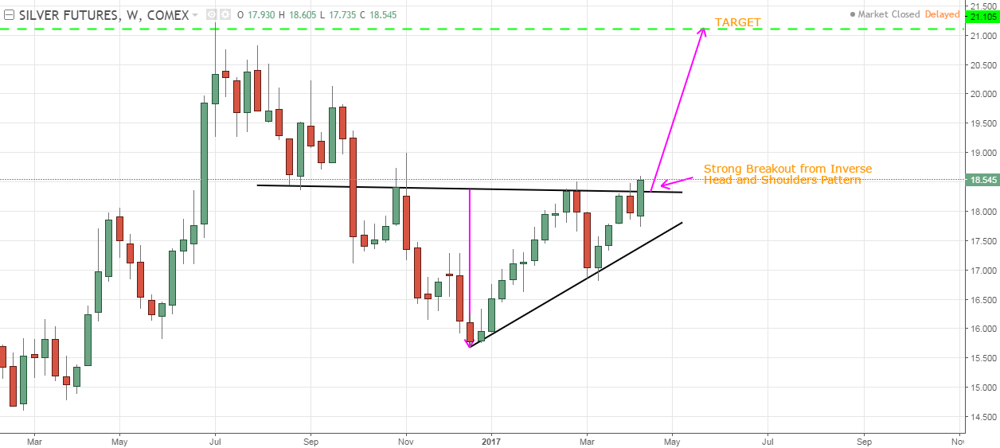 Source: TradingView
If this pattern successfully matures, silver can strive to meet the target of $21 in the next 3-6 months.
The strength in the upmove is also validated by the consistent buying interest which has kept silver from hitting lower lows. Before the Syria intervention, silver was sustaining and consolidating above the 200-day SMA, giving confidence that a leg up was about to happen. Instead, we witnessed a highly volatile day which saw the 200-day SMA getting violated but strong support came in near the 30-day and the 50-day SMAs. The momentum since then has been so fervent that the precious metal is now at the highest level of 2017. Take a look at the daily silver futures price chart below.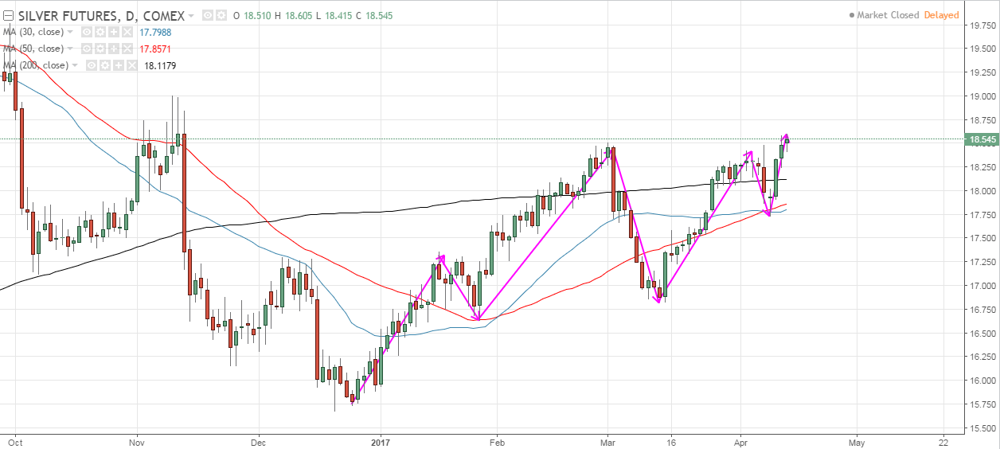 Source: TradingView
As silver rides on the back of undying buying interest, it is only sensible to cut loose short bets and remain long on the shiny metal. It is futile to fight this trend.
The price action in silver futures is mirrored in the underlying iShares Silver Trust ETF (NYSEARCA: SLV) as well. The following daily SLV price chart confirms that the ETF has finally taken out its medium-term resistance. With uptrend intact and sustained momentum, the ETF is primed for a rally to $19. It must be stressed that SLV remains a buy on dips.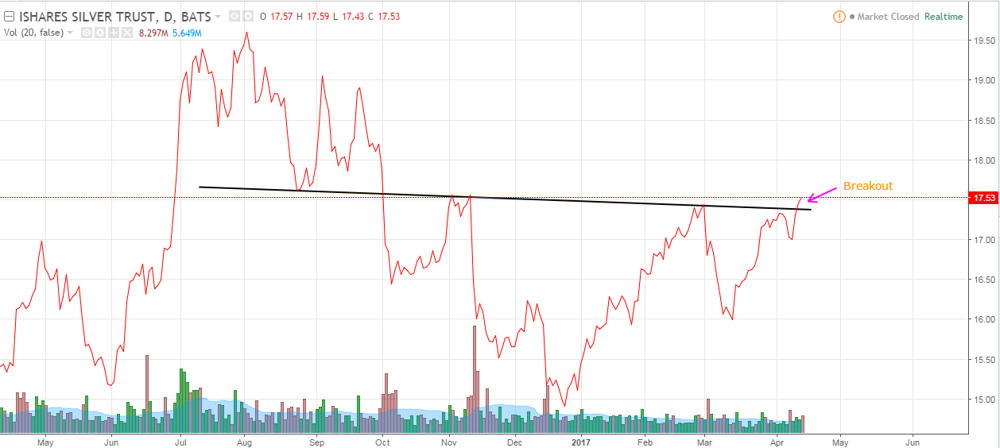 Source: TradingView
Helping silver, and therefore SLV is the selling pressure in the U.S. dollar (NYSEARCA: UUP). Very recently, President Trump voiced his concern that the greenback may have become too strong for its own good. According to RT.com, the U.S. President said,
I think our dollar is getting too strong, and partially that's my fault because people have confidence in me. But that's hurting - that will hurt ultimately.

Look, there's some very good things about a strong dollar, but usually speaking the best thing about it is that it sounds good. It's very, very hard to compete when you have a strong dollar and other countries are devaluing their currency.
Since his comments, the U.S. dollar index has surrendered some gains, dropping from 101.34 to 100.51 as of the last close.
The daily U.S. dollar index chart below illustrates that it is trapped in a contracting range. While the expectations of at least two Fed rate hikes in 2017 are supposed to keep the USD afloat, the President's comments and the technical setup signal a completely different scenario. The important levels to watch out are 101.30 and 99.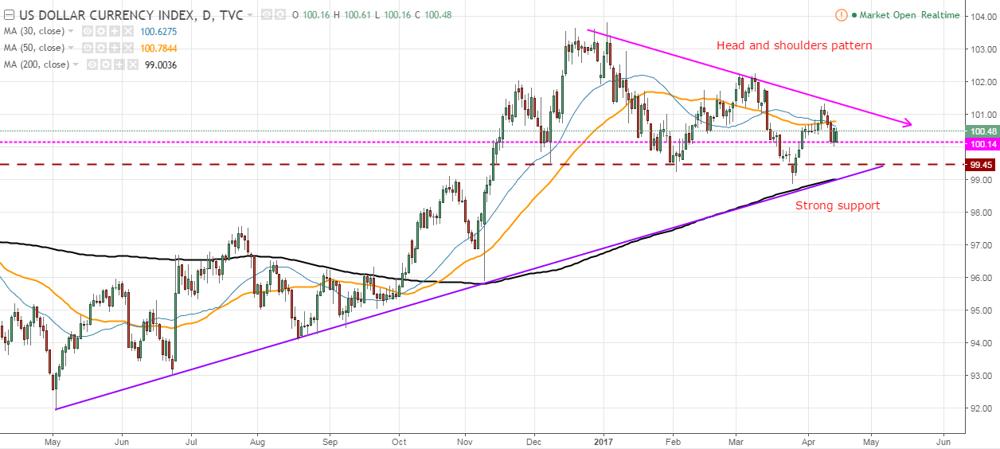 Source: TradingView
The targets and the price action discussed above are just my understanding of the technical price charts. Since I could be wrong about the assessments, readers must finish their due diligence before making an investment/trading decision. I would also like to read your opinions on the subject. Do you see silver trading higher or is it about to reverse from here? Let us discuss in the comments section.
Note: I cover several stocks in different sectors as well as S&P 500, crude oil, gold and silver, U.S. dollar, etc. So, if you liked this update, and would like to read more of such informative articles, please consider hitting the "Follow" button above. Thank you for reading!
Disclosure: I/we have no positions in any stocks mentioned, and no plans to initiate any positions within the next 72 hours.
I wrote this article myself, and it expresses my own opinions. I am not receiving compensation for it (other than from Seeking Alpha). I have no business relationship with any company whose stock is mentioned in this article.