We see good value in the optical network stocks. Last Thursday, optical networker Applied Optoelectronics (NASDAQ:AAOI) came out with provisional results easily beating its own guidance and expectations. The stock surged 20% after-hours, but gave back a good deal of these gains the next day.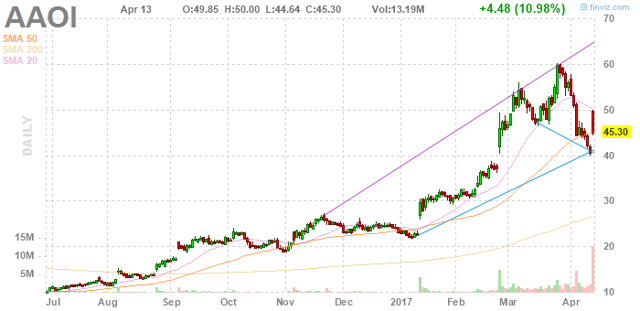 Some of the other optical network stocks rallied similarly, but much more modestly, and also retreated from their highs on Friday. We think there is good value at these levels, basically because there are a few favorable trends playing out:
Hyperscale build-out
China
5G
3D sensing
Hyperscale
As the results from companies like Lumentum (NASDAQ:LITE), Finisar (NASDAQ:FNSR) and, especially, Applied Opto have shown, the build-out of datacenters in the cloud is far from done. We wonder why this was such a big surprise.
The market here is still in the first innings of a transition from 40G to 100G. In fact, 40G still gets a fair amount of demand, but Lumentum doesn't have much exposure to that, as it focuses more on the more lucrative 100G business.
Reading through some of the results of other optical networkers and their recent CCs, the optimism about hyperscale is palpable. Datacom revenue increased 54% sequentially and 95% year on year, but 100G grew 124% sequentially and 500% year over year to $52 million, and still customers wanted more.
Here from Lumentum's Q2 CC (our emphasis):
Hyperscale data center operators are starting major 100G upgrades.

Looking ahead, we expect revenue from hyperscale data centers operators to increase as we bring more 100G transceiver manufacturing online.

we focused our capacity on satisfying the ten kilometer products, mostly for the network equipment manufacturers and didn't meet the demands of the hyperscale customers that we had orders for, but did not satisfy. So I'd say that as we continue to bring on more and more capacity, we'll start shifting that capacity to the hyperscale guys. And that's going to start really in a meaningful way this quarter and next.
Finisar is also pretty optimistic. From the company's Q3 CC:
We are optimistic about fiscal year 2018. We believe our revenues will grow again starting from the first quarter. We expect continued growth from the sales of 100-gigabit QSFP28 transceivers, mostly for hyperscale data centers. We are currently sold out on this product, and despite our continuing to add capacity, we expect that sold-out situation to last at least through the end of calendar year 2017.
China
One of the reasons that optical network stocks were taken down from the highs was on fears of softening demand from China. But Needham argues that this is just temporary. In Q1, seasonality is compounded by price reductions, but:
Orders can materialize quickly and sharply improve the outlook. That's pretty normal. Moreover, Henderson argues spending on optical in China "will be strong over the course of the year," and that markets such as the "Metro Core" are just getting going.
Indeed, Finisar missed its Q3 earnings and revenue in part because of the softening from China, but Needham has argued that "WSS/ROADMs for deployment in China should also ramp significantly in FY18." One might keep in mind that FY2018 for Finisar starts on May 1.
Lumentum's Q2CC was littered with optimism about Chinese demand for ROADM and pump lasers:
Firm-based metro network deployments are just beginning globally with China taking - notably taking its first step in this direction.

We are encouraged by these initial orders and expect China ROADM deployments to pick up materially in calendar 2017.

Recent discussions with customers and network operators in China continue to reinforce our expectation that calendar year 2017 will be a strong growth year again in China. Chinese operators continue to add capacity like new fiber requiring pump lasers and begin large scale deployments of ROADM nose. We believe there will be a significant growth for Lumentum in China in calendar 2017.

Firm-based metro network deployments are just beginning globally with China taking - notably taking its first step in this direction.

I think my confidence in China is really based on two things. One is the discussions we have with our customers and with the carriers and what their plans are, but more importantly, their commitment to deploy ROADMs puts us in an unique position compared to our competitors. And so I think as they deploy ROADMs, they're going to deploy a lot of them and they're buying a lot of them from us, so I think different and apart from some of our other competitors who don't have ROADMs, I think we're going to see growth from zero ROADMs in China to a lot of ROADMs in China. So that's one of my reasons for the belief. And I do think not to underestimate the fact that we can't seem to satisfy enough pump lasers in China.
The management of Finisar, during the company's Q3 CC, was a little more circumspect. Management expected tenders to come in by the end of 2016, but that didn't happen, and neither has it happened right after new year nor the Chinese new year. So this is the delay which, together with some one-off execution issues, made the company miss its guidance in Q3. However:
we are assured by officials at the service providers and in the equipment companies that it's coming. And the only issue is going to be at which pace that they will deploy them. And there's a lot of, automating the optical network is a new adventure for the service providers in China. And learning how to control and manage the networks is a complicated task for them, and so they're walking through it one step at a time. And I'm, we're disappointed, obviously, that they haven't been able to deploy earlier, but I don't think that has dampened our enthusiasm for that business and that market because the volumes are potentially so large.
So, by most counts, the China network bull case is still very much on the cards.
3D Sensing
3D sensing is opening up a whole new market for some of the optical networking companies, more especially Lumentum and Finisar. Growth in demand for VCSELs, the vertical-cavity surface-emitting laser diode that constitutes the crucial part is expected to be brisk, according to research group BCC:
The global vertical cavity surface emitting laser (VCSELs) market is expected to grow at a CAGR of 21.9% during 2016-2022. Among the various types, the gallium arsenide segment held the largest share in the global VCSELs market in 2015. The advantages associated with VCSELs over conventional diodes are driving the growth of the global VCSELs market. The other drivers for the market include availability of cost-effective VCSELs and their rapid deployment for high volume applications.
We have already commented extensively on the chances of both of these companies for a possible inclusion in the upcoming iPhone 8 (or perhaps just the high-end model of these).
Whether this happens or not isn't the only thing to consider, as the market opportunity is clearly wider and present. Both companies are dramatically ramping up their capacity for VCSELs, the critical component of 3D sensing.
Lumentum is sampling to multiple mobile device manufacturers, and one in particular seems already close, as lasers got shipped in volume to it. From the Q3 CC (our emphasis):
we shipped our first revenue into what we believe could be a high volume mobile device application... the market is multiple times bigger than the connect business and could imagine quarters of 100 plus million dollars type of marketplace growing to over $1 billion I would expect as we get into multiple mobile devices and multiple customers with mobile devices. So I'd say that every indication is that it's a huge growth driver for us.
And here is Troy Jensen from Piper Jaffray:
"We were extremely encouraged the company has recorded their first 3D sensing consumer revenues, which we believe could be for one of the new iPhones to be released in 2017," added Jensen. "We believe this initial order is for final qualification, and while we don't expect this opportunity to translate into material revenues in fiscal Q3, we are becoming incrementally more optimistic material revenue contribution can begin in the second half of 2017. "We believe the 3D consumer sensing opportunity is a long term material revenue catalyst that is also not baked into Street estimates."
How big of an opportunity is 3D sensing? Here is Simon Leopold from Raymond James (per Benzinga):
Leopold is also optimistic on 3D Opportunity despite Lumentum is better positioned to take share. "We believe Lumentum gains capacity advantages by working with a foundry partner, but with its Allen, Texas, fab, Finisar could generate $10's of millions and by our estimate $0.10-0.35 of incremental EPS in FY18," Leopold added.
That's in the order of 10-20% for Finisar, while the same analyst argues Lumentum is actually better positioned. Indeed, apart from mobile phones, 3D sensing will be part of other big growth markets, like automotive, although a meaningful contribution to revenue from this sector isn't expected for a couple of years still, according to management.
There are still other applications for which there is a growing demand, according to BCC (LiDAR, of course, is in automotive):
various applications including LiDAR, aerospace, night vision, illumination, and line-of-sight communication links operating at 3 Gbps and higher have observed increase in demand of VCSELs... Greater precision has increased the adoption of VCSELs in medical applications, such as medical diagnostics and therapeutics, optical nerve stimulation, computed radiography imaging.
Lumentum's quarter
Demand for some other product lines is pretty strong as well, for instance, pump lasers (as part of optical networking). This is especially encouraging, as it is a leading indicator of new network deployment. From the Q2 CC:
We have been and continue to be capacity constrained on pump lasers even with significant capacity additions over the past year. We are still in the early stages of North American metro deployments.
Lumentum's submarine products also experienced solid demand, as cloud operators are driving new demand for submarine cables. However, the commercial lasers are not doing so well, due to seasonality in the micro-materials processing market and product transition (but management expects things to rebound in Q3):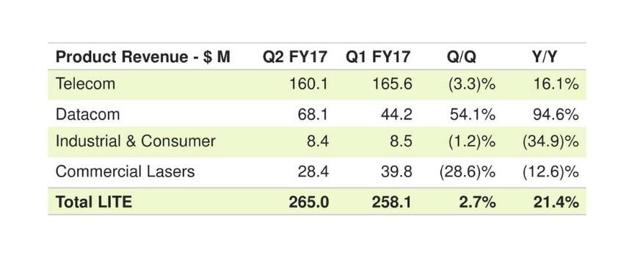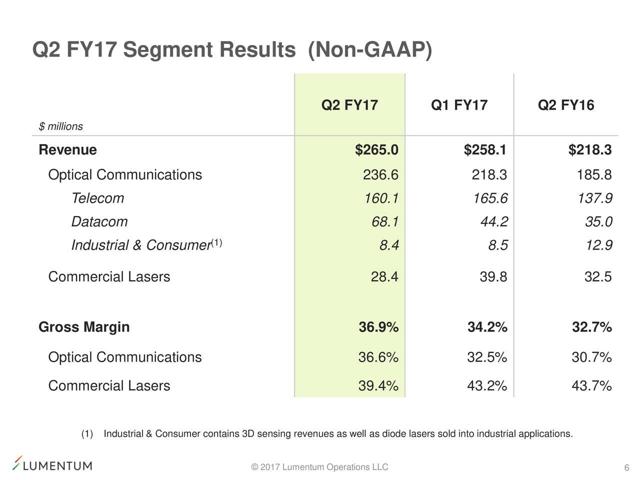 Demand for reconfigurable optical add-drop multiplexers (ROADM) is also strong, particularly from China, and capacity is tight. However, revenue is still down here (and this is a big part of the sequential 3% drop in telecom revenue) as per the Q2 CC:
the mix of modules was much higher than the mix of blades and so that caused a ROADM revenue to be down 10% even though our number of ROADM shipped was up.
The company expects the mix to pick up again in Q3. Telecom revenue also suffered from a drop in older, lower-speed products.
Risks
Just as with Finisar, we have to get over the present quarter for these opportunities to make a material impact on Lumentum's figures, as guidance for Q3 is softer than the Q2 results.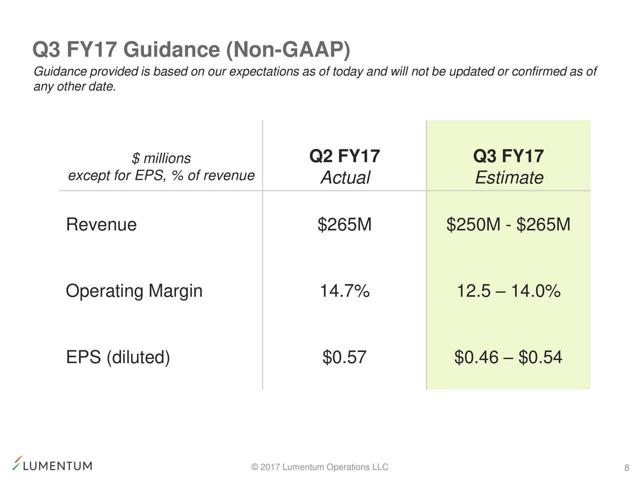 The expected boom from VCSELs, China and 100G datacom doesn't yet manifest itself enough to make a material impact, but the second half of calendar year 2017 should be better. We suspect that one reason for the booming Applied Opto pre-announcement might have been more related to 40G datacom.
Another problem is that the industry itself is overcrowded and in need of consolidation. There are simply too many players, each developing their own solutions, which is inefficient and reduces pricing power.
We also note that we do prefer Finisar because of its lower valuation, for which we see little reason except perhaps the somewhat higher exposure to China (30% versus 20% for Finisar, according to a USB report). Finisar has $500 million in net cash versus Lumentum's $156 million.

Wall Street expects earnings to be $2.12 this (fiscal) year, climbing to $2.62 the next (starting in July 2017), so it's doing 20x earnings for this year and nearly 18x for the next. That's considerably more than the valuation for Finisar, which is trading at just 10x expected EPS FY2018 (starting in May 2017).
Both companies have exactly the same market capitalization - $2.68 billion - but Finisar's revenue is 50% larger, while it generally enjoys better margins as well, so we don't really see the reason for the significant valuation gap. The size of this actually puzzles us.
But Finisar had a mild earnings miss due to seasonality and some temporary issues, Lumentum wasn't hobbled by that.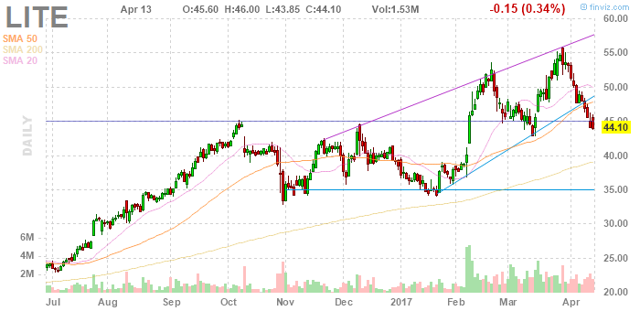 While the shares are off significantly from their highs and are on support and oversold, we were going to put a buy on it, but having discovered the true valuations gap with Finisar, we think we stick with the latter until we come up with a plausible explanation for that.
In any case, these optical network stocks mostly trade in cohort, and the second half of the year promises to be significantly brighter.
Disclosure: I am/we are long FNSR.
I wrote this article myself, and it expresses my own opinions. I am not receiving compensation for it (other than from Seeking Alpha). I have no business relationship with any company whose stock is mentioned in this article.