For most of the years since the Financial Crisis, banks have traded at absurd discounts to intrinsic value. This has proven to be fertile grounds for value investors willing to ignore the pessimism and add on weakness. After the election of President Trump, the sector took off in a way that was truly historic. Many of the same analysts and commentators that wouldn't touch Bank of America (NYSE:BAC) below $10, loved it at $20. Citigroup (NYSE:C) traded in the $30s and $40s through most of 2016, yet rallied above $60 in just a few months. This historic rally led to a lot of momentum investors and other weak hands getting involved in the stocks, and some of the big banks became slightly overvalued. While I don't view banks as being a very compelling area to invest currently, even after the recent decline, I do believe that Citigroup is the most attractive opportunity with the best reward-to-risk characteristics.
Most Wall Street analysts cater to mutual funds and hedge funds, which tend to be shorter-term investors, or momentum-based. This leads to an obsession with the next quarter's earnings as opposed to a true financial analysis of what the underlying business is worth compared to its market value. Bank analysts are some of the worst culprits of short-termism, changing their obsession from interest rates, to reduced mortgage activity, to auto loans, etc. Bank stocks have rallied for a variety of reasons, including the expectation of lower tax rates, less burdensome regulations, and a more robust economic environment. Ultimately, I believe all of these situations should become more favorable; but the reason we at T&T Capital Management bet so big in the sector was because the stocks were insanely cheap. We couldn't foresee a way in which we would lose money, barring a recession worse than the Great Recession, due to the fortress balance sheets and lower risk business models of the present. Citigroup is the only huge bank in the United States still trading at a discount to tangible book value, and while a discount to peers is reasonable, the disconnect that currently exists is far too backward looking, creating the opportunity for a considerable long-term profit.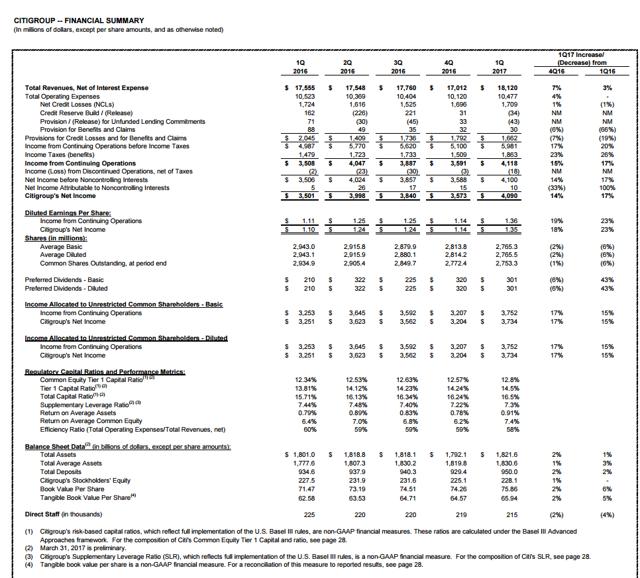 Source: C 1st Quarter Financial Supplement
On April 13th, Citigroup reported very strong 1st quarter financial results, with earnings of $4.1 billion, or $1.35 per share. These numbers were up by 17% and 23%, respectively, YoY. Finally, Citigroup attained real revenue growth at 3%, reflecting improvement in both the consumer and the institutional businesses. It has taken some time for this growth to offset the decline in the legacy Citi Holdings assets, which are now shown in the Corporate/Other segment. Expenses were about flat, while cost of credit was down in ICG, due to a $230 million reserve release, compared to the build last year related to the energy sector. The consumer business is seeing an increased cost of credit, reflecting the addition of the Costco (NASDAQ:COST) portfolio and other volume growth. In constant dollars, Citigroup ended the 1st quarter with 2% YoY loan growth to $629 billion, as 5% growth in its core businesses was partially offset by the continued wind down of legacy assets. Deposits grew 3% to $950 billion and the return on tangible common equity excluding DTA was 10.2%.
Consistent with recent history, Citigroup had some one-off gains and losses. The company recorded a charge of nearly $400 million related to the exit of its U.S. mortgage servicing operations. This was more than offset by nearly $750 million of gains on other asset sales, including gains of roughly $400 million on the sales of Citi Financial Canada and Argentina Consumer. The net result of these items benefited results by about $0.08 per share.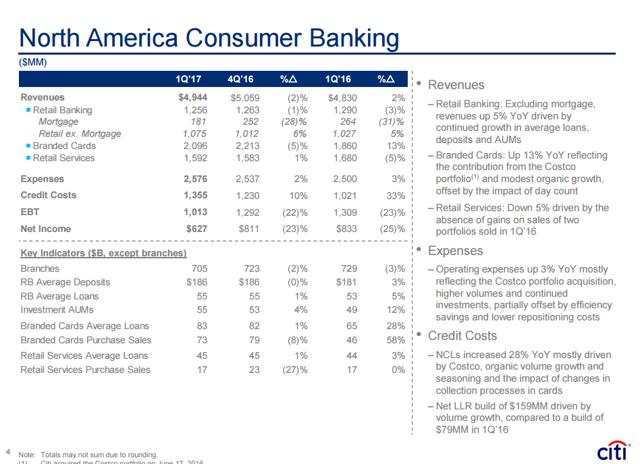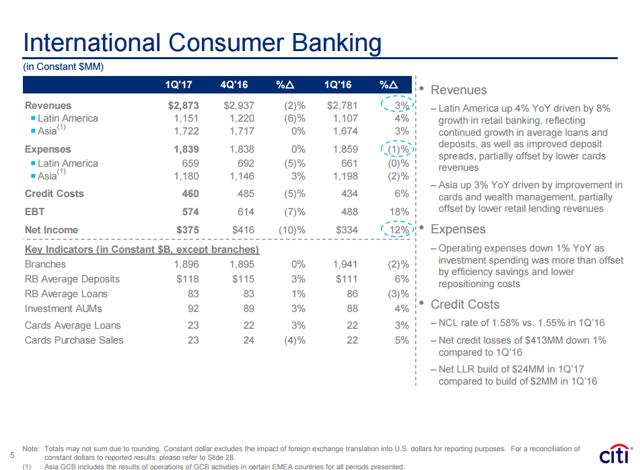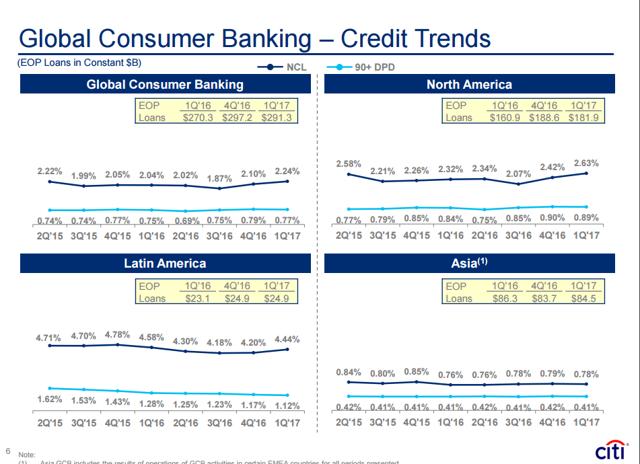 Source: 1st quarter 2017 Investor Presentation
In North America Consumer Banking, total revenues grew by 2% YoY in the 1st quarter. Higher interest rates caused a decrease in mortgage lending, which contributed to retail banking revenues declining by 3% from last year. Excluding mortgages, retail banking revenues were up by 5%, driven by continued growth in average loans, deposits, and assets under management. Citigroup has a real opportunity for growth in its CitiGold wealth management platform in the United States. This is an area where the company has been severely lacking since the sale of Smith Barney, but I believe that the bank should be able to leverage its relationships with customers to gain market share fairly rapidly in this higher margin endeavor. It will take time to scale up and the company will have to spend on marketing, personnel, technology, etc., but the market is massive. Branded cards, revenues of $2.1 billion, grew by 13%, largely due to the Costco acquisition.
International Consumer Banking saw net income grow by 12% YoY on higher revenue and slightly lower operating expenses, offset partially by higher cost on credit. Total revenues grew by 3%, bolstered by robust performance in Latin America, where total consumer revenue grew by 4%. Citigroup is aggressively investing in Mexico to drive improved operating efficiency and returns. In Asia, consumer revenues grew 3% YoY, driven by improvement in cards and Wealth Management, offset by lower retail lending revenues. Citi's ICB unit provides solid growth prospects and diversification to the enterprise. With that said, I wouldn't be opposed to a spin-off, as the assets seem to be undervalued in the conglomerate's valuation.
Importantly, the company utilized $800 million in deferred tax assets, contributing to the $5.5 billion of regulatory capital generation before returning $2.2 billion to shareholders. During the last year, Citigroup reduced its outstanding commons shares by 6% and was able to return 80% of earnings to common shareholders. These buybacks are enormously accretive as every one of them was done at a substantial discount to tangible book value, which grew to $65.94 as of the end of the 1st quarter. Tangible book value is now 14% higher than two years ago and I believe that growth should accelerate over the next few years. Despite aggressively returning capital to shareholders, Citigroup ended the 1st quarter with a Common Equity Tier 1 Capital ratio of 12.8%, which is significantly higher than the 11.5% upper range that the company believes it needs to be at to operate the firm prudently. This augurs exceptionally well for future capital returns so it will be interesting to see how aggressive the company was in its latest CCAR submission.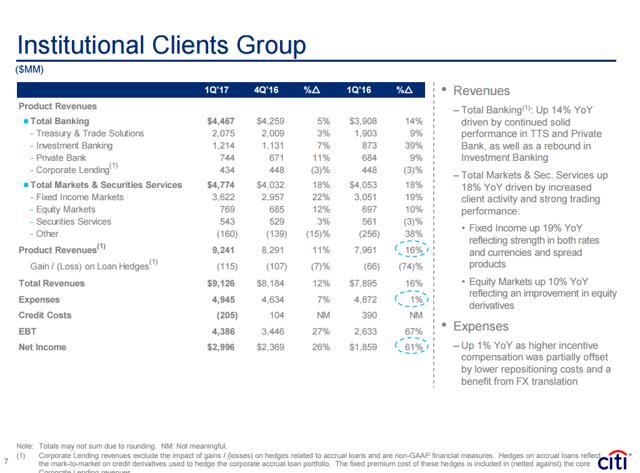 Citigroup's most important business is its Institutional Clients Group (ICG), which generated $3 billion in net income in the quarter. Revenues grew by 16% YoY to $9.1 billion, reflecting solid progress throughout the whole franchise. Total banking revenues were up by 14% to $4.5 billion. Treasury and Trade Solution revenues grew by 9% to $2.1 billion and Investment Banking revenues grew by a whopping 39% to $1.2 billion. The Private Bank continues to be a source of steady growth as revenues of $744 million were up by 9% YoY. Total Markets and Security Services grew by 18% to $4.8 billion, with fixed income up 19% and equities growing by 10%. Citigroup has invested heavily into its equities business so it is nice to see these efforts beginning to grow fruit. While some commentators might try to point at these types of results being abnormal, I believe calling last year's dismal 1st quarter to be irregular would be more accurate. Business has been steadily improving for Citigroup and the other large U.S. banks. It has taken time to divest troublesome assets and businesses, while managing the Byzantine regulatory environment, but the hardest work is in the rearview mirror.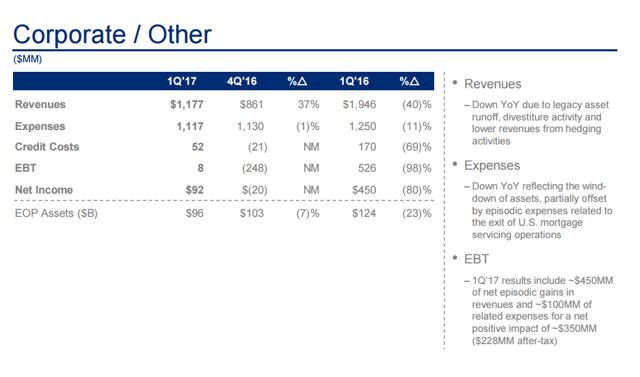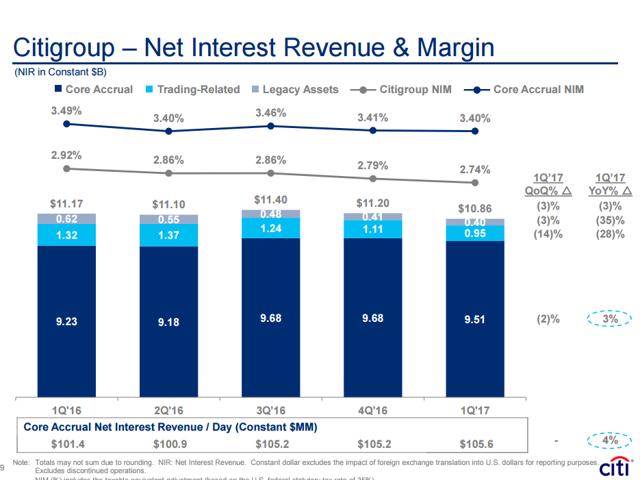 Net interest revenue declined 3% YoY in constant dollars to $10.9 billion, as growth in core accrual revenues was more than offset by the reduction of the higher yielding legacy assets, in addition to lower trading related net interest revenue. Trading-related revenue can be very difficult to forecast, but core net interest revenues of $9.5 billion were actually up by 3% YoY, driven by the Costco portfolio and higher rates. There were less days this quarter than last year, which obviously hurt all banks' net interest revenue numbers. Assuming one additional rate hike mid-year, Citigroup forecasts that core accrual revenue should grow YoY by roughly $1.5 billion to total over the next three quarters, providing a nice tailwind for the overall business. Citigroup's performance is going to be highly correlated to financial markets and credit cards, where it has made considerable investments. Over the last few years, the company has invested in many of its own proprietary cards, which take about 24-30 months to really begin to generate a positive net income. That 24 months coincides with the 2nd half of this year, which is when the Costco acquisition should really begin to pay dividends as well. The proof of this should be displayed via revenue growth and an improved cost of credit.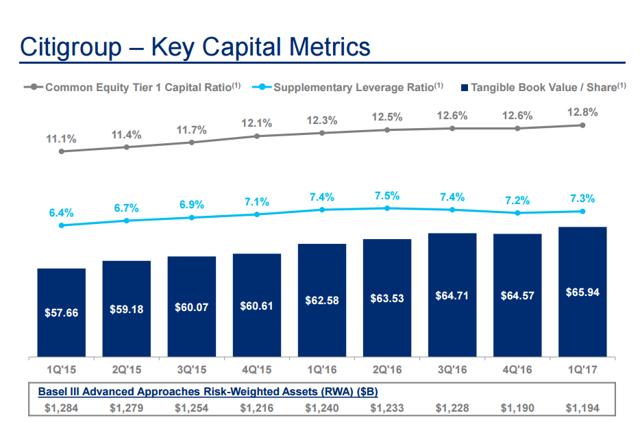 As Citigroup finally grows revenue and keeps costs in line, returns should continue to improve towards its targets. The other essential ingredient is capital returns. Citigroup has a tremendous amount of excess capital and it wouldn't be unseemly for the company to return 100% of earnings to shareholders pending Fed approval via the CCAR. Citigroup's returns have been lower than most of its U.S. competitors in part due to massive amounts of capital tied up in deferred tax assets and an extra capital cushion for operational risk due to Citigroup's sins of the past. A new regulatory regime raises the hope that these completely subjective penalties are lightened or eliminated, which would open a major spigot to bolster returns. As Citigroup consumes its deferred tax assets, the company gets an increase in regulatory capital beyond the actual earnings due to the disallowed assets converting to allowed assets. There is the risk that a decrease in the corporate tax rate could result in a write down of the deferred tax asset, but long term, the company would clearly benefit from a lower tax rate.
Assuming Citigroup just returns as simple 10% on tangible equity, earnings per share would be nearly $6.60. Long term, the company has the potential to earn 13-15% on tangible equity, which would put earnings power at over $8.50 per share on the low end. Credit costs have been extremely benign over the last few years, so Citigroup could be exposed to higher credit card losses in particular over the next few years. Fortunately, credit cards are a high return business and the yields allow for the company to get adequately paid for the risk. I believe Citigroup should trade at around $70 per share within the next year or two, as tangible book value and returns on equity grow.
Disclosure: I am/we are long C, BAC.
I wrote this article myself, and it expresses my own opinions. I am not receiving compensation for it (other than from Seeking Alpha). I have no business relationship with any company whose stock is mentioned in this article.